Air conditioner including or excluding installation?
Installing a split air conditioner is a technical job that will always require a professional. At least, that's what you think. You see, there are 2 different versions of split air conditioners on the market, one of which you can install all by yourself. The other, you'll have to have installed by a pro. On this page, you'll read what the differences are between both varieties of air conditioner and what you should know to be able to install the split unit air conditioner yourself.
What's the difference
Installation included
Air conditioning systems including installation are installed for you by a professional, certified installer. Besides being a luxury, you also know for certain that it is going well. A big advantage of split air conditioning with installation is that the connecting hose between the inside and outside unit is adjustable. This gives you a greater freedom of placement. Keep in mind that craftsmanship is a price tag and we do not offer this via Coolblue.
You are assured of a correct, professional placement.
The technician will extend the connecting hose on site if necessary.
The installation service is carried out via an external company, which can result in a waiting time until the air conditioning is installed.
Installation not included
You install air conditioners without installation included yourself. The difference with the split air conditioning systems that do include installation can be found in the hose that connects the indoor and the outdoor unit. On the versions that you installed yourself, this hose has a fixed length. The non-adjustable hose is filled with F gases. Normally, you'd need a certificate to be allowed to work with these gases. Since the hose isn't adjustable, as a consumer, you can do it yourself.
Installing by yourself is always cheaper.
You won't have to wait for your installation appointment with the technician.
You'll need to carefully consider the air conditioner's location, since the hose connecting the inner and the outer unit isn't adjustable.
Checklist
| | Have it installed | Install it yourself |
| --- | --- | --- |
| I have all the knowledge required to install an air conditioner. | No | Yes |
| I'm confident I have the technical skill it takes to install the air conditioner. | No | Yes |
| I know how to handle large power tools. | No | Yes |
| I know exactly where I should place my air conditioner. | No | Yes |
| The location for the air conditioner is high up and complicated. | Yes | No |
| I know exactly where I can drill a hole in my outer wall (consider pipes). | No | Yes |
| I'm not looking forward to installing my split air conditioner at all. | Yes | No |
| I have some doubts about my own ability to install the air conditioner. | Yes | No |
Tips
Do you live in a rental property? First ask permission from your landlord or housing association to install a split airco.
Do you live in an apartment / flat? Then it is often not allowed to place a split airco.
If you have the split unit air conditioner installed by a professional installer, you will need a place to store your air conditioning until the time of the appointment. Think of your barn or cellar.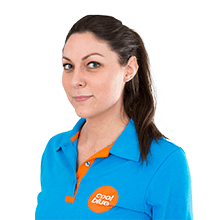 Article by:
Mascha
Air-conditioning specialist.