Expert review of the Apple TV HD 32GB
The fourth generation Apple TV, also known as Apple TV HD 32GB, launched in September 2015 and I've tested it for you. The Siri Remote offers many possibilities and you can find a wide range of games and apps in the App Store. In this article, I'll tell you more about Apple TV HD 32GB and what you can use it for.
---
Apple TV HD 32GB
Full HD (1920x1080)
|
Suitable for Netflix, iTunes, and Apple Music
|
App for iOS
With Siri, you can search the App Store, Netflix, and iTunes at the same time.
You can easily stream photos and videos from your iPhone to your television thanks to AirPlay.
The design of the Apple TV is stylish, so you don't have to cover up the media player.
An HDMI cable to connect the Apple TV to your television isn't included.
First impression of the Apple TV HD 32GB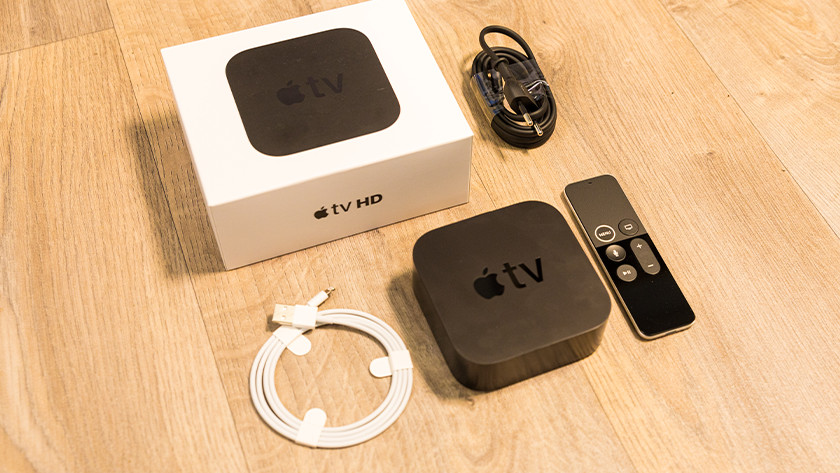 The packaging of the Apple TV HD 32GB is as you'd expect from Apple. The box is white and sleek, without bells and whistles. Inside, I find the Apple TV HD, Siri Remote, a Lightning to USB-A cable, a power cable, and a short manual. The Apple TV HD 32GB is smaller and slimmer than I expected. The Siri Remote also comes in a compact size and feels very light. An HDMI cable to connect the Apple TV to my television isn't included.
Design
While most media players end up being covered up, the black high-gloss Apple TV media player can be showed off. The touchpad on the Siri Remote has a black finish. There's a white ring around the Menu button. That way, I can easily locate the button even when it's dark in my living room. The Siri Remote is easy to use as well. I swipe the touchpad onto to the right letter and tap to confirm the letter. Greasy fingerprints aren't visible on the touchpad of the Siri Remote. That means I can pause my series even after eating some potato chips. The touchpad also functions as a game controller.
Resolution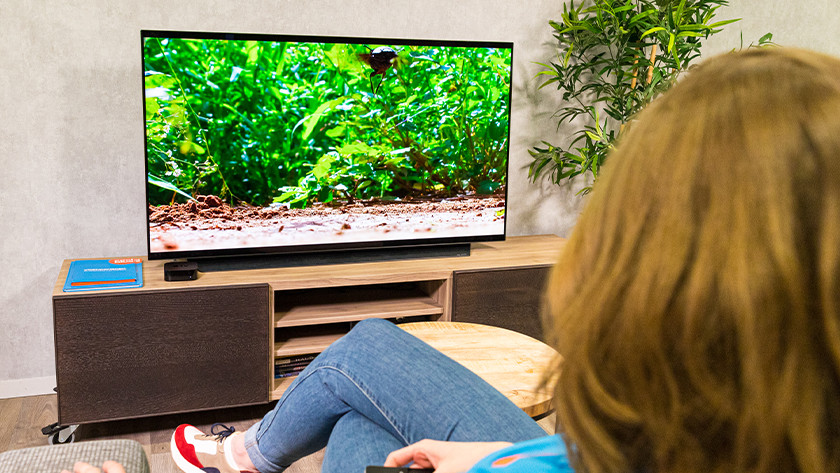 This Apple TV supports Full HD, which is the standard video format. Full HD is sharper than HD Ready and less sharp than Ultra High Definition or 4K. Most TV programs and DVDs are available in this resolution of 1080x1920 pixels. To watch movies in high-quality, you need at least Full HD resolution. If you have a television that also supports 4K, I recommend the Apple TV 4K.
Functions
Apple's smart assistant Siri is also available on the Apple TV via the remote. Not sure which movie I want to watch, except that I want to watch a funny one? In that case, I can just ask Siri for 1980s comedies and she'll show results from the App Store as well as streaming services such as Netflix and Videoland. Siri will remember my search entries, so the Apple TV can offer them as suggestions. I can see many apps in the App Store, but it does seem there are more apps available in the United States. For example, I still can't watch HBO series via Apple TV. If I want to view a document on my MacBook with several people, I can also use the mirror function of Apple TV. This means that the screen of my MacBook will be streamed to the Apple TV.
Connectors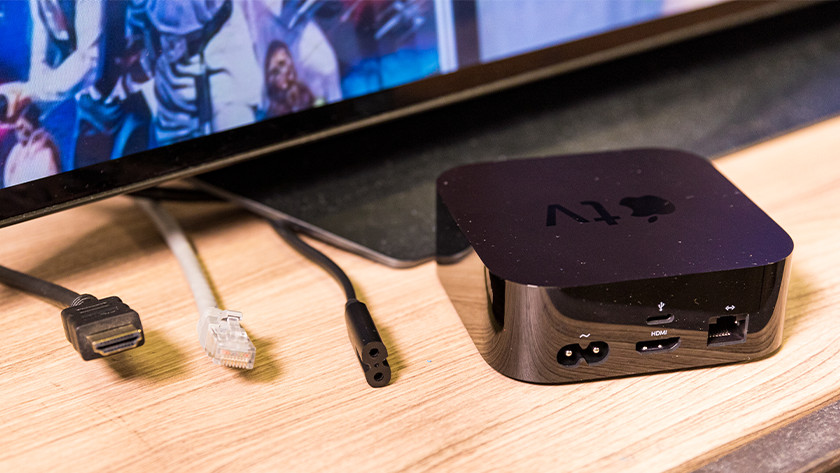 The Apple TV HD 32GB is the only Apple media player that still has a USB-C port. I can use this port to connect my Mac to my Apple TV, for example. That's useful if I want to make screenshots of my Apple TV. In addition to the USB-C port, the Apple TV HD 32GB has a power input, a Gigabit Ethernet port, and an HDMI input. An HDMI cable to connect the Apple TV HD to my television isn't included.
Conclusion
Although the Apple TV doesn't offer 4K support, I'm very content with the media player. There isn't as much foreign content as I had hoped, but the AirPlay mirror function and the Siri Remote are very useful. For gaming enthusiasts, the chip of the Apple TV HD 32GB isn't the best choice. And for my 4K television, I'd rather use the Apple TV 4K.