5 tips for managing my calendar on my Apple Watch
When it comes to scheduling appointments, my Apple Watch always comes in handy. In this article, I'll give you 5 tips to manage your calendar on your Apple Watch, so you'll never miss an important appointment again and can make the most of your time.
1. Fill out the calendar app on your iPhone completely
The calendar display on my Apple Watch may seem a bit minimalistic, but if I click on the appointments on my smartwatch, more information will appear. That's why it's useful to fill out the calendar app on your iPhone or Macbook completely, so you can see as much information as possible on your Watch.
2. Personalize your calendar's display
Busy day ahead? Change your calendar's display from list to day view. To do so, I firmly press on my Apple Watch, select 'Day' and scroll through the activities I have planned for today using the crown.
3. Ask Siri for help
If there's one person that's always there for you, it's Siri. Do you want to know if you have important appointments next week, or did you forget what you planned? Ask Siri "Do I have appointments today?" for example.
4. Experiment with apps
Aside from Apple's standard calendar app, there are plenty of fun and interesting alternatives available in the App Store. One of them is the widely acclaimed app 'Fantastical 2'. You can use color coding or synchronize your calendar with your friends' or colleagues' calendars.
5. Turn on the notifications of the calendar app
Can't see the forest for the trees because of your busy schedule? I always check if the notifications for the calendar app are enabled on my Watch. The watch will vibrates slightly to remind me of appointments so I won't forget them or arrive too late.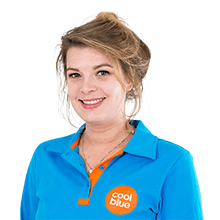 Article by: