How do I make a backup of my MacBook?
Your Apple MacBook contains files that are important to you, and you don't want to lose those. Whether it is your collection of vacation photos or your graphic portfolio; you should be able to recover them if something happens to your MacBook. That's why it is useful to make a backup of your MacBook. I'll tell you how to do it on this page.
---
1. Make a backup with Time Machine
Time Machine is an Apple program that allows me to easily copy my MacBook's data to an external storage device, such as a hard drive.
What do I need?
An external hard drive
A USB 3.0 or USB-C (Thunderbolt 3) cable
Possibly a converter (USB-A to Thunderbolt 3), if you have the latest MacBook model.
** Before I get started... **
There are still a few things I have to take into account before making a backup of my MacBook with Time Machine. I have to make sure that my external hard drive is formatted for Mac OS. In addition, I have to check if my hard drive has enough storage capacity.
Now what?
Formatting Because most hard drives can be used with Windows but not with Mac OS, I have to format my drive. It's very easy. I connect the hard drive and open the Disk Utility. I select the connected external hard drive and click 'Erase' at the top. My MacBook asks me if I want to erase the drive. To do this, I enter a name, select the 'Mac OS Extended (journaled)' structure, choose the GUID partition layout, and click erase. I make sure to do this with an empty or new hard drive, so I don't erase important data.
Storage space To make a backup of my MacBook, I need a hard drive with at least 2 times more storage capacity than my MacBook. Is the capacity of my MacBook SSD 256GB? I'll need an external hard drive of at least 512GB.
Step 1: Connect the external hard drive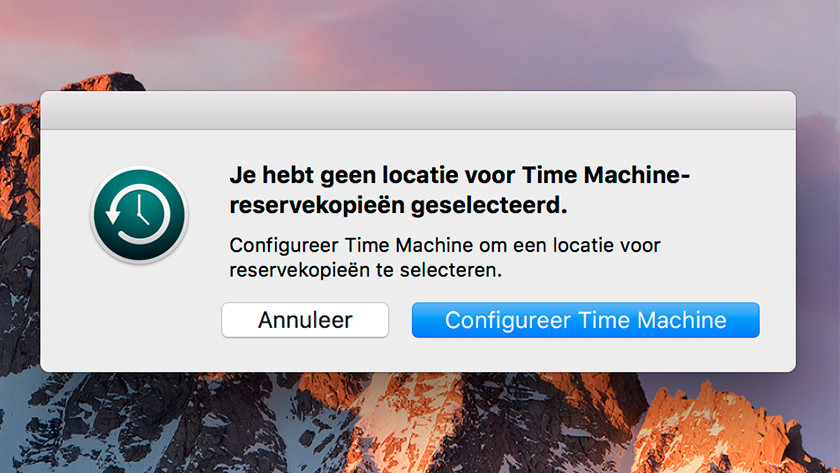 When I connect my external hard drive to my MacBook, it asks me to configure Time Machine. To select a location for my Time Machine backup, I click on 'Configure Time Machine'.
Step 2: Use your hard drive to make a backup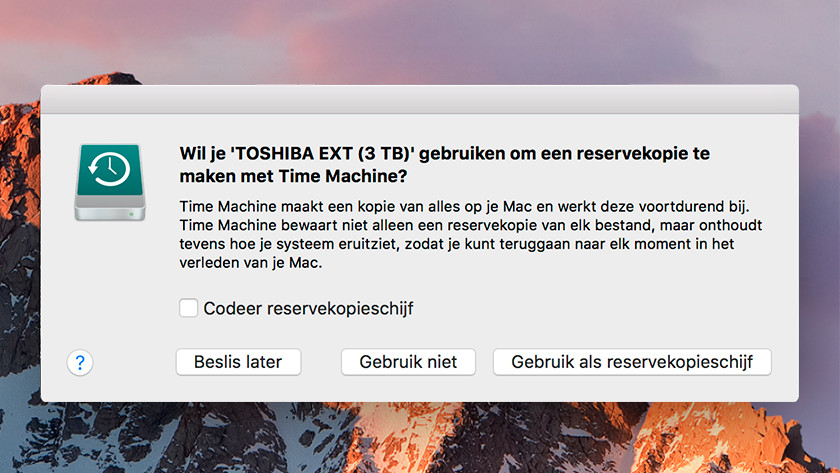 My MacBook asks me to make a backup using the connected hard drive. To do this, click 'Use as a backup disk.'
Step 3: Time Machine will get started
Now, Time Machine will use my external hard drive as storage space for my MacBook's backups. Check 'Automatic backups' to have Time Machine make backups of your MacBook continuously.
2. Make a backup in iCloud
I use iCloud, to store my files in the cloud on Apple's server. I have access to iCloud with my Apple ID. Unlike Time Machine, which I use to make a complete backup, iCloud only stores the elements that fall under iCloud. These include Contacts, Calendar, Mail, Reminders, iCloud Drive Photos, Safari, Notes, Siri, and Keychain.
What do I need?
Step 1: Open iCloud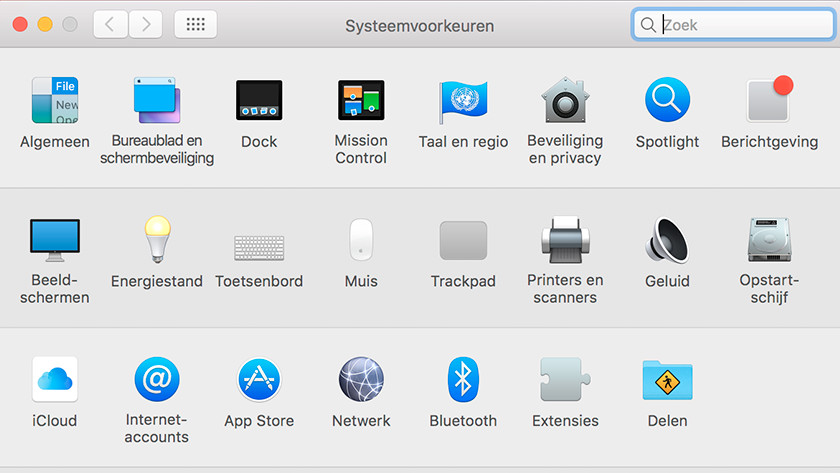 In the top left of my MacBook's screen, I click the Apple menu. In this menu, I open 'System Preferences'. Next, I open 'iCloud' to get started with my backup.
Step 2: Log in with my Apple ID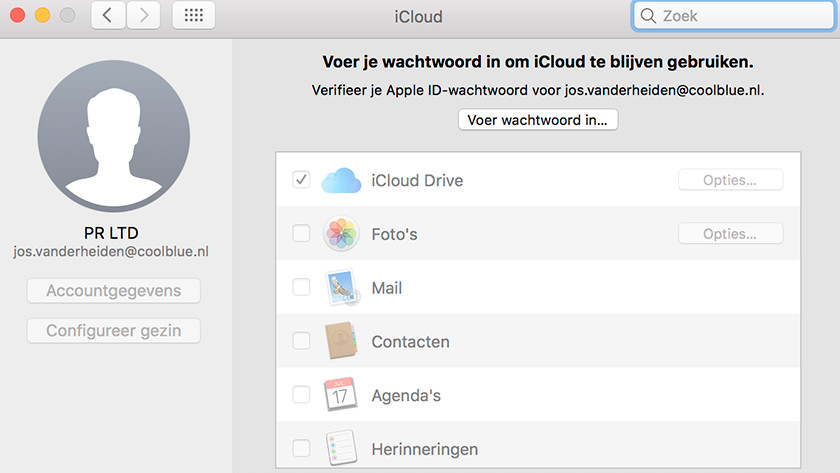 In the iCloud program, I click 'Enter password' to log in with my Apple ID.
Step 3: Select iCloud Drive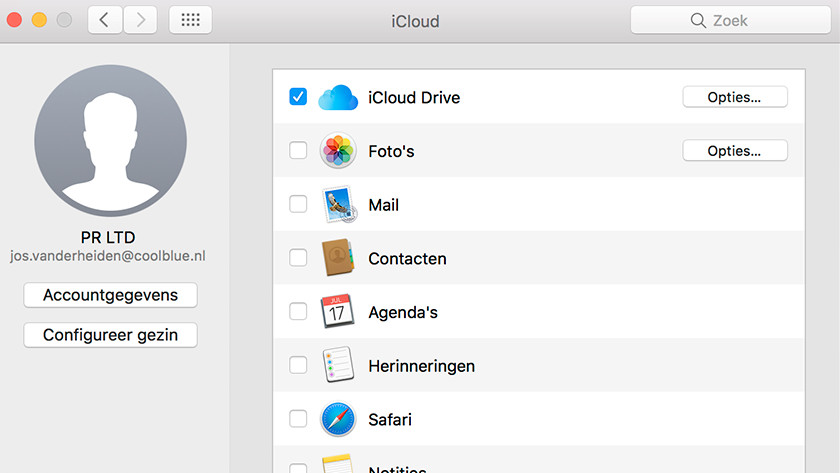 When I select 'iCloud Drive', my files are saved in iCloud. Select other programs here to have them store data in iCloud. When I click 'Options' in iCloud Drive, I can select which programs save documents and data in iCloud.
Step 4: Drag files to iCloud Drive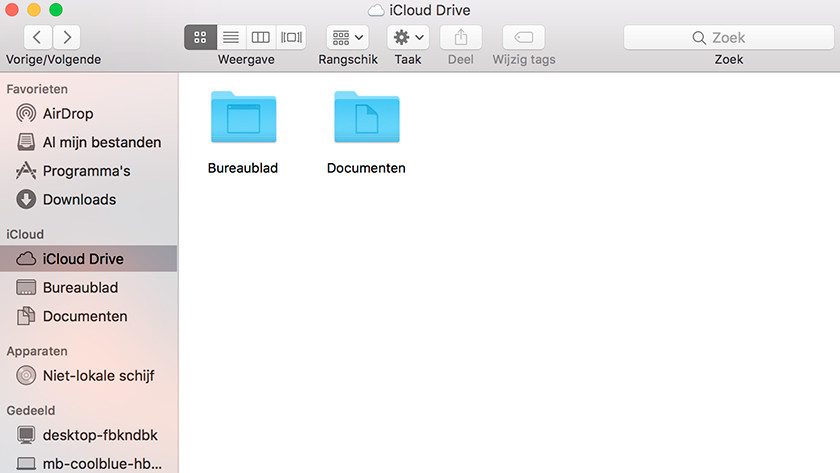 Now that I've set up iCloud Drive, I can also manually drag files and documents from Finder to iCloud Drive. Another option is to select iCloud Drive in the 'save window' if I save a file to my MacBook.
Note: Expand iCloud
iCloud has a limited storage capacity of 5GB. Apple gives me this storage space for free. If I want to store more files in iCloud, I can purchase additional storage space. These are the rates:
Free: 5 GB storage
€: 0.99 per month for 50GB of storage
€: 2.99 per month for 200GB of storage
€: 9.99 per month for 2TB of storage
Article by: