Advice on spray guns
You can paint in several different ways. You can go a long way with a pot of paint, paint rollers in different sizes, a stirrer and a paint tray stock. But have you ever thought of using a paint sprayer? No mess, no muscle pain in your arms, and no messing about in those hard-to-reach corners. In this article, we've listed all tips for using a paint sprayer.
---
Choosing a paint sprayer
A paint sprayer is a handy alternative to spray paint on the wall. When choosing a paint sprayer, keep the following in mind:
The type of paint sprayer
The paint yield
The type of nozzle
The spray direction
The workload
The type of paint sprayer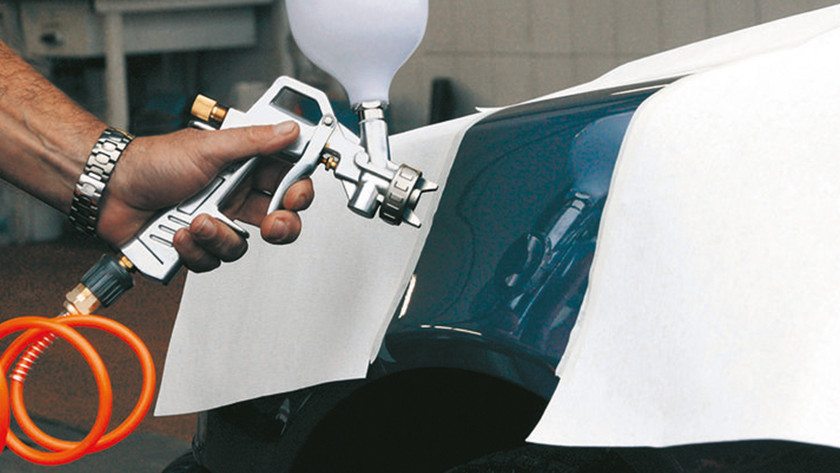 The type of paint sprayer you need depends on the types of projects you'll be performing. There are paint sprayers that have their reservoirs attached to machine, which means you need to hold the entire machine with a single hand while spraying. Since the amount of paint you can store in the reservoir is limited (usually about 300 millimeters), these devices are mostly suitable smaller paint jobs. If you plan on painting large surfaces such as walls or ceilings, a paint sprayer with a separate reservoir that's placed on the ground is much more convenient. The machine is attached to the reservoir via a hose, allowing you plenty of room to freely move around.
The spray distance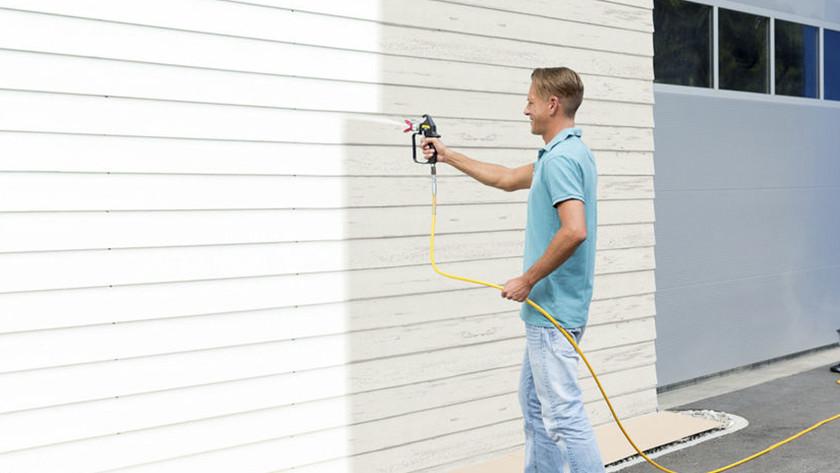 Keep the paint sprayer between 15 and 25 centimeters away from the surface you wish to paint. If the paint sprayer gets to close to the wall, the paint won't get sufficient opportunity to spread out. This means the fan width will be too thick, which leads to paint drops and stains. Which is precisely the thing you wanted to prevent by not using those clumsy paint rollers. Spraying from too far away is a bad idea too: part of the paint will already be lost before it even reaches the wall.
The paint yield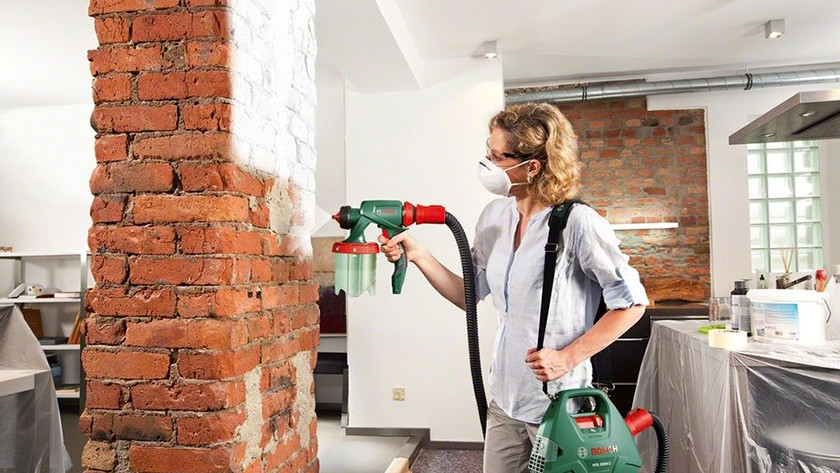 The paint yield refers to the amount of paint that's distributed by the paint sprayer per minute. For small paint jobs, like painting the radiator, you require a lower paint yield compared to large paint jobs, such as doors or walls. Most paint sprayer systems feature a continuous regulator, allowing you to easily control the amount of paint that's distributed. This way, you can select the ideal yield for your paint job. The big advantage of paint spraying is that you'll often achieve a satisfactory coating in 1 go. If this isn't the case, make sure to apply the 2nd coat crosswise. In other words: if you applied the first coat horizontally, apply the next coat vertically (or vice versa).
The spraying angle
Painting a large rectangular wall, or stairs, or a radiator each require a different technique. Adjusting the spraying angle is one of them. If the spraying angle is too small, then you'd need to apply many strips of paint, delicately next to each other. This isn't just really hard, it's nearly impossible to achieve a flawless, smooth coat of paint. That's why large surfaces are usually painted at an angle of at least 50 degrees.
The nozzle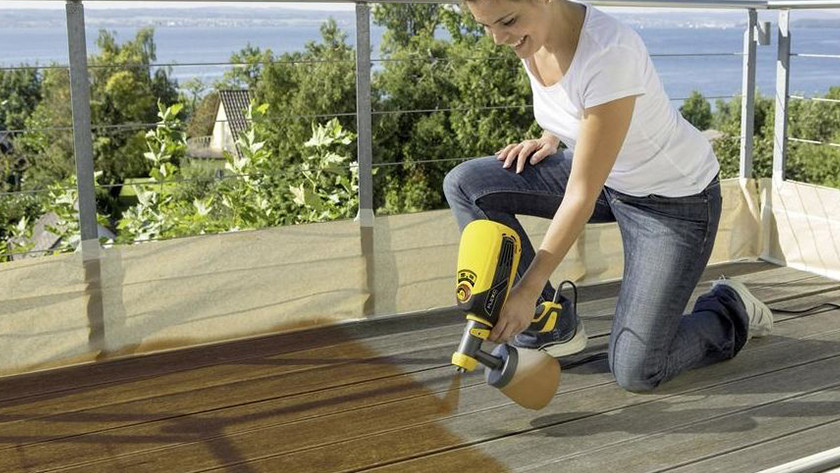 Depending on the type of spray nozzle, you can apply specific types of paint. The most important distinction is made between different types of paint viscosity: thick paint (for ceilings and walls, latex) en thin (varnish, lacquer, oil). Paint types such as textured paint can't be used with a paint sprayer, because it contains solid parts. Usually, only 1 spray attachment is included, so make sure to check which type of paint you want to use in advance.
The spray direction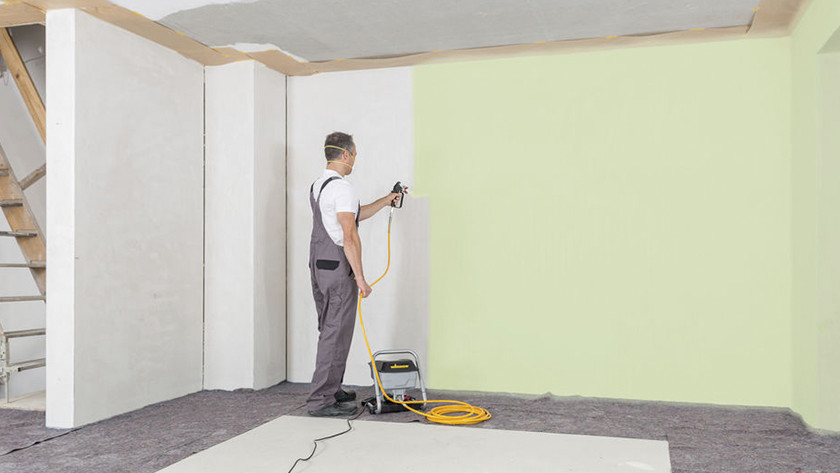 You can adjust the paint sprayer according to whether you want to use a horizontal, vertical, or circular (or pointy) spray width. A horizontal spray width lets you paint from left to right, a vertical spray width lets you paint from top to bottom. Finally, the circular spray width is meant for corners, edges, and very detailed paint jobs, such as painting fences or banisters. Even so, whichever direction you're painting in, always keep the paint sprayer perpendicular to the surface that needs to be painted.
The operating pressure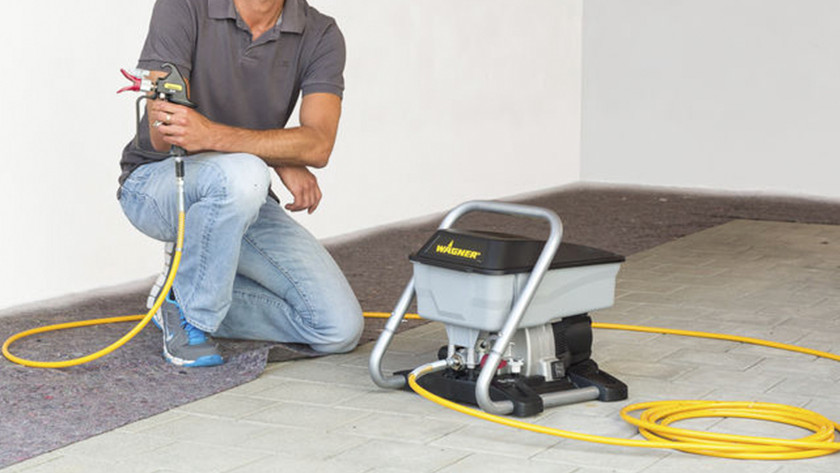 Get to work with a pneumatic paint sprayer, which you can connect to a compressor for a operating pressure of 5 bar, for the best results. For an even, constant paint spray, it's crucial you correctly adjust the operating pressure of the compressor. You don't have to be a rocket scientist to understand that the results won't get any better if the pressure with which the paint is applied to the wall isn't even, or too low. You'll be left with ugly stains, drops, and an uneven coat of paint.
Finally
Apply some paint on a test piece (like a piece of cardboard) to make sure you've correctly adjusted the paint sprayer.
Release the trigger after each stroke of paint. If you don't, you'll be left with a thicker coat of paint on the turning points.
Check whether the paint needs to be made thinner before use.
Make sure the strokes of paint overlap for about 50% for a perfect coat.
Make sure mask everything that doesn't need to be painted.
Did this help you?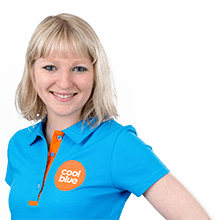 Article by: