Advice on cashbacks: what are they and how do they work?
At Coolblue, we have many different promotions on our products. An promotion that comes back regularly is the cashback promotion. That means you'll get a part of the purchase price back. Yay! Where should you go and what do you need to do to get your cash back? We'll explain that to you on this page.
---
What is a cashback promotion?
The word cashback says it all. If there's cashback promotion on your product, you'll get a part of the amount you paid back from the manufacturer. How much you get back depends on the promotion. You can recognize the cashback promotion by the orange label that says '€ xx cashback', which you can find on the product image. In the product information section, you can find a small block of text about the promotion.
How does a cashback promotion work?
To use a cashback promotion, you have to register the product you purchased. You register your product with the manufacturer of the product. They handle the applications. In the block of text with information below the product, you can find a link to the website of the manufacturer, where you can register your product. If your product is a smartphone, you'll need the EAN and IMEI code of the device.
How long does a cashback promotion apply?
In terms of time, 2 things are important when there's a cashback promotion. First of all, there is a certain period in which you must have purchased the product if you want to use the cashback action. Because you have to register your product to receive the money, there's a deadline for you to register your product. This is usually longer than the purchase window. At Coolblue, we put this information in the block of text containing the cashback promotion information underneath the product information.
How long does it take before I receive my money?
The time it takes before you receive the cashback money in your account depends on the specific promotion. It's determined by the manufacturer. It usually takes about a month.
What is a Coolblue cashback promotion?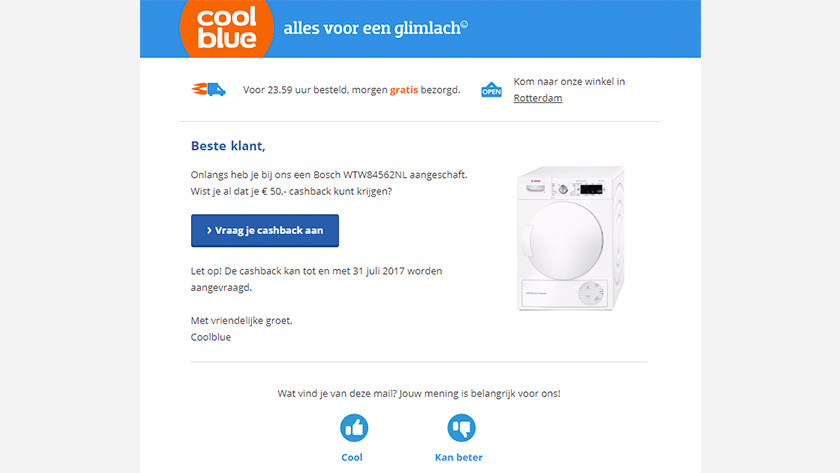 A Coolblue cashback ensures you get part of the purchase price back after purchase. Normally, you have to send in all sorts of photos of receipts and bar codes, but that's not necessary with a Coolblue cashback. After purchasing a product with a Coolblue cashback, you'll receive an email within 24 hours containing a link to the registration page. Here, you can enter your name, email address, account number, and order number. You'll receive the amount of the cash back on your account within 3 working days.
Did this help you?