Expert review of the Acer Aspire 7 A715-72G-76WL
With a suggested retail price of 1129 euros, the Acer Aspire 7 A715-72G-76WL falls into the higher segments of our laptops. For this price you obviously expect some bang for your buck from a laptop. Time to test this Aspire 7. I took care of the laptop for a week. You can read my opinion in this review.
In short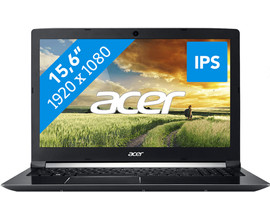 Powerful enough for video editing
Intel Core i7 - 16GB - 256GB SSD + 1TB HDD
NVIDIA GeForce GTX 1050 video card
I am quite pleased with the Aspire 7, provided that you don't intend to carry the laptop much. The ability to expand the memory as well as the standard configurations are good, and the keyboard, touchpad, and screen are also good. It's a pity that the laptop is not entirely made of aluminum, as it's heavy for a 15-inch and it starts a bit slower than other laptops with an SSD. If you overlook this, you'll get a great laptop with the Aspire 7.
The assessment
| | Category | Grade |
| --- | --- | --- |
| | Looks and feel | 7.5 |
| | User-friendliness | 8.5 |
| | Screen, sound, and battery | 7 |
| | Speed | 7 |
| | Particularities | 8.5 |
| | Final grade | 7.9 |
Looks and feel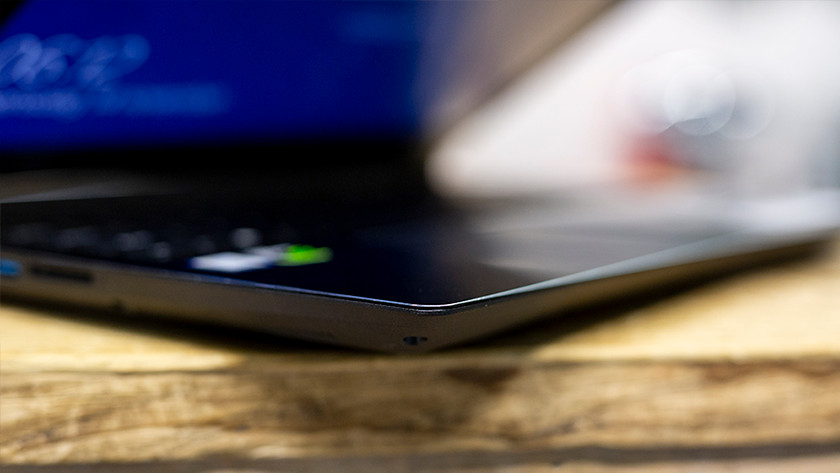 Looks and feel
You can expect a fully aluminum laptop for a laptop in this price range. They almost succeeded, because this Acer has an aluminum A and C deck, which means that the top and the keyboard placement are made of aluminum. This gives the Aspire a chic look, although the plastic bottom detracts from that. In addition, it's a bit heavy for a 15.6-inch laptop, so taking it with you is not as easy as you would like.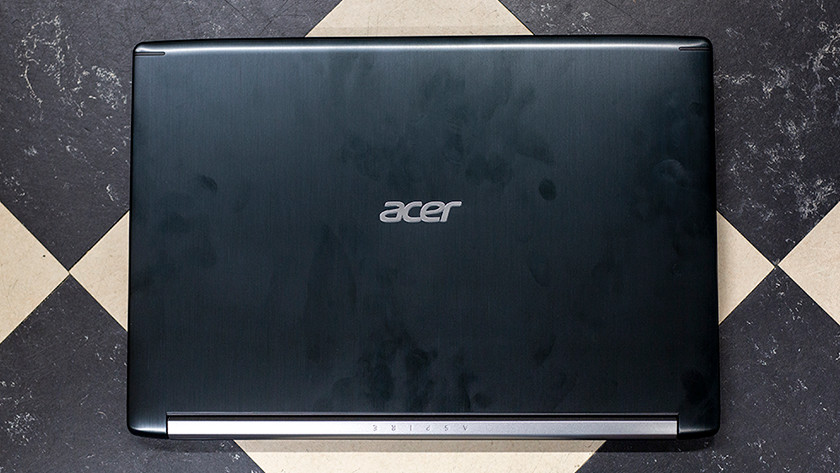 Sturdiness
Because the top of the laptop and the keyboard placement are made of aluminum, it feels solid. Nevertheless, I wouldn't advise you to drop the laptop, because the bottom is vulnerable. On the aluminum surfaces, you can easily see greasy fingerprints. You have to be able to handle that. In terms of robustness, the Aspire falls in the middle: not super sturdy, but also not limply built.
User-friendliness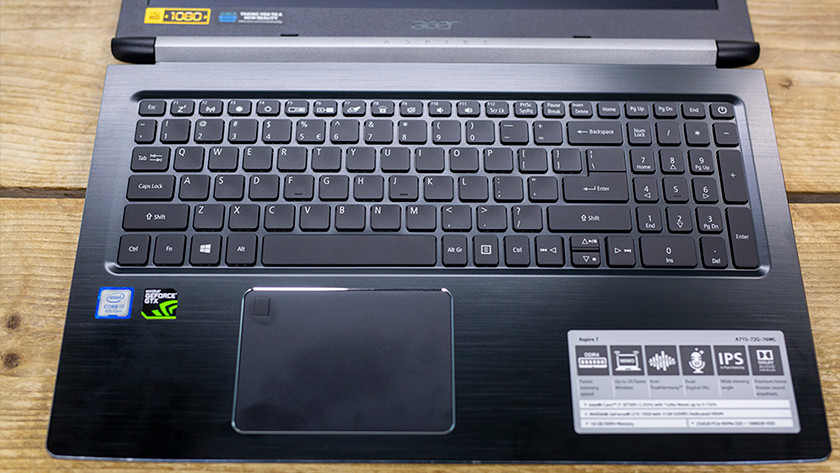 Keyboard and touchpad
The illuminated keyboard feels good to type on. The keys have a good travel and don't sound cheap when you play them. The touchpad responds well to touches and it navigates easily. The size of the touchpad is something you have to like, because it's not very large. This obviously doesn't matter if you are going to use an external mouse with this Aspire, but if you are going to use the touchpad and you prefer a larger one, then you have to take this into account.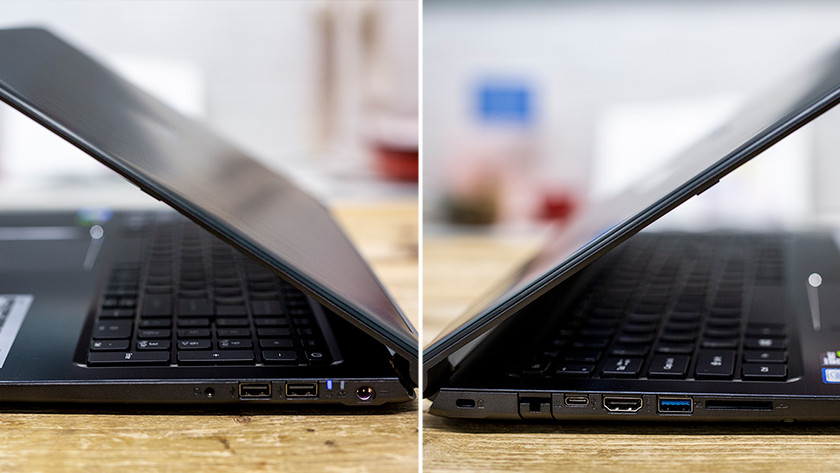 Connectors
Regarding connections, the Aspire has everything you need. 3 USB-A ports, a USB-C port, a card reader, an HDMI port, and even an Ethernet connection. Those are more than enough ports to connect an extra screen, or a keyboard and mouse. And for fast internet, the Ethernet connection provides you with that. In terms of connections, I am very satisfied with the Aspire.
Screen, sound, and battery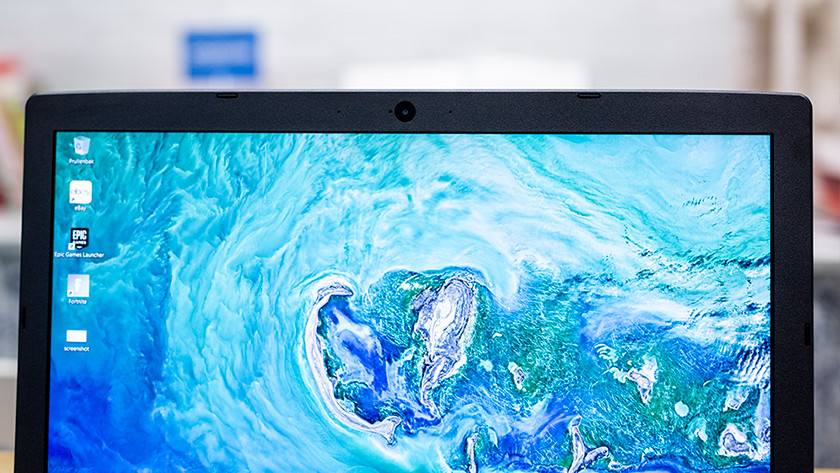 Screen and sound
The IPS screen of the Aspire displays beautiful colors and is a joy to watch. The edges around the screen are a bit thick, but that should not spoil the fun. Whether you watch a video or play a game, it all looks great. The sound from the speakers is good, but just like all other laptop speakers it is not nearly as good as sound from individual speakers. But for Netflix the sound is pretty good.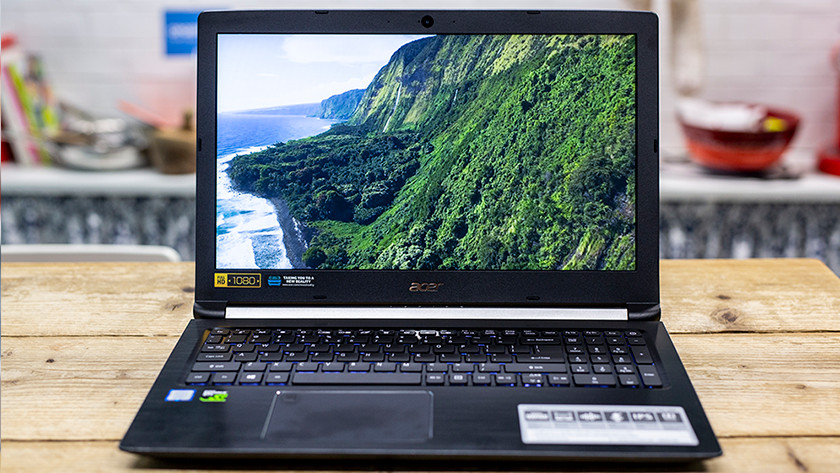 Battery life
Of course you also want to know how long you can use the Aspire before you have charge it again. After 1.5 hours of watching movies in 4K with the best performance, the Aspire stopped working. That isn't that great. Less intensive tasks such as browsing or watching Full HD movies naturally means you'll have more battery life, but the Acer doesn't score really well in this area.
Speed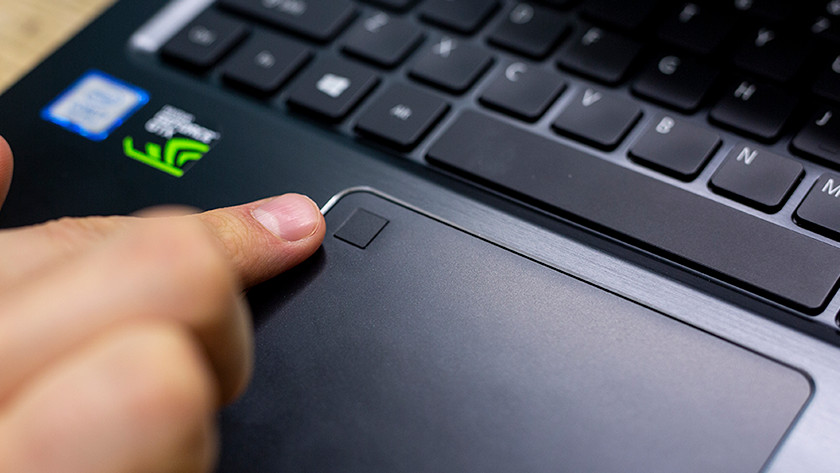 Booting it
With an Intel Core i7 of the eighth generation and an SSD on board, you can expect this Aspire to start in seconds. This is indeed true, but this Acer is not among the fastest. The laptop takes about 17 seconds before you see the login screen in front of you. This isn't very fast when you consider that some laptops do this within 8 seconds. Fortunately, logging in with the fingerprint scanner is easy and fast, so you are ready to get started within 20 seconds.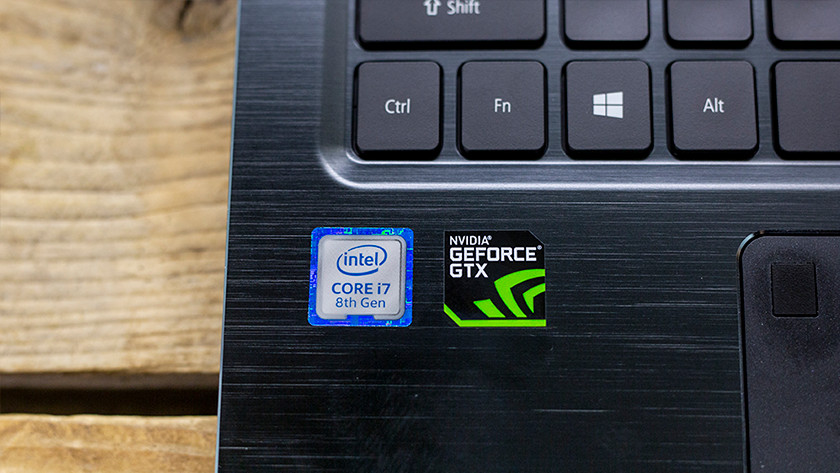 Performances
In terms of performance, the Aspire delivers exactly what you can expect from it. The Intel Core i7 processor is nice and smooth and having multiple programs open at the same time is no problem. In addition, each program loads in a second or 5, regardless of what it is. Provided you have installed it on the SSD of course. With 256GB, you have enough for at least your most used software. In combination with the extra 1TB hard drive, you have plenty of room for the time being, although expansion is also possible.
Particularities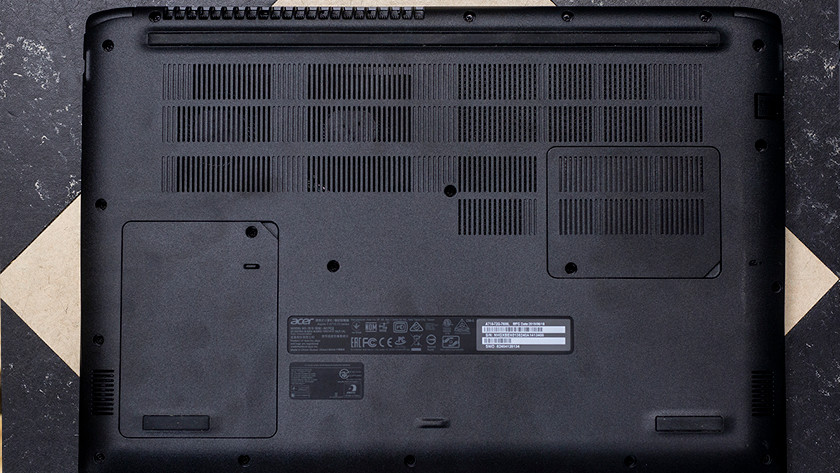 Expandable through the bottom
With 256GB for your SSD and an extra hard drive of 1TB, you theoretically have more than enough storage. If you need more space for files and such, you simply place a new HDD or SSD through the cover on the bottom. You also have the option to configure the RAM memory via the other box on the bottom. This way, you keep the Acer up-to-date and that is great for a laptop that costs more than 1000 euros.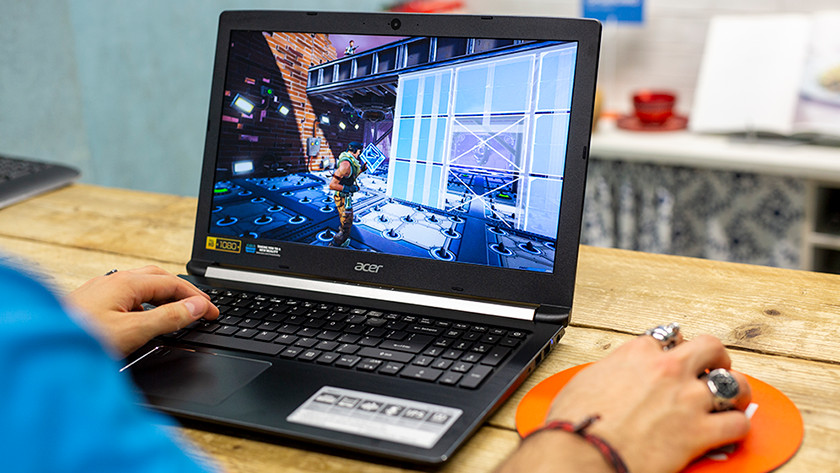 Video card
The GTX 1050 video card provides the graphical splendor on the laptop. Not the very best video card for hardcore gaming of course, but simple games or Fortnite run great on the Acer. Fortnite, for example, runs great on average settings without a hitch. When your eye falls on this laptop, you are of course not looking for a gaming laptop and in that case the GTX 1050 is also good enough. Great video card for this laptop.