Expert review of the Acer Swift 7
We've reached a new milestone when it comes to laptops. The Acer Swift 7 is 9.98 millimeters, so it's the first laptop that's thinner than a centimeter. A very impressive feat, but is that a good thing as a consumer as well? Read it in this review of the Acer Swift 7.
---
In short
Pros of the Acer Swift 7
Super thin
Sleek look
Large touchpad
Nice keyboard
Cons of the Acer Swift 7
Disappointing battery life
Glossy screen panel
No backlit keyboard
From the box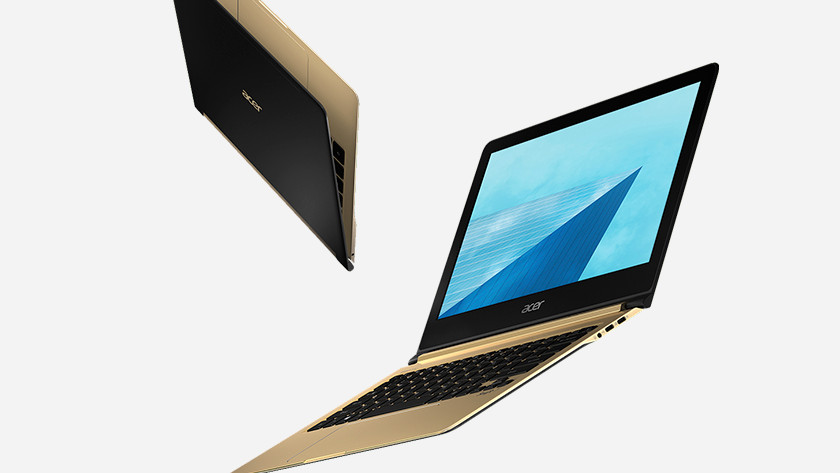 The Acer Swift 7 is the thinnest laptop in the world - at this moment. Because it's so thin, it's heavier than I expected from a device this flat. Flat is relative of course, because the Swift 7 only weighs 1.13 kilos. In the box, you can also find a power cable and a USB-C and USB-A converter.
Specifications explained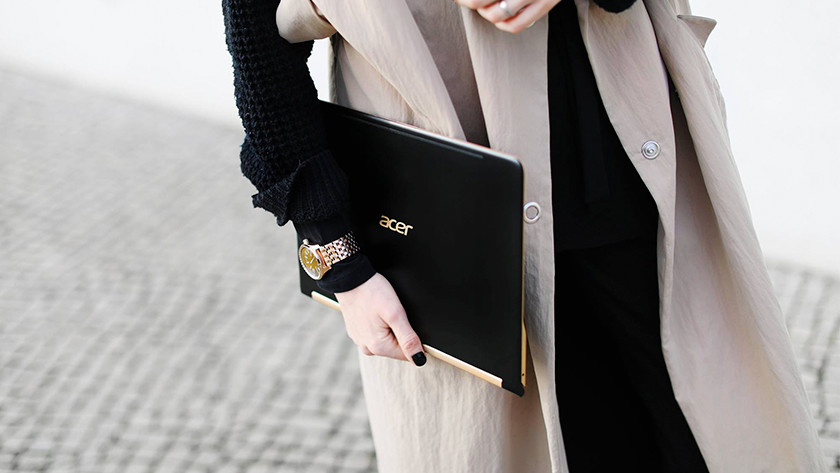 Looks
Despite the thin frame of the Swift 7, it doesn't feel fragile. The outside is black and pretty susceptible to fingerprints. The inside is matte gold, a risky choice by Acer. I think it gives the Swift a unique, pretty, and sleek look. One of my colleagues yelled 'cheap' right away, though.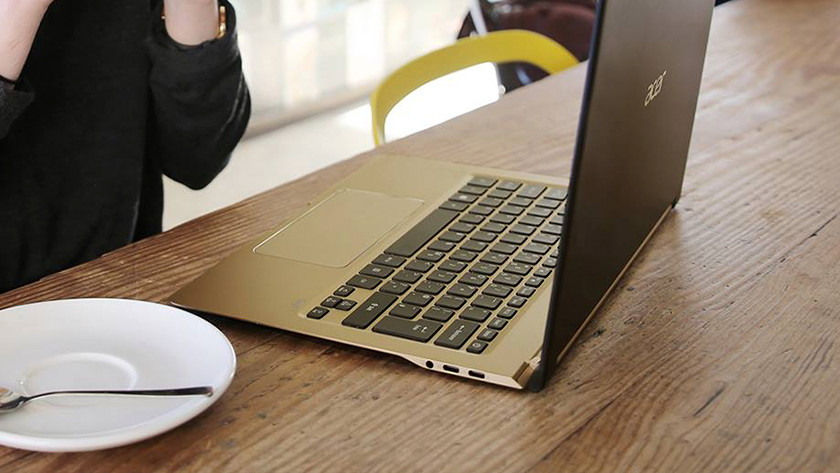 Connectors
All connectors can be found on the right side of the Swift 7. Other than the headphone jack, it has 2 USB-C port. Acer is all in when it comes to a future with USB-C, which is understandable. Both USB-C ports can charge the Swift 7. The ports support DisplayPort as well as USB 3.1, which is useful if you want to connect a second screen. To connect devices with an 'old' USB connector, a USB-C to USB-A converter is included.
Touchpad and keyboard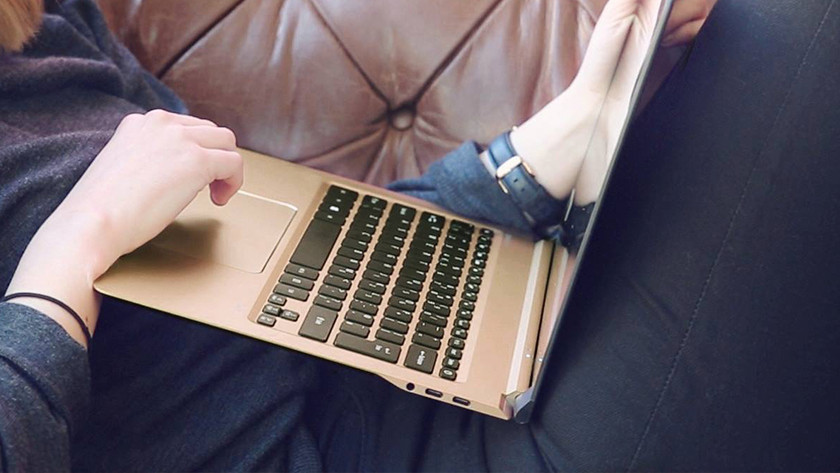 Touchpad
The touchpad of the Swift 7 is a lot wider than most other laptops. A big pro in my opinion, because it means that you can go through photos, websites, and files more easily. Especially if you use the laptop without a mouse. It's not all sunshine and daisies, though. The palm rejection doesn't always work as well. While writing this article on the Swift 7, the palm of my hand regularly grazed the touchpad, causing the cursor to move or select a piece of text. The latter is especially frustrating when you don't realize it, keep typing, and then lose a piece of text.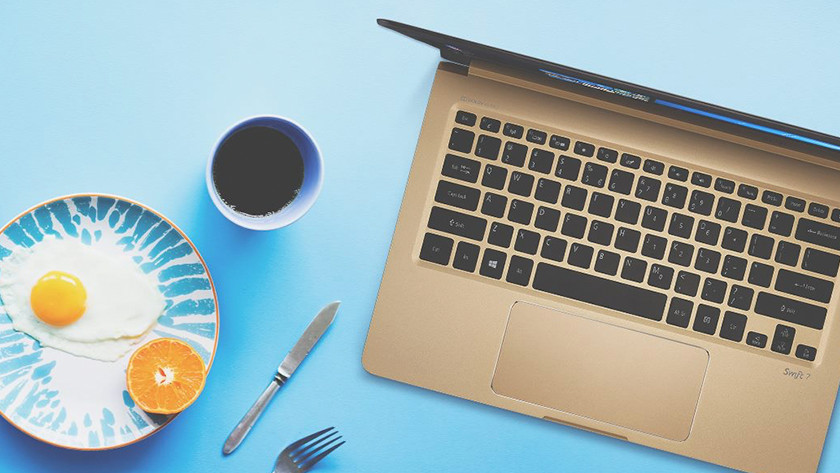 Keyboard
Typing on the Swift 7 is great. The keys are a little more stiff than keys on other laptops and are harder to press on. That's why you can type accurately, because touching a key is less likely to cause a spelling error. Other than the normal function keys, the Swift 7 also has keys to switch to sleep mode and airplane mode, to turn off the screen, and turn off the touchpad. A cons is that the keyboard doesn't have backlight, so typing in a dark environment is a bit harder.
Screen and battery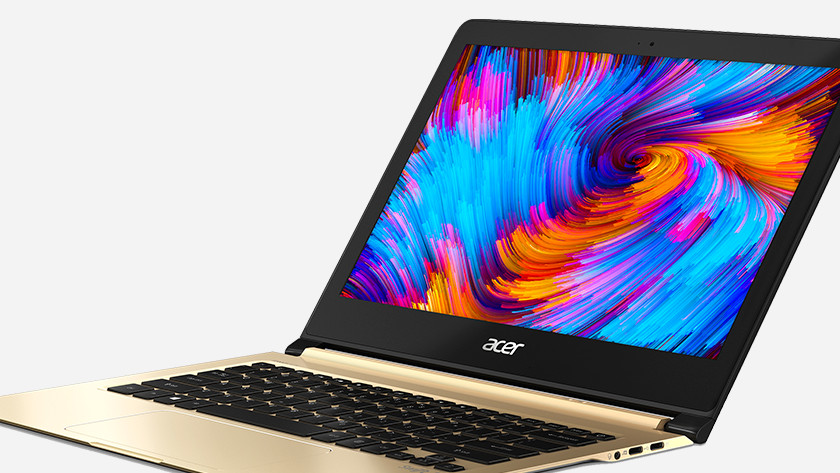 Screen
The screen has more cons than pros in my opinion. The colors of photos and videos look find on the Full HD IPS screen. It's a shame that the Swift 7 has a glossy panel, so you see quite a lot of reflection. It's not the sunniest time of year, but the screen also reflects too much under fluorescent lighting. Another con: the big border around the screen is old fashioned.
Battery life
Acer promises a battery life of 9 hours, but I didn't make that by a long shot. I browsed some websites and opened a Google doc, while listening to music via Youtube and doing some photo editing, and the battery ran out after 6 hours and 5 minutes. The brightness was set at 80 percent and battery saving mode was disabled.
Processor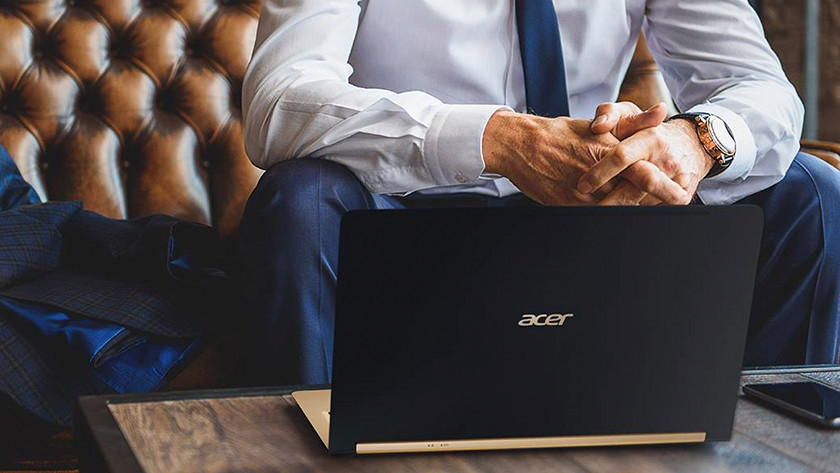 What kind of processor does the Swift 7 have?
The Swift 7 has an Intel Core i5-7Y54 processor. If you're familiar: that's the successor of the Core m5-6y57. If you're not: The Swift 7 has enough power to multitask. You can open about 10, listen to music, and photoshop some things. If you use it more, the Swift 7 won't work as well. The processor doesn't have a fan to cool it. That's why you won't hear noise if you have a lot of tasks open. The Swift 7 is always silent.
Other types: Swift 3 and 5
Aside from the Swift 7, Acer also introduced the Swift 3 and 5. These 14-inch laptops are less thin, but they do have a better processor, so they can run more demanding programs. The Swift 3 and 5 have a USB-C connector, as well as HDMI and USB-A connectors and a backlight keyboard.
Conclusion
For now, the Swift 7 is the thinnest laptop out there. Acer has performed an impressive feat, producing a laptop of only 9.98 millimeters. Question is if customers benefit from this if so much user-friendliness is sacrificed. Because the Swift 7 is so thin, it doesn't have as much connectors or processing power. What remains is a beautiful laptop that is extremely suitable to take with you every day. A laptop you can use to do everyday tasks easily. If you need programs like Photoshop, the Swift 7 isn't fast enough. The Swift 3 or 5 are likely better options.