Expert review of the AEG FX9-1-ALRG
AEG claims to have developed something revolutionary in the field of stick vacuums: the first stick vacuum with adjustable height that completely replaces the 'regular' vacuum. To test this and find out whether these promises are true, I tried out the AEG FX9-1-ALRG for several weeks.
---
AEG FX9-1-ALRG
With built-in handheld vacuum
|
Vacuum for 60 minutes
|
36V lithium-ion battery
Takes corners very smoothly
Telescopic tube with adjustable height
Extendable flexible hose
Movable motor unit
Stable parking mode
Relatively heavy
While you're vacuuming, it's hard to see how much battery power you have left
From the box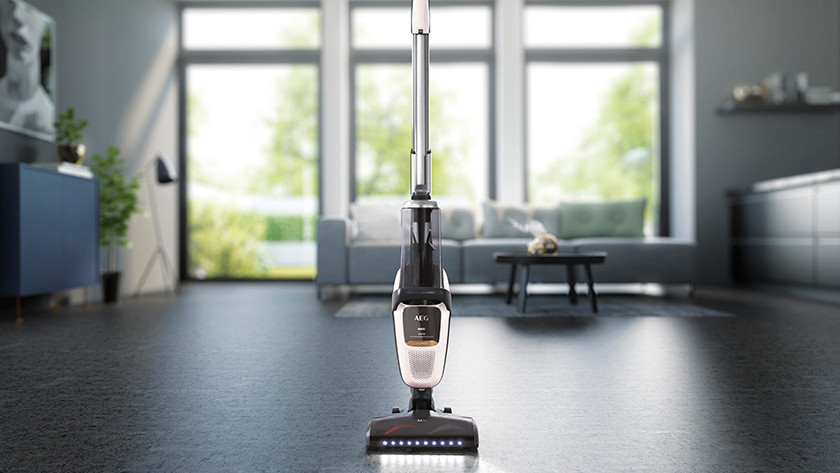 I was on cloud nine when I unpacked it. I noticed the box was rather heavy, so I was expecting a great deal. To be honest, I felt the vacuum cleaner looked a little 'crude' on the pictures. Once I unpacked it, that turned out to not be the case at all. The narrow vacuum cleaner actually has a very sleek design. I also found these things in the box:
Tube with battery and dust collector
Regular nozzle
Soft dusting brush
Mini turbo brush
Adjustable centerpiece
3-in-1 accessory
Charging dock
Manual
Since the stick vacuum was complete in the box, there was no need to connect the different components. All I needed was attach the nozzle and I was good to go. In addition, the battery was already 50% full, so I could instantly take it for a spin.
Telescopic tube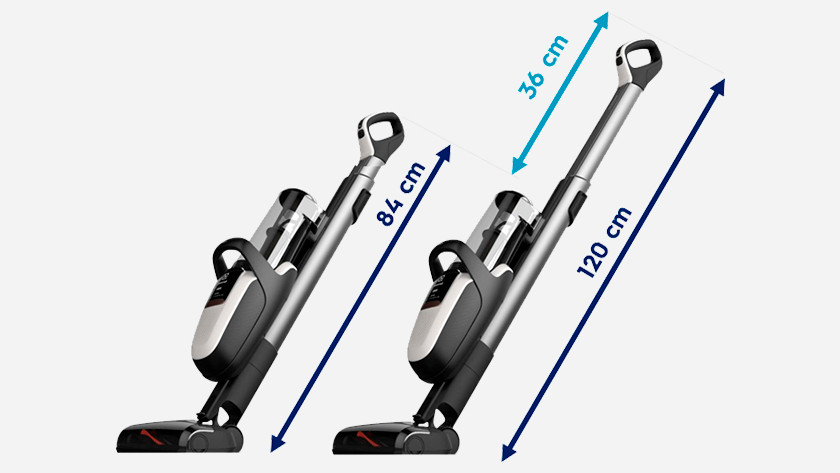 The first thing I noticed when I unpacked it was how compact the vacuum is. And thankfully so, since my storage closet isn't very big. Before I started vacuuming, I easily extended the telescopic tube to make it longer. When I was done, I made the vacuum smaller again so that I could store it in the closet. It may not seem important, but I think this is the vacuum's main pro. There aren't any other stick vacuums that can do this (yet), so it's definitely unique.
Suction power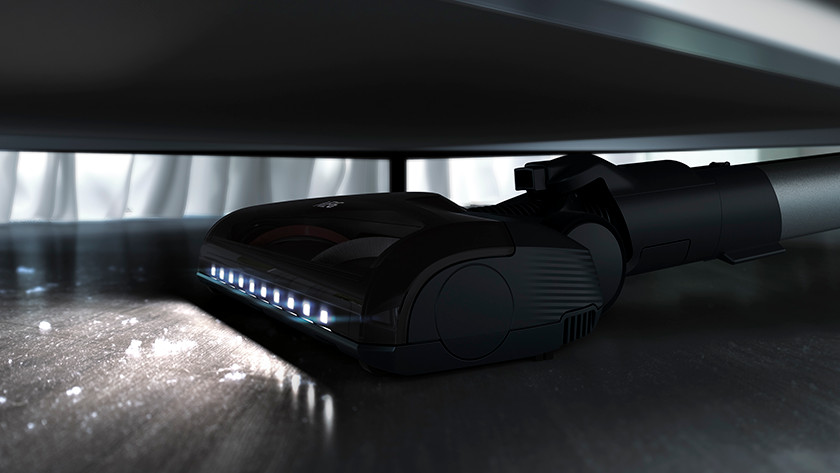 Lowest setting
AEG says that this stick vacuum can replace the 'regular' vacuum. After trying out the lowest of the 3 vacuum settings, I'm starting to believe AEG. The LED lighting on the nozzle (unfortunately) shows me exactly where all the dirt is, and that it effortlessly ends up in the dust container. For my hard flooring, this setting is more than enough, and it's also best for the battery. With a full battery, I can vacuum my 80-square-meter apartment and have 35% power left.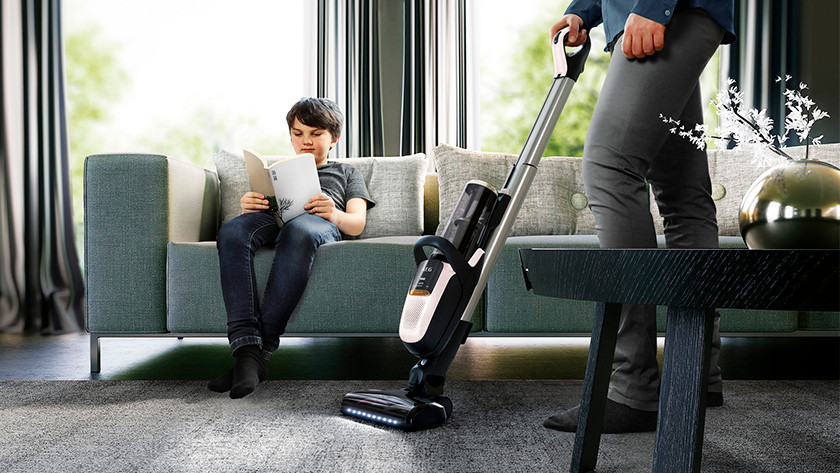 Middle setting
Since I was already pretty impressed by the lowest settings, I couldn't wait to try out the higher settings. By increasing the setting, the noise also increases. I wasn't really bothered, but you can't really have a conversation at the higher settings. 1 push of the button and suction power increases right away. I don't think I'll need it on my laminate flooring, but when you're vacuuming carpet or coarse rugs, I definitely think this setting is a necessity.
Turbo setting
The turbo setting is only recommended for coarse dirt like pet hairs or dried mud. If you have a high-pile carpet, I can imagine you'll like this setting. I don't have that at home, but our office does have a meeting room with high-pile carpet, I tried this setting out there. Wow. Like I said, I won't need this setting, but it was remarkable how much dirt ended up in the dust container. With the handheld vacuum and the mini turbo brush, I can imagine getting so much dust out of the mattress, for example. It's definitely impressive, but it does drain the battery more quickly.
Moving the motor unit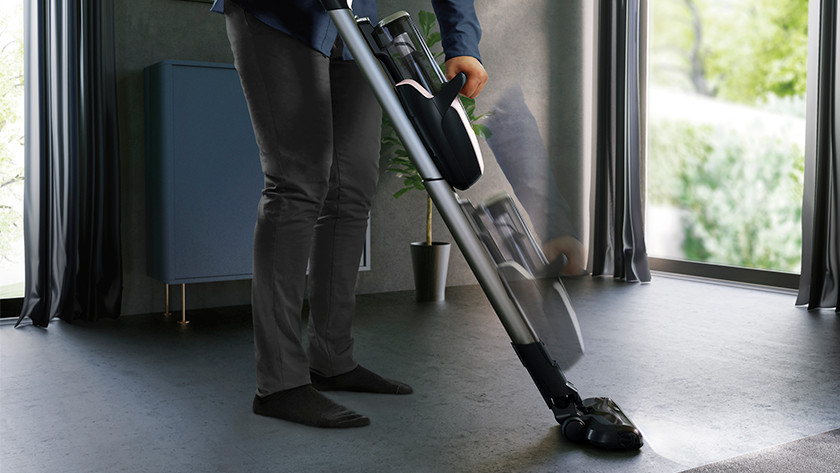 On the images and in the video, I'd already seen that this stick vacuum's motor unit is movable. It just wasn't really clear to me yet why you'd want to do that. Once I got home, the LED lighting made me decide it was time to vacuum under the couch as well. You can put the stick vacuum down flat, but moving the battery upwards made it even easier for me to reach underneath the couch.
Accessories
If you remove the nozzle and retract the tube, you'll be left with a kind of compact version. I grabbed the handle and used it like a sort of handheld vacuum. There's an extendable hose underneath the attachment, which I think is the best part of this vacuum. It lets you easily remove some crumbs from the countertop, and you can also bend the hose in different angles to vacuum the whole car. I used the soft dusting brush to clean the coffee table and lamp shades. I didn't feel like the small extension piece added much, since the vacuum's already pretty heavy. As a result, I wasn't really able to vacuum above my head, so I had to grab a stool for that.
Conclusion
Can this stick vacuum replace a 'regular' vacuum? I think so. The suction power really surprised me, and I think all the extra attachments are ideal. If you want a versatile vacuum and don't mind it being a little heavier, then this is definitely the vacuum cleaner for you.
Did this help you?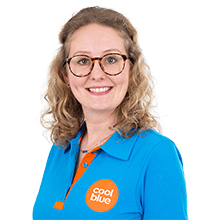 Article by: