Expert review Apple TV 4K 32GB
The fifth generation Apple TV is also called the Apple TV 4K. You use it to watch all your favorite movies and series in ultra high resolution, so they're all super sharp. Apple TV offers a lot more than only movies and series though. I tested the Apple TV 4K 32GB model. In this article, I'll tell you more about this smart media player by Apple.
---
Apple TV 4K 32GB
4K (3840 x 2160)
|
Suitable for Netflix, iTunes, and Apple Music
|
App for iOS
Thanks to the 4K HDR resolution, you can watch movies and photos in Ultra High Defintion quality.
Apple TV 4K supports many apps, such as Netflix, iCloud, and TakeAway.
Play games with friends and use the included Siri Remote, iPhone, or iPod touch as a controller.
You can only enjoy the 4K resolution and HDR with a television that supports HDR10 and Dolby Vision. You also need an HDMI 2.0 cable to connect Apple TV 4K with.
An HDMI cable isn't included to connect Apple TV 4K to your television.
First impression of Apple TV 4K 32GB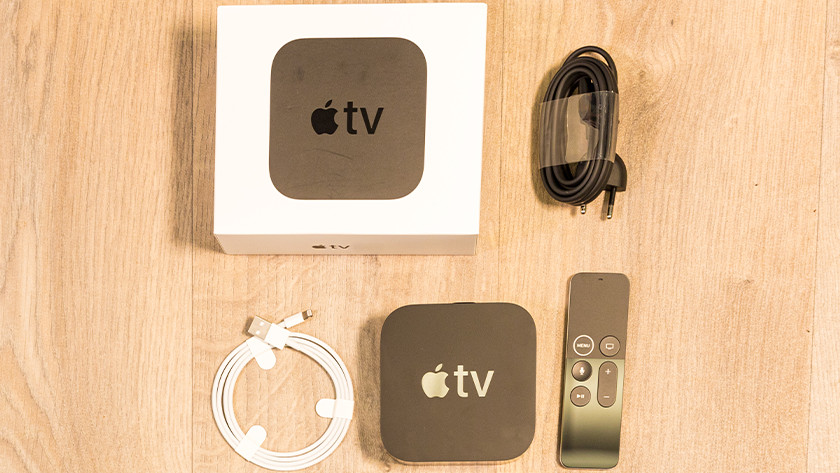 In the well-known Apple box, I find a Lightning to USB-A cable, a power cable, Apple Siri Remote, a short manual, and, of course, the Apple TV 4K box. I miss an HDMI cable to connect Apple TV to my television. The Apple TV box is compact and the Siri Remote is very thin and light. I look for an HDMI cable and connect Apple TV 4K to my 4K television.
Design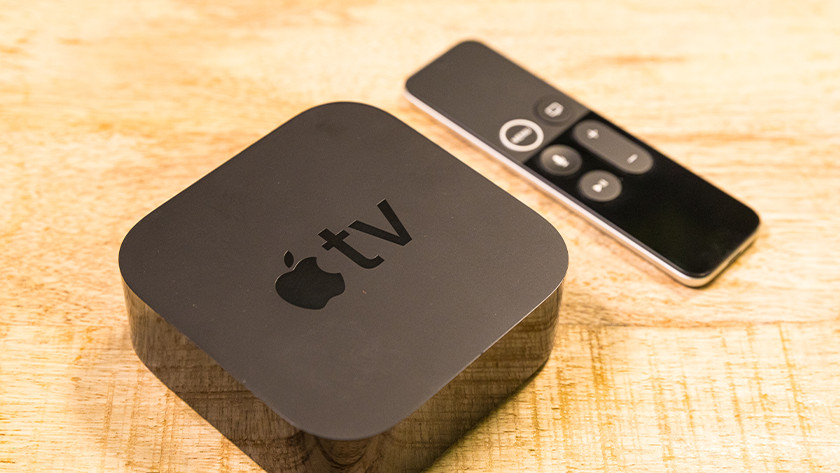 The exterior of the box and the remote alternate in high gloss and matte black, and the back of the Siri Remote is aluminum black. The exterior of the Apple TV 4K is equal to its predecessor, Apple TV HD. The box is barely 10cm by 10cm, and not even 4cm high. So, the media player easily fits into my television cabinet or underneath my television. The 4K model has an active fan inside the box, in contrast to the Apple TV HD, but I don't hear this when Apple TV is turned on.
Resolution and sound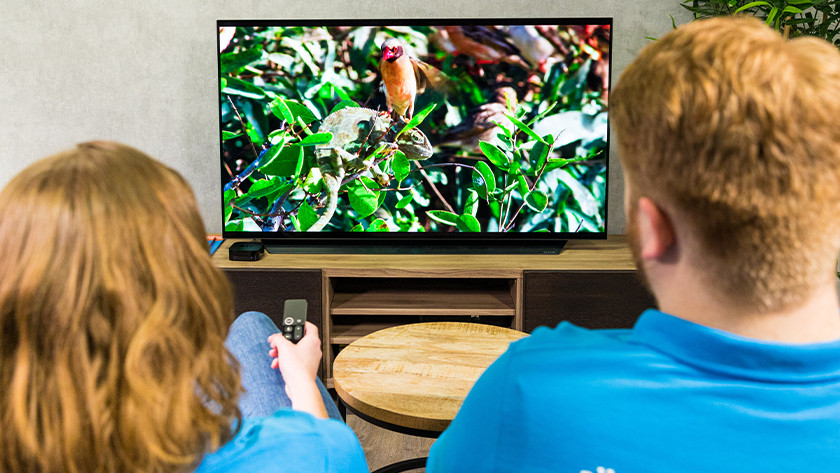 The largest difference to its predecessor is the 4K resolution of this media player. When I watch 4K movies, the image is up to 4 times sharper. Even the smallest detail is razor-sharp with the 8 million pixels of 4K. Apple TV 4K supports HDR, making colors brighter and more realistic then when HDR isn't supported by the image. Apple TV 4K also supports Dolby Vision and Dolby Digital Plus 7.1 surround sound. I set up surround sound in Apple TV and get to experience my favorite movies even more intense.
Functions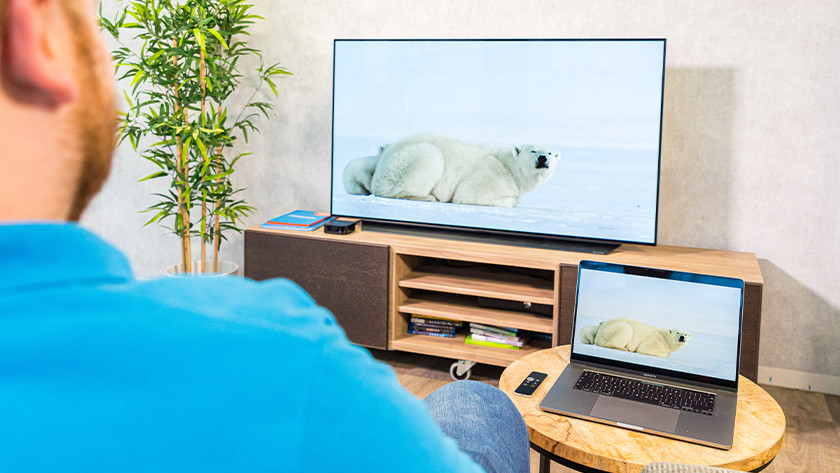 Apple TV 4K is equipped with an A10X Fusion chip, which we know from the iPad Pro. This chip makes it possible to quickly switch between apps and play games via Apple Arcade without any hitches. Another useful function of Apple TV is AirPlay. I use this to easily stream videos from my MacBook or iPhone to my television without using any cables. I ask Apple's assistent via Siri Remote to open the Podcast-app, so I don't have to switch between apps and menus.
Storage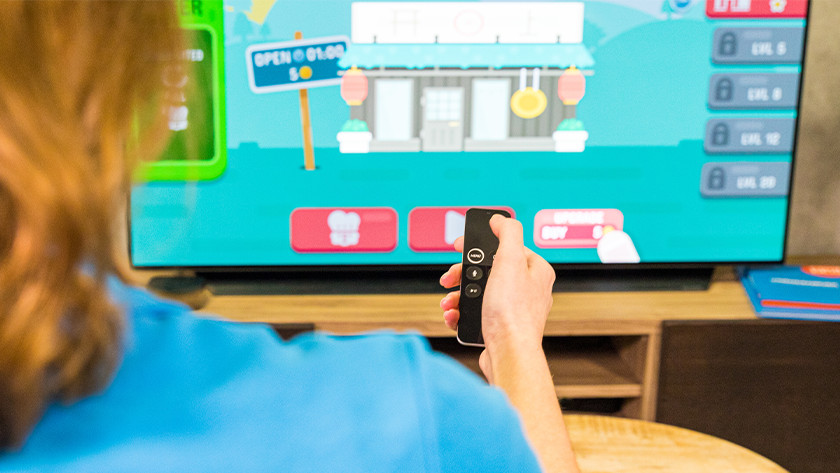 The Apple TV 4K is available in 2 models, one with a storage capacity of 32GB and one with a storage capacity of 64GB. I use storage for my apps, photos, and music. When I was testing the device, I could save many apps and all my holiday photos on the model with a 32GB storage capacity. Are you planning to save every photo of your life on your Apple TV? And download every app from the App Store onto it as well? Then, look into the Apple TV 4K with a 64GB storage capacity.
Connectors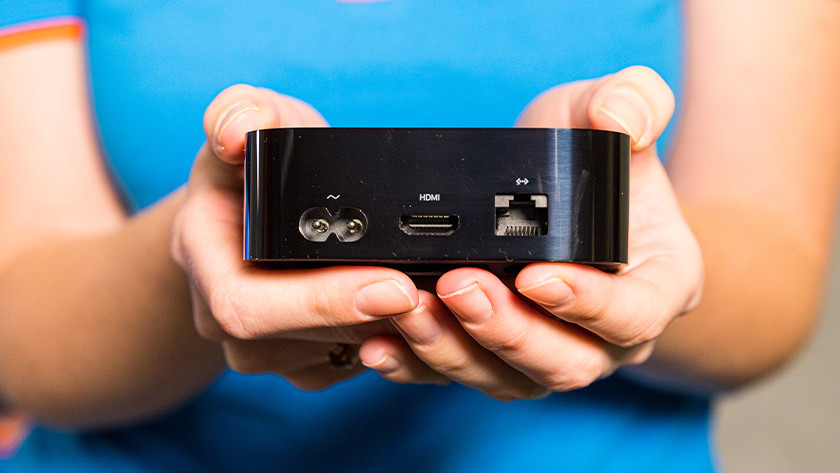 Unlike its predecessor, the Apple TV 4K only has 3 ports. The USB-C port is gone, since you can now make screenshots of Apple TV wirelessly. I connect Apple TV 4K to a power cable. The HDMI port is right next to it. It's also possible to connect a Gigabit Ethernet cable, in case you want faster internet to download apps and stream movies.
Conclusion
The 4K HDR resolution of the Apple TV 4K makes a large difference compared to the Apple TV HD. Movies and series look razor-sharp on my 4K television. The 32GB is just enough storage capacity to save the wide range of apps and games that are available in the App Store for Apple TV. The Siri Remote lets me switch between apps and movies very easily. The A10X Fusion chip is powerful enough to finish all the games in Apple Arcade.
Article by: