Expert review of the Asus ZenBook UX431FA laptops (2019)
The Asus ZenBook UX431FA laptops are described as compact but stylish laptops by the manufacturer. That sounds like an ideal laptop for when you're often on the go, but still want to place a fancy looking and enviable product on the train table. Does this laptop live up to its expectations of an ideal travel companion? I've tested the Asus ZenBook UX431FA-AM082T variant from this series and you can read my experiences in this expert review.
---
The Asus ZenBook UX431FA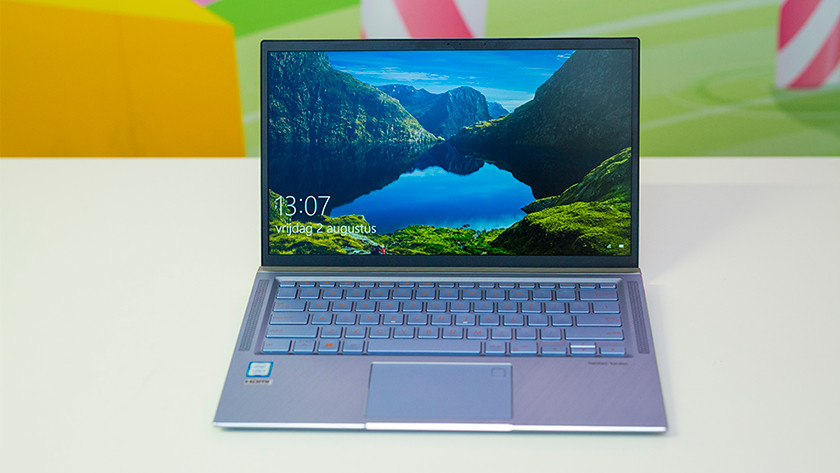 The models in the Asus ZenBook UX431FA series are laptops that are known for their compact and stylish design. Laptops in this series have the following variations:
Processor: Intel Core i3 to i7.
RAM: 4GB to 16GB RAM.
Storage Capacity: 256GB to 512GB SSD.
Video card: Intel UHD Graphics 620 or NVIDIA GeForce MX250.
Striking appearance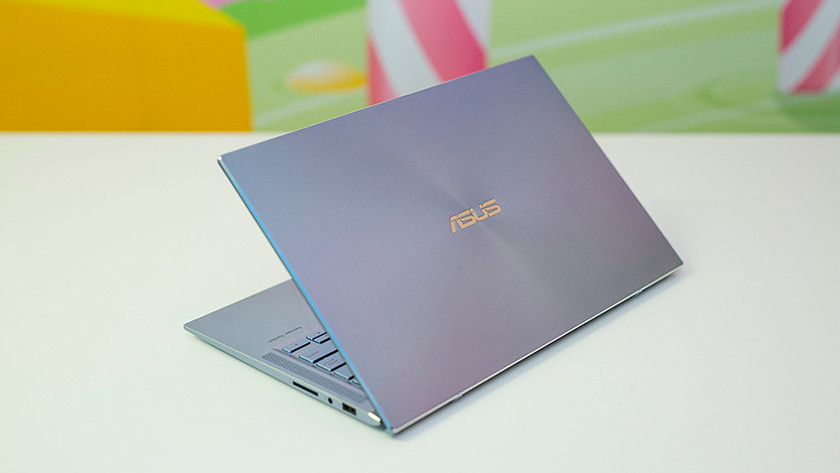 The first thing you'll notice when you take the Asus ZenBook UX431FA-M082T out of the box is its appearance. The device is made of shiny blue aluminum, except for the bezels. The keyboard and touchpad also have this blue metallic shine. The laptop is very compact, thanks to the thin bezels around the screen. The laptop has a screen size of 14 inches, but has about the same size as a 13-inch laptop. The laptop feels sturdy and very solid. I didn't smash the product with a hammer, but the laptop can certainly take a hit. Very useful if you have two left hands and drop your laptop occasionally, just like me.
Log in with your fingers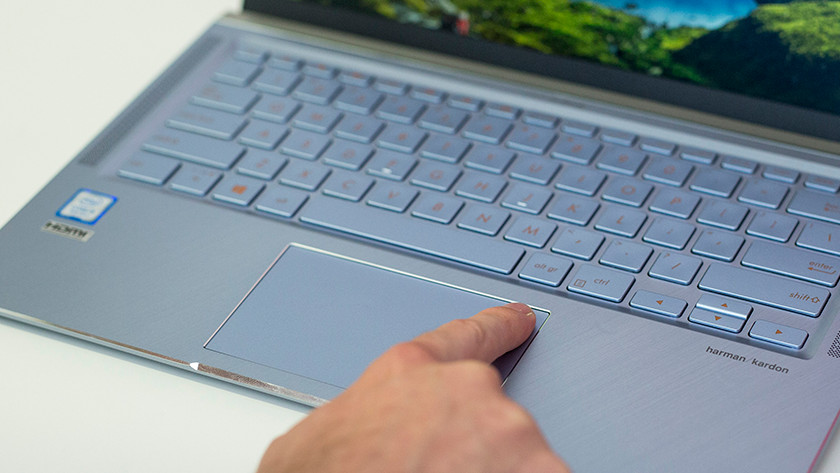 After you've unpacked the Asus, you switch it on as soon as possible of course. The laptop boots within seconds thanks to the built-in SSD. This goes extra fast because you log in by placing your index finger on the fingerprint scanner. This saves time because you no longer have to enter passwords of 18 characters. With this function, which Microsoft calls 'Windows Hello', you can easily log in to a number of other programs like Outlook.
Typing and clicking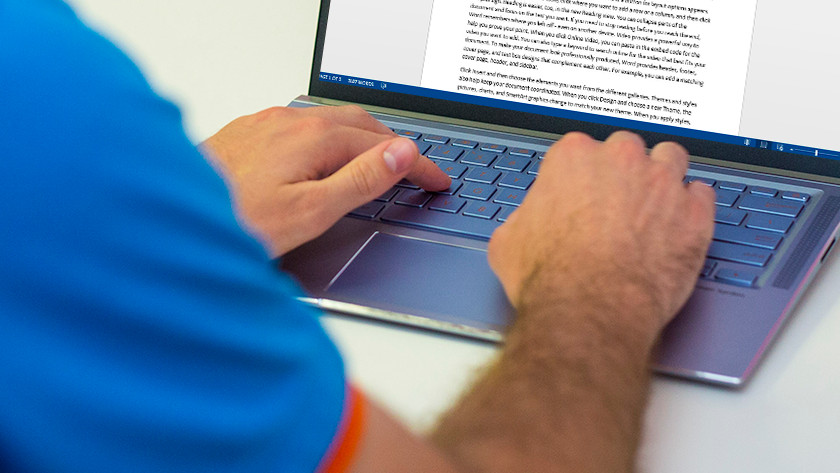 If you're on the go a lot, you don't want to bring an extra keyboard and mouse. So you want the built-in keyboard and touchpad to function properly. The keys have little 'travel', which means they're very flat. Typing still feels more comfortable than on some other laptops with a flat keyboard. This is partly because the keyboard rises slightly when you open the laptop, like the retractable feet on the bottom of an external keyboard. The touchpad registers my fingers well and actions that require multiple fingers, like zooming in on Chrome or Firefox, also work smoothly. Other than that, a USB mouse is also included, but you would rather expect this type of mouse for a more affordable laptop model in terms of quality.
Sound by Harman Kardon
It looks promising, a Harman Kardon logo next to your speakers. But is it purely marketing or does the audio really sound better? Of course, the sound quality isn't comparable to oak wood standing speakers. So using this laptop as a jukebox during a house party isn't an option. For laptop speakers, the sound does sound very good and it can be turned quite loud. This means that watching a movie on Netflix without external speakers or headphones is more than fine.
Beautiful colors on the screen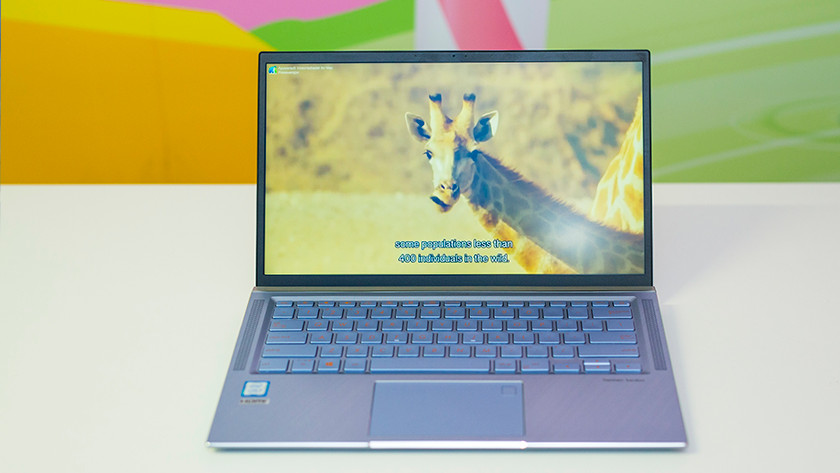 The screen of this laptop series comes in 2 variants: anti-glare and glossy. I tested the model with an anti-glare screen, so you don't have a reflection of the sun on the screen when you're working outside in the garden, for example. The colors on the IPS screen are sharp and radiant, so watching your favorite Netflix series on the train is enjoyable. My colleagues who passed by were also impressed by the color representation. Because the laptop has good viewing angles, you have to be careful that your fellow travelers don't sneak a peek on your screen.
Loud fans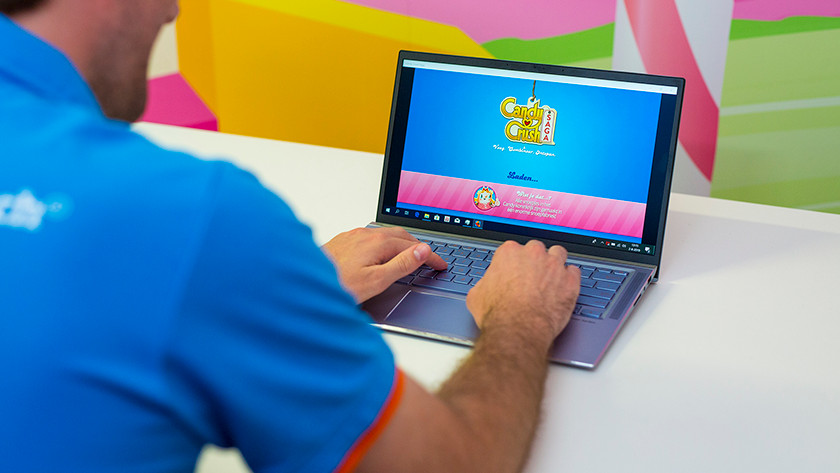 The Asus laptop is generally very silent, but the fans will switch on when you get started with intensive tasks. These fans are loud and distracting. So if you work a lot in demanding programs like Photoshop, you have to take into account the noise in the background.
Few connectors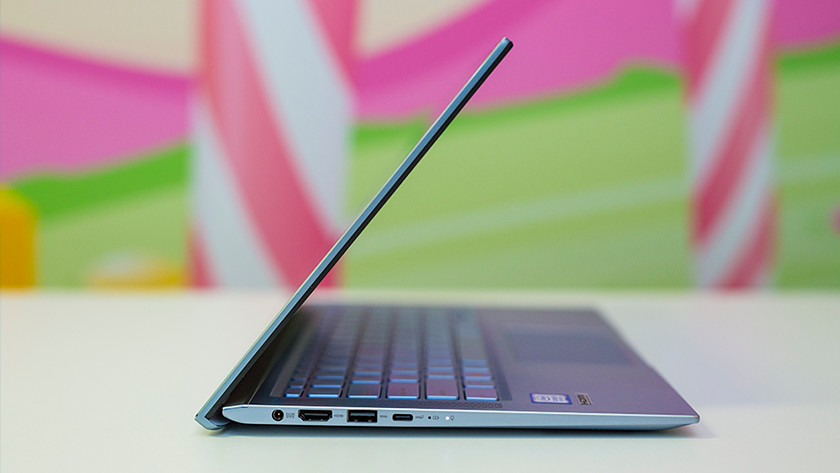 The ZenBook has 2 'regular' USB-A ports and 1 USB-C port. You don't use this USB-C port to charge your laptop. You need a separate connector for this. In addition, there is an SD card reader and a 3.5mm audio connector for your headphones. You also have access to an ethernet port for internet and an HDMI connector to connect an extra screen. Just enough connectors for the average user. But are you someone who wants to connect more than an external mouse, external hard drive, and 1 extra screen? You won't have enough connectors, unfortunately.
Conclusion
Powerful enough for photo editing
|
Intel Core i5 - 8GB - 256GB SSD
|
Lightweight: 1.4 kilograms
The Asus ZenBook UX431FA is made entirely of blue glossy aluminum, which gives the laptop a striking appearance.
You log in quickly and easily thanks to the fingerprint scanner.
The Harman Kardon speakers have good sound quality for laptop speakers.
The fans of the laptop make a lot of noise during demanding tasks.
With only 2 'regular' USB ports, you don't have any connectors left after connecting a hard disk and a mouse.
Did this help you?