Expert review of the GoPro HERO 5 Session
At first glance, the GoPro HERO 5 Session is a simple, tiny action camera: 2 buttons, no screen. The package claims something different though. Cool! According to the description, the camera is chock-full of interesting, innovative specifications. Time for action. In this review, I turn the HERO 5 Session inside out.
In short
Pros
The small size makes it ideal to attach to your chest or helmet.
The size and color make your action camera inconspicuous.
Voice control takes some getting used to, but it works really well.
Digital image stabilization makes it unnecessary to post-process your videos.
Cons
You'll always need to have your smartphone or tablet with you in order to frame the image.
You can't change the battery.
Voice control is a drain on the battery.
First impression
Before me stands the GoPro HERO 5 Session. Packaged nicely, as I've come to expect from GoPro. The box contains a manual in various languages, a data cable, 2 mounts, and of course the action camera itself. The frame, which is used to connect the camera to the mounts, has new design. My first impressions are positive. Time to test it.
Specifications at a glance
Voice control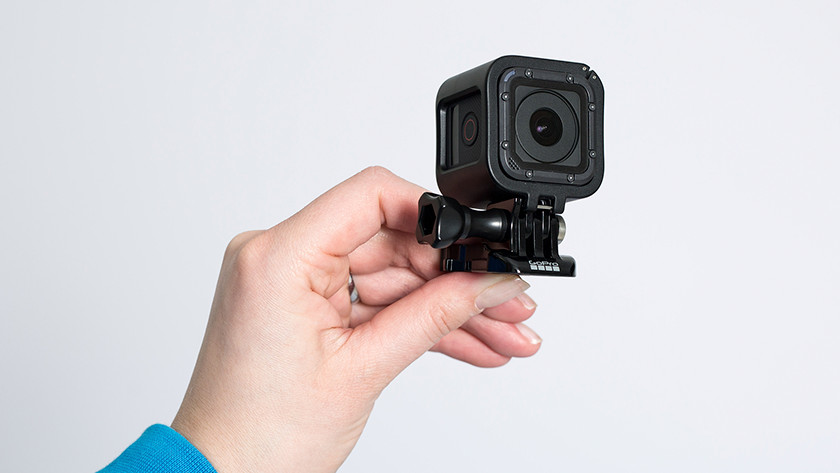 It really works
It takes some getting used to. I stand in a busy city square talking to a little black cube, "GoPro, take a photo." Luckily, the camera does exactly what I ask and I don't embarrass myself. Next, I try some other commands like: "GoPro, start filming." What an awesome feature! I can imagine this would work great when skying or cycling. The response time is good too. When I ask the camera to start filming, it does so almost immediately.
Digital image stabilization
Smooth images
Almost every Sunday, I get on my mountain bike and explore the national parks my country has to offer. Everyone who has recorded video with an action camera from his handle bar, understands how disappointing the shaky images can be when you see them afterwards. That's why I'm happy with the introduction of digital image stabilization. Although, it's too bad that it's just digital image stabilization. That particular approach makes the image frame smaller. Nonetheless, this is a big step up compared to older models.
Protune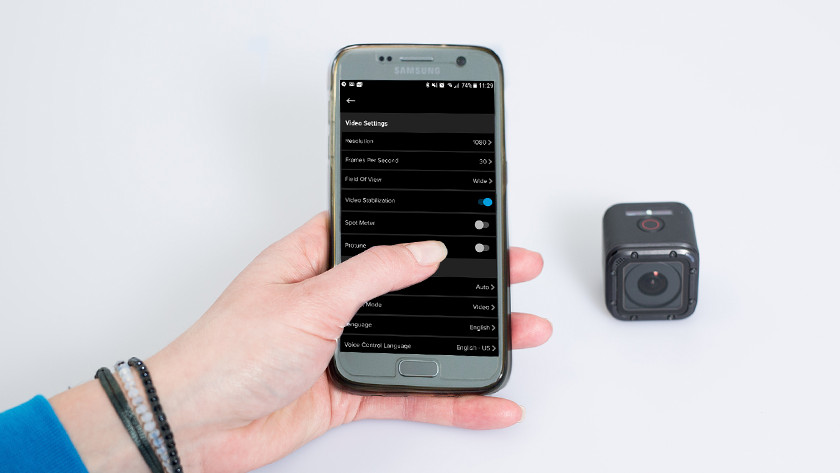 Video editing
I was familiar with Protune settings from previous models. This is a kind of LOG profile, that lets you set the dynamics of your video file. This is a good way to counteract overexposure or underexposure, for instance. In addition, you can easily adjust the colors and apply color grading. Combined with your smartphone as an external monitor, you have a miniature film studio in your pocket with this camera. The camera is no replacement for an SLR camera, but as a second camera in your equipment, I definitely recommend it.
Conclusion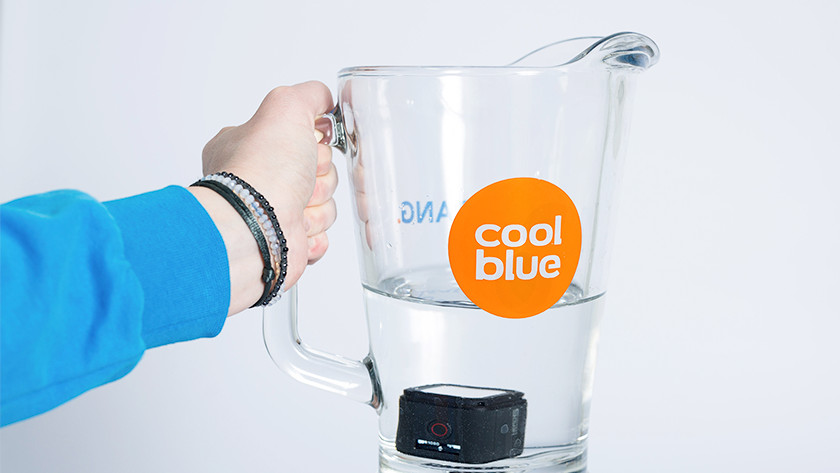 Many options at a compact size
I feel the HERO 5 Session has been designed for more advanced movie makers. At the same time, the camera has easy controls. When it comes to superficial point-and-shoot images, the action camera offers excellent results. If you're working in Protune, you have a lot of cinematographic options to choose from. So many options on such a small device is unheard of. One point of criticism is the battery. It can't be changed, unfortunately, meaning you always need power bank between shoots.