Expert review of the Lenovo IdeaPad L340-17IRH Gaming laptops (2020)
The laptops in the Lenovo IdeaPad L340-17IRH Gaming series are gaming laptops with a simplistic design. You can use them to play games on average graphic settings. But if you take these laptops to a LAN party or to school or work, you'll want to know if this device is more than just a good video card and a powerful processor. In this expert review, I put the Lenovo IdeaPad L340-17IRH 81LL00GNMH model from this series to the test. Did this laptop manage to surprise me?
---
The Lenovo IdeaPad L340-17IRH Gaming series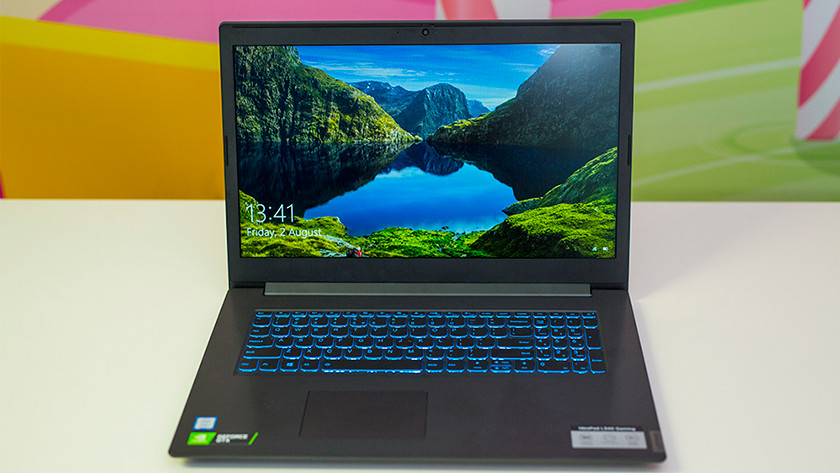 The 17-inch models in the Lenovo IdeaPad L340 Gaming series are suitable laptops for playing games. The laptops in this series come in the following versions:
Processor: Intel Core i5, Intel Core i7
RAM: from 8GB to 16GB
Storage capacity: from 256GB to 1256GB
Video card: NVIDIA GeForce GTX 1050, GTX 1650
Heavy plastic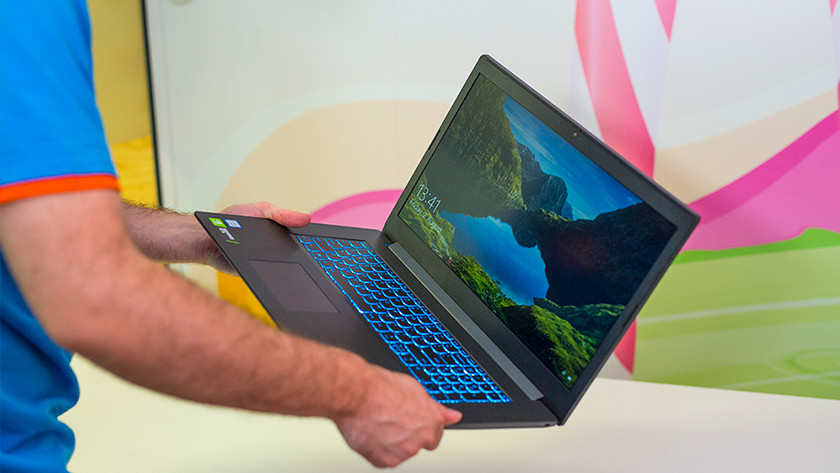 When you first remove the Lenovo L340-17IRH 81LL00GNMH from its box, two things stand out. The first is that the appliance is entirely made out of shiny gray plastic, which feels vulnerable. The second is that the device is very heavy, as it weighs about 3 kilograms. That doesn't make it very practical to carry around in your backpack. It's a gaming laptop after all, so this amount of weight isn't out of the ordinary. But if you also want to use this model on the go as your study laptop, the weight might be on the heavier side.
Heavy keys
The first things you're confronted with when you boot the laptop are the keyboard and the touchpad. The keyboard stands out because of the light-blue border around the keys. The keys feel smooth and are hard to press. They also have a short travel, so it's not an ideal laptop for lectures or school. It does have a backlit keyboard, which saves you from having to type blindly in the dark. The touchpad is of an average quality. It registers your fingers reasonably well. It does lack a distinction between the left and right side. That means you always need two fingers to right-click.
Bright screen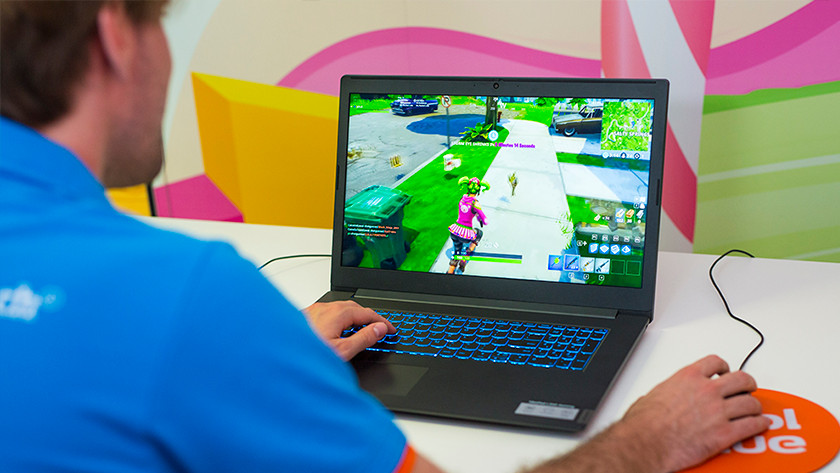 The laptops in this series have a Full HD IPS screen with anti-glare. And you can definitely tell. The colors pop on the screen and you have a beautiful view from every viewing angle. Is the temperature inside getting to hot for your liking and do you want to continue gaming in the garden? You can. Thanks to the anti-glare screen, you won't be bothered by the reflection of the sun distracting you from your game.
Sound by Dolby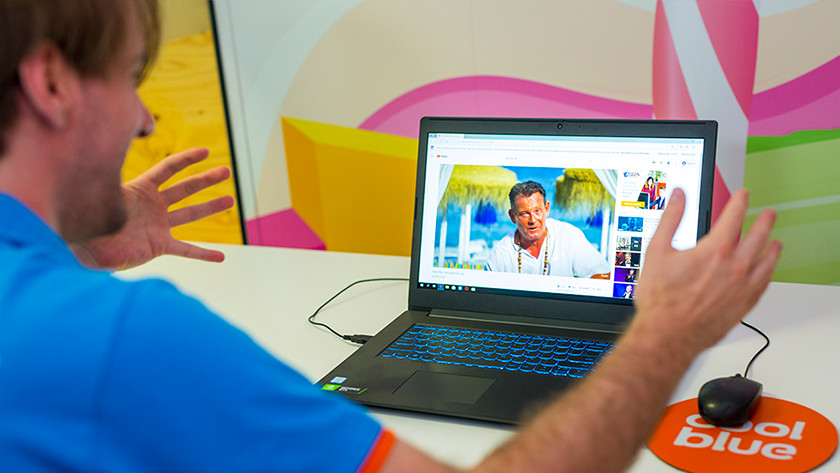 If you like to watch a series or movie on your laptop, you don't always feel like connecting your speakers or headphones. Sometimes, it's more practical to use the built-in speakers. For example, if you're watching a romantic comedy with your girlfriend at the kitchen table. The speakers produce a clear sound and the voices are clearly understandable as well. Of course, these speakers aren't as good as external speakers. But you can easily watch a romantic movie with them.
Few connectors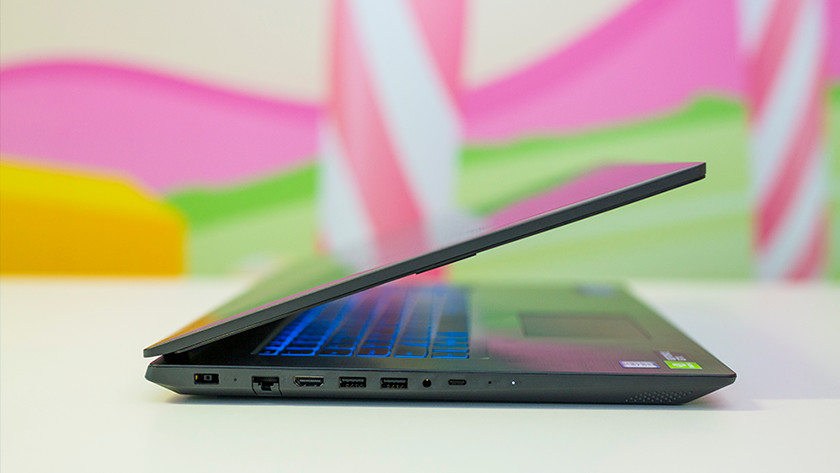 The laptop has 2 'regular' USB 3.1 ports, a USB-C port, an HDMI port, and a headphone connector. When you bring your laptop to a LAN party or other gaming festivities, you can only connect an external mouse and keyboard before the ports full. The 2 USB ports are simply not enough for a gaming laptop, so Lenovo dropped the ball on this.
No more tape to cover your webcam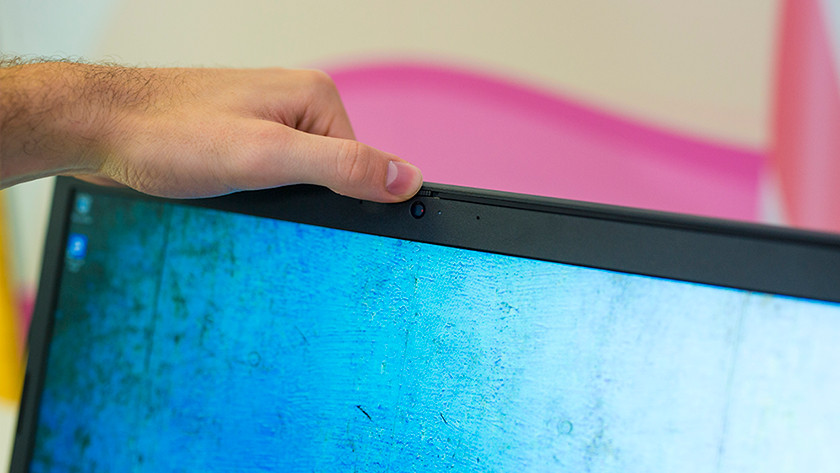 There is something striking located above the webcam of the Lenovo. It's a slider that you can move from left to right. Fun to play around with, but it has a different purpose as well. When you move the slider, a cover slides in front of the webcam. This way, you're protected against hackers that secretly want to watch you. Sticking an ugly piece of tape over your webcam is no longer necessary on the IdeaPad.
Conclusion
Powerful enough for gaming
|
Intel Core i5 - 16GB - 512GB SSD
|
NVIDIA GeForce GTX 1650
The laptop has an anti-glare Full HD IPS screen, so you'll have a clear view from all angles and despite a reflecting sun.
Thanks to the speakers, the sound is clear and voices are clearly understandable.
Close off your webcam with the slider, so hackers can't watch you.
The keyboard is heavy to type on, so pressing the keys is harder.
With 2 'regular' connectors, the Lenovo doesn't have many connectors for a gaming laptop.
Did this help you?