Expert review of the Lenovo Yoga 530-14IKB 81EK00HWMH
"Let your creativity run free". With the Yoga 530, Lenovo promises a stylish 14-inch laptop that you can easily take with you to meet your multimedia needs everywhere. I used the Yoga 530 for a week to see if this is actually the case. You can read about it in this review.
---
In short
Powerful enough for photo editing
|
Intel Core i5 - 8GB - 256GB SSD
|
Foldable screen with touch
I really like the Lenovo Yoga 530-14IKB 81EK00HWMH. The finish is beautiful, the screen shows beautiful colors, and the ease of use is high due to the good battery life and the nice keyboard. However, this Yoga only has 256GB of storage space, so you can't save too many files. If you don't need this, then the Yoga is a great laptop for editing photos or drawing your creative ideas in Windows Ink.
Our assessment
| | | Grade | Comments |
| --- | --- | --- | --- |
| Sturdiness | | 8 | Battery life is fine and the aluminum keyboard cover is sleek, but the rest is plastic |
| Design | | 7 | You need to open it with 2 hands, but otherwise the laptop is nicely finished and nicely thin and light |
| User-friendliness | | 8.5 | Very good screen, nice backlit keyboard for typing |
| Possibilities | | 8 | The fingerprint scanner works like a charm and there are plenty of ports |
| Speed | | 7.5 | Laptop and programs start up quickly, 256GB is not much storage space if you have a lot of files |
| Verdict | | 8.2 | |
Sturdiness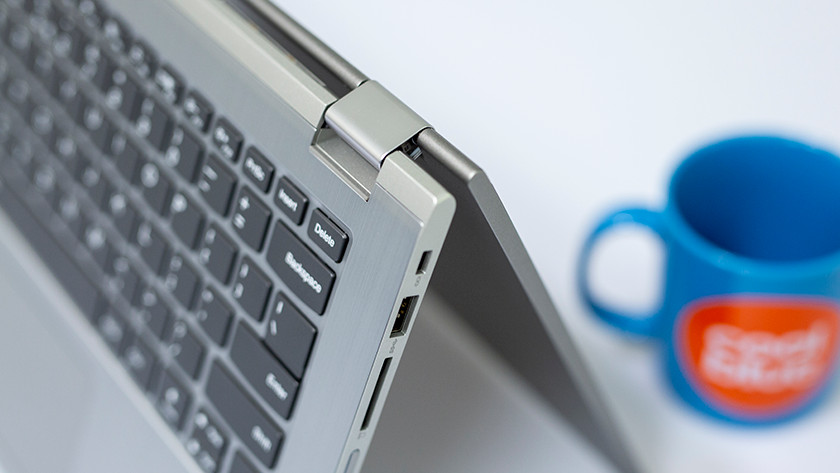 Sturdy enough for on the go
Upon opening the box, the Yoga initially appears to be entirely made of metal. However, this is not the case, because only the keyboard cover is made of aluminum. The rest is made of plastic. This is fairly standard for a laptop in this price segment. Yet the Yoga feels solid without being heavy. This makes it ideal to take with you. The hinges with which you tilt the screen 360 degrees feel and look solid.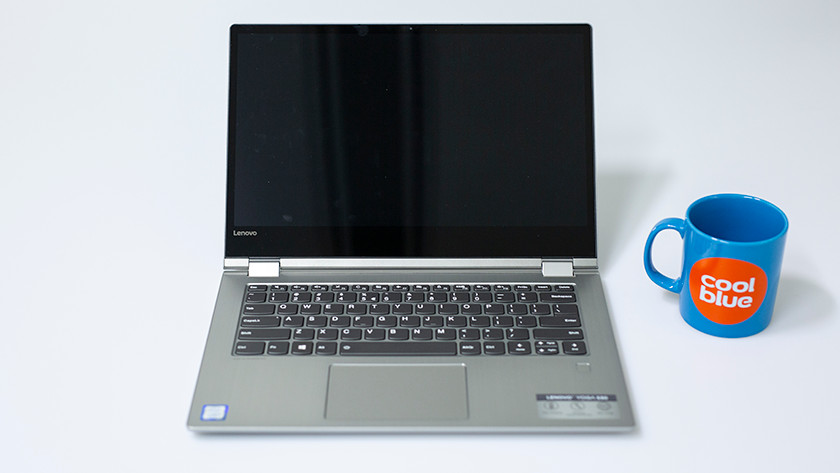 The battery doesn't leave much to be desired
To test the battery life, I watched a movie in Full HD at the best performance and highest brightness. After watching a movie for one and a half hour, 70% of the battery life was left. So feel free to have a movie marathon without charging it. When you check your Facebook or your email, the battery lasts up to one and a half times as long. You will certainly get through a regular eight-hour working day without having to take your charger with you.
Design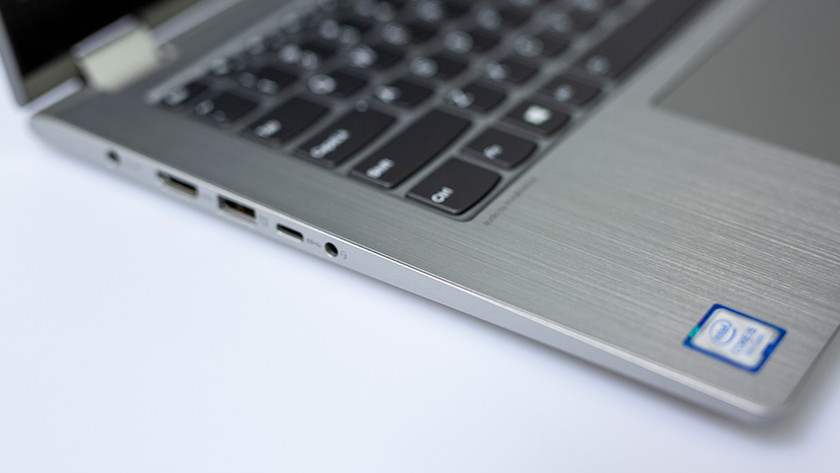 Sleek finish
The Yoga looks great. The bezels are nicely finished, it looks solid, and the aluminum keyboard gives the laptop a luxurious look. The connectors are also nicely integrated into the chassis. In addition, the laptop weighs only 1.67kg and is 1.76cm thin, which you notice immediately when you lift it. For its price range, the weight and thickness are perfectly fine. You can easily take the Yoga with you.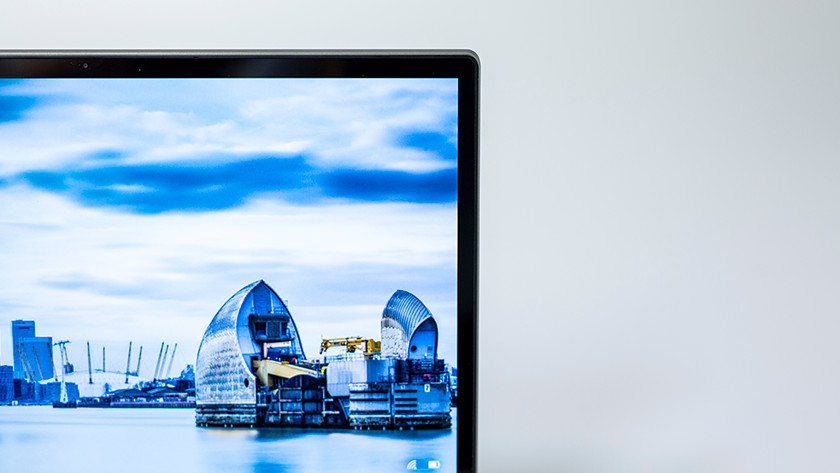 Opening the laptop is a bit tricky, but it has nice thin bezels
When I try to open the Yoga, it's a bit difficult. There's no notch at the front and if you want to open the screen, you lift the bottom with it. You need two hands to open the laptop. Once opened, you simply turn the screen the way you want, without it being too difficult or too easy. The thin bezels around the screen also stand out and make the screen very appealing to me.
User-friendliness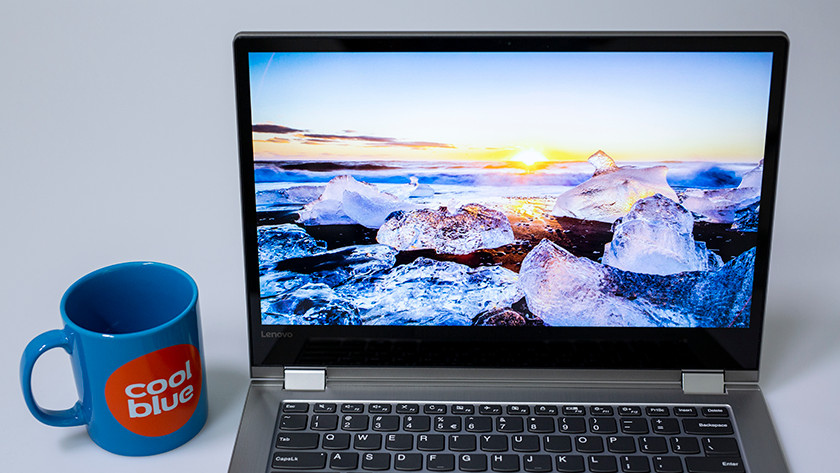 Nice colors on the screen
When you first install the Yoga, you'll notice how clearly colors are displayed on the screen. The bright touchscreen shows beautiful colors, which makes videos a joy to watch. The backlit keyboard types well and the touchpad also feels sturdy. You don't feel or hear a cheap click when you navigate around your screen with the touchpad. The cursor moves quickly and accurately. This way you can easily use the Lenovo on your lap, especially in combination with the touchscreen.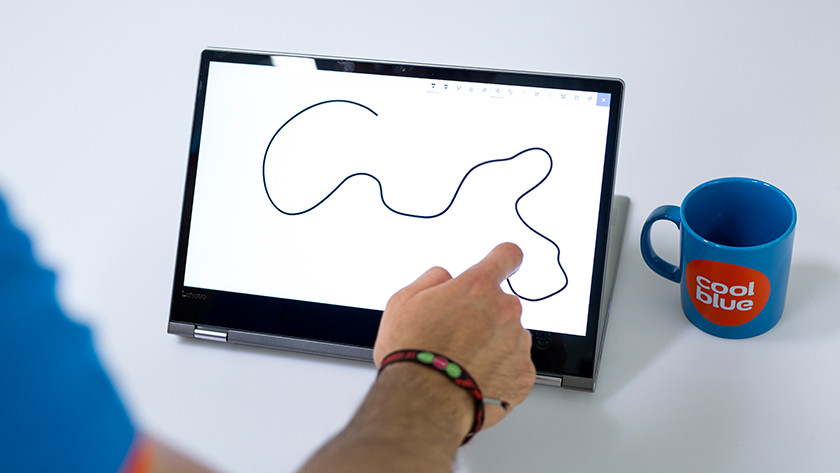 Not too many pre-installed programs
Just like on almost every laptop, this Yoga also has so-called bloatware. Think of McAfee antivirus, but also specific Lenovo programs that don't add much. Fortunately, these are easy to remove, in order to keep a little more space for your files on the SSD. Other applications such as Windows Ink work quickly and smoothly, whether you use your fingers or purchase an optional touch pen.
Possibilities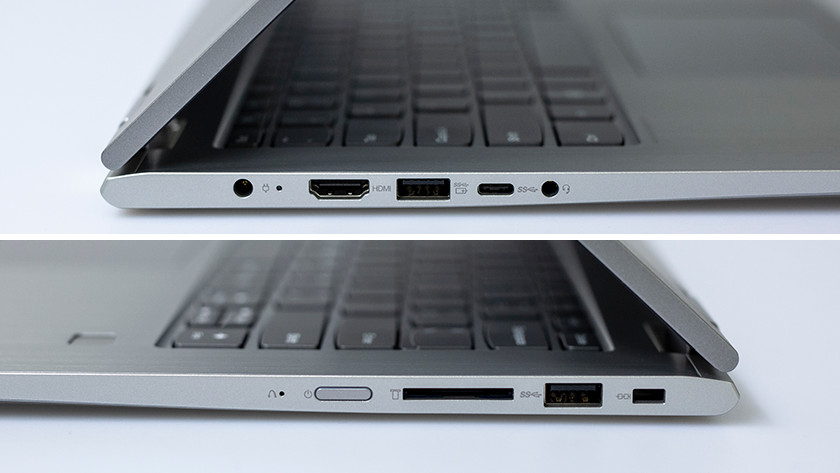 Has more than enough connectors despite its size
A 14-inch laptop is not the largest of its kind. It doesn't have room for as many connectors as, for example, on a 15-inch laptop. Yet you have more than enough connectors on the Yoga. With two USB-A connectors, a USB-C connector, HDMI port, and even a card reader, everyone will be satisfied. Feel free to connect your mouse and charge your phone at the same time.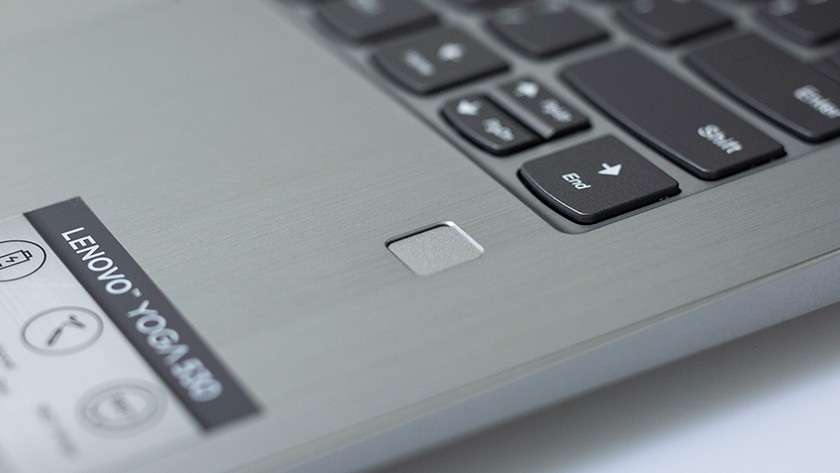 No more remembering passwords
Passwords are still essential for logging in online, but no longer for a laptop. There's a fingerprint scanner on the Yoga, which you set up when installing the laptop or later. Once set up, put your finger on the scanner and log in without a password. Quick, easy, and also very safe. The scanner certainly works well and is therefore an asset to this Yoga.
Speed
No one likes long waiting times. Fortunately the Yoga boots very quickly. Within 8 seconds the login screen is in front of me. After that, I could always start working on the laptop in 15 seconds. The Intel Core i5 processor ensures that programs run smoothly. For example, in Photoshop I edited some images without noticeable delay. It's a shame that there's only a 256GB SSD in it, so you quickly reach your limit when saving large files.
Did this help you?