Expert review of the HP 14-ck0910nd
The HP 14-ck0910nd is for those people who are always on the go, but still want a fairly wide screen. Or for those people who have a limited budget. I tested the HP for a week, to see if you get your money's worth.
---
In short
Internet, email & text processing
|
Intel Core i3 - 8GB - 128GB SSD
|
Powerful battery
This HP's biggest merit is the SSD. Whatever you do on this laptop, it does the job quickly. Aside from this, it's not a particularly special laptop. It get average scores when it comes to the screen, battery life, trackpad, and keyboard. The plastic casing and the limited storage space are the biggest cons. If you're not bothered by plastic and little storage space, then this HP is a nice laptop for those who don't set a very high standard for a laptop.
Our assessment
| | Category | Grade |
| --- | --- | --- |
| | Look and feel | 6 |
| | User-friendliness | 7.5 |
| | Screen, sound, and battery | 7 |
| | Speed | 7 |
| | Particularities | 7 |
| | Verdict | 7.1 |
Look and feel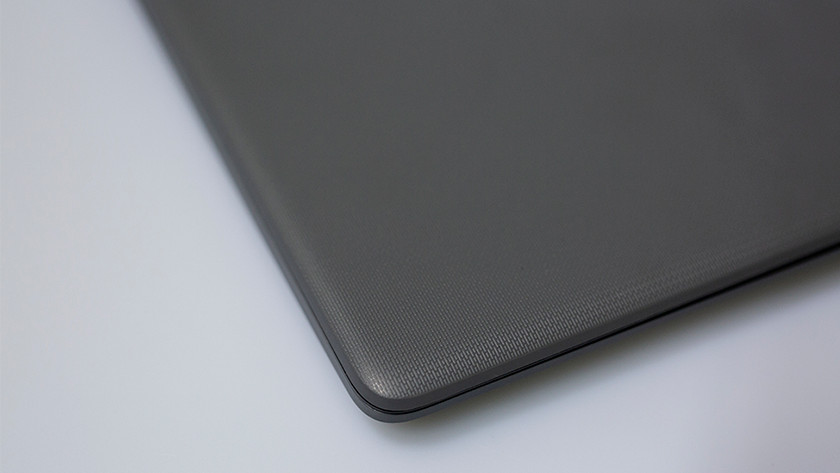 Design
The HP has a ribbed casing that stands out right away when you take it from the box. What also stands out, is that the entire laptop is made from plastic. The inside area around the keyboard does look striking and sleek, thanks to the brushed pattern. Aside from that, the laptop isn't very light or thin for a 14-inch laptop. With a weight of 1.47 kilograms and a thickness of nearly 2 centimeters, the size of this HP isn't something to write home about.
Sturdiness
You can't expect a plastic laptop to be very sturdy. And since this HP is entirely made from plastic, I'd advice you to be careful with it. It probably won't survive a fall. The top dents when you press down on it, but luckily the area around the keyboard is relatively sturdy. The hinge works fine and ensures that the laptop remains open when you leave it ajar as well. You do need both hands to open the laptop.
User-friendliness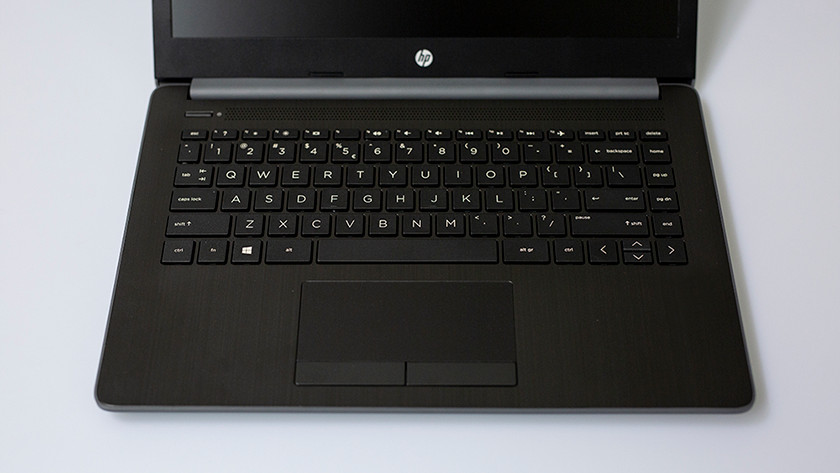 Keyboard and touchpad
When you look at the keyboard, you can't help but think that the keys look slightly cheap. Luckily, the keyboard does type fairly well and the trackpad is fine too. When you press the keys on the trackpad, you don't hear a cheap click. Definitely a plus for this HP in my book.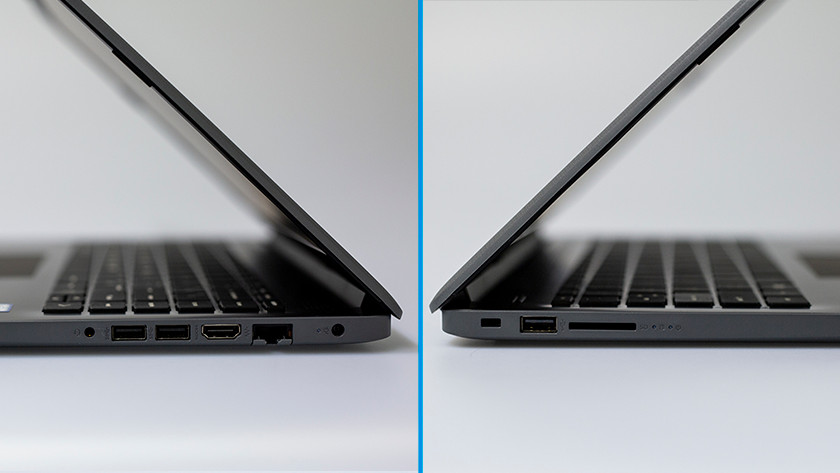 Connectors
This HP doesn't have any truly spectacular connectors. 3 USB-A ports, an HDMI port, a card reader, and a Kensington Slot are all present. There is also an Ethernet connector, which isn't that common on 14-inch laptops. That means you can also make use of fast wired internet when there is no WiFi signal near, for example. This can be pretty convenient, when the situation asks for it. In that sense, the HP scores better than expected.
Screen, sound, and battery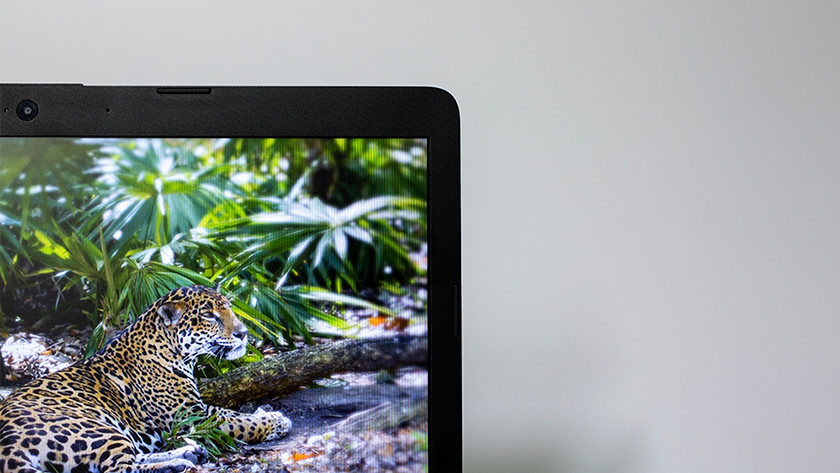 The screen and the speakers
While the bezel on many laptops is getting thinner and thinner these days, this HP still has a fairly large bezel. But that doesn't impact the quality of the screen, because watching a video in Full HD still looks good. Even from different viewing angles, you still see the right colors. The screen does have a matte finish, which is convenient when the light hits the screen, but it does take away from the color representation. The sound that the speakers produce is fine, but don't expect a lot of bass or a high-quality sound.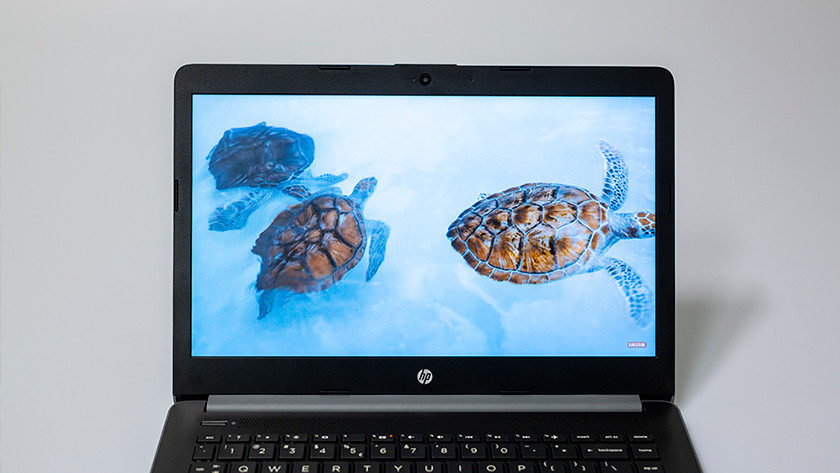 The battery
The HP doesn't really stand out when it comes to battery performance, but it doesn't fall short either. After 2 hours of watching a movie in Full HD at the highest settings, I still had about 65% battery left. A whole day of typing or working in spreadsheets is less demanding for the battery, so you should be able to use the laptop for a full working day. As long as you're not busy watching videos all day.
Speed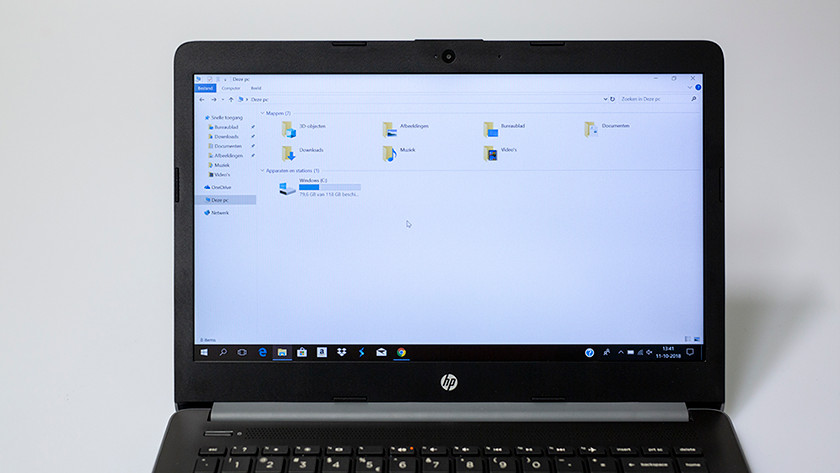 Start up
With an Intel Core i3 processor and an SSD on board, you would expect to get to work relatively quickly. And that is the case, because the login screen pops up in just 11 seconds. Not super fast, but definitely not slow either. Microsoft Word takes 5 seconds to start up, for example. That is pretty fast. All things considered, the HP scores fairly well in this area.
Performance
As mentioned above, the SSD is fast. But with 128GB, you don't have much storage space for all your files. That problem is easily solved with an extra SD card, or by saving your files in the cloud. But I secretly think a larger SSD wouldn't have been an unnecessary luxury. The Intel Core i3 processor makes this laptop suitable for little more than emailing, typing out texts, or browsing the internet. But luckily, these programs can at least run at the same time without slowing the HP down.
Particularities: virtually silent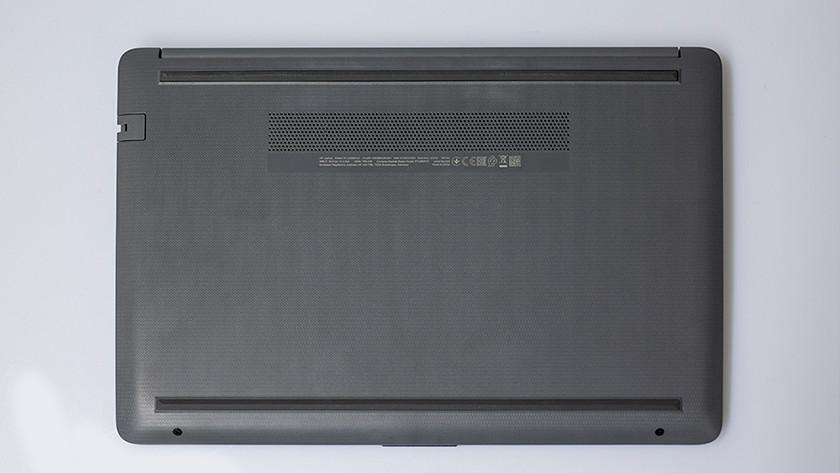 The laptop remains fairly silent, even when it's really put to work. That is because there aren't many moving parts in the laptop. You do hear a strange buzz when you give your laptop fairly demanding tasks, but you don't really hear it, so it's not that distracting. And when the sound is on, you don't hear the buzz at all. Always good to know for those people who don't like the noise that the fans make in some laptops.
Did this help you?