Expert review of the HP 14-ck0910nd
The HP 14-ck0910nd is designed for those who are often on the road, but still want a fairly large screen. Or for people with a limited budget. I tested the HP for a week to see if you get value for money.
---
In short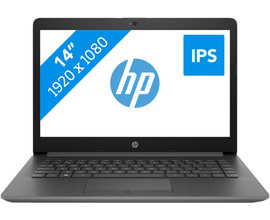 Internet, email & text processing
|
Intel Core i3 - 8GB - 128GB SSD
|
Powerful battery
This HP mainly relies on the SSD. Whatever you do with this laptop, it will perform your task smoothly. Furthermore, this is not a special laptop that scores average points on the screen, battery life, and the trackpad and keyboard, among others. The plastic casing and the low storage capacity are the setbacks. If you're not bothered by plastic and little storage space, then this HP is a nice laptop for people without too many demands for a laptop.
Our assessment
| | Category | Grade |
| --- | --- | --- |
| | Looks and feel | 6 |
| | User-friendliness | 7.5 |
| | Screen, sound, and battery | 7 |
| | Speed | 7 |
| | Particularities | 7 |
| | Final score | 7.1 |
Looks and feel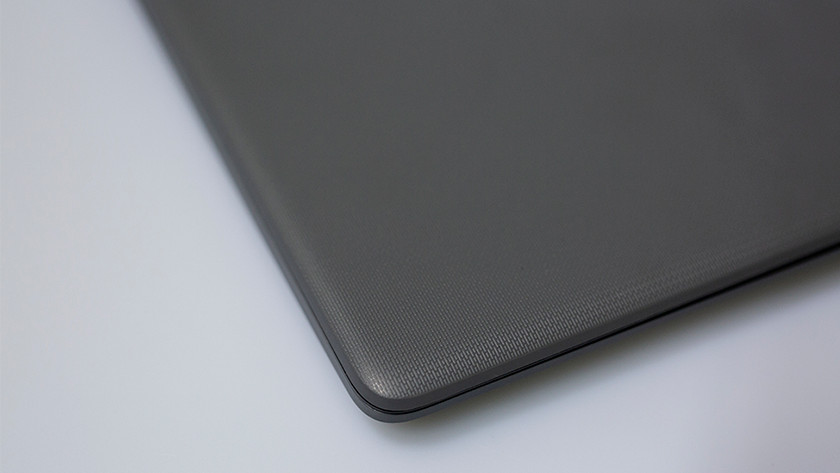 Design
The HP has a ribbed casing, which immediately stands out when you take it out of the box. It's also notable that the entire laptop is made of plastic. The inside of the keyboard looks notable and sleek because of the brushed pattern. Furthermore, the laptop is not very light and thin for a 14-inch. With 1.47 kilograms and a thickness of almost 2 centimeters, the size of this HP is not something to write home about.
Sturdiness
You don't have to assume that a plastic laptop is very sturdy. And because this HP is completely made of plastic, I advise you to be careful because it's unlikely that it will survive a fall. The top dents when you press it, but luckily the space around the keyboard is pretty solid. The hinge is fine and ensures that the laptop remains open when it's slightly open. You do need to use 2 hands to open the laptop.
User-friendliness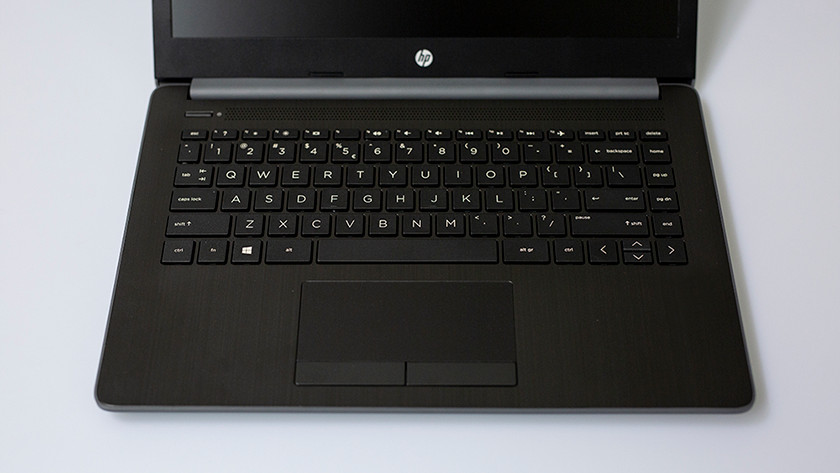 Keyboard and touchpad
When you look at the keyboard, you get the feeling that the keys look a bit cheap. Fortunately, the keyboard types well, and the trackpad is also OK. When you press one of the keys on the trackpad, you won't hear a cheap click. That's certainly a plus for me about this HP.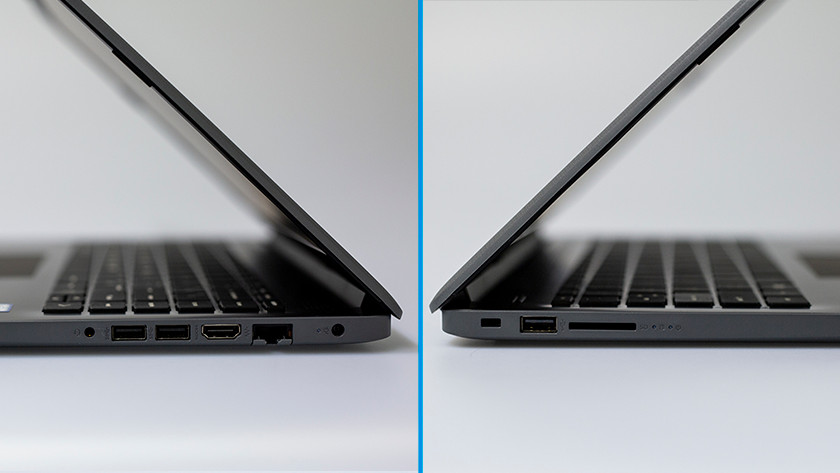 Connectors
This HP doesn't have really spectacular connections. 3 USB-A ports, an HDMI port, a card reader, and a Kensington lock are all there. Plus an ethernet cable, which is less common with 14-inch laptops. That means that you can also use fast wired internet when, for example, there's no WiFi in the area. And that's useful when the situation demands it. In this respect, the HP scores slightly better than expected.
Screen, sound, and battery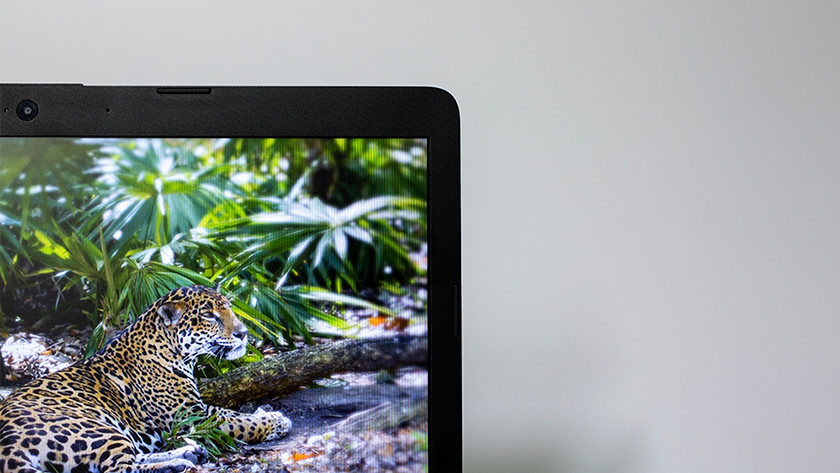 The screen and the speakers
Where many laptops nowadays get thinner bezels, those of this HP are still quite thick. Nevertheless, this doesn't affect the quality of the screen, because watching a video in Full HD looks fine. You can also see good colors from different viewing angles. The screen is matte, which is useful when light falls on the screen, but which does affect the color reproduction. The sound that the speakers produce is quite nice, but don't expect much bass or high-quality sound.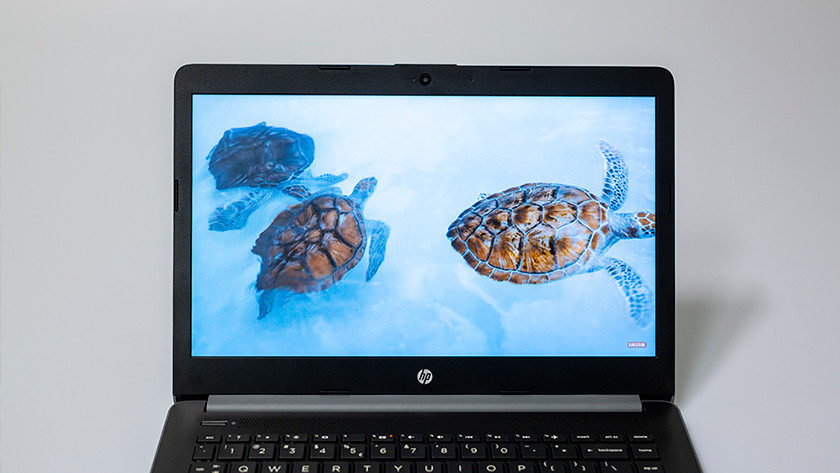 The battery
In terms of battery performance, the HP doesn't stand out, but it doesn't underperform either. After watching a 2-hour movie in Full HD at the highest performance, I still had about 65% battery life. Typing texts for a whole working day or working in spreadsheets is less stressful for the battery, so using a laptop for a full working day should work. Provided that you don't watch too many videos during the day.
Speed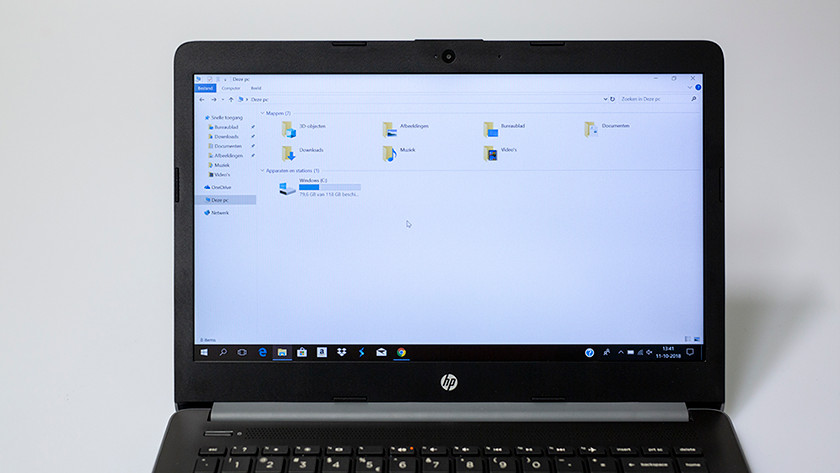 Booting it
With an Intel Core i3 processor and an SSD on board, you can expect to be able to start working quickly. This is the case, because the login screen presents itself to me within 11 seconds. Not super-fast, but certainly not slow either. For example, Microsoft Word takes 5 seconds to load. That's pretty fast. All in all, the HP scores pretty well in this area.
Performances
The SSD is also fast as mentioned above, but with 128GB you still have little storage space for your files. That problem is of course easier to solve with an extra SD card or by saving files in the cloud, but I think a larger SSD would be a good idea. The Intel Core i3 processor doesn't make the laptop suitable for things other than sending emails, typing text, or surfing the web, but fortunately, these programs can easily run simultaneously without the HP slowing down.
Particularities: virtually silent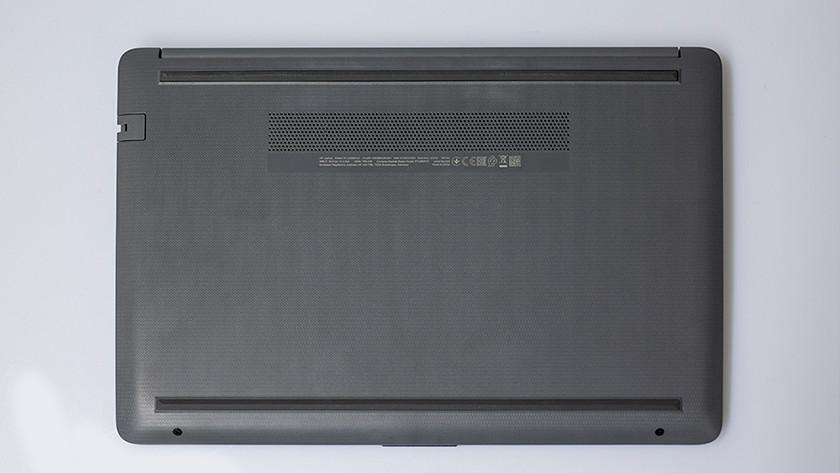 The laptop stays fairly quiet even under heavy loads. That's because there are few moving parts in the laptop. You do hear a strange buzz when you considerably tax the laptop, but this is hardly audible and therefore not very bothersome. Moreover, if the sound is on, you obviously don't hear the sound at all. Good to know for those who are bothered by the noise the fans of some laptops make.