Expert review of the HP Envy 13-ah0810nd
HP Envy is one of the more luxurious HP product lines, so the expectations for this HP Envy 13-ah0810nd are high. For example, HP promises a full aluminum casing and light weight, but with powerful hardware. And all for less than 1000 euros. In this review, you can read whether the Envy has passed the test.
---
In short
Powerful enough for video editing
|
Intel Core i7 - 8GB - 256GB PCIe SSD
|
Powerful battery
The Envy looks and feels luxurious and solid, without underperforming. Use any program you like, because it always runs smoothly. The screen is also beautiful in terms of color representation, the keyboard types nicely, the battery lasts a long time, and you can quickly log in with the fingerprint scanner. It's a shame that there are only USB ports on the laptop and that the laptop makes a lot of noise when it's working hard. Nevertheless, this is a good notebook for those who demand a lot from their device and don't want a large laptop.
Our assessment
| | Category | Grade |
| --- | --- | --- |
| | Look and feel | 9 |
| | User-friendliness | 7 |
| | Screen, sound & battery | 8 |
| | Speed | 8 |
| | Particularities | 6 |
| | Verdict | 7.9 |
Look and feel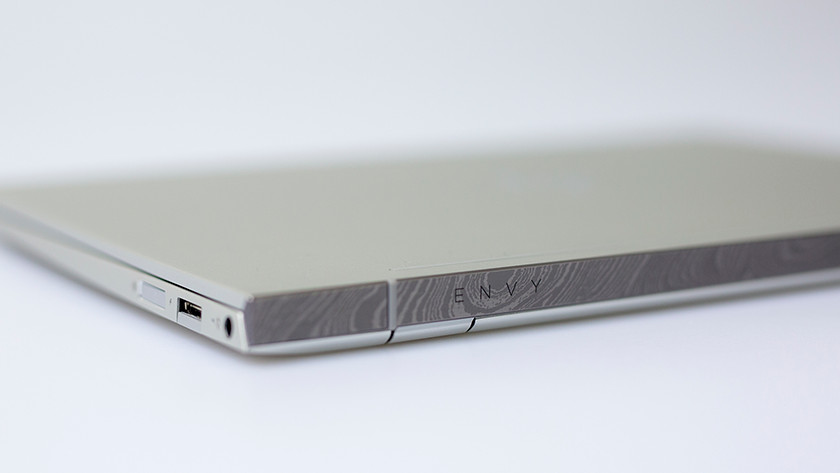 Look and feel
The matte, silver appearance of the Envy immediately catches the eye when you first take it out of the box. The shiny HP logo gives the laptop a luxurious look. It's a little harder to lift than other 13-inch laptops, because a weight of 1.3kg is quite heavy. And yes, the entire laptop is made of aluminum. It feels nice and sturdy, unlike a plastic laptop. The thin bezels around the screen and the metallic motif on the side also look luxurious on this Envy.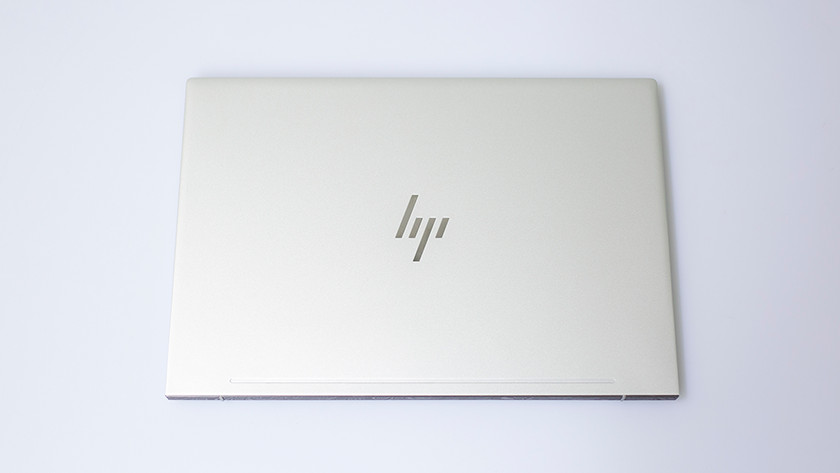 Sturdiness
As mentioned, the laptop is completely made of aluminum, which obviously benefits the sturdiness. Of course you don't want to drop the laptop, but if it does happen, the chance that the Envy will survive is greater than that of your everyday plastic laptop when making the same fall. Moreover, the keyboard doesn't dent when you type on it, which is sometimes the case with plastic laptops. In terms of robustness, the Envy is very successful in that regard.
User-friendliness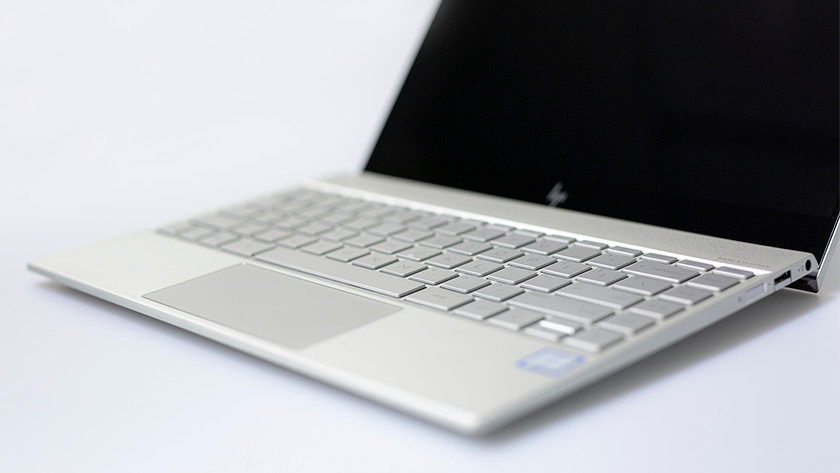 Keyboard and touchpad
A backlit keyboard is common for laptops costing around a thousand euros. This is also the case with the Envy. One useful extra is that you can turn the keyboard's light on and off with one push of a button. In addition, the back is slightly raised when you open the screen, so that the keyboard is slightly tilted. This makes it easier to type on this nice keyboard. The trackpad is also large enough and responds well. Furthermore, there is no cheap click when you press on the touchpad.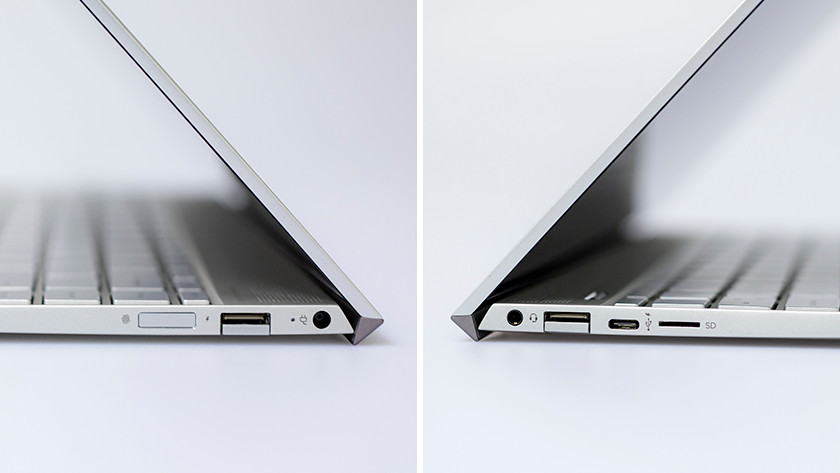 Connectors
There's not much room for connectors on such a small laptop. So it's no surprise that the Envy only has 3 USB ports, a headphone connector, and a card reader. That means you can't directly connect the laptop via HDMI. The USB-C port does support DisplayPort, so you can connect the laptop to a screen if you want. Of course, you'll need a converter or a screen with USB-C for that. I'd would have preferred a few more connectors, though.
Screen, sound & battery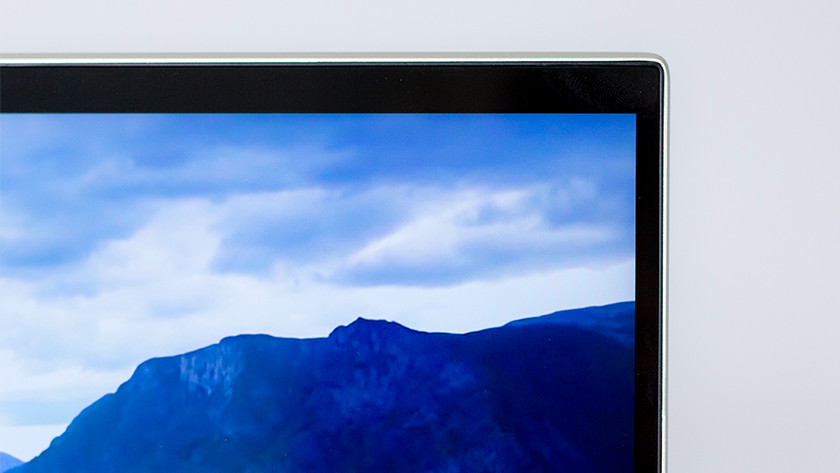 Screen & speakers
No doubt one of the great things about the Envy is the screen. The thin bezels and the glossy screen ensure that you have a fair amount of screen space and that colors look good. And even if the screen is glossy, you won't be affected by light when sitting under a lamp. The Envy scores well here. With regard to sound, you shouldn't expect HiFi sound quality, but it's not bad. The 4 speakers do their job well and produce decent enough sound.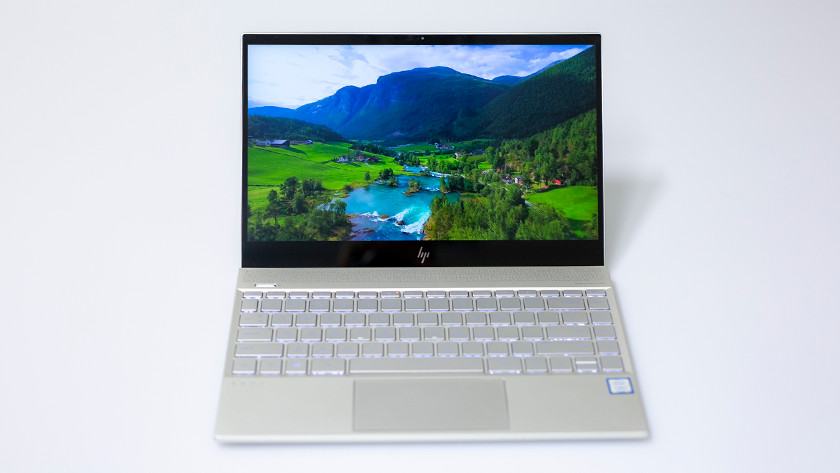 The battery
In terms of battery performance, the Envy stands its ground. It'll last about 4 hours when watching a movie in 4K at the highest performance. It'll last at least twice as long when you're watching regular videos, doing graphic work, or just surfing the web. It also charges quickly, because HP promises that the battery will be charged for 50% within 45 minutes. After testing this, we come to the conclusion that it's true, because the battery was half full after 45 minutes.
Speed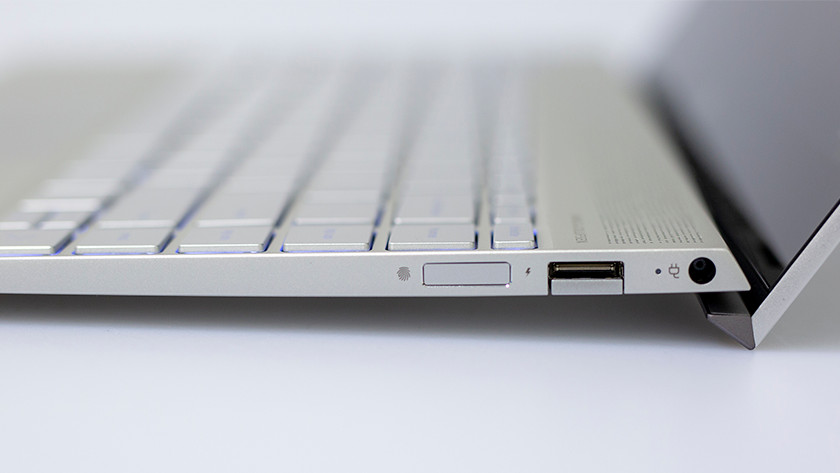 Start up
For a laptop in this price range, you can expect it to boot quickly. It's fast, but could've been faster, because you'll only have the desktop in front of you after 16 seconds. Fortunately, it's faster when you use the fingerprint scanner on the side. Once set up, logging in is easy and secure. Booting the Envy and logging in works well in that regard, but it could have been a bit faster.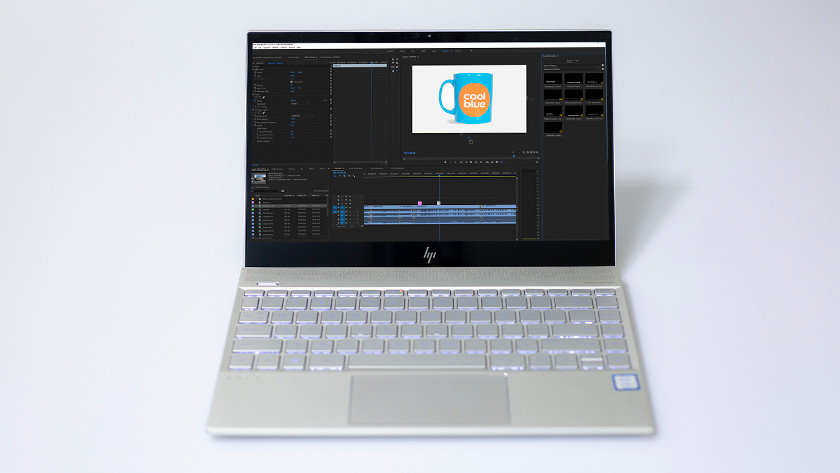 Performance
The Envy has an Intel Core i7 processor, so editing a video is certainly possible. In practice, a program such as Adobe Premiere Pro works quickly and smoothly, but if you plan to do a lot of graphic work, then the storage space may be insufficient. With an SSD of only 256GB, you'll reach the max in no time, so if you want a lot of space to store things, this Envy is not the laptop for you.
Particularities
If you demand a lot from the Envy, consider that the fans will be very noisy. For example, while editing and rendering a video, it sounded like the laptop was a fighter jet taking off. So if you're bothered by loud fans or if you prefer a quieter laptop, keep this in mind when choosing a laptop.
Did this help you?