Expert review of the Samsung T5
Lots of storage space, fast file transfer, and a compact size, the Portable T5 has it all, according to Samsung. Is this external SSD the speed devil it's promised to be? And what exactly can you do with this product? You can read it in this review.
---
In short
Portable external SSD
|
Shockproof metal casing
|
Includes security software
Thanks to the very compact size, you can take the SSD with you in your bag or pocket wherever you go.+ Transfer files at lightning speed with a maximum write speed of 515MB/s, provided you have a USB 3.1 gen 2 connector.+ The 256-bit AES hardware encryption with password protection protects your SSD against data theft.- You can't connect this SSD to your iPhone or iPad to exchange files.- Do you use the SSD with a desktop? Then the 30-centimeter cable can be a bit short.
What's in the box?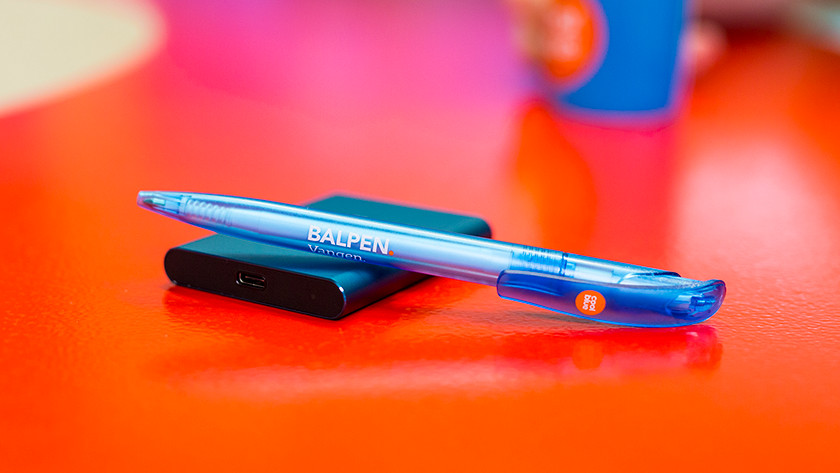 As I unpack it, I immediately notice how compact this external SSD is. A smaller box could also have accommodated this mini drive. With a size of 7.4x5.7x1cm, the SSD is just as long as my thumb and just as thick as a pen. It also only weighs 50 grams. That's very little SSD for that much storage space. I lift the plastic tray and both a USB-C/C and a USB-C/A cable appear. Both version 3.1, both 30cm long.
Little speed demon
The Samsung T5 fits nicely in my hand and has a simple but sleek design. The 500GB version that I have in front of me has a sleek, blue exterior. The inside is even sleeker. The T5 has a read speed of 540MB per second and a writing speed of 515 MB per second, which, according to Samsung, is almost 5x faster than an external HDD. To test how fast this is exactly, I decide to connect it to my own laptop.
Speed tested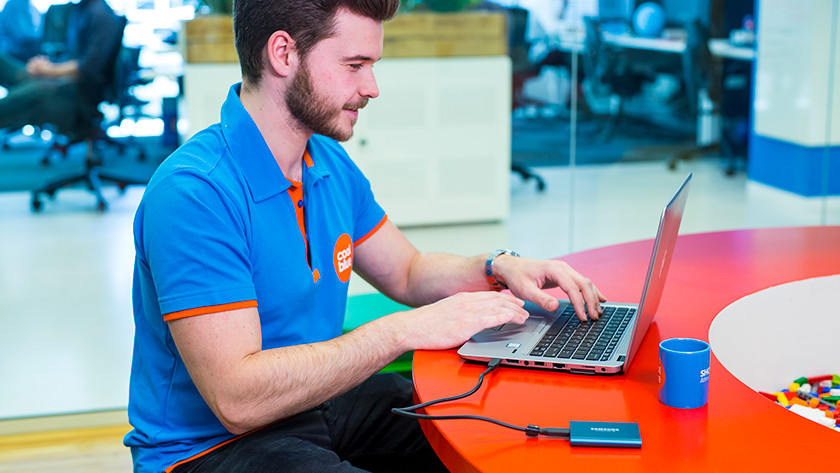 You can easily connect the T5 via USB, and after installing the software, which is very simple, you can get started right away. I want to move an 8GB movie file to my SSD. Writing to the SSD takes approximately 40 seconds. From the SSD to the laptop takes 24 seconds. That's 5 and 3 seconds per GB respectively. This was with a USB 3.1 Gen 1 port, but with a USB 3.1 Gen 2 port this is goes twice as fast. So it really is fast.
Binge watch on the train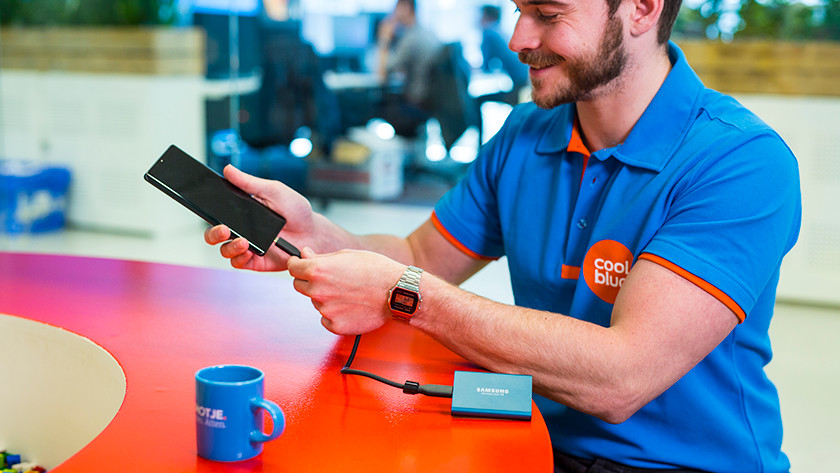 The Samsung T5 is compatible with both Windows and Mac. This allows you to watch movies and series on any PC and laptop. Do you have an Android phone with a USB-C connector? Then you can even connect it to your smartphone. Ideal for binge watching in the train. The T5 500GB has 465GB of effective storage space. That's enough for 46 10GB films, which is enough movie material to fill 24 train journeys to Paris. The iPhone and iPad unfortunately don't support the T5.
Secure backups
Besides watching movies, you can use the T5 to create (automatic) backups. This will prevent you from losing your files. You then protect these files with a password, so that only you can access them, and you protect the files against hackers with the AES 256-bit hardware encryption. The SSD is also shockproof, which means that your files remain safe in the event of a fall of up to 2 meters. This is very useful for clumsy people. Don't let it fall into water, because the T5 doesn't like that.
Conclusion
Portable external SSD
|
Shockproof metal casing
|
Includes security software
Lots of storage space, fast file transfer, and a compact size. The Samsung T5 makes it happen. It's remarkable how much speed such a small SSD harbors. However, you have to meet a lot of conditions to achieve the maximum speed. For example, you must have a USB 3.1 gen 2 port, which many devices don't have yet. All in all, the T5 is a powerful speed demon with a large number of applications.