Expert review Samsung Galaxy Watch
With the Samsung Galaxy Watch, Samsung is launching its fourth smart watch with a new name. The Galaxy Watch is the successor of the Samsung Gear smartwatches. Just like with these predecessors, there focus is on sports and health. The Galaxy Watch is available in 2 sizes of the watch case: 42mm and 46mm. In this review, you can read my findings about the Samsung Galaxy Watch.
---
Samsung Galaxy Watch 42mm
Measures steps, calories burned, sleep, and more
|
Integrated GPS
|
Shows smartphone notifications
Thanks to the integrated microphone, you can use personal assistant Bixby and respond to messages using Voice Control.
Use the Galaxy App Store to download third-party apps to your smartwatch, such as Buienradar or NS Reisplanner.
The integrated heart rate sensor measures your heart rate via your wrist.
Thanks to the strong Corning Gorilla Glass SR+ sapphire glass, your watch is scratch-resistant.
Easy to use
Still going strong: the rotating ring on the watch case. Just like with the Samsung Gear series, it's also present at the Galaxy Watch. I think it's pretty useful. With this ring, you can scroll through all your apps super quickly. New to the design are the 2 sizes of the watch case. I chose to test the 42-millimeter edition. I immediately notice the weight of the Watch when I put it on my wrist. The watch case is a lot smaller and lighter than I am used to. For a moment I was afraid that this would be at the expense of the readability of the screen, but I this wasn't the case. Messages or activity data are very easy to read.
Measure your fitness and health
In addition to measuring your activities and workouts, the Galaxy Watch also performs health analyses. For example, the new stress meter displays your stress level on a counter from low to high. If it's too high, you'll receive suitable breathing exercises. In addition, the new sleep meter registers the different phases of your sleep. If I sit still for too long, I receive a message to move or to do a stretch exercise. If you're wondering if you have enough exercise on a day or how your night's sleep is, then these functions are quite useful. This gives you a good overview of your health.
Downloading apps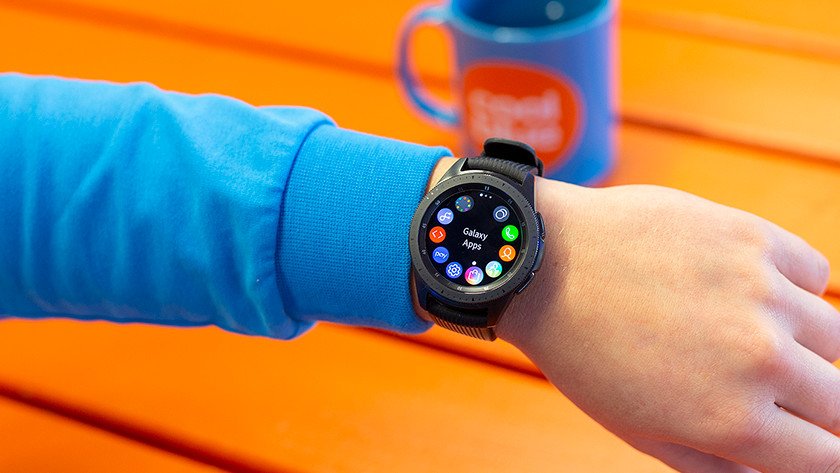 You can download apps via the watch or with your smartphone in the Galaxy App Store. Here, you have a wide selection of popular apps. With a keyboard, handwriting, or voice control, I can respond quickly to a message while working. For longer calls, I do pick up my phone. Before I go home by bike, I can check 9292 and Buienradar from my wrist. In addition, it's also possible to listen to Spotify with Bluetooth earbuds and play the next song from your wrist. This is super useful, because I don't have to remove my smartphone from my bag for this.
Compatibility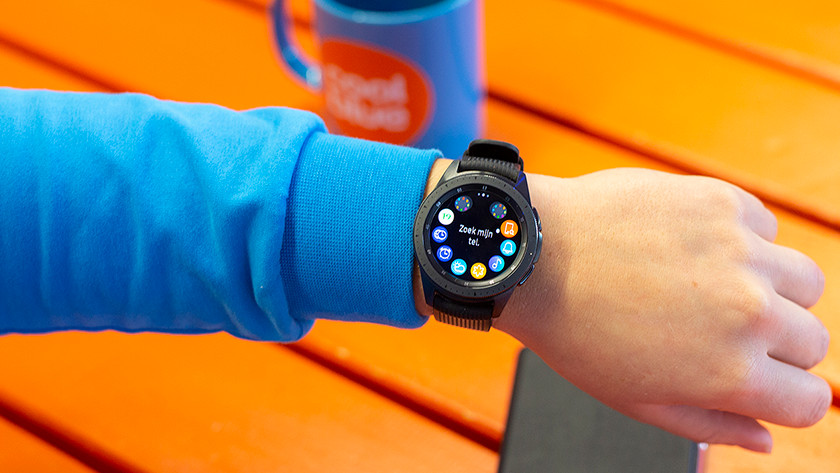 The Samsung Galaxy Watch works best with Samsung devices. Do you have an iPhone or Huawei smartphone? If so, it's also possible to connect the Galaxy Watch, but some functions may not work as well. For example, my colleague with an LG phone didn't get any vibrations when a new message came in. When you have other Samsung devices in your home, such as a smart light, washing machine, robot vacuum, or TV, you can also start them via your wrist with the Samsung SmartThings app.
Battery life
I think the battery life is important for a smartwatch. You want the smartwatch to work at least the entire day. If I have to believe Samsung, the battery life of the Galaxy Watch would be no less than 7 days. This, of course, depends on the use of GPS or heart rate measurement, settings such as your brightness, and the use of apps. So far, I've experienced that the Watch lasts 2.5 days. I used various apps for this and I started running with the GPS and heart rate sensor on. Compared to other smartwatches of the moment, the Galaxy Watch has a fairly long battery life.
Conclusion
To immediately answer the question whether the Watch has many new functions: no. Yet, it's a watch that I would put on my wish list. Why? Because Samsung has made good improvements to the design and the battery. For example, I am a huge fan of the 2 different sizes, the light material, and the colors. Finally a smartwatch that fits nicely around my more thin wrist and that I can wear both to work and during exercise. In addition, the long battery life is also a big plus compared to other smart watches in this price range. The Samsung Galaxy Watch is currently an ideal combination of a smartwatch and a sports watch.
Did this help you?