Expert review of the Samsung LC49J890
The Samsung LC49J890 is a curved 49-inch super ultrawide monitor. I was curious if I'd like this monitor for work and got to test it for a couple of weeks.
---
Samsung LC49J890
49 Inches
Super ultrawide
Twice the space of a Full HD screen
144Hz
The monitor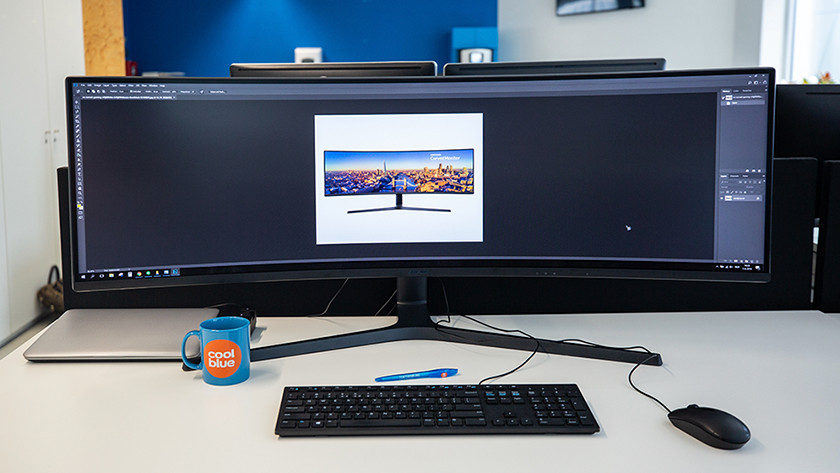 First, the facts. The Samsung LC49J890 is a 49-inch curved super ultrawide monitor with a resolution of 3840x1080 pixels. The screen has a 144Hz refresh rate and a 5ms response time. When reading these kind of specifications, you probably think of a screen a true gamer has on his desk. But a screen with a 32:9 aspect ratio also has advantage for business use. To test this, I've used the screen as a work monitor for a while.
Business use in practice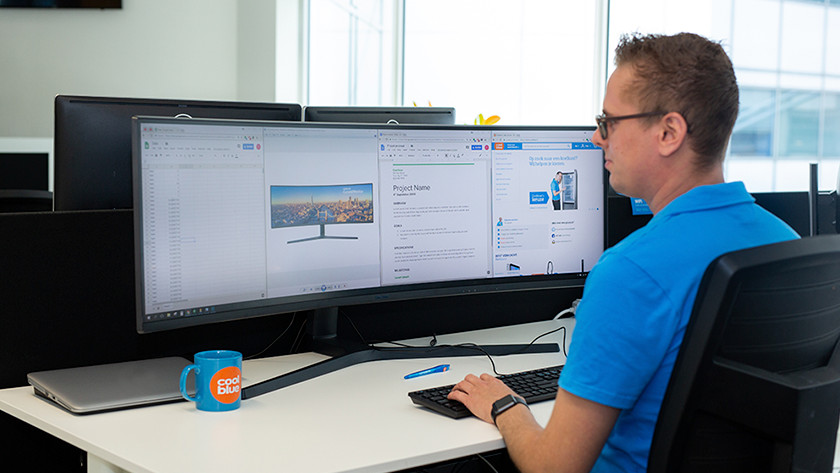 I usually have a lot of windows and tabs open for work. Usually at least a couple of spreadsheets, two browser tabs, our CMS, and a front and back office system. Because I almost always need two windows at the same time, I usually use two monitors next to each other. The LC49J890 has a resolution of 3840x1090 pixels, which is exactly the same amount of pixels as my two screens combined. But because it's much larger, it feels like I have more space than normal. I've had more than 4 windows open side by side on the screen on multiple occasions, which I thought was nice. The screen also has a nice eye-saver mode, which is more pleasant for the eyes when you're working in a dark environment. The monitor is a real eyecatcher and would definitely look good on the desk of your boss.
Difference with two separate monitors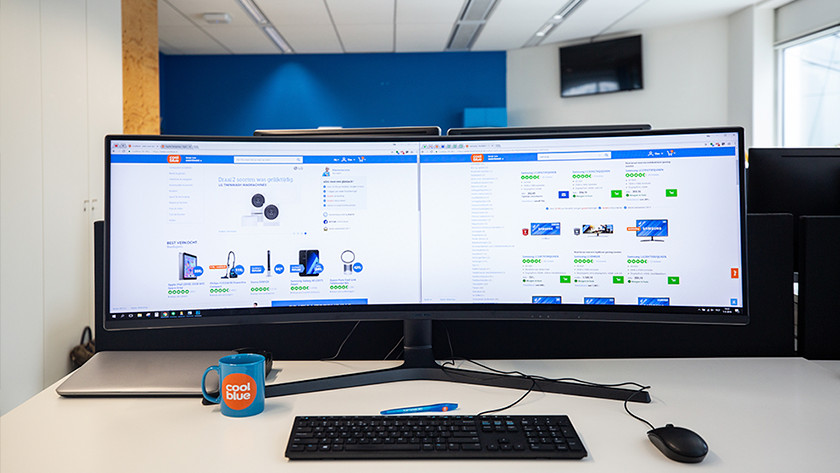 I normally work with 2 23-inch monitors. The 49-inch Samsung screen feels much larger because of the curve and the fact the screen isn't interrupted by bezels in the middle. With my 2 separate screens, I have a double bezel in the middle. You notice that in practice. Now I can easily place 3 large windows next to each other on the super ultrawide, something I can't do with my dual monitor setup due to the bezels. In the past couple of weeks, I've worked with 4 windows side by side and that's no problem whatsoever. The size of the screen takes some getting used to, not in the last place because what you have on your desk is really something. I've had colleagues drop by regularly, because this screen really impresses in a business environment as well. I sat a little further from my screen than usual, because my desk is just large enough for the screen and he base. So that's something to keep in mind.
Resolution, aspect ratio, and curve
The resolution of the screen of 3840x1080 pixels is sharp enough for the size of the screen. I didn't have to install any drivers to use the screen. My laptop with Windows 10 recognized the monitor right away and used it without any problems. I've been a fan of ultrawide screens with the 21:9 aspect ratio for some time, but a screen with a 32:9 aspect ratio is slightly more awesome and useful. It means you have 2 screens in 1. So if you have multiple windows open side by side, you can make them a little wider on the ultrawide screen. The curve in the screen is easy to get used to and then feels natural. I could easily oversee everything in the screen at a glance. I didn't have any issues with lines that didn't seem straight in Photoshop.
Relaxation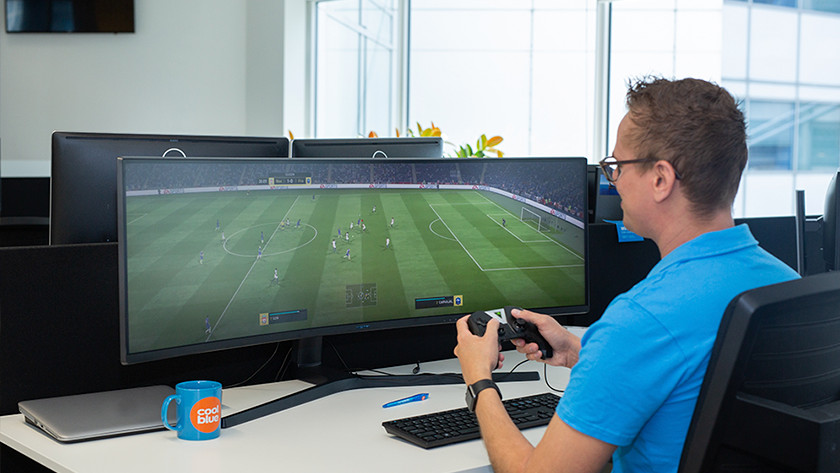 Every now and then, you need to make time to relax. And if you like gaming, the LC49J890 is also a good gaming monitor. On top of that, you benefit from the extra space if your game supports the aspect ratio. The width of the screen and the curve provide a completely different experience than gaming on a normal monitor. Watching videos on this screen is amazing, but it's a shame there's not much content available in the right aspect ratio. There are some videos on YouTube which are made for super ultrawide screens and which are definitely worth watching. But you watch normal widescreen movies with two black borders on the sides of the screen.
Conclusion
The Samsung LC49J890 is an impressive monitor for both business as private use. The aspect ratio gives you a lot of room to open multiple windows side by side. I had 3 to 4 windows open on the screen regularly, so I had to switch between programs less often. That saves you quite a bit of time in some cases. If you get the screen to work from home with, you can also use it for gaming in your free time. I'll have to get used to going back to 2 separate monitors again. Maybe I should have a chat with my boss about this.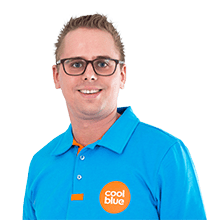 Article by: