Expert review TP-link Deco M5
A poor WiFi signal is the source of a lot of annoyance for anyone who lives in a big house with multiple people. In that one corner of the room, your Facebook timeline loads slowly, or your favorite Netflix keeps lagging during cliffhangers when you're on the top floor. I also experience these WiFi problems. With the Deco M5 set of 3 connected WiFi stations, TP-Link promises that you can set up 1 single, large WiFi network throughout the house. Forever the skeptic, I decided to extensively test this multi-room set to see whether poor WiFi coverage is truly a thing of the past.
In short
Multi-room WiFi with mesh
WiFi speed: 400 + 866Mbps
MU-MIMO, Parental controls
You can stream and download throughout the house with lag or loss of speed.
The Deco has a neutral white casing, thanks to which it nicely blends in with most households.
Quick installation and simple management via the TP-Link Deco app.
You never have to switch networks again, thanks to a single WiFi name.
Depending on the number of devices per floor, the 2 network ports per Deco station might not be sufficient to connect multiple devices.
Out of the box
TP-Link delivers the Deco M5 in a sturdy package. As soon as you lift the lid of the box, the 3 WiFi stations become visible: small white discs with a matte, white plastic finish. I'm surprised by their size, they're about as wide as a breakfast plate - but a few centimeters thicker - and blend in nicely with most interiors thanks to their neutral casing. A thin, 1-meter network cable and 3 power adapters with a USB-C are included, too. According to TP-Link each of the discs also come pre-installed with powerful antivirus software. Although I'm pleased with my current antivirus software, it's nice to know that the Deco closely guards my entire internet connection.
The current situation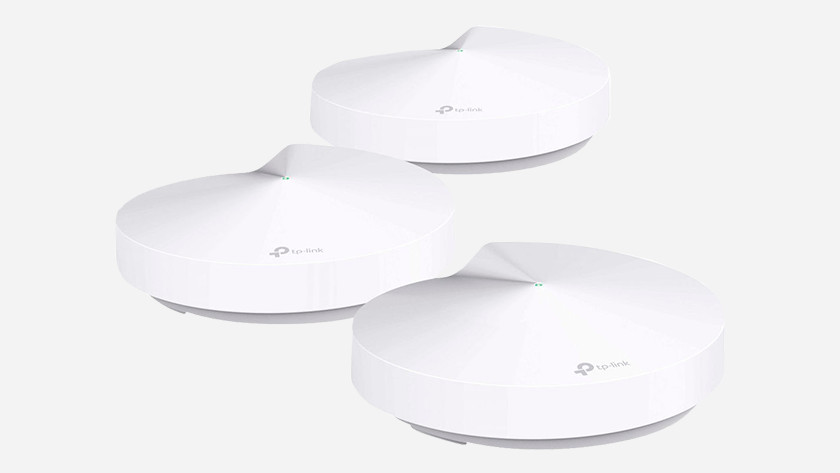 My own router is placed in a new build house from the 90s, built right before the great internet boom. The building is practically a bunker, the ceilings and walls are filled with aluminum plating and other construction materials that makes it hard for WiFi signals to penetrate. That's why my router is located on the middle floor, so that it can cover as much of my 3 floors as possible. Both upstairs and downstairs, the signal is mediocre at best. With a bit of patience, and the slight hiccup every now and then, I'm able to stream HD video via WiFi to my smart TV. In the backyard and the roof terrace, everything comes to a crawl. Often, it isn't possible to google something. As such, I'm very curious to find out whether the TP-Link Deco 5 can deliver the fast WiFi at home that I crave.
The installation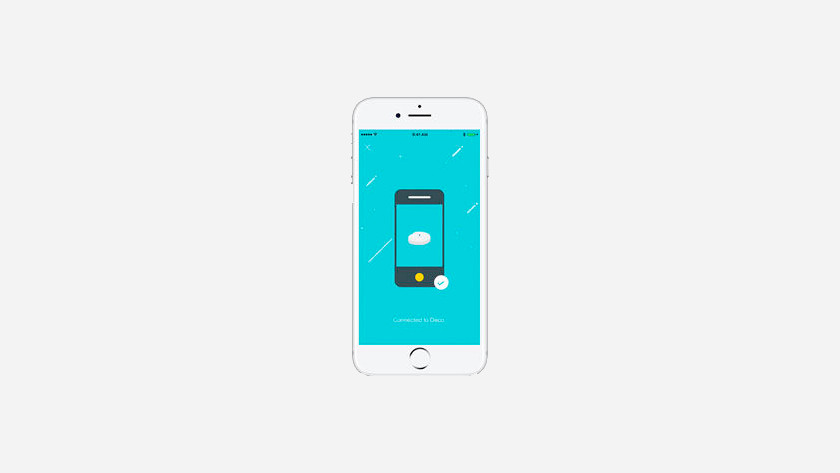 With the Deco app at the ready on my smartphone, I plug the cord of a station into the socket at each floor. A subtle blue LED light immediately starts to flicker. I disable the modem in my living room, provided by my internet provider, and connect it to the Deco via the network cable. Much to my surprise, the app immediately detects the device and checks the internet connection. After that, I set up a name for my network and protect it with a password. I also give the station its own name, so I can tell it apart from the other Deco's. The entire installation takes less than 5 minutes thanks to the handy app. With the help of easy-to-understand images, I'm guided through the installation without having to input any complicated information.
In practice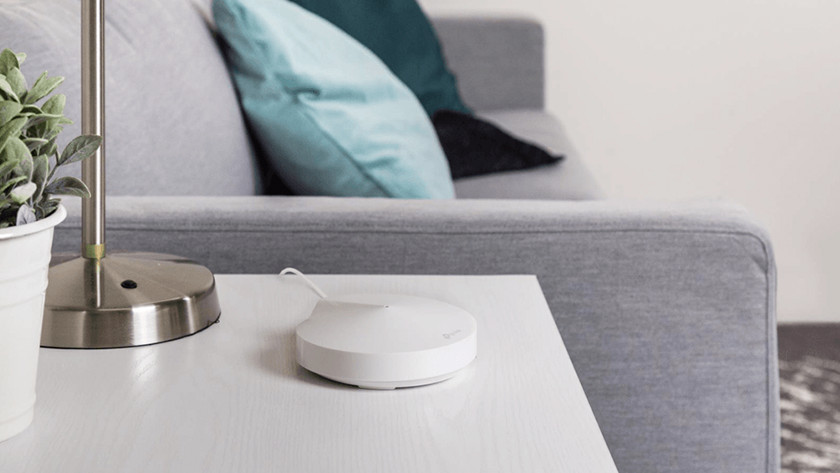 For the purpose of this review, I've postponed watching the first episode of the new season of my favorite series. Will I be able to watch this in Full HD without throwing the remote at my TV in rage? The answer is a wholehearted: yes! Even when I answered a Skype call halfway through the show, I effortlessly walked throughout the house without a lagging connection or poorly visible image. Afterward, the series instantly continues to play without a hiccup. It was time to take my review to the next level: streaming music via Spotify to WiFi speakers throughout the entire house, watching YouTube videos on a laptop, and sharing vacation snaps via Chromecast, together with my cohabitants. All of it at the same time.
The speed test
To make sure whether the TP-Link Deco doesn't create a sort of placebo effect, I'm going to perform a little test with a speed test app. This app tests the maximum speed of a router. I'm standing 2 meters away from my old router and check the speed of my old router and that of the TP-Link Deco on each floor.
The Deco achieves a fast internet speed on each floor. On the ground floor and the first floor, I'm able to achieve the maximum speed of my internet subscription, standing 2 meters away from the Deco. The second floor is always a challenge for routers. Probably due to the way the house was built and interference from other devices. Even so, the internet speed was still more than sufficient for demanding tasks such as streaming HD video and gaming.
| | Before Deco | After Deco |
| --- | --- | --- |
| Ground floor | 56Mbps | 100Mbps |
| First floor | 100Mbps | 100Mbps |
| Second floor | 24Mbps | 68Mbps |
Conclusion
I was fed up with the poor coverage and slow speed of my WiFi connection. I want to create a single WiFi network that operates smoothly. Even though the TP-Link Deco M5 is 3-set package is more expensive than a single router, it meets all my requirements. The app guides you through the installation in a couple of minutes. On top of that, you don't require any technical knowledge to change your personal settings or set up a guest network, distribute parental rights, or prioritize gaming traffic. The coverage of the Deco reaches right to my garden, but if you really want maximum coverage, you'll need to connect a 4th separate Deco. On top of that, each station only includes 2 network ports, so spaces that contain a lot of wired devices will quickly fully occupy the Deco's ports. Fortunately, most wired devices also include WiFi, so this problem is easily solved. More importantly: the TP-Link Deco M5 really delivers faster WiFi in every room of the house.
Article by: