Compare the Fitbit Alta to the Fitbit Charge 2
You know for sure: you are going to buy a Fitbit activity tracker. But for which Fitbit do you choose? That the appearance of the Fitbit Alta and the Fitbit Charge 2 differs is clear, but what specific advantages are there to these trackers? By making clear the differences between these two models, I hope you find out which Fitbit suits you best.
In short
| | Fitbit Alta | Fitbit Charge 2 |
| --- | --- | --- |
| Screen | 1.4-inch OLED | 1.5-inch OLED |
| Waterproof | IP44 (splashproof) | IP44 (splashproof) |
| Heart rate sensor | No | Yes |
| Measure climbed stair steps | No | Yes |
| GPS | No | Yes |
Fitbit Alta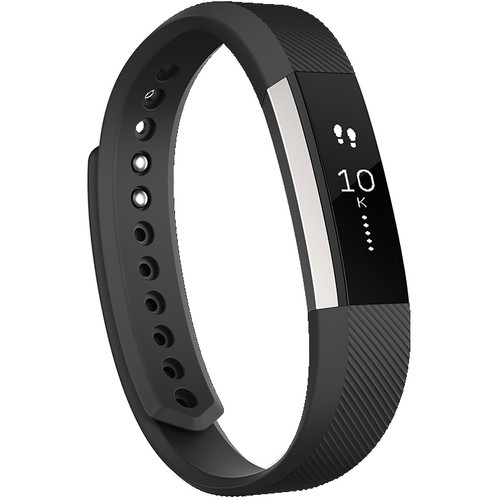 Without integrated heart rate sensor
Measures your sleep pattern
Has an interchangeable watch strap
109,-
no longer available
Subtle design
Automatic motion recognition
You will receive rewards for achieving your goals
No built-in heart rate sensor
Fitbit Charge 2
With integrated heart rate sensor
Measures your sleep pattern
Counts the number of stairs you climbed
136,99
temporarily sold out
With the integrated heart rate sensor you measure your heart rate via your wrist
When you link the activity tracker to your smartphone, it uses the GPS function
The altimeter also measures your walking stairs
Look
Fitbit Alta: subtle design
At first glance the Fitbit Alta stands out due to its subtle design. As a result, you do not only wear the activity tracker during sports or at work, but you also keep it when you go out at night or while sleeping. That way you measure your activities day and night. Just like Fitbit's first tracker, the Fitbit Flex, the Alta closes with 2 push buttons. This ensures a pleasant wearing comfort. The tracker is namely flexible on your wrist and you almost do not feel comfortable. The narrow strap is available in multiple colors and materials. This ensures that the tracker fits every outfit or occasion.
Fitbit Charge 2: larger display
The display of the Fitbit Charge 2 is a lot bigger compared to the Fitbit Alta. This makes it easier to read your data during exercise. On the other hand, the tracker is also more present on your wrist. The buckle closure works in the same way as a classic watch. This means you do not have to worry that the watch shoots from your wrist during a tough workout. Where you navigate with the Alta only via a tapscreen (tap your screen), you can scroll through the Charge 2 even more easily through the different screens and functions thanks to the button on the side.
Functions
Fitbit Alta: daily activities and notifications
You plan to do more on your daily exercise, such as taking a long walk more often or even taking the bike to work. Then it's nice to keep track of your activities and see them in an app. As you are used to from an activity tracker, the Fitbit Alta measures your daily activities such as your steps, calorie consumption and sleep rhythm. Are you moving intensively for more than 20 minutes? Then your Fitbit automatically registers and categorizes this sports activity. In addition, the tracker warns you if you sit still for too long. You also get rewards when your target has been achieved. And you will not miss a single message or phone call because the Fitbit will keep you informed of this.
Fitbit Charge 2: additional functions
Do you want to pay attention to your health or are you often in the gym? Then you want an activity tracker where you keep an eye on your data clearly on the screen. All functions of the Fitbit Alta are also represented at the Fitbit Charge 2. In addition, the Charge 2 has a number of useful features such as a built-in heart rate monitor that continuously displays your heart rate on your screen. This allows you to see exactly how intensively you are working. Your heart rate is also useful information that you use for interval training, breathing exercises and measuring your cardio fitness level. A nice extra is that the Charge 2 also measures your walked stairs thanks to the altimeter.
Which Fitbit suits me?
Do you want to exercise more and see your activities throughout the day? Then a tracker that measures your daily activities and looks nice is sufficient. The Fitbit Alta is an excellent choice in this case. Compared to the Fitbit Charge 2, the Fitbit Alta has the appearance of a nice accessory. Do you want to pay more attention to your health or are you an athlete? Then you want your data clearly on your screen and heart rate measurement is important. In that case I recommend the Fitbit Charge 2. The Charge 2 is a slightly more complete version of the Fitbit Alta thanks to the heart rate sensor and altimeter.