Get your trampoline ready for winter in 3 steps
Winter is coming. A good time to prepare your trampoline for winter. How do you do that? In this article, we'll tell you that in 3 steps. Your children (and you) will fully enjoy a clean and dry trampoline in spring, summer, or year-round, without any leaves or twigs that made it through the winter.
---
Almost all the trampolines in our assortment are winter proof. Most frame tubes and springs are galvanized and powder coated (meaning they're rust resistant) and can certainly withstand heavy rain or snow. To ensure the quality of your trampoline during the winter, we encourage you to follow these steps.
Step 1: clean your trampoline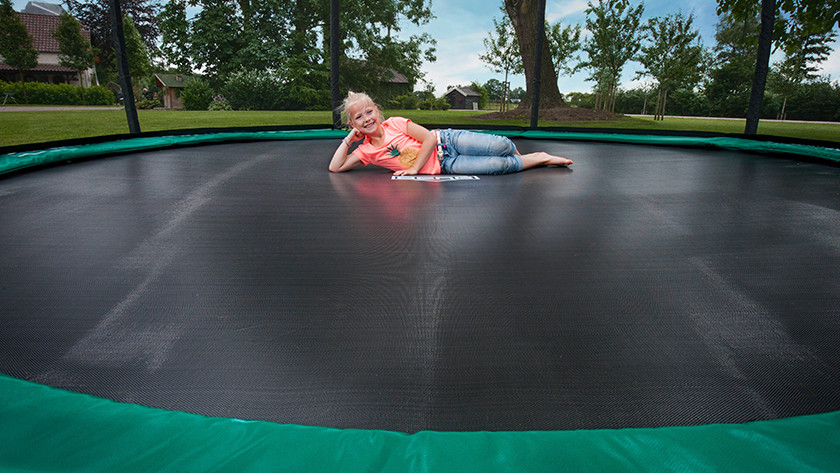 Whether you disassemble the trampoline for winter or not, a little cleaning is never a bad thing. So get up and get cleaning as if you're Cinderella. All you need is a cleaning cloth and cold water. We don't recommend the use of cleaning agents as they can damage the parts of the trampoline. If you clean it regularly, your trampoline will last longer.
Step 2: disassemble and store the trampoline on legs
Do you already know for sure that your kids won't use the trampoline in the cold? In that case, it's a good idea to disassemble your trampoline. Some trampolines can't withstand severe weather conditions. It's definitely advisable to dismantle trampolines without galvanized and powder-coated frame and springs. These trampolines are susceptible to rust.
Tips for disassembling your trampoline
Use gloves and a rubber mallet to disassemble the parts.

Assign a number or letter to all the parts so you can easily put them back together later.

Remove the protective edge and fold it neatly.

Remove the springs one by one, firmly holding the trampoline mat.

Remove the trampoline mat, clean it, then neatly fold it up.

Disassemble the frame, leaving the T-pieces together.

Hold the frame 10 centimeters above the ground before unfastening it with the rubber mallet.

Clean all parts and dry them before storing in a dry, warm room.
Step 3: cover it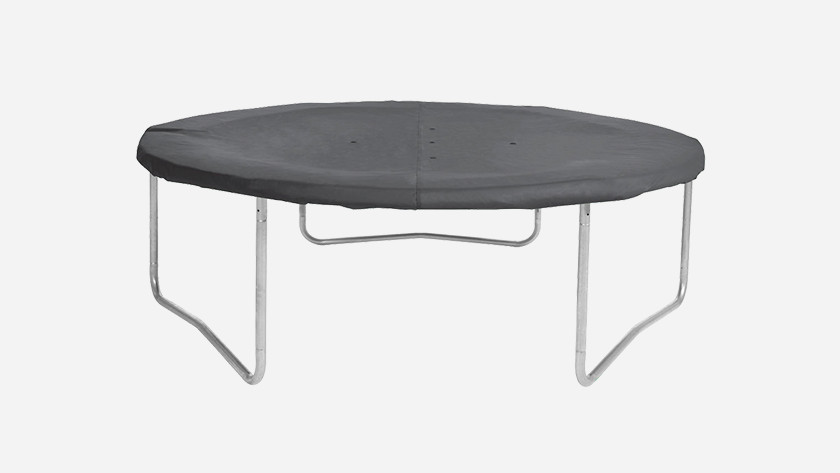 Don't feel like disassembling your (in-ground) trampoline? Use a protective cover. This guardian angel will prepare your trampoline for winter in 1 go. The cover stops rain and dirt. Some covers in our assortment are equipped with water drainage holes through which the rainwater flows away. Your trampoline will remain dry as a result. The big advantage is that it saves you a lot of lugging around. You can also remove this cover in an instant, so your child can also jump during less cold winter days. A win-win situation.
Conclusion
As you can read, there are several steps to make your trampoline ready for winter. You can always repeat step 1. It never hurts to make your trampoline dust and dirt free regularly. If you're sure that you don't use the trampoline in the winter, step 2 is the best option for you. This benefits the durability and quality of your trampoline. If you don't want to disassemble your trampoline, we recommend using a protective cover. You can easily remove this cover from the trampoline so your child can also enjoy their trampoline in winter.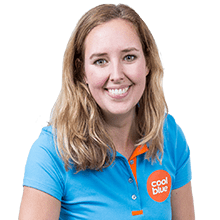 Article by:
Janneke
Trampoline Expert.