What type of heating do you need?
Before you choose a thermostat, you need to know what type of heating you have at home. This can be a central heating boiler, district heating or underfloor heating. It is also possible to have a combination of the existing options, such as a central heating boiler with underfloor heating and radiators. Select your heating below and read more about which thermostat fits.
---
1. Boiler
A central heating boiler heats water that ends up with pipes in a radiator or underfloor heating. A thermostat controls this central heating boiler. In addition to the heat, the central heating boiler also controls the hot water.
2. District heating
District heating and block heating is generated using residual heat from various sources, such as industry. There is no boiler, but a direct connection to the power station in the form of water pipes. This way a household receives warm water and heat.
3. Underfloor heating
Underfloor heating can be connected to a central heating boiler or district heating. Often one combines underfloor heating with radiators, for example on the 2nd floor. Underfloor heating use is made of a pump system for the supply of heat under the floor. In addition, a central heating boiler is required for hot water and supply of heat to the radiators.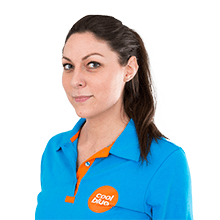 Article by:
Mascha
Thermostat Expert.