Expert review Apple MacBook Pro 16 inches
A slightly larger screen, better keyboard, and more power. The Apple MacBook Pro 16 inches is an upgrade from the 15-inch model it replaces in many ways. Has Apple made their best laptop even better? I started working on Apple's newest model and tell you about my findings here. Especially the keyboard and the speakers surprised me positively.
---
Apple MacBook Pro 16 inches
International keyboard (QWERTY)
|
Intel Core i7 2.6GHz (9th-gen) - 16GB - 512GB SSD
|
AMD Radeon Pro 5300M
With the 8-core Intel Core i9 processor, you can effortlessly run the most demanding programs.
Thanks to the 16-inch screen with a 3072x1920 resolution, you'll have more screen space for all your windows.
The updated scissor mechanism in the Magic Keyboard is more durable and stable, so you type more silently.
This MacBook Pro has 4 Thunderbolt 3 (UBS-C) connectors. If you want to connect a device with a Thunderbolt 2, USB-A, HDMI, DVI, or VGA output, you'll need a separate cable converter.
First impression of Apple MacBook Pro 16 inches
As soon as I open the box, I notice the size of the Apple MacBook Pro 16 inch. It's not very large, but noticeably larger than its predecessor. The 16-inch model is also slightly heavier. This is a positive change if you ask me, as it helps the MacBook cool down. Unfortunately, the connection options are limited. The box includes a USB-C Thunderbolt cable and a power adapter, in addition to the MacBook. Time to get started!
An even better display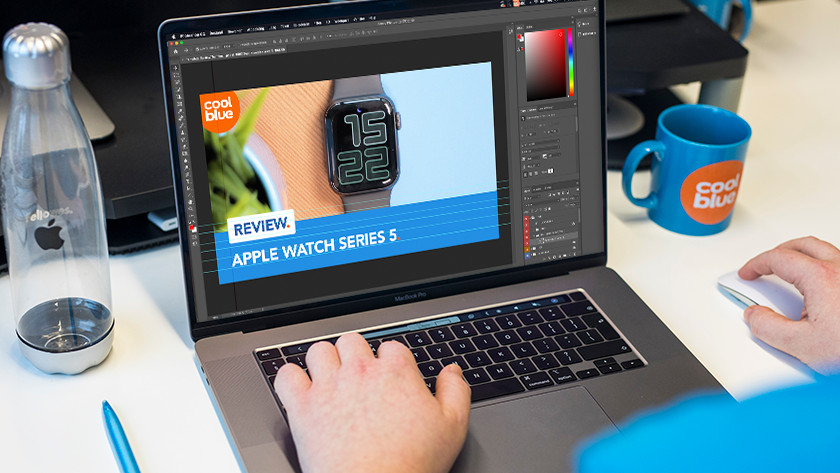 I open the MacBook and the large, clear screen welcomes me. The thinner bezels give the screen a modern look. It's also easier to focus on my work without wide bezels that distract me. The Retina screen has a resolution of 3072x1920, and IPS panel, and a wide P3 color display. Whether I edit a photo in Photoshop or watch a series on Netflix, the colors are rendered faithfully. Even when the sun is shining on my screen, I still have excellent visibility.
Magic keyboard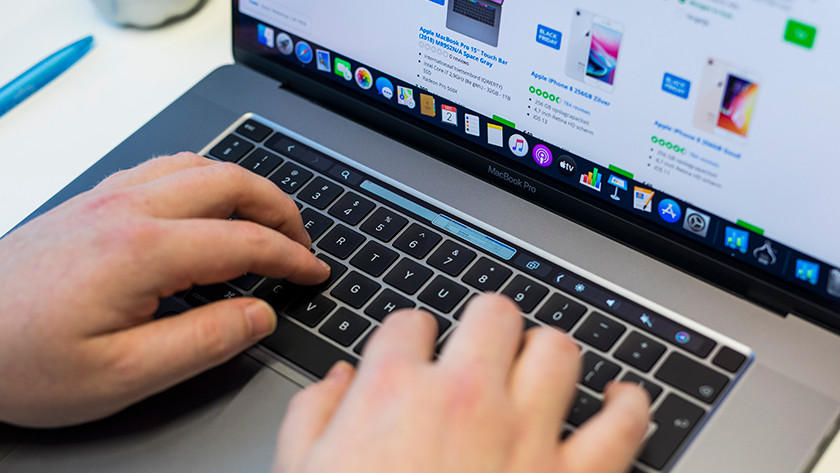 It's no secret that previous Apple MacBook Pro keyboards weren't for everyone. I personally find it more pleasant if the keys have more travel. This makes you feel better that you play the keys, because you can press them deeper. I'm also very pleased with the new keyboard of the Apple MacBook Pro 16 inches. The keys feel more stable when I type for a long time. I'm also happy that the physical escape key is back.
Professional performance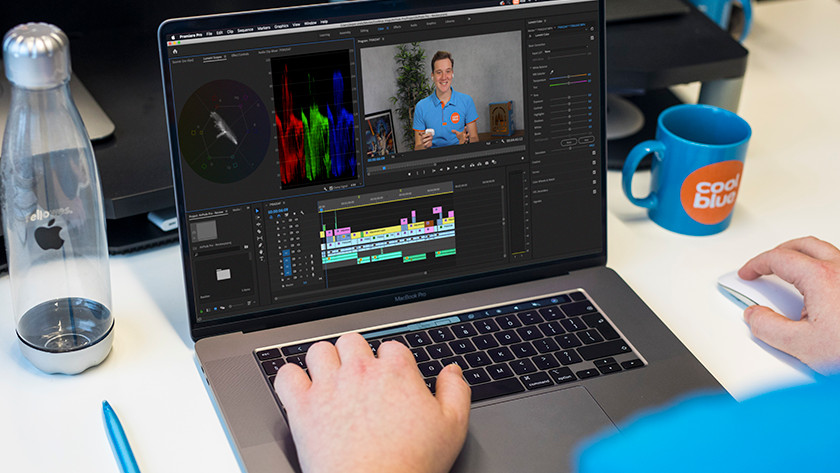 The model that I'm testing has a 2.6GHz 6-core Intel Core i7 processor. The 512GB NVMe SSD ensures that MacBook Pro starts up quickly. I also have 16GB RAM and an AMD Radeon Pro 5300M video card at my disposal. I open several tabs at the same time and edit a video in the meantime. Everything runs smoothly and the MacBook Pro stays cool. It's striking that the fans start a little earlier, which benefits the performance.
More speakers for better audio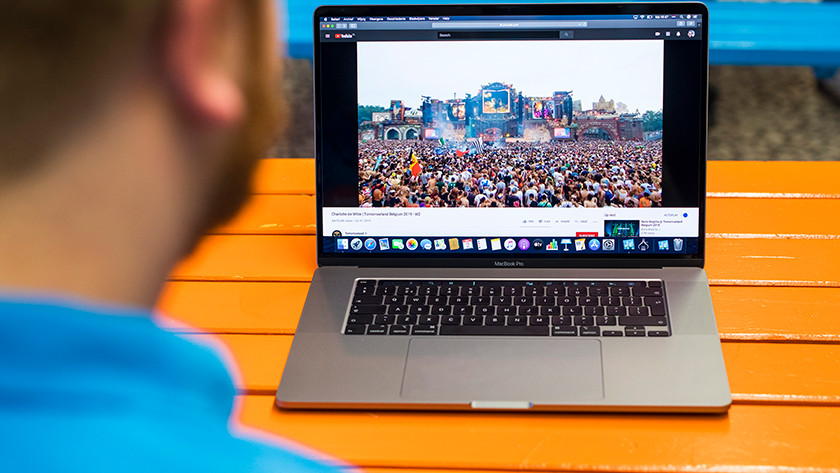 The biggest surprise of Apple MacBook Pro 16 inches are the speakers. The 6 speakers produce a full and rich sound. I can listen to some songs and am impressed by the sound quality. I hear good bass and treble. My favorite series on Netflix also sound better. You'd almost forget that these are laptop speakers.
Conclusion
International keyboard (QWERTY)
|
Intel Core i9 2.3GHz (9th-gen) - 16GB - 1TB SSD
|
AMD Radeon Pro 5500M
The Apple MacBook Pro 16 inches is a leap forward in many ways. The slightly larger image, a more stable keyboard, and the better speakers make the MacBook Pro even better. The performance of this updated model has also received a major upgrade. The only thing I regret are the limited connection options. Yet Apple's newest, most powerful MacBook is an ideal partner for professional users.