HP Spectre Folio
HP has released a new laptop: the HP Spectre Folio. This 2-in-1 laptop has a casing that consists partly of magnesium and aluminum and partly of leather. With the Folio, HP brings out a high-end laptop that is intended for traveling users. It has been available in the Netherlands since January 2019.
Pros and cons according to our laptop expert
The unique leather case gives this 2-in-1 laptop a luxurious and refreshing look.
A stylus pen is included, which means you can design directly in programs such as Adobe Photoshop via the touchscreen.
With the infrared camera and Windows Hello, you can use face recognition instead of a password when you log in to Windows.
The touchscreen is sensitive to grease marks and fingerprints.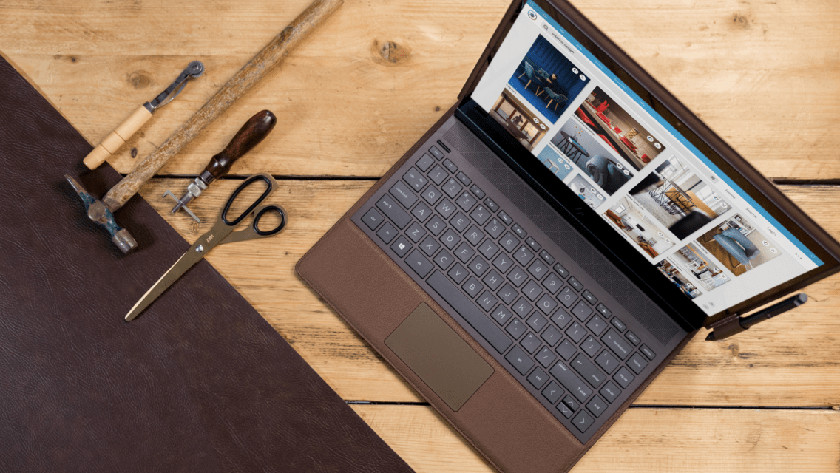 Luxury materials
The HP Spectre Folio stands out primarily in terms of appearance and material. The laptop consists of magnesium and aluminum and is connected to a leather case. The Folio looks very luxurious and seems very solid thanks to the material. The leather case makes it look more like a tablet than a laptop.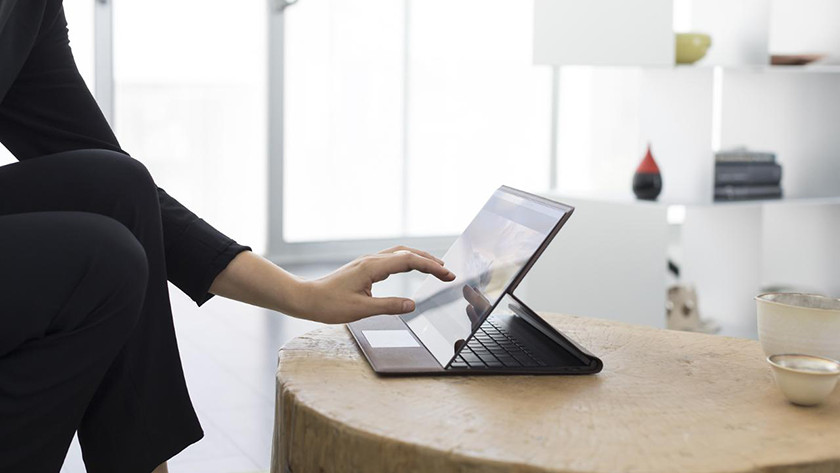 Laptop and tablet, but slightly different
The case is rotatable, so you can use it in multiple positions. The position in which the touchpad can still be reached seems to be a major advantage compared to other laptops. You can also use the tablet mode and the laptop mode, which gives you access to the backlit keyboard.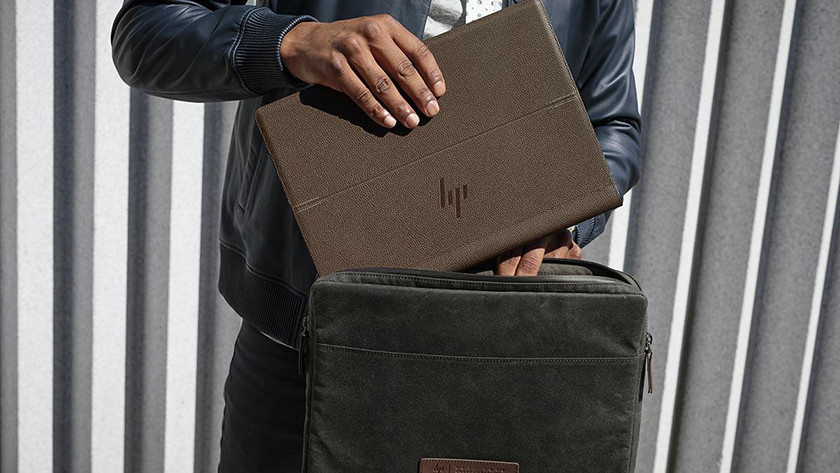 Thin and lightweight
With a thickness of 1.5mm, a weight of 1.45kg and a 13.3-inch screen, the HP Spectre Folio appears to be a laptop for on the go. It's not the thinnest and lightest laptop that HP has, but you'll probably be able to put it in your bag without problems or use it comfortably on your lap.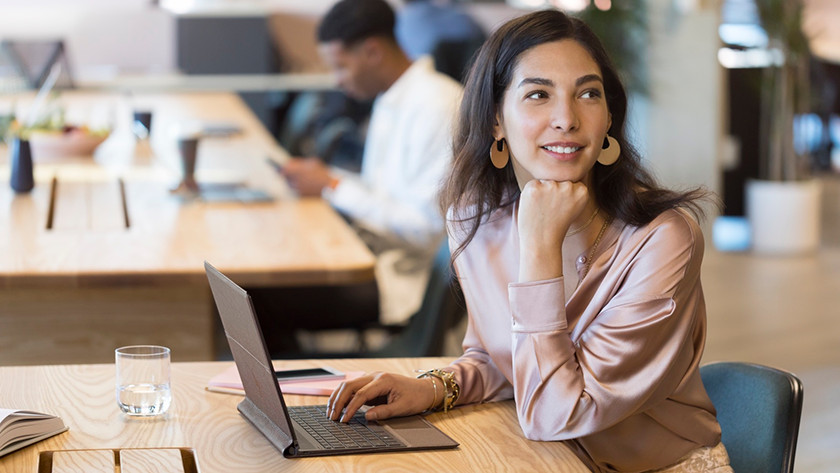 Amber Lake processors
The processors that you can choose from are the Intel Core i5-8200Y and a Core i7-8500Y from the Amber Lake generation. These are mobile processors that are slightly less powerful than the "normal" Intel Core processors, but more energy-efficient. The big advantage is that they're passively cooled, which means the Folio doesn't need any fans and will make virtually no noise.
A hopeful battery life
HP promises quite a bit with the battery life. They claim that the battery in the Core i5 variant lasts 19 hours and the battery in the Core i7 variant 17 hours. That is, of course, always doubtful, and the battery life is always relative; it depends on how intensively you use a laptop. We are very curious, but time will tell.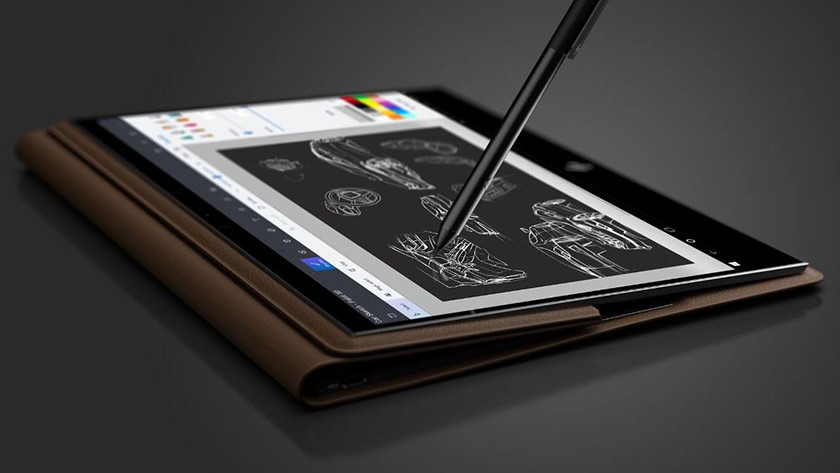 Three screen sizes
With regard to the 13.3-inch screen, you'll have three choices. There'll be a Full HD version with a brightness of 300 nits, which is pretty average. The second option is a Full HD Low Power screen, which is more energy-efficient and uses only 1 watt. The brightness is 400 nits, which is average, too. The last option is an Ultra HD (4K) screen, which makes us a bit happier. A stylus with 4096 levels of pressure sensitivity is included with all versions.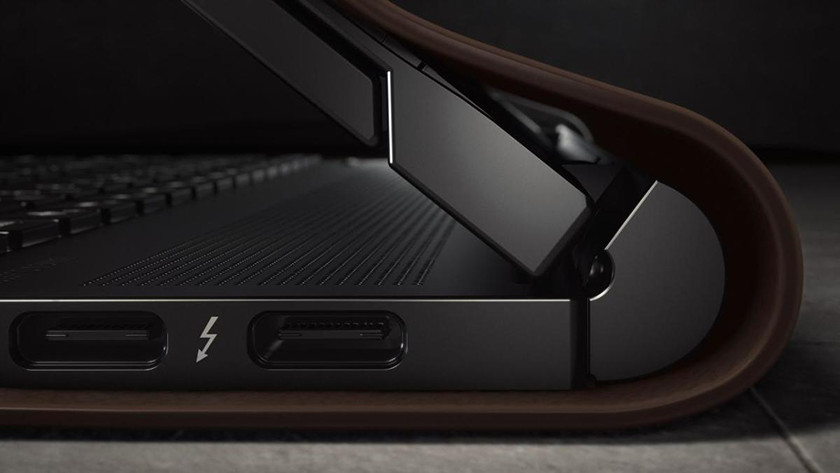 Other specifications
The maximum RAM in the HP Spectre Folio is a maximum of 8GB, which, in our opinion, should have been a bit more. The maximum storage capacity is 256GB in a PCI-e NVMe SSD, which ensures short charging times. The Folio has 4 speakers that have been designed in collaboration with Bang & Olufsen. There are 3 USB-C ports (of which 2 are Thunderbolt 3), 1 USB-A port, and a 3.5mm jack connector.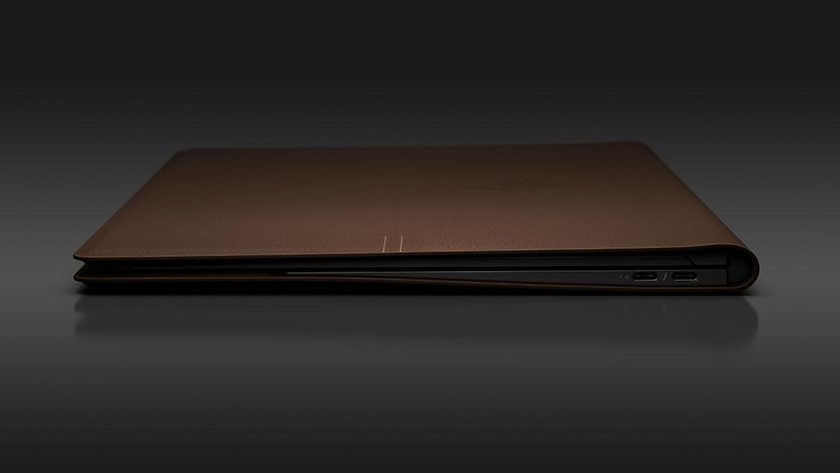 Versions
There'll soon be 3 versions of the Spectre Folio available. There'll be a version with 4G connection and a Core i5 processor, a WiFi version with Core i5, and a WiFi version with a Core i7 processor. The 4G version will be for sale from € 1799. The WiFi version is available from € 1599.