Repair your above-ground swimming pool yourself
Enjoying a spa treatment in your own garden with 1 press of a button? Realizing that dream has come a lot closer with the introduction of the inflatable jacuzzi. It's gotten cheaper too. Enjoy hot bubbles all year round, even in fall and winter. Tired of looking at it? Simply store it. On this page, you'll read what to keep in mind when buying an inflatable jacuzzi.
Damage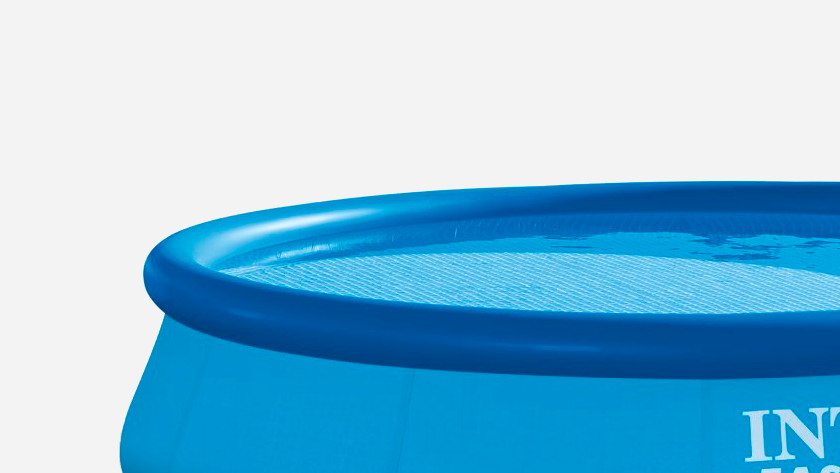 The most common type of damage for inflatable pools is small holes in the bottom or the rim. This could've been caused by bad weather, something sharp, or somebody getting a bit too wild in the pool. Don't worry, pretty much every pool includes a repair kit. For small children's pools, this is usually little more than a few patches. In the case of larger pools, these kits are a little more elaborate. We recommend to use these kits and not try to come up with your own solution. These kits are usually very easy to use.
Patching a hole step by step
"How do I repair a hole like that?" is what you might be thinking. Read all the steps here.
Step 1: Find the hole
Usually, you suspect whereabouts the damage might be. If you have no idea, we have a tip for you on how to find it. Fill a bottle – a spray bottle is even better – with some water. Add a dash of dishwashing liquid. Shake it and spray the pool rim. Start in the area where you suspect the hole could be. Do you see bubbles somewhere? You've found the tear.
Step 2: Clean
Now you know where the damage is located. Next, it's important to thoroughly clean the area around the hole and then dry it. That's where you'll be applying the patch in a bit. You don't have to deflate the pool to repair the leak, nor do you have to drain it, as long as the area of the hole is above water. Is the hole in the bottom? In that case you will need to drain the pool. There are certain patches and types of glue that do let you patch holes under water. It'll say so on the packaging.
Step 3: Cut out
Now, you take your patch sheet or repair kit. If you have a small pool, it probably came with just a set of patches. Usually these don't require glue, as they're adhesive. Cut out a round or oval shape that's bigger than the tear. This is the shape that you will glue over the hole.
Step 4: Glue
Do you have an adhesive patch? In that case, you're almost done. After sticking the patch on the hole, it's important not to use the pool for a few hours, otherwise the patch might not stick. Do you have a repair kit that requires you to glue the patch? Read on. Apply glue to the back of the shape you cut out. Do the same for the area around the hole in the pool.
Step 5: Apply the patch
Put the patch you cut out on the tear and press it into place firmly. Let it dry for 10 hours. Once the glue has completely dried, apply glue to the edges. This ensures a full seal. Wait until the glue is dry again and you can get back to enjoying your pool.
How can you prevent damage in the future?
As you've just read, patching a hole isn't exactly rocket science. It's something you can easily do yourself. Still, it's even easier to prevent the hole altogether, so you won't have to repair anything. There are a few things you can do to prevent future incidents.
1. Clean and flat surface
Before setting up the pool, always make sure the surface is clean and flat. Nor should the surface be too soft. That could cause the pool to deform and get damaged that way.
2. Use a protective layer
Use protective tiles or a ground cloth under your pool. This creates a protective layer for the bottom. Another advantage is that it makes walking in your pool more comfortable.
3. Use a pool cover
Use a pool cover to prevent sharp debris from blowing into the pool and damaging the rim. In addition, it'll keep debris like leaves out of the water, so you don't have to clean your pool every day.
Conclusion
Like with any object you use, it's to be expected that it'll get damaged at some point. That's nothing to worry about, as long as you can easily repair it yourself. That's why most pools come with a repair kit. If yours didn't, you can order these supplies separately. Repairing damage doesn't require technical skill. Just read these steps carefully and you'll quickly take care of any nasty leaks.