Expert review of the Garmin Vivofit Jr. 2
With an activity tracker for children you encourage your child in a playful way to move more and be more active. Garmin introduces a second variant of the activity tracker designed especially for children: the Garmin Vivofit Jr. 2. I tested this activity tracker for a week and tell my findings in this article.
In short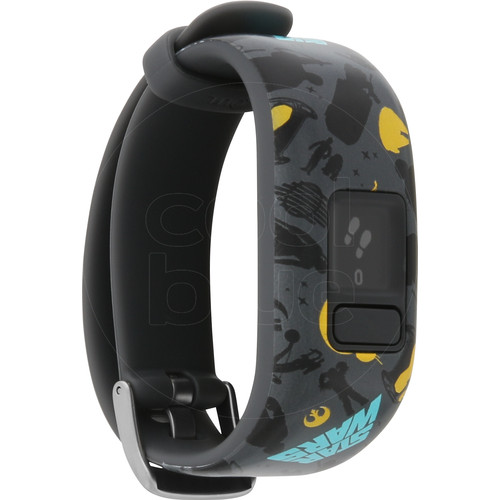 Counts steps taken
Measures sleep rhythm
Doesn't have a GPS sensor
89,99
no longer available
You do not need to recharge the battery of the activity tracker, because it lasts for more than 1 year.
The trackers have an elastic and comfortable watch band.
Through the app you manage all your activity goals and tasks for you child.
The tracker does not have a built-in GPS sensor, so you do not see where your child is.
Out of the box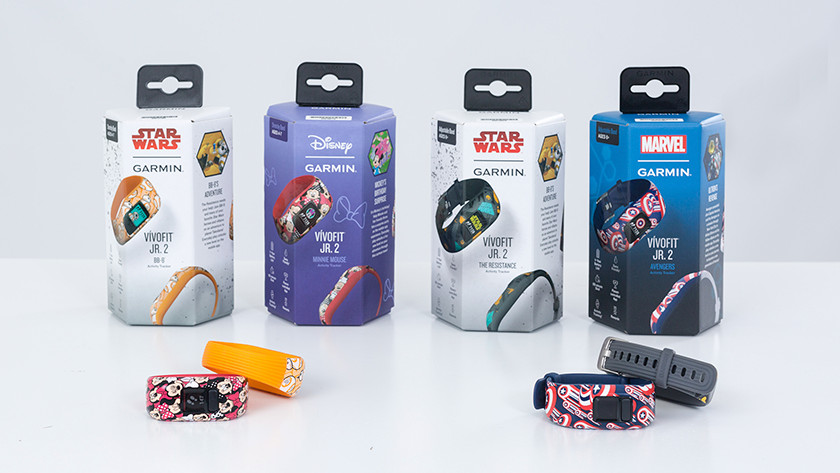 How happy I was to be able to open this box as a child. And actually I am still secretly still. Garmin works with Vivofit Jr. 2. together with Disney and has incorporated various themes into the design. Choose Minnie Mouse, Star Wars or the Avengers. All trackers are available in 2 variants: with an elastic watch band (children from 4 to 7 years) or with an adjustable watch band (6+ years). In the box you will find the tracker and a manual. There is no charger to find, because the tracker has a replaceable battery that lasts up to 1 year.
Setup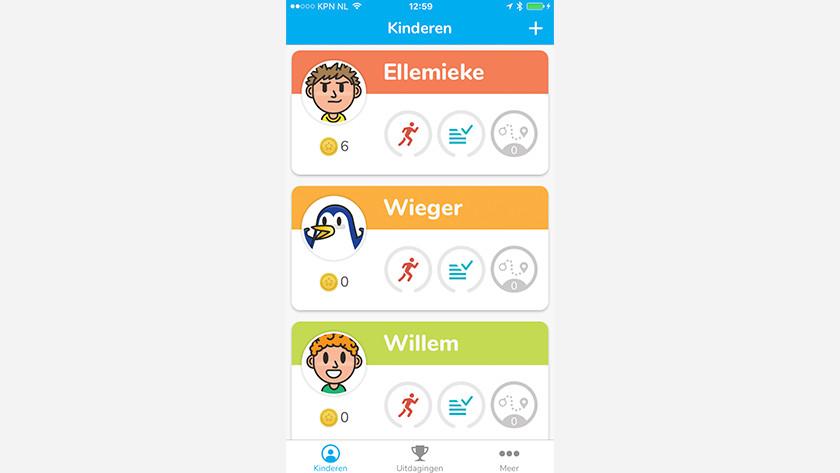 Install app
Before I could use the tracker, I first had to download the corresponding app on my smartphone. With Garmin products I am used to using the Garmin Connect Mobile app. In this case, however, a product-specific app has been developed: the 'Vivofit Jr.' App. With this app you have insight into all data of your child and manage your activities, tasks and rewards. It is possible to install the app on different smartphones and manage the app with different accounts.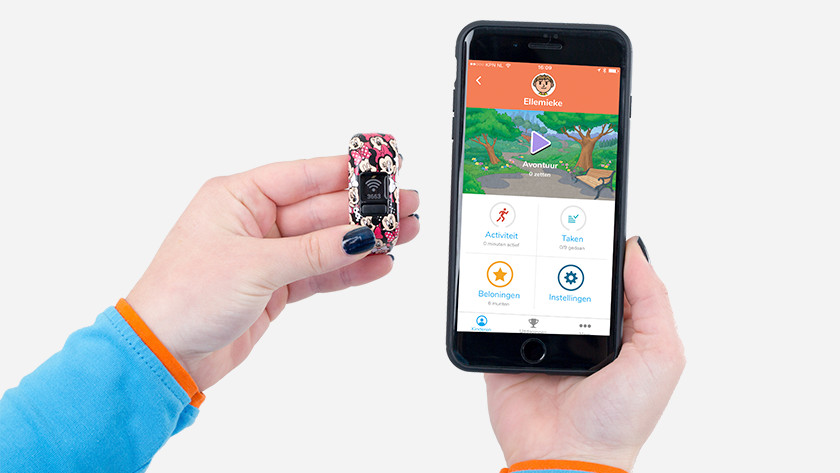 Link activity tracker
When I installed the app, it was time to link the activity tracker via bluetooth. This went fast and easy: I kept the button on the tracker for a few seconds and my smartphone recognized the tracker. Then in the app I could link a profile to the tracker with details of the child. So you indicate how old your child is, how late your child goes to sleep and how late your child wakes up. It is possible to link multiple trackers and profiles to the app. For example, you can see for each child how long it has slept and what activities it has performed.
In use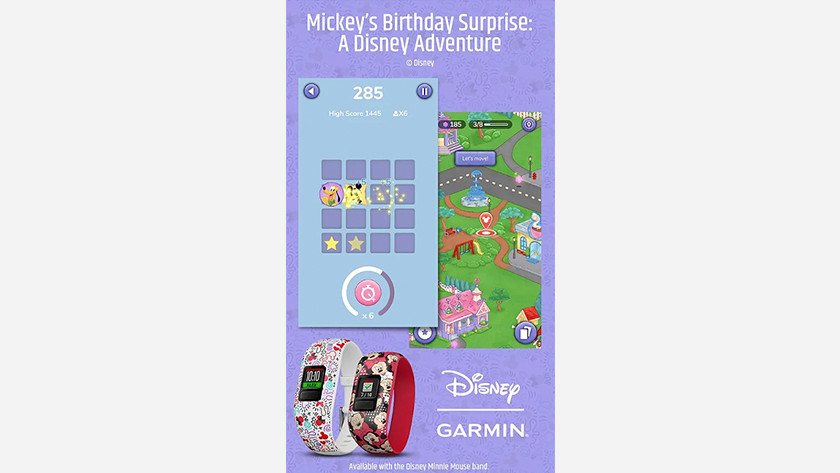 Daily activities and games
To ensure that your child gets enough exercise, Garmin has added a game element to the app. If your child has reached the daily activity goal of 60 minutes, the new adventures will play freely in the app. There are different games depending on the disney theme. For example, children can play secret missions with Black Widow, organize a surprise party for Mickey Mouse, bake a cake with Katrien or Thor help to catch the mischievous Loki. Have all the adventures of the theme been played out? Then it is possible to replace the strap with a different theme. With a new theme, a new world opens up with challenging games for your child.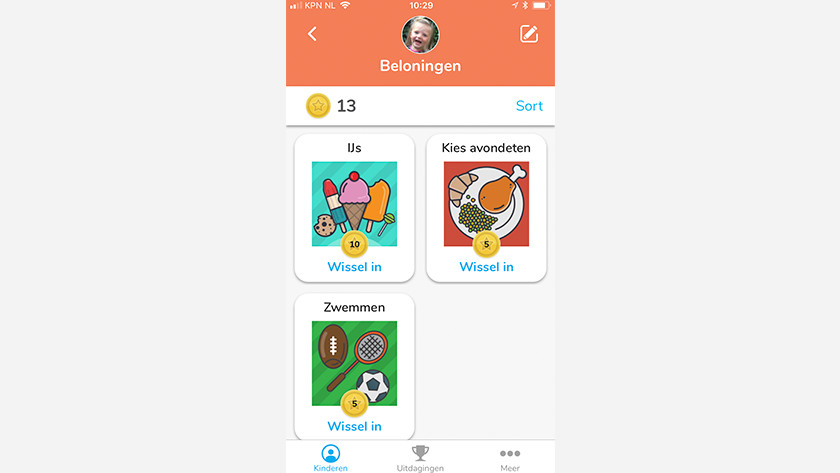 Tasks and rewards
In addition to exercising, you teach your child that household chores are fun and rewarding. Through the app I can assign tasks by selecting pre-loaded tasks or creating a task of my own. These can be one-time, daily or weekly chores. Think of laying out their bed, showering, practicing for guitar lessons, letting the dog out or cleaning up toys. Your child will see a notification on his or her activity tracker with a new task. Has your child completed the task? Then he is rewarded with virtual coins. These coins can be exchanged for rewards, such as watching TV for fifteen minutes, choosing dinner or playing a game. In this way you continue to motivate your child to help you with the household.
Conclusion
The Garmin Vivofit Jr. 2 is more than just an activity tracker. What makes this tracker especially an activity tracker for children? Besides that the trackers measure daily activities and sleep, they also motivate your child to do household tasks. With all the accompanying games and adventures, your children receive rewards for their daily exercise and tasks. This makes it not only a handy device that measures movement, but it is also fun and educational toys for your child.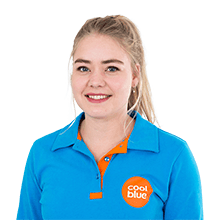 Article by: