Do I buy a round or rectangular trampoline?
What is better: a round trampoline or a rectangular trampoline? Both forms have advantages and disadvantages. Trampolines specialists Janneke and Leonie did not come out. Janneke is a fan of a round trampoline while Leonie really prefers the rectangular version. Why the ladies choose the above trampolines? Read it in the arguments below. Who do you agree with?
---
In short
| | Which form of trampoline do you choose? | Round trampoline | Rectangular trampoline |
| --- | --- | --- | --- |
| | The trampoline must not occupy too much space in your garden. | No | Yes |
| | You are looking for a trampoline where children up to 5 years extra safely. | Yes | No |
| | You choose from a wide range of trampolines. | Yes | No |
| | Your children have a lot of experience with trampoline jumping. | No | Yes |
Placement in the garden of round and rectangular trampolines
Striking appearance in the backyard
Is your garden big enough for a big trampoline? Then I would choose a round trampoline anyway. This takes up more space than a rectangular trampoline. That's a fact. But hey, if you intend to put a trampoline in the garden, then you know that this will cost space. That one square meter does not matter much, does it? Tip: if your garden has several round shapes, a round trampoline is a nice addition. Do not forget to leave about 1.5 meters of space around the jumping device. You do this to prevent accidents.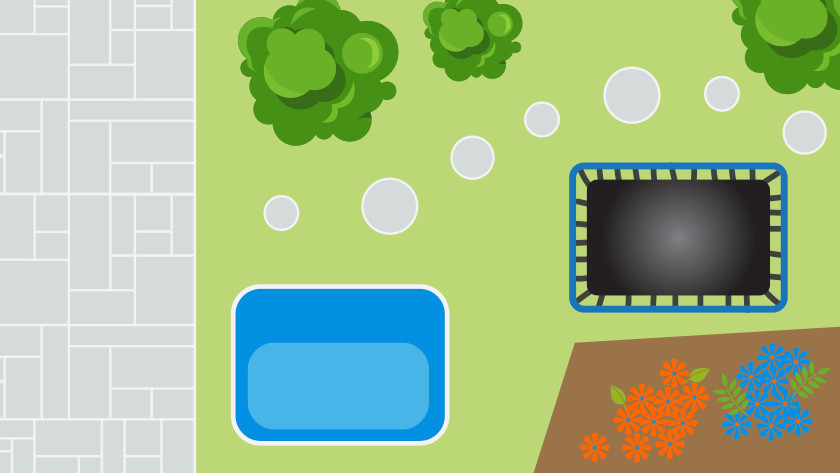 Save space in your garden
It is not nothing like a trampoline in your garden. This quickly takes up 2 square meters. Are you someone who handles the space in the garden as efficiently as possible? Then I would really choose a rectangular trampoline. You simply place it in a corner of your garden. This way you have room for a grass mat, for example, where children play when they are tired of jumping. Do not forget to leave about 1.5 meters of space around the jumping device. If you place the trampoline too close to a tree or fence, the jumper can hurt himself.
Who jumps on the trampoline?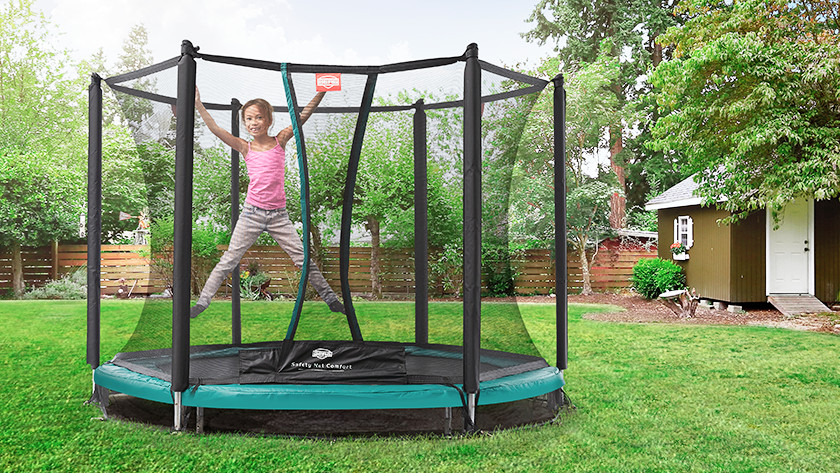 Young children jump safer
My choice for a round trampoline is based on safety. Especially young children jump extra safely on these trampolines. The trampoline springs of a round variant are namely tightly stretched everywhere. As a result, children are automatically driven to the middle of the trampoline (where there is often a middle mark on the jumping mat) at every jump. Accidentally jumping next to the trampoline is not at all. As long as children do not make strange frills, the round shape of the trampoline prevents nasty accidents. And in view of accidents sitting in a small corner, you're perfectly good with a round trampoline.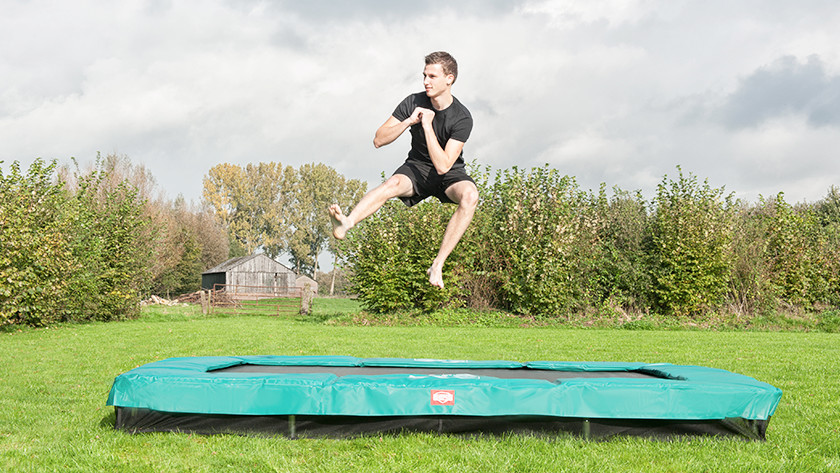 For the more experienced jumper
If your child already has some experience with trampoline, choose a rectangular variant. Older children easily jump over the entire jumping mat and also get higher. This is due to the tension on the springs and the frame with a rectangular trampoline. You will not be driven to the middle of the trampoline like a round trampoline. This way children decide for themselves how and where they jump. I see this as an advantage when your child is old and wise enough to jump independently. They do not get rid of strange antics to jump higher: that's what the trampoline already provides.
How many trampolines can I choose from?
Trampolines in all shapes and sizes
The choice is giant. This sentence covers the range of round trampolines. These jumps are available in all types, sizes, colors and variants. The chances are that there is something in between. There are also many accessories for round jumping equipment. Think of round safety nets, colored protective edges and useful steps to get on the trampoline. In general, round trampolines are cheaper than rectangular trampolines. This is because round trampolines have less frame than rectangular trampolines. Despite this fact, the price is highly dependent on the materials used.
Choose from a limited range
If we talk about the range of rectangular trampolines, it is straightforward. There are simply not as many rectangular as round trampolines. And you know ... I like that. This makes the choice for a trampoline much easier. Despite the limited range, rectangular trampolines are available in quite a few types and sizes. With colored trampoline edge, on legs or a variant to be buried. There are also rectangular jumps with a safety net. Essential when younger children jump on the trampoline.
Conclusion
As you read, both round and rectangular trampolines have different advantages and disadvantages. Which variant you choose depends on the amount of free space in your garden and who jumps on the trampoline. Has Janneke released something in you and are you convinced of a round trampoline? Or do you really prefer Leonie and her rectangular trampoline? If you do not come at all, just choose an oval trampoline. This trampoline has the best of 2 worlds.