Which apps are there for rowing machines?
Cool that you want to work with a rowing machine at home! To get as much out of your training as possible, there are several apps that can help you with this. With an app you have all your training results in one overview. You also have insight into where you stand in achieving your training goal. What apps there are for the rowing machine and what the difference is between these apps, you can read in this article.
---
Which apps do you have the choice?
These are the apps that are often used in combination with rowing machines:
ErgData: Always insight in your training results on the Concept2 rowing machine.
LiveRowing: Take a virtual rowing route during your workout on the Concept2.
Polar Beat: Train on heart rate with a Polar borstand on any rowing device that has heart rate measurement.
ErgData (Concept2)
With the ErgData app you always have an overview of all your trainings. You connect the app easily with your rowing trainer via bluetooth. So you see during your training your speed and distance per minute and the number of rowing strokes. In addition, at the end of your workout you can immediately compare your training with previous training sessions. So you quickly see if you have traveled a certain distance faster than the last time. Setting goals and working on them is therefore simple. All data can also be synced via the app with your personal log space on the Concept2 website.
LiveRowing (Concept2)
The LiveRowing app gives you the option to train virtually on your rowing machine. This makes it seem like you are really rowing on the water. The app also offers the possibility to train with a training program and you can participate in competitions against other users of the app. You connect the app easily with your rowing machine via bluetooth.
Polar Beat (All rowing machines)
The Polar Beat app is suitable for multiple models rowing machines. With the app you work towards a very specific goal. Do you want to lose weight or do you want to improve your rowing distance? After your work-out you will see in the app what your results are. How much fat did you burn? Has your endurance improved compared to your previous training? You can see your previous training sessions in one overview. Your training goal? Then the app makes it possible to share this result with friends via social media. \ N \ nNote! To use the Polar Beat app you need a Polar heart rate belt, sports watch or activity tracker. You connect this via bluetooth with your rowing machine.
Did this help you?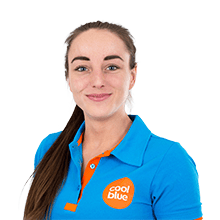 Article by:
Tamara
Rowing Machine Expert.