Everything on the Samsung Portable T5 SSD
The successor to the popular T3 is officially here: the Samsung Portable SSD T5. Its predecessor was an aluminum-covered powerhouse, but the Samsung Portable SSD T5 takes it a step further with its 2nd generation USB 3.1 support. In addition, the SSD now comes in different colors: glossy black and navy.
---
Samsung Portable SSD T5
Portable external SSD
|
Shockproof metal casing
|
Includes security software
Thanks to its high speeds, the T5 is up to 20% faster than its predecessor.
Secure all your files using the strict AES 256-bit encryption.
Connect the T5 directly with a USB-C or the included USB-A cable.
Faster and safer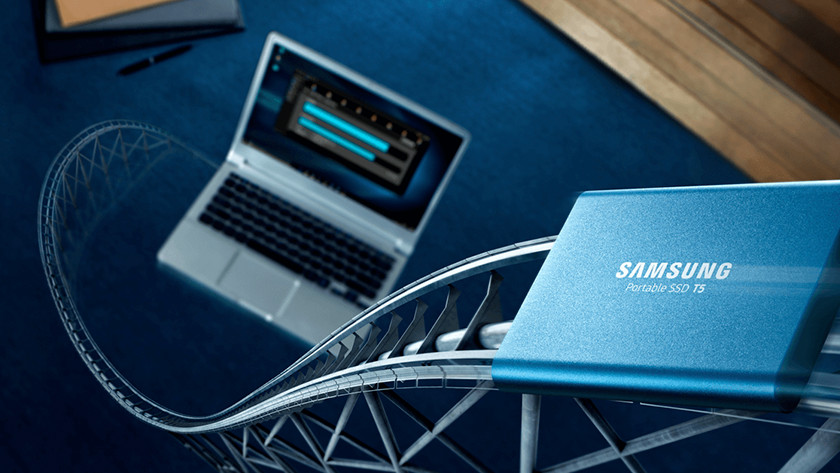 Faster than its predecessor
With its 450MB/s transfer speed, the T3 was already a fast, but the Samsung Portable SSD T5 kicks it up a notch. These new drives have a 540MB/s write speed, making it 20% faster than the T3. You can transfer a 4K movie, your collection of travel photos, and other large files in no time at all. It can process a 5GB file in 10 seconds.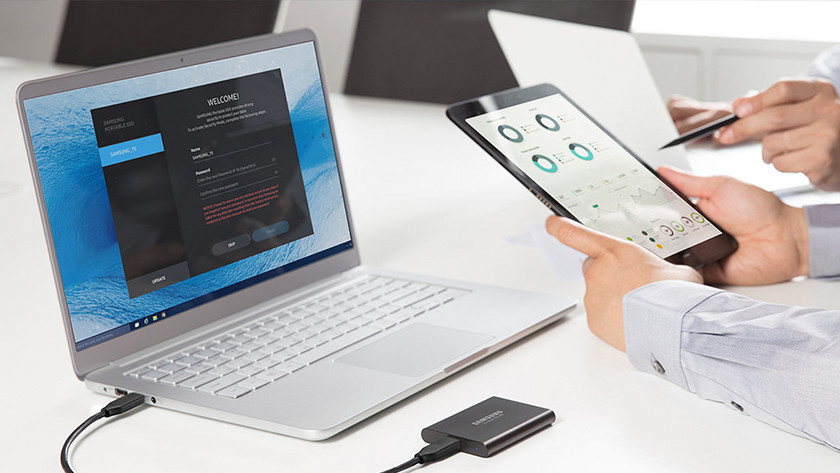 Protected from web-based threats
The Samsung Portable SSD T5 has advanced integrated protection: AES 256-bit encryption. That sounds fancy, but it basically means that every file on your Samsung drive is encrypted with a virtually unbreakable code. You won't even notice it, though. With all the ransomware, malware, and viruses going around, you can be sure that all your files are safe from intruders. On top of that, you can also set a password. This password will work on Windows, MacOS, and Android devices. If someone gets a hold of your drive, they can't access your files without entering the password.
Light and compact
A 51 grams weight, the Samsung Portable SSD T5 is as light as 2 AA batteries. That's about as big as a stack of playing cards. The SSD fits into your bag, so you can easily take it with you. Did it fall off the table? No worries, the drive is drop proof up to 2 meters. No need to worry about your drive's cable not fitting into your computer either, as Samsung has included a USB-C to USB-A cable, in addition to the USB-C cable. This USB cable has the familiar rectangular connector. That means you can even use it on computers that don't have USB-C yet.
View the Samsung Portable SSD T5
Are you curious about these small and fast external SSDs?