Expert review of the HP Pavilion G15-cx0830nd
Where many gaming laptops look striking, HP gives the Pavilion gaming models a more subtle look. I can appreciate this myself, but does this laptop perform just as well as its counterparts? I am looking for you in this specialist review.
---
In short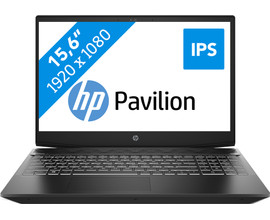 Powerful enough for gaming
|
Intel Core i7 - 16GB RAM - 256GB SSD + 1TB HDD
|
Nvidia GeForce GTX 1050 video card
The plastic housing feels solid and the aluminum interior is a plus. Typically, typing does not dent the keyboard. The Pavilion G15 is on the heavy and thick side, but makes this good by delivering top specifications for a competitive price. With a fast eighth generation Intel Core i7 processor, 16 GB memory and an NVIDIA GeForce GTX 1050 video card, you play smooth games and heavy tasks such as video editing are also done without hesitations.
Our assessment
| | Grade | Comments |
| --- | --- | --- |
| Looks and feel | 8.4 | Subtle design for a gaming laptop, a bit heavy and thick. Fast greasy fingerprints on the case. |
| User-friendliness | 7.8 | Nice keyboard, type fine. Also trackpad responds well. |
| Screen, sound, and battery | 7.5 | Screen is pretty clear, battery life is a bit disappointing. |
| Speed | 8.5 | An 8th gen i7 processor, 16 GB memory, and PCIe SSD: this laptop has speed enough for heavy tasks. |
| Particularities | 8.0 | This price in combination with these specifications you will not easily find with another laptop. |
| Final grade | 8.0 | |
Looks and feel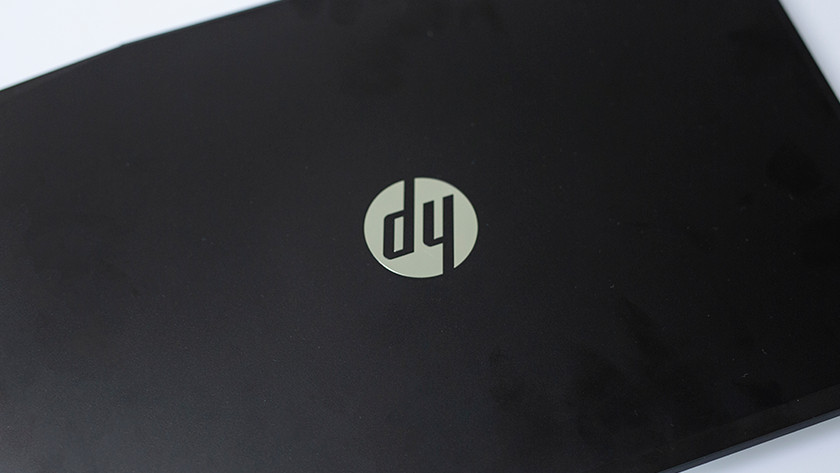 Design
When you slide the HP Pavilion G15-cx0830nd out of the box, the shiny silver HP logo on the black case immediately catches the eye. When you put the laptop in front of you on the table you immediately notice a second thing: where you touch the laptop leaves behind fat fingerprints. Flip open the laptop and here you see a nice silver edge around the trackpad. The keys have white edges and this looks chic when the keyboard backlight is on. Furthermore, the Pavilion G15 is a tad on the heavy and thick side.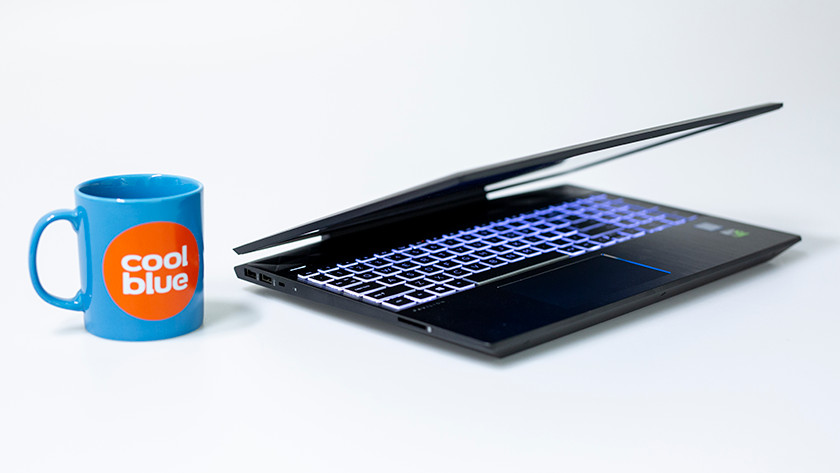 Sturdiness
The housing of this laptop is almost entirely plastic. Only the inside is made of aluminum. This will not dent the keyboard while typing. Furthermore, all plastic panels do dent when you exert pressure. It is therefore advisable to use the laptop carefully. The hinge feels solid and keeps the screen in place in different positions.
User-friendliness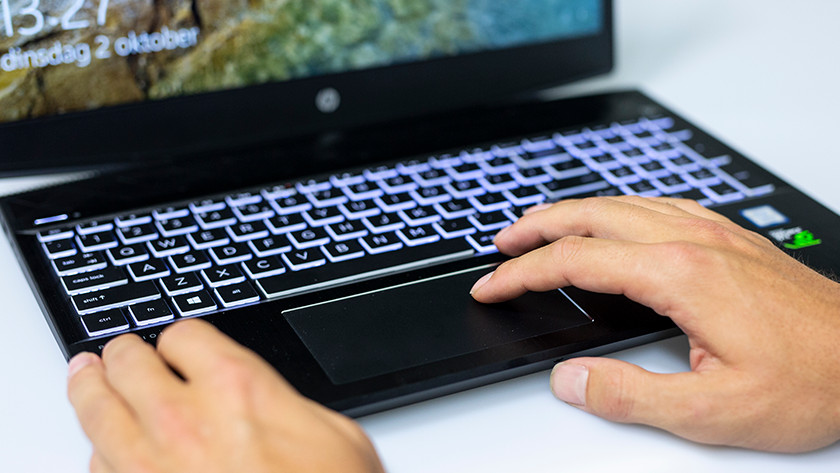 Keyboard and touchpad
The design of the keyboard is beautiful because of the white frame of the keys. Furthermore, the keyboard is fine. The Pavilion G15 has no programmable or mechanical keys, which hardcore gamers might miss. Do you occasionally play a game and do you use the laptop for things like photo editing and making reports? Then this does not disturb. The trackpad responds well, although pressing the left and right mouse button feels fragile.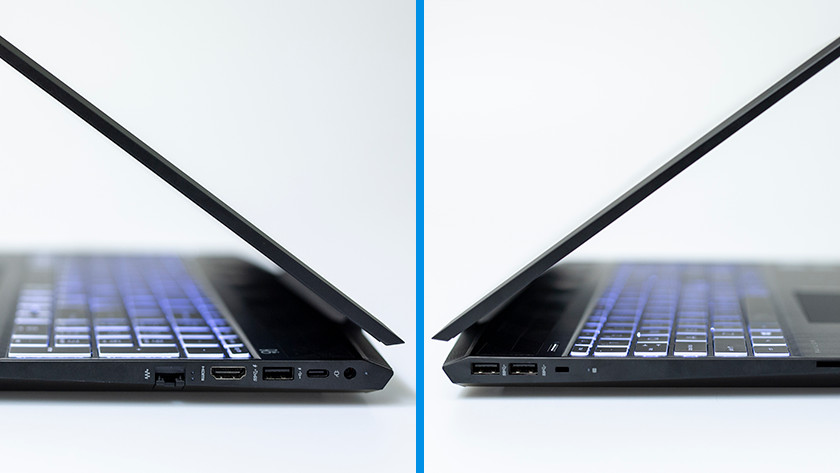 Connectors
With 3 standard USB ports, one USB port, one HDMI and an Ethernet port, you can easily connect all your peripherals to the HP Pavilion G15-cx0830nd. There is also an SD card reader available to easily transfer photos from your digital camera to the laptop. Only downsides I find that most connections are on the right side. Because my mouse is also on this side, I personally prefer more connections on the left so that they do not get in each other's way.
Screen, sound, and battery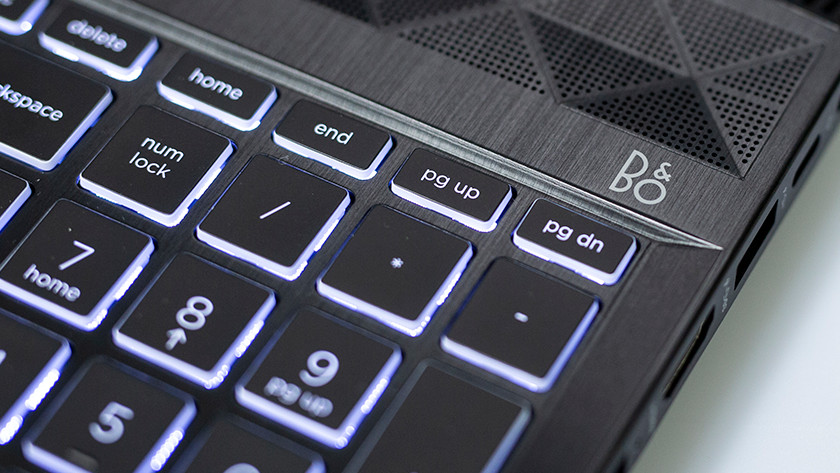 Display and speakers
The display has a Full HD (1920 x 1080) resolution, which looks very good. The anti-reflective layer ensures that reflections are less. Often you see that the screen is dull by such a layer, but that is not the case with this laptop. Colors continue to look bright. The speakers are tuned by B & O PLAY, so sound sounds a bit better than standard speakers. To watch series and films, the brightness and volume are sufficient. To really enjoy music I still recommend external speakers.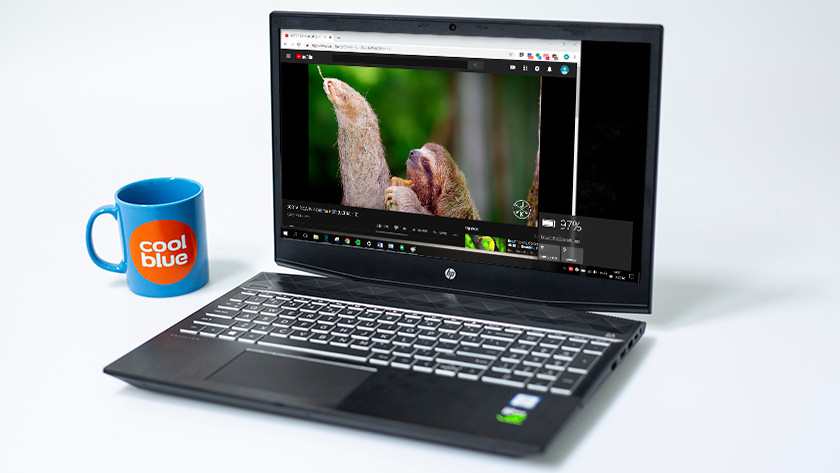 The battery
I tested the battery by playing a 4K quality video on YouTube at the highest settings. After an hour and a quarter, only 50 percent of the battery life was left. Working all day with intensive software or gaming all day is therefore not possible. You will always have to put the adapter in your bag when you take the laptop with you.
Speed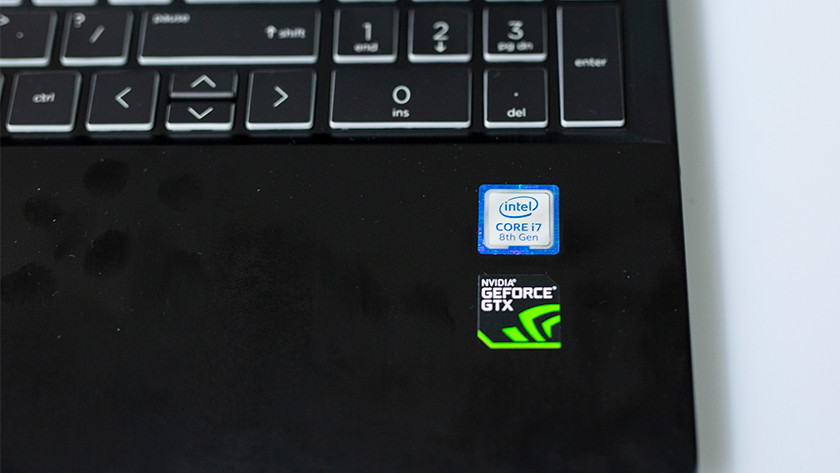 Booting it
The 256 GB PCIe SSD starts the laptop within 10 seconds and programs start up in seconds. I started editing video in Adobe Premiere Pro. I did not have any problems with this and when I have to render it goes smoothly. Even if I have my browser with 10 tabs open, the laptop does not slow down.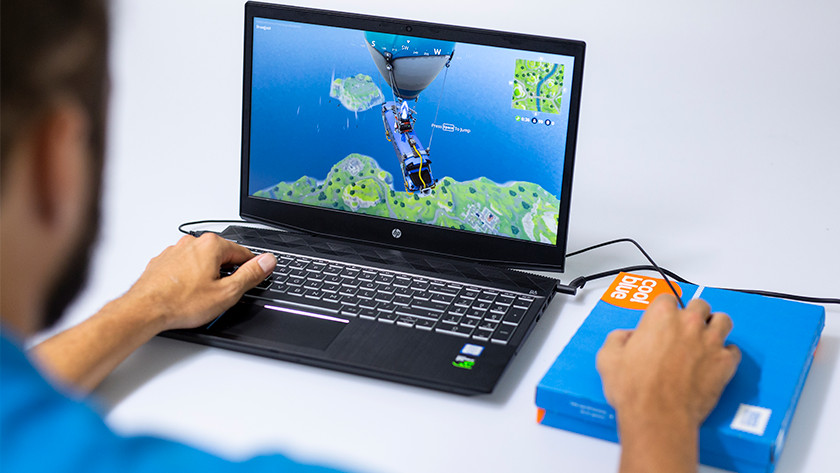 Performances
Playing games like Fortnite on the highest settings is no problem for this laptop. The FPS continuously stays above 60 and so you do not suffer from hitches. Editing videos in Adobe Premiere Pro is smooth, and rendering is smooth. While working with intensive tasks, I have not noticed that the HP has difficulty. In addition, cooling with 2 fans ensures that the laptop remains cool and hardly makes any noise.
Particularities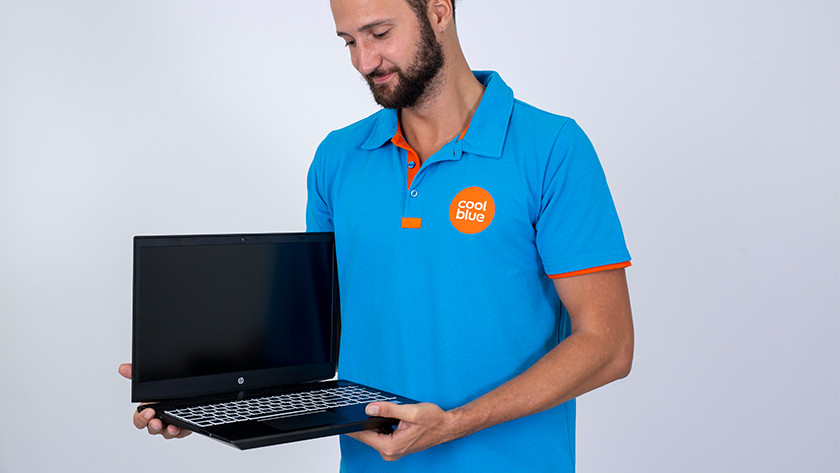 Price
An Intel Core i7 processor, 16 GB RAM, 256 GB PCIe SSD, 1 TB HDD and NVIDIA GeForce GTX 1050 video card, you can find it all in this laptop for a very favorable price. Whether you like to play a game, edit videos and photos or just want to enjoy the internet and watch series: the HP Pavilion G15-cx0830nd does it without problems and does not disappoint.