Advice on swimming pools
The kids can't wait to go for a swim. They'll have to be patient a little longer, though, because before you buy a pool, you need to consider a few things. How much room you have, the usage situation, and how often you plan to use it are important. On this page, we'll help you find the best pool for you.
1. For whom is the pool intended?
Before you buy one, think about who is going to use the pool. There are different pools for different age groups:
Baby pool
Inflatable and suitable for babies up to 12 months old. Some baby pools have a sunshade that ensures that the little ones are in the shade on hot summer days. The baby pools aren't suitable for adults because of their low load capacity.
Children's swimming pools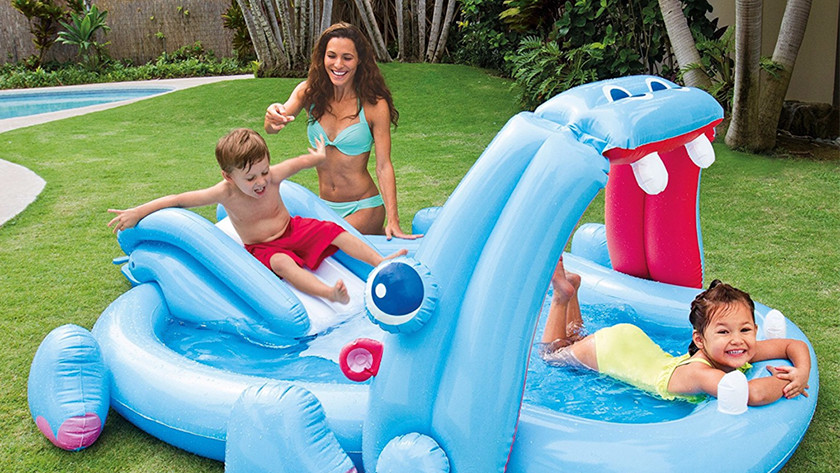 Inflatable or with a frame. These children's pools in bright colors are suitable for children ages 3 and up and can easily be inflated manually or with an electric pump. On top of that, you can easily connect a garden hose for even more swimming fun.
Family pools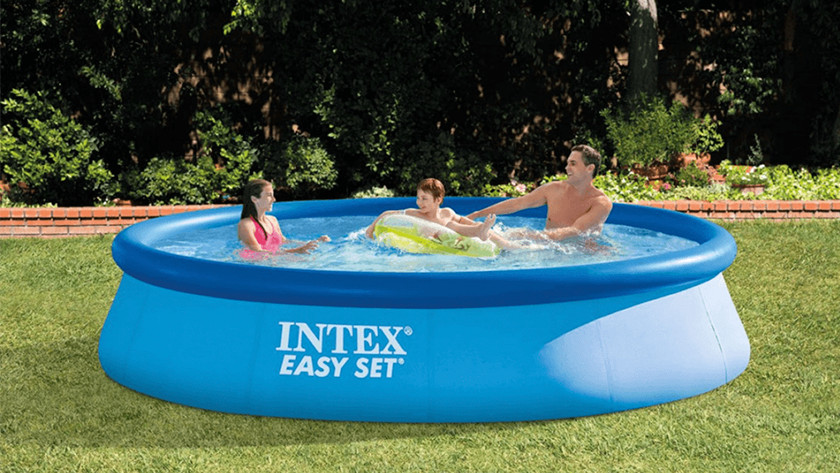 Inflatable or with a frame. Family pools are suitable for families with children (ages 3 and up) and adults. The inflatable family pools don't take much time to set up and have a high load capacity that makes them suitable for multiple people. The family pools with frames are durable because they have a high load capacity. The steel or PVC walls makes them sturdier than inflatable pools.
2. How often will you be using the pool?
A garden pool; it sounds like a luxury few can afford to many people. It's actually within easy reach though. Before you make a choice, consider if you want to leave the pool in your garden for a longer time. It's also possible that you prefer one that you can easily put away when you're not using the pool. The quality of the water is also very important. The more frequently you use the pool, the quicker the pool water will get thirty. In larger pools, filter pumps clean the water. These filter pumps come in different sizes, depending on the size of the pool. We distinguish between two types of pools depending on how frequently they're used.
On sunny days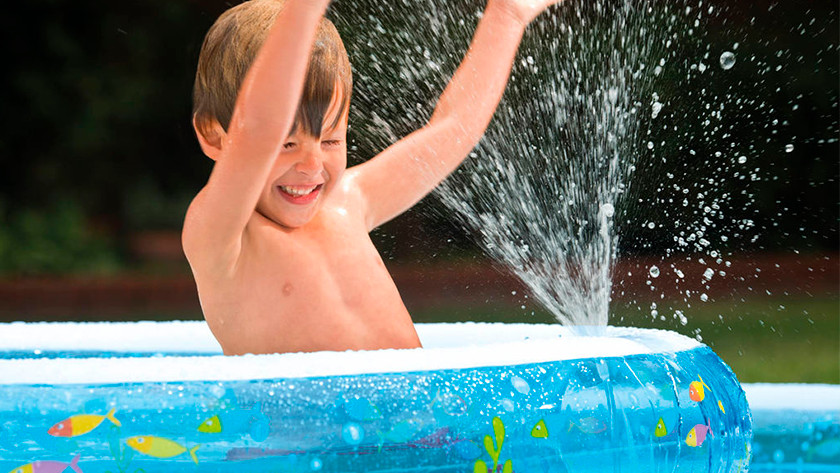 An inflatable pool is convenient if you only plan to use te pool on sunny days. The rest of the year, you can store it in the shed or somewhere in your house. Carefully check the size of the pool and how it folds. An inflatable pool can easily leak when you store it between sharp objects.
All summer long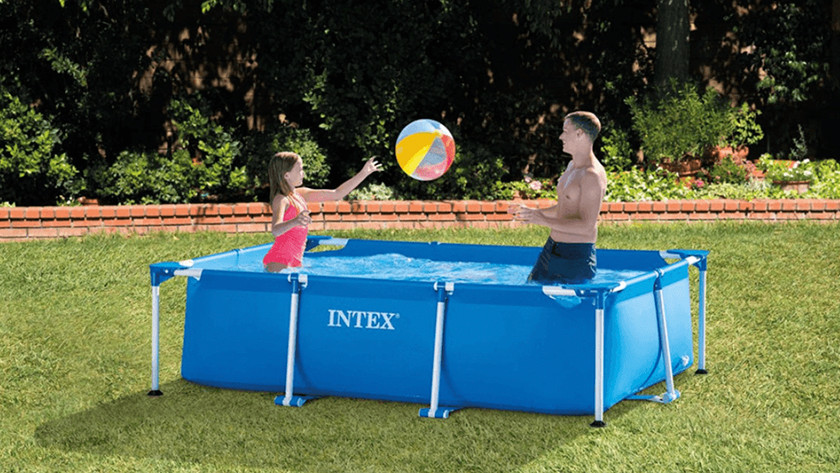 If you use the pools for about six months straight, an above-ground swimming pool or pool with a PVC frame can be a good option. You can easily fill the pool with water. The quality of the pool water remains good thanks to a filter pump. First check if the filter pump is included. The same goes for other accessories. A cover will help you protect the pool against leaves and dirt. At the end of the season, you can drain the pool or move it to somewhere more convenient.
All year long
If you want to use the pool frequently, a pool with a steel frame would be a good choice. This type of swimming pool is sturdy and durable and has a high load capacity. Put it on a ground cloth and even surface. Keep the available space in mind as well as any trees or low-hanging branches. Installing and setting up a pool with a steel frame is a time-consuming and exacting job.
Types of pools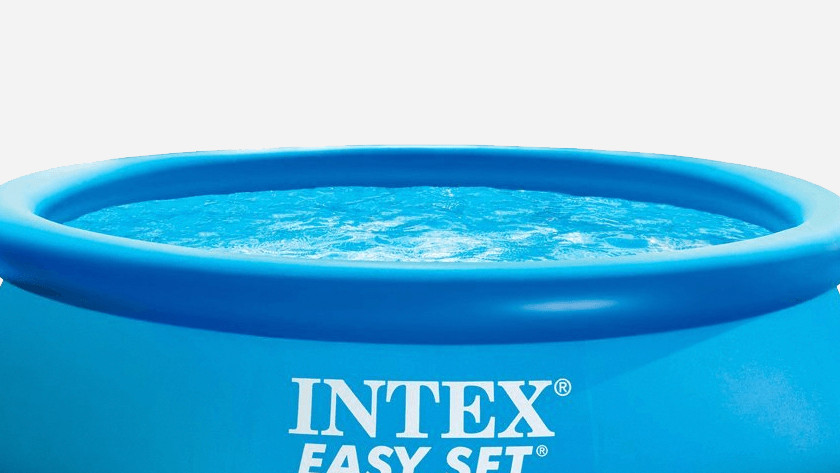 Inflatable pool
An inflatable pool has 1 or more raised rims that can be easily inflated. The kids will be enjoying the water quite quickly.
Can be set up relatively quickly.
Easy to store.
More prone to leaks than pools with frames.
Not as sturdy and durable as pools with frames.
Pool with frame
A pool with frames isn't as easy to set up as an inflatable pool, but it's sturdier.
Is sturdy and durable thanks to the PVC or steel walls.
Can easily be left in your garden for longer periods of time.
Not as easy to move as an inflatable pool.
Setup is a time-consuming and exacting job.
3. Which pool fits best in your garden?
A round or rectangular pool
There are round and rectangular pools. The advantage of a round pool is that the pool will easily fit in your garden. A rectangular pool offers extra comfort because you can stretch out in it. It's also a lot easier to swim laps in a rectangular pool.
Measure the available space
When it comes to pools the rule is that the bigger they are, the more water and weight the can handle. Make sure you keep about 1.5 meters of free space around the pool. That gives you room to place steps and for the kids to get in and out of the pool easily. It's also easier to drain the water if you have more space.
4. How do you ensure your pool stays safe and clean?
Swimming is fun, but never let your child use the pool without supervision. Safety first. A number of things are important when it comes to safety. Consider the water level in the pool. Make sure the pool's water level is never too high. Safety also has to do with hygiene. The quality of the pool water depends completely on houw you maintain it. Read more about cleaning your pool on the advice page..
Proper connection to the power supply
Some pools with a pump are connected to a power source. Before you connect it, carefully read the instructions in the manual. Never use an extension cord when connecting a pump to the pool. A safety switch will prevent a plug from coming into contact with water an causing a short.
Ladder
We recommend a lader for pools with a height of 76cm or more. That way, you don't have to lift every child into and out of the pool every time. A pool is also a clear sign for the kids that they can't just jump in the pool.
Pool pump
Some pools have a cartridge filter or a sand filter pump. The filter or the sand will have to be replaced regularly in order to safeguard the quality of the pool water. Make sure you have enough filters and sand to keep the pool water clean.
Pool cover
Safeguard the quality of the pool water with a pool cover. This keeps out stuff like leaves or insects. It also protects the material of the pool and prevents the growth of algae. The cover will help maintain the temperature of the pool water. That's important if you plan to take a dive early in the morning.
6. Don't forget the accessories.
You've bought a pool and discovered you're still missing certain accessories. Below, we've made a list of handy accessories wit their pros and cons. That way, you can enjoy your pool to the fullest right away.
Bubble wrap
You put the bubble wrap on the pool water. The material let's the sun's heat through and raises the water temperature. The bubble wrap is made of durable polyethylene.
Put it directly on the pool water and maintain the water temperature.
Protects the pool water from outside contamination
You have to remove the bubble wrap before you can use the pool.
Ground cloth
When placing a pool, it's important that you place it on an even, horizontal surface. A ground cloth protects the bottom and the pool's material.
Keep the ground under the pool intact and protect the pool's material.
Is made from a durable material that feels soft.
Is more visible because of its size.