7 tips for a clean yoga mat
Does your yoga mat smell bad or do you notice that the quality of your mat is getting worse? A yoga mat doesn't have it easy. Sweat, creams, dirty floors, your yoga mat has seen it all. The following tips will help you keep your yoga mat clean, fresh, and in good condition.
---
Tip 1: wipe down your yoga mat after each session
If you wipe down your yoga mat after every session, you keep the mat from getting really dirty. This also reduces the chance for bacteria to develop. Ideally, you wipe down your yoga mat after every session with a wet cloth and possibly even a small amount of oil-free soap. Dry off the yoga mat with a towel and hang it out to dry completely for a while.
Tip 2: regularly clean your yoga mat
Depending on how often you use the mat, it's important that you regularly give it a thorough cleaning. Do you go to a Hot Yoga class every week? Clean your yoga mat at least once a month. It's best to clean a plastic yoga mat made from PVC, for example, with oil-free soap and water. Scrub the yoga mat clean and use enough water to remove all the soap residues. Dry it off with a towel and leave the mat out to dry completely. Watch out when you hang it out to dry on sharp clothes lines, since these can leave an ugly line on your yoga mat.
Tip: to really get the mat properly dry after you wash it, put a dry towel on the mat and roll them up tightly together. The towel will absorb a lot of water from the mat.
Tip 3: use a yoga towel
A yoga towel has an anti-slip layer so it stays neatly in place on your yoga mat during the session. It's hygienic to use a towel for your yoga session, because it absorbs a lot of sweat. Another great plus of the yoga towel is that you can just clean it in the washing machine.
Tip 4: wash your hands and feet
This might be somewhat of an open door, but make sure your hands and feet are clean before you start your yoga session. If your hands and feet are clean, your yoga mat doesn't come into contact with as much dirt and bacteria.
Tip 5: let your mat dry after your session
It's not just after a clean that you should leave your mat out to dry. It's also better to let the mat dry before you roll it up after your workout. If you train in a studio and need to pack up the mat quickly, roll the mat back out to dry when you get home.
Tip 6: roll up your mat the right way
You can roll up your yoga mat in different ways. There is one way that ensures the two sides of your mat don't touch each other. The benefit of this is that the dirtiness from the floor doesn't get into contact with the side that you do your exercises on. In addition, this way of rolling up your mat also prevents the edges of your mat from curling up. How do I make sure my yoga mat doesn't curl up?
Tip 7: replace your yoga mat on time
If you notice that your yoga mat starts to tear and fade, it's time to replace your yoga mat. Dirt sticks to these cracks and spots more easily, so it becomes more difficult to clean the yoga mat properly. Aside from that, this type of wear reduces the grip of the mat, so your yoga session won't be as pleasant.
Conclusion
Bad smells don't belong in your calming yoga session. No matter how intensively you use your yoga mat, a clean mat is a must. Use the tips to ensure that the yoga mat doesn't get too dirty, but don't forget to regularly clean the mat as well.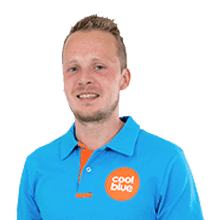 Article by: