Which TV do I choose for the camper or caravan?
You're off on holiday and what do you take with you: a TV. Looking for a television for a camper or caravan isn't the same as looking for a TV for your home. You have to keep in mind whether you need a socket or external devices. The tips in this article will help you to choose an ideal TV.
Opt for a 12-volt connector for power
A caravan often has a socket, but a camper usually doesn't. In this case, it's important to opt for a television that has a 12-volt connector. Use the 12-volt output of the camper to provide the TV with power. The required 12-volt cable isn't always included when you order the TV, so you might have to purchase a separate one.
Watch movies with an integrated media or DVD player
Do you want to enjoy your own movies or series when you're on holiday? Opt for an integrated media or DVD player. This way, you can watch images from a DVD, USB flash drive, or external hard drive. You no longer have to bring a separate DVD player. This will save space in the trunk, so you can easily bring another beach ball or a barbecue.
Watch TV with a smart card
If you want to watch movies as well as TV programs, a TV with CI input is the right option. Insert a CI module with your provider's smart card in this input so you can watch digital TV. You don't have to install a satellite or separate decoder. This way, you won't only save space and power, but you'll also only need 1 remote. The CI module is almost never included when you order the TV, so you probably have to purchase it separately.
The largest and sharpest image is not necessary
You're usually pretty close to the television in a camper or a caravan. In this case, a screen size of maximum 43 inches is enough. This means that you don't necessarily need to buy a 4K UHD TV. You can only see the difference in sharpness between 4K and Full HD on a larger TV. Do you have a television of 32 inches or smaller? You can simply opt for an HD Ready TV.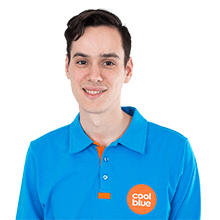 Article by:
Laurence
Television Expert.