What types of welding techniques exist?
Welding is not a job that you carry out just in between and without preparation. Before you get started, it is important to find out which welding technique best suits your planned job. Basically, the goal of welding is to fuse 2 metal parts together. But are you going to weld a steel bicycle rack that has to be sturdy, or are you going to weld an aluminum frame that not only has strength, but also the appearance is important? The answer to these types of questions determines whether you are welding electrode, TIG welding or MIG / MAG welding. MIG / MAG? No worries, in this article I explain the basics of these 3 most common welding techniques.
---
Arc welding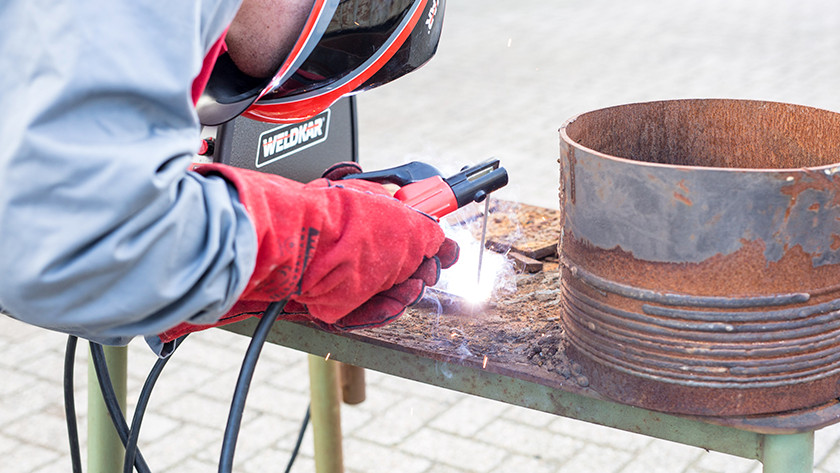 Welding with coated electrodes is also called electrical welding or arc welding. The electrode serves as a welding additive material and melts from the torch onto the material to be welded. A 'snail' is created, which you remove after chilling with a chipping hammer. You use this technique for all kinds of steel and stainless steel, but not for aluminum. In addition to the welding machine, you need a pack of coated electrodes that are available in different diameters and for different materials. The coating of the electrode ensures that you do not need to add a separate shielding gas, as a result of which this technique is the only one that can be used in the open air.
Pros and cons
Pros electrode welding
** Outside welding: ** Because you do not need a protective gas for electrode welding, it is a suitable technique for outdoor use. In fact, protective gas would evaporate in the open air.
** All positions **: Electrode welding is a process that is suitable to perform in all positions. So even if a pipeline has to be repaired above your head or in a difficult to reach angle.
** Portable **: The welding machine is portable because you do not have to carry a gas tank. They are therefore ideal to transport and use in different workplaces.
** Cheap **: The investment costs for electrode welding are lower than with other welding techniques.
Minus electrode welding
** Coarse **: Electrode welding is a rather coarse way of welding. You do not use this for decorative purposes or for very thin materials. \ N- ** Slow **: The process of electrode welding is relatively slow compared to other welding techniques, if you want to weld large surfaces. The electrodes have to be replaced when you have used them up and the 'snail' that is created on the material must be smashed with a chipping hammer.
When do you use it?
Electrode welding is the ideal technique for quick repair or maintenance work. That is why this method of welding is especially recommended for freelancers, do-it-yourselfers or contractors who carry out small welding jobs in their daily work. The required welding machine is handy, relatively easy to use and little can be broken. For the same reason, it is the best technique for novice welders to gain experience with welding jobs.
TIG welding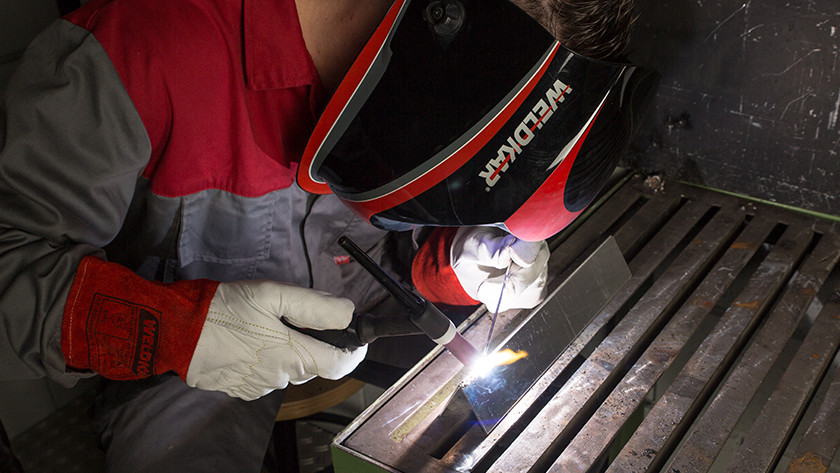 If it is necessary to weld well, the TIG welding is the appropriate welding technique. TIG stands for Tungsten Inert Gas: tungsten is the English name of tungsten and inert gas is the type of gas you use. If you use additive material, you need 2 hands constantly during TIG welding, making it considered the most difficult welding technique. In one hand you have the welding torch fixed, with the other hand you apply the welding additive material (the welding rod) into the molten pool that is created during welding. This makes it a time-consuming and precise process, but with high-quality welded joints as a result.
Pros and cons
Pros TIG welding
** Detailed **: TIG welding is suitable for carrying out narrow, detailed welding jobs. This is the best technique for beautiful welded joints. \ n + ** Checked **: You work very controlled, because you manually apply the additive material and thereby determine the speed yourself. \ n + ** Clean **: It is a clean welding process that does not cause splashes and sparks. This means that post-processing of the workpiece is not necessary. Only when you start welding aluminum is post-processing necessary to prevent rust. \ n + ** All metals **: All fusible metals can be joined together by means of TIG welding.
Cons TIG welding
** Complex **: This welding technique is very complex and requires a lot of practice before you achieve the desired welding result. It is crucial that you do not touch the tungsten point on the material to be welded. \ n- ** Precious **: TIG welding is a slow and costly process and therefore less suitable for long-term and extensive welding jobs.
When do you use it?
Because TIG welding yields such nice results, it is a technique that is often used for restoring cars or for making metal frames for furniture, for example. This technique is also very suitable for welding thin plates because of the low welding speed and the high accuracy.
MIG / MAG welding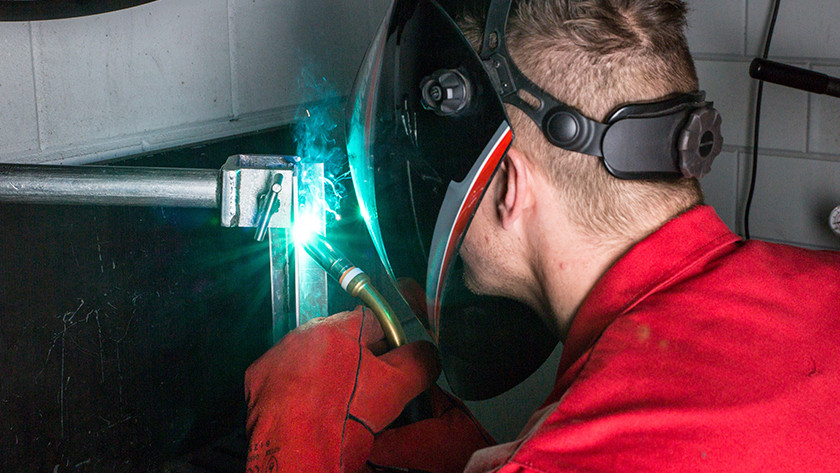 The difference between MIG welding and MAG welding is only the type of shielding gas you use: Inert or Active. The welding process is exactly the same, therefore MIG / MAG welding is seen as one technique. With MIG / MAG welding, the welding wire comes out of the torch automatically and continuously at the chosen speed. You place the wire coil in advance in the welding machine. So during welding you do not have to worry about the additive material. Partly because of this, it is a popular and very fast welding technique, where you can suffer large surfaces in a short time. For the same reason, this form of welding is widely used in the metal industry. MIG / MAG welding can also be automated by means of a welding robot.
Pros and cons
Pros MIG / MAG welding
** Fast and simple **: MIG / MAG welding is the easiest and fastest of the 3 techniques mentioned. You have welded long pieces of metal together in a very short time.
** Many materials **: This welding technique can be applied to many different types of steel and varying thicknesses of the material.
** Automatic wire feed **: By automatically feeding the welding wire, you always have 1 hand free to send the torch in the right direction and to support when you are busy for a long time.
Cons MIG / MAG welding
** Splash **: During MIG / MAG welding, many splashes are released, which limit vision and get stuck on other parts of the workpiece.
** Not outside **: It is not advisable to use this technique in the open air, because the protective gas then evaporates.
** Investment **: The necessary equipment to be MIG / MAG-welding is a considerable investment. This makes it, together with TIG welding, a costly technique.
When do you use it?
For large-scale and repetitive welding, MIG / MAG welding is the best technique. It is no coincidence that this form of welding is widely used in industry and in large companies. It is not directly a technique that the average do-it-yourselfer uses in his shed if something has to be sporadically welded. But the professional welder who does not turn his hand around for project-based and large-scale jobs, works very efficiently and quickly through MIG / MAG welding.
Did this help you?