Alles wat we weten over Apple AirPods 2
Overal waar je komt zie je mensen lopen met de herkenbare draadloze witte oordopjes. De meeste mensen die ze eenmaal gebruikt hebben, kunnen niet meer zonder. Draadloze vrijheid, goed geluid en een fijne pasvorm. De eerste AirPods verschenen in 2016. Op 20 maart 2019 heeft Apple AirPods 2019 uitgebracht. Lees hier alles wat er nieuw is aan deze generatie AirPods.
---
Apple AirPods 2 met draadloze oplaadcase
Earbuds
|
5-hour battery life
|
Wireless charging (Qi)
Dankzij de H1 chip verbind je de oordopjes automatisch met jouw Apple apparaten en activeer je Siri met je stem.
Je laadt de oplaadcase draadloos op.
Door het volledig draadloze ontwerp heb je geen last van kabels langs je lichaam of in je nek.
Je hebt een Apple iPhone, iPad of Mac nodig om optimaal gebruikt te maken van AirPods.
Om de oplaadcase draadloos op te laden, schaf je een draadloze oplader los aan.
Een draadloze oplader wordt niet standaard meegeleverd.
Draadloze opbergcase
Met de nieuwe draadloze opbergcase voor mijn AirPods 2, wordt opladen wel heel simpel. Hoe het werkt? Ik leg de case van mijn AirPods op een draadloze oplader. Aan het ledlampje op de voorkant van het doosje, zie ik dat mijn AirPods opladen. Is er nou geen draadloze oplader in de buurt? Dan laad ik de case gewoon op met een Lightning connector.
Apple H1-chip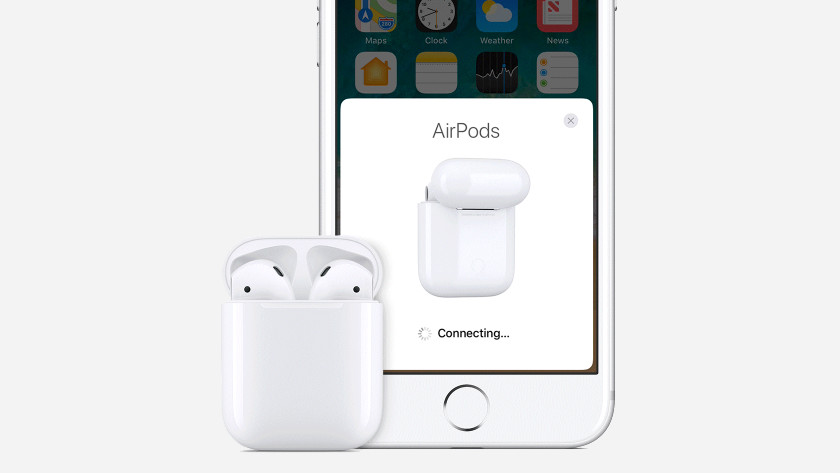 Nieuwe AirPods, betekent natuurlijk ook verbeterde specificaties. Want wat is een update zonder betere specs? In de vorige AirPods vonden we de W1 chip. AirPods (2019) bevatten nu de compleet nieuwe Apple H1-koptelefoonchip. De voordelen van deze nieuwe chip? Een snellere en stabielere draadloze verbinding met al mijn devices. Van device wisselen, gaat nu tot 2 keer zo snel. En wil ik bellen? Dan heb ik 1,5 keer zo snel verbinding.
Hé Siri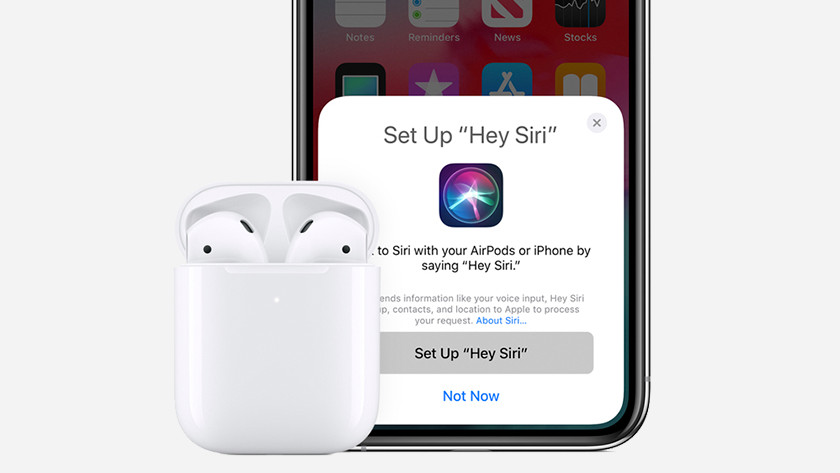 We kennen allemaal Apple's virtuele assistent: Siri. Op iPhone, iPad en HomePod activeer je Siri met de woorden: 'Hé Siri'. Op Apple Watch hoef ik dit overigens niet meer te zeggen. Op de vorige AirPods ontbrak deze functie. Om Siri te gebruiken, tikte ik voorheen 2 maal op één van de AirPods. Bij AirPods (2019) is dit niet meer nodig. Siri activeer ik voortaan dus met de woorden: 'Hé Siri'. Dit is mogelijk dankzij de vernieuwde H1-chip die het herkent als ik tegen AirPods praat.
24 uur batterijduur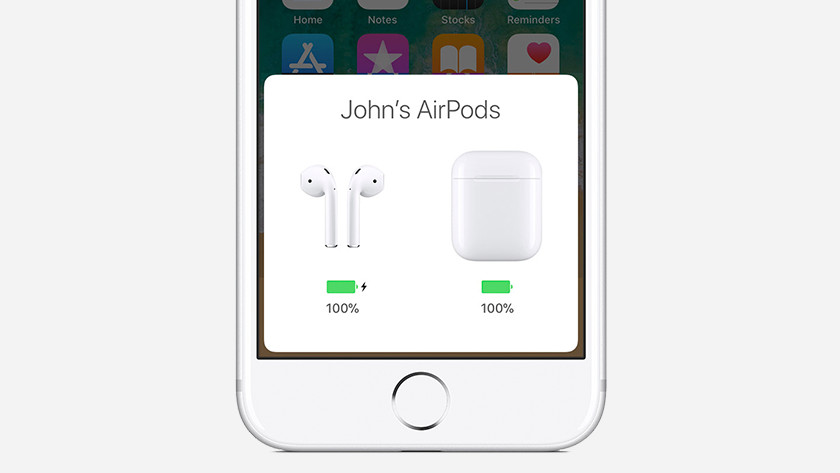 Laad ik AirPods (2019) één keer op? Dan is dat goed voor een luistertijd van 5 uur en tot 3 uur bellen. Maar mét draadloze opbergcase, gebruik ik mijn AirPods natuurlijk veel langer. Doordat ik mijn AirPods meerdere keren oplaad met deze case, heb ik meer dan 24 uur luistertijd voordat ik mijn case opnieuw moet opladen. En opladen gaat sneller dan ooit. Een kwartier opladen in de case, is goed voor 3 uur luisteren en 2 uur bellen.
Apple AirPods 2 met oplaadcase
Vraag digitaal assistent Siri om hulp door simpelweg `Hé Siri' te roepen.
Dankzij de Apple H1 chip is de verbinding met je apparaat stabieler en wissel je sneller tussen apparaten.
Om optimaal gebruik te maken van AirPods heb je een iPhone nodig
De case laad je bedraad op en is niet geschikt voor draadloos opladen.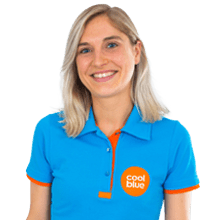 Article by: