Why do you choose a Schone Start laptop?
Checked by a Coolblue specialist, more disk space and a faster laptop with a longer lifespan: the advantages of a Schone Start laptop are obvious. Unnecessary programs are removed when you first start up the laptop, so you get a clean and fast start.
---
In short
| | Clean Start laptop: | Regular laptop: |
| --- | --- | --- |
| Advertisement | Deleted | Present |
| Pop-ups of trial software | Deleted | Present |
| Tested by Coolblue specialists | Yes | No |
Bloatware removed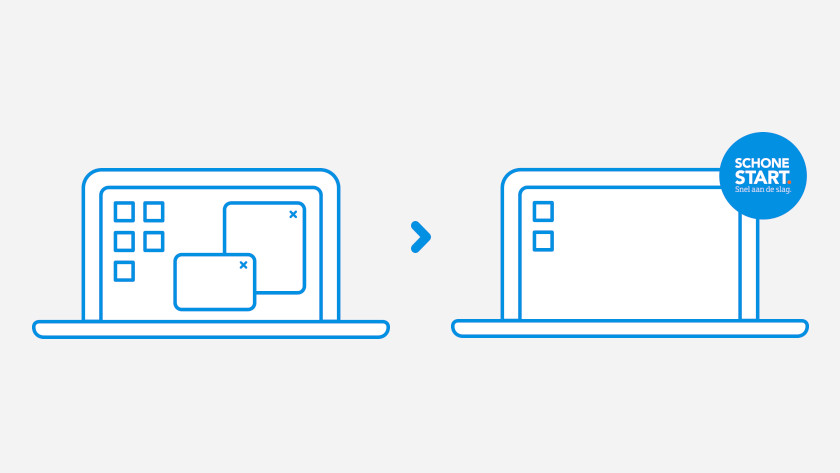 Laptops have a lot of advertisements (also called bloatware) pre-installed, which you see as soon as you start the laptop. Think of extra apps and programs that you do not need at all. Some examples of bloatware are:
Trial versions of software, such as virus programs.
Apps from, for example, travel organizations or games in the start menu that have been installed unsolicited.
Programs that take over unwanted functions from Windows.
Checked by Coolblue specialists
With a Schone Start laptop, a Coolblue laptop specialist removes the laptop from the packaging and the laptop is checked for possible problems. The unnecessary bloatware has been removed and the laptop gets a clean Windows installation. Ordinary Windows programs (such as a calculator, solitaire or Paint) will, of course, continue to be installed.
Getting started
The laptop you receive at home is clean from bloatware, has more available disk space and runs fewer processes in the background. This leads to better performance of the laptop. Curious about the offer? View the Schone Start laptops using the button below.
Did this help you?