What size trampoline is the most suitable for my garden?
You want to buy a trampoline, but you have no idea which size of jumping device is most suitable for your garden. Not even after you have neatly measured the available space with measuring tape and rope. We are happy to help you. On the basis of 3 different sizes of gardens (small, medium and large), we explain in this article which trampoline fits best in your garden.
---
Trampolines for various gardens
What is small for you is great for the other. To help you on your way, we have made an estimate of the average sizes of a small, medium and large garden. We emphasize that this is an estimate and that there are always exceptions to the rule. What is certain is the fall zone of 1.5 meters. So you have to leave that space around the trampoline as you put it. Based on that fall zone and the size of the trampolines in our range, we have made an estimate of the best trampoline for you.
The best trampolines for a smaller garden (up to 30 m2)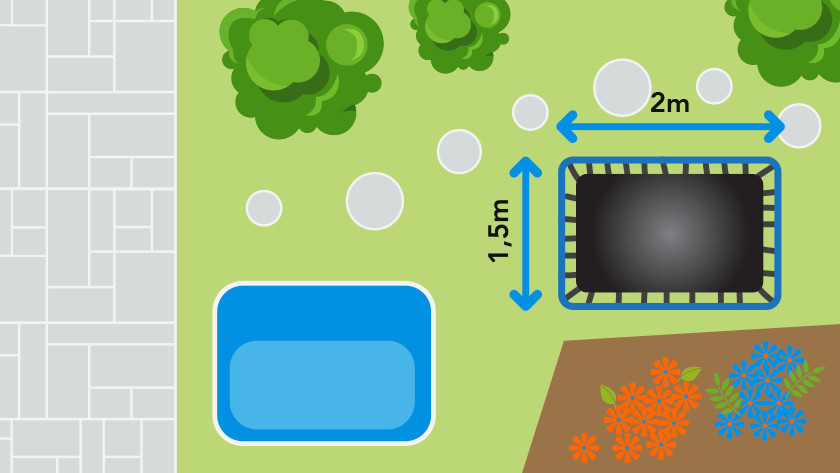 For a smaller garden we recommend a rectangular trampoline with an average size of 1.5 by 2 meters. You can easily place it in a corner. Good for you too, because that leaves you enough room for grass, borders or a shed. Round trampolines come into their own in a smaller garden. As long as they are not too big. A trampoline on legs or an inground trampoline with a diameter of up to 244 centimeters are ideal for a smaller garden.
The best trampolines for an average garden (30 to 60 m2)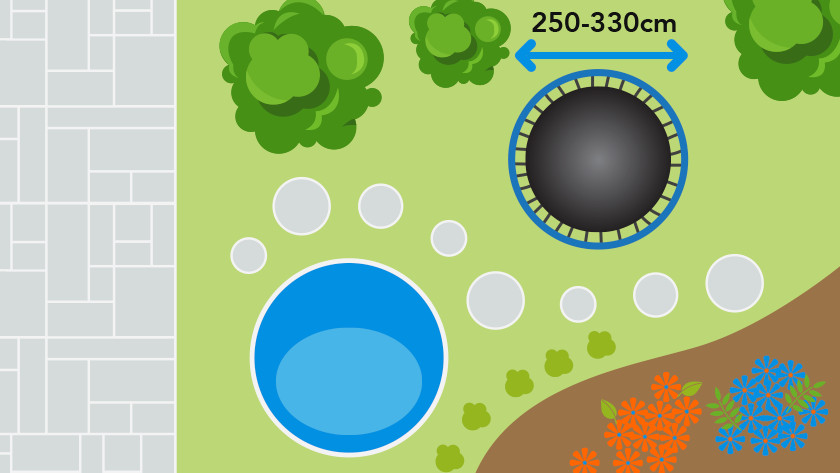 In an average garden there is enough play space for children. When you buy a trampoline, there is still plenty of room left. Your barn, fence and / or planting remain well visible. For this size garden, we recommend round and rectangular trampolines. The round trampoline with a diameter of 250 to 330 centimeters and a rectangular trampoline with a length of 250 centimeters. Especially if you take the fall zone into account, these are suitable sizes for this garden.
The best trampolines for a larger garden (from 60 m2)
A large garden is often surrounded by greenery. Are you such a big landowner? Then you know better than anyone that it is sometimes difficult to fill up the big space. A large format trampoline from 366 centimeter in this garden is good to his right. This 'heavy boy' may stand out. The shape of the jumping device does not matter: rectangular, round and oval trampolines are suitable.
Format trampolines
| | How big is your garden? | Diameter round trampolines | Size rectangular trampolines |
| --- | --- | --- | --- |
| | Small garden | 100 - 244 cm | 150 x 200 cm |
| | Average garden | 250 - 330 cm | 213x305cm |
| | Big garden | 366 cm - bigger | 244 x 427 cm |
Conclusion
A trampoline for a small garden starts from 100 centimeters and has a diameter of up to 244 centimeters. For an average garden we recommend a round or rectangular trampoline from 305 centimeters. Do you have a large garden and do not know what to do with the space? Then a rectangular, oval or round trampoline from 366 centimeters is suitable. You also have enough space for placing other play objects.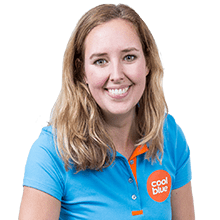 Article by:
Janneke
Trampoline Expert.