Apple iPhone 8 64GB Space Gray + Back Cover
Be the first to know when this product is in stock
---
Product information
Pros and cons
According to our mobile phone expert
This combination is cheaper than buying the products separately.

Thanks to Qi support, you can now wirelessly charge your iPhone.

Take sharp photos thanks to optical image stabilization.

There's a small bump at the back of the phone, due to the camera.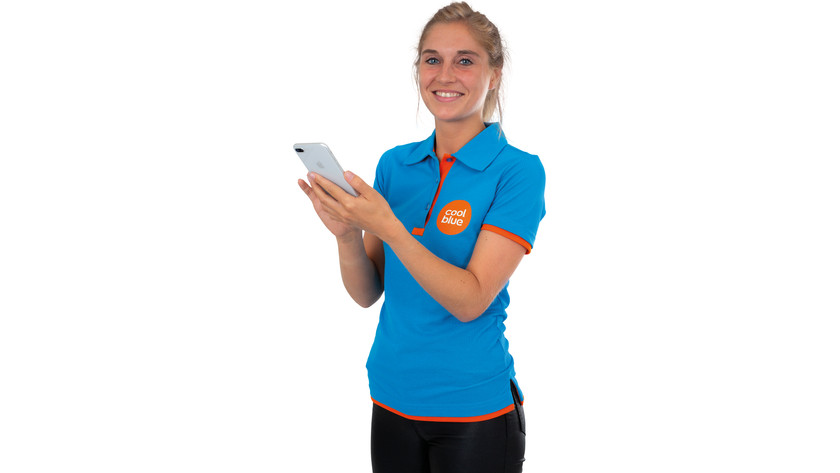 ---
Product description
Protect your beloved iPhone 8 with an original Apple phone case. The iPhone has an all-glass casing. This not only makes for a sleek design, but also make wireless charging possible. You no longer need an adapter to listen to your favorite music while charging your iPhone. In addition to sharp photos, the 12-megapixel camera also shoots clear videos in 4K resolution. Are you a selfie fan? Shoot perfect self portraits using the 7-megapixel selfie camera with flash, even in the dark. View your pictures and videos on the 4.7-inch Retina HD Display with True Tone technology. This technology corrects on-screen colors, so colors in your shots look the same no matter where you view them.
---
Included by default
Apple iPhone 8 64GB Space Gray
Apple iPhone 8 64GB Space Gray

EarPods with Lightning connector

USB power adapter (5 watts)
Tips for using this product
Read our tips and find out all about how to set up your product and use it the right way.

---
Reviews
| | | | |
| --- | --- | --- | --- |
| 5 stars | | | |
| 4 stars | | | |
| 3 stars | | | |
| 2 stars | | | |
| 1 star | | | |
Most helpful reviews
Thanks Coolblue!

TD | 20 October 2017 | Automatically translated from Dutch

Bigger than the Iphone 5s

It's an iPhone, so either you're a fan or you're not. And just like the 2 iPhones I've had before, I'm very satisfied with this one.
What I do want to pay attention to is Coolblue's service.

I had ordered the mobile the night before, because it was not in stock in Antwerp. But after being told to go get my device, I enter Coolblue. About 10 people are walking around in the store at that time. An employee of CB sees me come in, asks how she can help me, and after discovering that I am only coming to pick up an order, she immediately refers me to a counter, which had just become vacant at the time.
The mobile phone, which had only just arrived, was still in the warehouse in the back, so while the salesman went around the device, I could enjoy a cup of coffee.

Because I also ordered a screen protector (Azuri tempered glass), I asked if CB was willing to place it on the phone for me. With "absolutely" as an answer, I could of course more than live. But my salesman himself would not do it, he would ask another colleague, who did it immediately and with the utmost precision. It was noticeable that both gentlemen really liked their job at CB.

I have been in the store for 10 minutes, and every minute I was in it was clear to me that CB makes an effort for its customers.

TD | 20 October 2017 | Automatically translated from Dutch

Just good stuff!

Bart Roelofs | 9 January 2018 | Automatically translated from Dutch

You can call it, always handy!

I miss my 35mm plug, but... something with innovation or something...

It costs a lot of money, but you get so much more in return! No more faltering Angry birds, which my environment already thought was called 'Angry Bart'. Now my birds fly I think twice as fast! In addition, of course, the great camera! Although I have to say that that also has drawbacks... Your girlfriend will pluck it away more often for the ultimate snapchat photos! But all in all, super happy with this iPhone 8!

Bart Roelofs | 9 January 2018 | Automatically translated from Dutch

worth the money

Job De Bolle | 9 June 2019 | Automatically translated from Dutch

Have switched from the iPhone SE to the iPhone 8 and it really is a world of improvement. Very very happy with it

Job De Bolle | 9 June 2019 | Automatically translated from Dutch

Ease of use and quality has its price!

My 5S was due for replacement, after some detective work decided to go for the 8! If it lasts as long as the 5 then it was well worth the investment!

Guy Meurs | 22 November 2017 | Automatically translated from Dutch

Happy with my new buddy!!!

Finally connection with IPad and Mac laptop

Depends on me. Still a lot to learn. Luckily there are the grandkids !!

Because I was the only one in the family still on Android...
Much easier now.

Rita verschatse | 27 July 2018 | Automatically translated from Dutch

Well-known and delicious Apple quality

Very easy to switch from iPhone 5se

Very round and therefore smooth device, ordered a case immediately

I had ordered a second chance (Eur 100 cheaper than new price) but for a reason unknown to me, the device was not delivered. While I had paid extra for delivery the same evening. Didn't come Friday evening, not Saturday, not Sunday... Called several times and of course good and friendly help. In the end, the device in question was lost! Solution: Monday afternoon I received a whole new device for the price of a "2nd chance" (minus the costs for the fast delivery. So that's how you solve it! I was annoyed that the device was not there Friday evening but in the end I was back on Monday a very satisfied customer!

Jaap Verboon | 19 August 2018 | Automatically translated from Dutch

An iPhone where productivity is #1.

'Outdated design' with edges

An iPhone that once again simply fulfills its function. A phone that is easy to use thanks to the clear iOS system.

Admittedly, it is an 'outdated design' compared to the Samsung S8 or iPhone X. But building on the iPhone 6, 6S and 7 ensures that this phone is worked out to perfection and therefore simply always works. Maybe not as 'flashy' as the X, but a real 'killer' in terms of productivity.

The battery of this iPhone lasts significantly longer than previous versions (out of the box). On average, it lasts exactly one day without charging in between with normal to heavy use (watching videos, Facebook, etc.). Record is two full days with little use.

Wireless charging is another feature that boosts productivity. To be used with third-party wireless chargers that allow your phone to lie next to you on your desk and charge without the limitations of a cord. No risks of phones falling due to getting caught on the wire, recording without problems.

The new 'True Tone' technique ensures that your screen automatically adjusts to the ambient light. As a result, there are almost no differences in colors when you view in different environments. In addition, it provides a calmer image for your eyes, partly because the blue colors decrease in a dark environment.

The new A11 processor ensures that iOS 11 works seamlessly, opening and closing apps is faster than ever, the 3D touchscreen provides a handy 'extra layer' of functionalities and the camera is simply phenomenal.

In short, a telephone for the person who does not care about the outdated appearance (although still a beautiful, sleek and high-quality design), but who mainly chooses a telephone for its functionality and ease of use.

Floris | 30 October 2017 | Automatically translated from Dutch

qualitatively a TOP phone with a TOP user experience

very familiar, everything works just as perfectly as you are used to (feels as usual)

data transfer from old Iphone to new one works more than genius

the Iphone 8 works really fast... delicious

it's nice that everything works exactly like the old Iphone, only faster.... but that doesn't give you the "woww I have something new feeling"

I also had an Android phone for work.... only then do you realize how spoiled you are with the enormous convenience of an iPhone. It's a great phone that just always works and never does things you didn't ask for. I am absolutely not a wizzkid myself, but I can still arrange and set up everything myself on the IPhone.

Pascal Uyen | 16 October 2017 | Automatically translated from Dutch

Good working phone

Entirely made of glass, can break quickly

Good product, as I am used to from iPhone

Martine Buijk | 1 March 2018 | Automatically translated from Dutch

Very nice iphone

From iPhone 6 to iPhone 8, everything installed and ready to use within minutes.

Cee | 23 May 2019 | Automatically translated from Dutch
Specifications
Product
Product number

794086
Manufacturer code

MQGK2ZM/A
Brand

Apple
Warranty

2 years
Warranty type

Carry-in warranty
Old product returned for free
Compatibility
Made for brand

Apple
Suitable for model

Apple iPhone 7, Apple iPhone 8
Physical properties
Model case

Back cover
Material

Plastic
Plastic type

Silicone
Flexible
Size phone case

Average
Weight category

Light
Color

Black
Anti-bacterieel
Card slot
Auto-wake function
Magnet closure
Standard
Belt clip
Protection
Level of protection

Standard
Fall protection
Military tested
Level of protection

Back & side
Extra grip
Water-resistant
Edges of cover higher than screen
Product
Product number

793664
Manufacturer code

MQ6G2ZD/A
Brand

Apple
Warranty

2 years
Warranty type

Carry-in warranty
Old product returned for free
General
Mobile phone type

Smartphone
Recommended for use

Internet, social media & simple games
Specific Absorption Rate (SAR) category

D
Specific Absorption Rate (SAR) category

1,36 W/kg
Update policy
Year introduced

2017
Introduction month

September
Operating system

iOS
iOS version when introduced

iOS 11
Update to iOS version possible

iOS 15
Latest iOS version
Expected number of remaining iOS updates

2
Assessment remaining iOS updates

Excellent
Expected frequency security updates

Every month
Expected date of last security update

September 2023
Assessment remaining security updates

Very good
Review update policy

Very good
Physical properties
Size mobile phone

Small
Height

13,8 cm
Width

6,7 cm
Depth

0,7 cm
Weight

148 g
Color

Black
Material

Glass, Metal
Water-resistant
IP certification

IP67
Shockproof
Sound reproduction

Stereo
MagSafe magnet