Sunred Dark 2500 Wall
---
Related products
Alternatives
Current product

Price

199,

-

199,

-

189,

-

199,

-

259,

-

Mounting surface
Wall
Ceiling
Wall
Wall
Ceiling, Wall
Type of heating element
Rose Gold Carbon
Halogen
Golden Shadow
Golden Shadow
Low glare
Heating range
22 m2
19 m2
22 m2
22 m2
23 m2
Related products
---
Product information
Key specs
Heat source

Electricity
Mounting surface

Wall
Type of heating element

Rose Gold Carbon
Heating range

22 m2
Usage costs per hour

0,55 euro
---
Pros and cons
According to our patio heater expert
The patio heater has 3 settings, so you can adjust the heat intensity to your liking.

You can adjust the patio heater's heat intensity from the comfort of your chair using the included remote.

This patio heater has virtually no heat loss due to wind.

You can't adjust the direction of the radiant heat.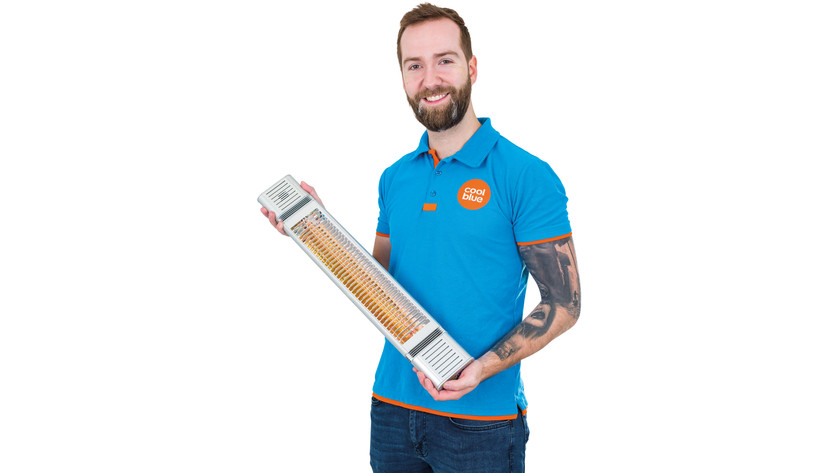 ---
Product description
You can use the Sunred Dark Wall 2500 for heating patios up to 22m². Of course, you don't feel that much of the heat when you're further away from the heater. The heating element is hardly sensitive to wind, so there'll be little heat loss due to the wind. This heater has a low-glare layer over the heating element, which means the patio heater lights up less bright. You can adjust the heat intensity to your own liking with the 3 settings (1500, 2000, and 2500 watts). You can also do this from your garden chair with the included remote. Check out the manual to see where you may or may not hang your product.
Our expert's advice: for heating enclosed and windy terraces from 22m², you'll need 2 of these patio heaters.
A patio heater uses more power to start up: peak current. You can reduce the peak current with a soft starter, so it won't overload your electric circuit. This prevents the fuses from blowing.
---
Key specs
Heat source

Electricity
Mounting surface

Wall
Type of heating element

Rose Gold Carbon
Heating range

22 m2
Usage costs per hour

0,55 euro
---
Recommended combinations
Recommended by our expert
recommended by our expert
Want to heat your whole patio? Get the second and third patio heater with a discount!
2x Sunred Dark 2500 Wall

€ 398,-
€ 368,15
15% discount
on the accessory
3x Sunred Dark 2500 Wall

€ 597,-
€ 525,36
18% discount
on the accessories
Recommended combinations
Recommended by our expert

recommended by our expert

Want to heat your whole patio? Get the second and third patio heater with a discount!

2x Sunred Dark 2500 Wall

€ 398,-

€ 368,15 15% discount
on the accessory