Google Nest Hello + Friedland Transformer
Available for pickup even sooner
---
Product information
Pros and cons
According to our Doorbell expert
With the Google Nest Hello, you know who's at the front door anytime, anywhere.

Watch live from your front door day and night, using the app.

Thanks to the included transformer, you can install the Google Nest Hello with low-voltage power, so it works properly.

This smart doorbell isn't easy to install, so we recommend you use a professional installation service.

To use the smart doorbell, you'll need a Google Nest Aware subscription which is available starting from 50 euros per year.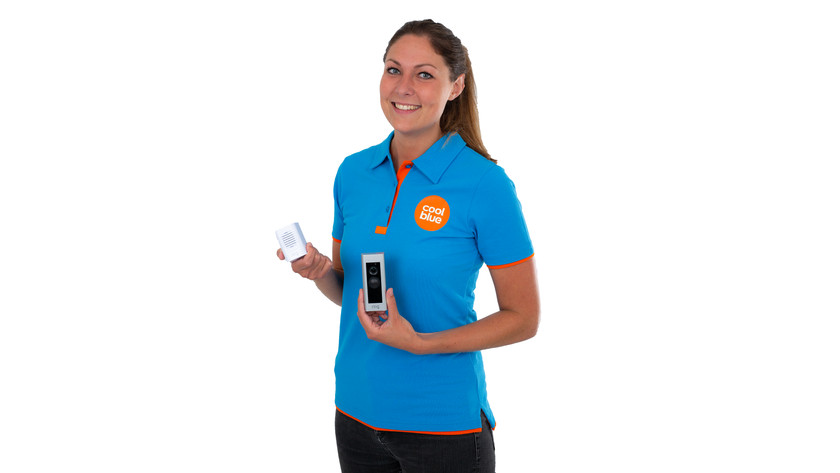 ---
Product description
You can power the Google Nest Hello with the transformer in this package. The Google Nest Hello is a video doorbell that lets you know who is at your door at all times. The doorbell streams 24/7, allowing you to watch live at any time. Do you have a Google Nest Aware subscription? In that case, this smart doorbell will recognize family and friends, and will send you a separate update in the app. On top of that, you can address your visitors with 1 press of a button using the integrated microphone or by picking 1 of the pre-programmed messages. All images will be stored in the cloud. This has secure encryption, ensuring all of your material is safely stored.
Included by default
Friedland Beltrafo - Transformer for Nest Hello
Google Nest Hello Video Doorbell
Manual
Call connection
Wedge of 15 inches
Unlocker
Stone drill
Window sticker
Mounting support
Extension wires
Plugs
Screws
Tips for using this product
Read our tips and find out all about how to set up your product and use it the right way.

---
Reviews
| | | | |
| --- | --- | --- | --- |
| 5 stars | | | |
| 4 stars | | | |
| 3 stars | | | |
| 2 stars | | | |
| 1 star | | | |
Most helpful reviews
Our expert review

Google Nest Hello: a high quality smart doorbell

Dylan. Smart home specialist. | 6 March 2020 | In the version: Nest Hello | Automatically translated from Dutch

Integration with Google Nest

Quality of picture and sound

Nest app works intuitively

Facial recognition is possible

Sleek and futuristic design

Technical knowledge required for installation

Subscription fees for certain features

The Google Nest Hello is more compact than my old Ring doorbell. It has a striking push button, which looks a bit like an elevator button. I expect Nest products to look stylish and luxurious, which is also the case with the Nest Hello.

Sleek and futuristic design
The doorbell really fits in the line of other Google Nest products. Despite its neutral color, it is neatly finished. There are no other colors available than the standard black doorbell. That is a difference with the Ring 2, where you can choose from different fronts. When you ring the bell, a blue light comes on, which looks great. It strikes me that the doorbell makes no sound when someone presses the button. Visitors therefore only see the flashing light, but do not hear any sound.

Installation is not easy
I found installing my doorbell quite tricky. You can easily hang the bell itself on the door frame and the wiring can be connected there without much effort. Since the bell needs 12 volts to work, I needed a transformer in the meter box. That is an intermediate piece that converts the current to the correct voltage. To do this properly, you need some technical knowledge. That is why I eventually called in the Coolblue installers.

Good quality and useful app
I find that the Nest Hello is a very good quality doorbell. The images from my doorbell are very sharp and the aspect ratio allows me to see my visitors almost from head to toe. As I'm used to, the integration with the Nest app is fine. I immediately receive notifications on my phone and have therefore not missed a parcel deliverer. Moreover, thanks to the good sound quality, I communicate with my visitors without any problems. Furthermore, the app works very intuitively, but you don't have that many usage options. That makes sense, because a smart doorbell doesn't have to be able to do a lot.

Subscription Fee
As with other smart doorbells, you need a subscription for all features. So I pay monthly to, for example, look back 30 days of images or enable facial recognition. Unfortunately, there are few smart doorbells that do not require a subscription.

Collaboration with Nest Hub
My Nest Hello is, of course, linked to my Google Home. Linking the doorbell to my Google Nest Hubs makes a ringing sound in the house when someone rings the doorbell. In addition, I can immediately see who is at the door on the Hub's screen. Although there is no chime available for the Nest Hello, you simply connect your speakers with Google Assistant for a signal in the house.

Dylan. Smart home specialist. | 6 March 2020 | In the version: Nest Hello | Automatically translated from Dutch

Very nice product within the Nest lineup.

Dennis Zandvliet | 23 June 2018 | In the version: Nest Hello | Automatically translated from Dutch

Integration Nest ecosystem

24/7 recording, not just when a call is made

Better than competing bubbles

Good picture and sound quality

Maybe easy to steal?

Does not work on traditional 8V systems

Coolblue does not sell suitable bell transformers and bells

I had been looking forward to the Nest Hello for some time. When this became available, I ordered directly from Coolblue. Below I will explain what I think of it.

- Why the Nest Hello?
I've been looking at smart doorbells for some time now. There is nothing more annoying than missing a Coolblue package because the postman has already left before I have walked down from the attic. But I also wanted to combine the doorbell with permanent video surveillance. As a result, most doorbells from other manufacturers fell off. Moreover, I am already comfortable in the Nest ecosystem. I already use a Thermostat (v3), various smoke detectors and a Nest Cam Outdoor. Like the other Nest products, I think the Hello looks nice, better than the products of the competition.

- Installation
As clearly described by Coolblue (and Nest), you cannot just install the Nest. Most Dutch households have an 8V doorbell system and Nest needs 16V-24V AC. So that was first shopping around at various electronics stores. In my case I needed: a 24V bell transformer and a new bell that works on 24V.

You don't necessarily have to be a rocket scientist to connect a few things, but if you have paid a bit of attention at school, it is easy to follow. In my case I asked my father to help me, I was too busy with Pokémon at school. No messing around: it's a matter of connecting the bell transformer, replacing the bell, connecting wires correctly and connecting and mounting the Nest Hello.

The Nest app on the phone helps with this. Before you start, you scan the QR code on the back of the Nest Hello and you will see a step-by-step plan that you basically simply have to carry out. Can't really go wrong. At the end of this step-by-step plan, the newly connected Nest Hello will immediately be provided with configuration and you will soon see your first images.

Afterwards I installed the supplied 15 degree wedge. As a result, the frame fell away neatly, leaving me with more garden in view.

It remains to be seen how long Hello will hang without being stolen. With a paperclip or (supplied) 'sim card ejector' you can release the bell in no time.

- Usage
The Nest Hello does exactly what I want it to do: I can look outside via the app and when someone rings the bell, I receive a notification on my phone within moments. You can then choose to speak (similar to an intercom) or have one of the pre-programmed default answers spoken. These were already available in Dutch.

The first use was a bit different than I was used to with the Nest Cam Outdoor. I couldn't start watching video right away (apparently the Nest Aware demo wasn't activated yet). The camera also reacted somewhat slowly when viewing live images or having the standard answers spoken. But after an hour it was much better. I suspect an over-the-air update was available. Unable to check. After this hour everything works 100% smoothly and satisfactorily.

The sound is also different. On the Nest Cam Outdoor I can listen and hear background noise (birds, giant airplanes at 300 meters altitude) but the Nest Hello seems to apply some kind of suppression so that you only hear sound from the microphone after the microphone is pushed open by loud noises . In practice this works fine: as soon as someone walks through the garden gate, that person generates so much noise that I can follow everything. I hardly hear birds, but those planes go well luckily.

Which is a pity at the moment: sound from the other party is recorded, but if you speak through the intercom yourself, this is not recorded due to the sound suppression. If you look back images you will only hear the opponent speak. I had read this before, not a big problem, but hope this will be fixed with an update.

The image is (especially when you select image quality 'High') very good. The 4:3 aspect ratio is also nice, so that people fit well into the picture. The fisheye effect is present, but people are easy to recognize. The infrared mode works fine at night.

Nest Hello also recognizes people if you use Nest Aware. You will then see push notifications on your phone in which the name of the person is mentioned. Not necessarily an added value on the phone (because a screenshot is shown immediately) but I can imagine that this comes into its own with a Google Speaker (no Google speaker in the house).

Funny: you can set quiet times where the physical bell in the house does not go off, but you only receive a notification via the Nest app. Handy with sleeping children. Less convenient: you can only switch it on/off or switch it on via a timer (30, 60 or 90 minutes). I would rather see a timetable here, maybe that will come with an update as well. Oh, and I noticed during testing that sometimes the setting is ignored and the bell rings anyway. Can't figure out why that is yet.

- Finally
As far as I'm concerned, a couple of points should be picked up to make it a perfect product (sound of yourself must also be recorded when using the intercom, schedule for silence times instead of just a timer function). Nevertheless, I am extremely satisfied and I can't wait for all future Coolblue packages that I will no longer miss ;-)

Dennis Zandvliet | 23 June 2018 | In the version: Nest Hello | Automatically translated from Dutch

Top product, but theft is so easy!

Susanne | 23 November 2018 | In the version: Nest Hello | Automatically translated from Dutch

Literally stolen within 2 minutes

Sometimes a bit delayed response if wifi signal falters

Super product, just bizarre how quickly it was stolen by the thief (we have the footage, unfortunately it was unrecognizable in the picture) even though I had it installed by a mechanic (from another online store) I would like a Nest again, But I'm very afraid that it will be stolen again immediately. They should anchor him better or give a loud signal or something when he gets disconnected. Because unfortunately that's how a child can do the laundry. Nest called; not reachable. Hopefully they will respond to my email for disabling our Nest Doorbell for the thief. Very sorry!!

Susanne | 23 November 2018 | In the version: Nest Hello | Automatically translated from Dutch

If you are looking for a new gadget, definitely purchase thi

HD Image

Easy to install via the Nest App

Face recognition

No BelTrafo included

Need more features Nest Aware (Abbo)

Recommended, looks nice!
Talk back via the Nest App, send standard messages to, for example, the postman.

You do have to buy a 24V bell transformer separately. Nest does not provide this as standard. (Something that is the case with the Ringpro)

Nest support does not indicate which bell transformers are suitable. In the Netherlands, most Bel Trafo's in the meter cupboard are standard 8 Volt.

In the end only 2 bell transformers could be found via the internet. Costs you extra between 20 and 50 euros.

All in all an expensive purchase because of the bell transformer which you have to look for/buy separately, but satisfied with it.

Krishen | 25 June 2018 | In the version: Nest Hello | Automatically translated from Dutch

I can't live without it now

Easy to use

Video and audio are great

Installation is really not easy

Everyone in the house now "hears" the doorbell... not only via the gong, but also on the telephone and/or smart watch. Video and audio work very well and are useful when you are not at home.

Matthias | 1 August 2018 | In the version: Nest Hello | Automatically translated from Dutch

Good device, excellent image during the day and at night

Uses existing wiring, even 2-wire

Wi-Fi simple, setup via smartphone with bluetooth

Good online manual, explained step by step

Cloud recording is possible

Must have 24Volt bell, most bells are 8V or 12Volt,

Nestaware is not would clearly explained

Device needs 24 Volt so search the internet for a 24 Volt seller. That turned out to be a Grohe bell 24083 with bell transformer Zamel TRM-24.
However, there is also an extra cost (€38) to take into account.
Follow the manual and installation will be in order, but you do know the safety rules when working on electricity and can measure voltage.
Good picture both at night and during the day.
Instant message on the smartphone when someone calls.

Activation of Nestaware does take a long time after payment has been accepted, but that could be better.
An explanation of how Nestaware should be used, could be better.

In order to connect my activated Nestaware to the bell, I first had to remove the bell again and immediately add it again. This explanation is almost impossible to find at Nest. That can be made simpler, (why doesn't the app ask itself which device should be connected to Aware?)

Frank Van Hevel | 2 December 2018 | In the version: Nest Hello | Automatically translated from Dutch

Nice product, but unusable as an intercom for the time being

Intercom with the front door

Depending on the phone you use, the person at the door will receive a loud echo of his or her own voice during a conversation via the Nest Hello.

As far as I have been able to see, you cannot take care of the storage of images yourself. This is only possible with a google subscription.

The Nest does what it's supposed to do, but the widespread echo problem makes it useless as an intercom. The work-around is to turn off your microphone whenever you're not talking on your phone. It's like saying "Over" all the time like in old walki-talkies.
This is a problem in the Nest App on the phone; not on the doorbell. Samsung phones (which are quite common) suffer from this in any case. The Pocophone F1 does not. Furthermore, stop my comparative research. Google should fix the Nest App, but given the months-old discussions about this problem, Google is not running that fast, or it is a difficult problem.

Bas Leeflang | 13 January 2020 | In the version: Nest Hello | Automatically translated from Dutch

Nice functional bell with camera

Works great with a wireless Honeywell bell.

No bell included

Installing the NEST HELLO with the Honeywell wireless bell requires some technical knowledge.

Rigo Kris | 7 December 2019 | In the version: Nest Hello | Automatically translated from Dutch

Recommended, many options and ease of use

Image quality

Ease of use

Face recognition

24 x 7 recordings are made

Major adaptation to existing wired doorbell with only the Nest Hello you are not there

Predefined notifications are not yet available in Dutch

Free storage for the first month, after that you need to take out a Nest subscription

After looking at some reviews, decided to go for the Nest Hello. Most doorbells and transformers in the Netherlands are 8 volts and therefore not suitable for Hello, this was also the case with me.
Replace the transformer and doorbell with a 24 volt one and then connected the Nest Hello, this was quite easy, the Nest app guides you through the process.

The quality of the images is good even at night.
This is my first Nest product, the app is logical and the controls are self-explanatory. Pairing the Hello with multiple family members also went smoothly.

W. Heurkens | 20 June 2018 | In the version: Nest Hello | Automatically translated from Dutch

Clear image, clever design, solid doorbell

Image quality

Works with other Google products

design

On existing doorbell (16v or 24v transformer)

Pricey

All functions with subscription

Nice design with good quality. 12v transformer could work. Also according to reviews, but the camera didn't work for me. Solved with 16v transformer. Connecting is shown step by step via the app, but some technical knowledge is recommended.

Tonny Beyns | 24 January 2021 | In the version: Nest Hello | Automatically translated from Dutch