Google Nest Cam Indoor 3-Pack
Version
: 3
|
Nothing included
---
Product information
Pros and cons
According to our IP camera expert
Use the camera's app to keep an eye on your home from anywhere in the world.

The IFTTT option makes this camera compatible with other smart devices.

This IP camera is plug and play: installing it is easy and can be done with the app.

Nest Aware is only available separately as a subscription.

You need a good WiFi signal at the place you want to install the camera. You can create a strong WiFi network near your camera with a WiFi extender.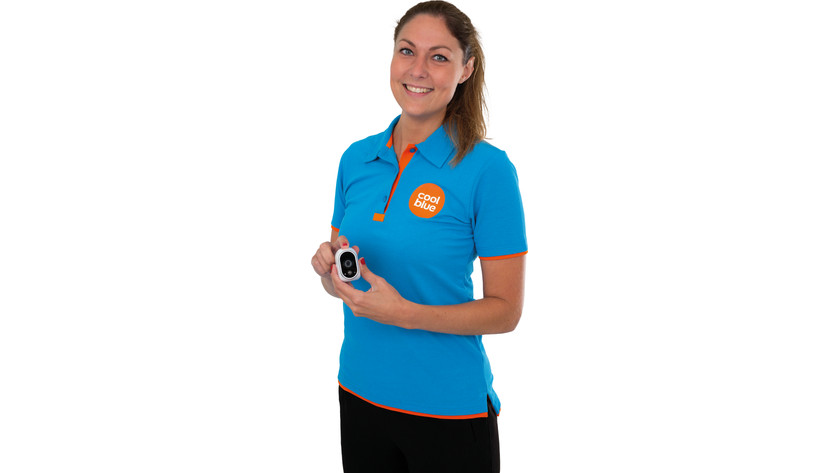 ---
Product description
Keep an eye on what's happening at home day and night with the Nest Cam Indoor 3-Pack. You can use the camera to check up on your kid or pet, or to stay in touch with all the things you hold dear. If the camera detects any movement or sound, you'll be sent a push notification. Open the Nest app to see what happened. You can also watch a live feed with the app. This IP camera has a talkback function, which allows you to listen in on the situation and talk back remotely. That is useful if you want to comfort your kid or tell your dog to get off the couch.
Included by default
Manual

(454.4 KB)

Stand
3-meter USB cable
Adapter
Quick start guide
Screws
Wall mounting plate
Tips for using this product
Read our tips and find out all about how to set up your product and use it the right way.

---
Visit one of our stores, also by appointment
Get advice from an expert

We have stores in Almere, Amsterdam, Arnhem, The Hague, Eindhoven, Groningen, Haarlem, Leiden, Rotterdam, Rotterdam Alexandrium, Tilburg, and Utrecht
---
Reviews
| | | | |
| --- | --- | --- | --- |
| 5 stars | | | |
| 4 stars | | | |
| 3 stars | | | |
| 2 stars | | | |
| 1 star | | | |
Most helpful reviews
Google Nest Cam IQ: High-Quality Ease of Use

Daan. Ip-cameraspecialist. | 20 March 2020 | Automatically translated from Dutch

Simple and quick installation

Fast motion detection and notifications

Modern and stylish design

Nest Aware required for all features

Limited options in the app

The Google Nest Cam IQ is an IP camera with a beautiful design. As I am used to from Nest, even the packaging looks slick. I like the camera better than the regular Nest Cam. This is mainly due to its color and the fact that the camera is attached to the holder.

High quality materials
I think the Nest IQ looks good. Many IP cameras are made of cheaper material, for example with a shiny plastic housing. That is not the case with this camera. It has a sleek design and matte finish. This makes it not very noticeable, but it does look nice on my closet. Judging by the looks and the price, this is a high-end camera, I'm curious about the functionality.

Quickly finished the installation
The Nest Cam IQ is installed in a jiffy. After opening the Nest app on my phone, I press 'add product' in the app settings. After that, all I need to do is scan the QR code on the camera and go through some steps. All in all, it takes me less than 5 minutes to see the first camera images in the app. If you don't already have an account, the installation may take a minute longer. Creating an account also takes little effort.

Excellent image quality
What strikes me at first use is the high quality of my camera images. Due to the good WiFi signal where my Nest IQ is located, there is no delay in the images. The camera automatically zooms in on moving people without much loss of quality. I think image quality in the dark is important, because this often disappoints me with IP cameras. With this camera, however, faces are quite distinguishable. Excellent image quality in the dark!

Motion Detection and Notifications
I notice that the camera reacts quickly when it detects movement. I regularly receive notifications so that I am immediately aware of activity. He does this consistently and without errors: there are no incorrect movement reports. After a few days of trying, I don't feel that the camera lacks movement. My experience is that the motion detection works fine.

Subscription Fee
The main drawback of the Nest Cam IQ is that you need a subscription to store images and use other features. You pay a monthly amount for this. You actually need the subscription to make full use of the camera. For example, facial recognition and setting activity zones without a Nest Aware subscription is not possible. Because several useful options expire without a subscription, I recommend taking a subscription. Therefore, take into account additional monthly costs after purchasing the camera.

Daan. Ip-cameraspecialist. | 20 March 2020 | Automatically translated from Dutch

Gambled and ..... won.

Peter Tros | 8 January 2017 | Automatically translated from Dutch

Perfect picture and sound

An alternate installation works

Subscription required to use all features

On December 30, I already posted a review about this camera here. I bought it for the backyard and my conclusion was that this camera is perfect for the backyard, but not suitable for the front of my house.
The camera is equipped with a 22 mm thick USB plug. Since I (and most of me) don't have access to a socket at the front of the house, it takes quite a bit of effort to lead that thick plug through a window frame or wall. If you wanted to drill a hole that big.....
So I really didn't intend to and with that the expansion of my Nest cameras came to an end.
Or not?

It wouldn't let go and the only option I could imagine was to cut the cable, drill a small hole, feed the cable through and reassemble it.
With a camera of €199.00, that is a very expensive experiment...
So I first bought a short USB extension cable, cut it and put it back together and connected the camera to it.
And guess what.....the camera worked like a charm!

So then I took the gamble.
Cut the wire 20 cm from the plug. Drilled a small hole through the door frame and threaded the wire inside. Then the mounting plate of the camera is screwed tightly onto the cable on the frame and the cam is attached. This makes the cable sit tight under the foot and is therefore much less easy to sabotage.

The cable consists of four wires:
A red and black wire for the power supply and a white and green wire for the data (the nest cam only uses the power wires and not those for the data). Put the wires back together, each wrapped with a piece of aluminum foil and then taped around with insulating tape.
Plug in the socket inside the house and a super working outdoor cam in the front of my house!!

In the photos the confirmation of the camera and the quality of the image.

Gambled and won!

This Nest Cam Outdoor will become an option for many more people in this way!
Please note: I did this at my own risk and this method also voids the warranty on this product!! This option is therefore entirely at your own expense and risk!!
But successful for me! :-)

Peter Tros | 8 January 2017 | Automatically translated from Dutch

Super camera for the garden; not for the front door...

Peter Tros | 31 December 2016 | Automatically translated from Dutch

Easy to speak and listen directly

All installation supplies are included

An outdoor socket is a prerequisite for installation

Cable is actually not good to lead through the wall

Subscription is required to use all features

I already owned two Nest Cams for indoor use. They liked it very much! It is very easy to install and the images are super sharp. In addition, the cam also looks nice (=personal) and that is also very important to me at home.
Through the app I always have an overview of my house, belongings and my cats. Really a top product!

I had previously taken out a subscription with Nest for these Nest Cams. That subscription is necessary to be able to use all functions of the camera, such as reviewing the images, recording clips and setting security zones.
After a subscription for the first product (€ 10.00 p/m) you will receive a 50% discount on the subscription price for every product you add afterwards (so € 5.00 per extra product). Quite pricey, but then you also get something....

I've been looking forward to an outdoor version of the Nest Cam for a long time.
I wanted a cam in my backyard and at the front door. Surely it is better to catch someone who wants evil before he/she is already in your house.
And when that cam finally launched, I was happy but also quite disappointed!

Nest had decided to design a camera that has the cable at the bottom of the camera (and is therefore quite easy to cut) and has also provided that cable with a MEGA thick (water-resistant) USB plug of 20 mm to connect.

When installing the Outdoor Cam, Nest assumes that you have a socket on the outside of your house and legitimizes (on request) the cable at the bottom of the cam by stating that the person who wants to sabotage that cable will case is on cam .... That is straight talk which is crooked.

In my opinion, the outdoor cam is therefore primarily designed for the American market and not for the European/Dutch market. In the suburbs there are mainly wooden houses where it is easier to run the cable inside.
Here in the Netherlands you usually don't have a socket at the front of your house and you therefore have to drill a 22mm (!) hole through your wall to be able to connect things indoors.
And so I'm not going to do that.

Finally bought a Nest Cam Outdoor at Coolblue for my backyard. I have a socket there so that I can connect the cam outdoors and (indeed) before someone is at the cam and would want to sabotage it, I already have a message and he / she is already on recorded video.

The installation took me about an hour. Registering the Outdoor Cam on the previously installed Nest app was done in 5 minutes. Egg.
You do that at home before you go outside with the cam.
Once in the garden it becomes a "thing".
First of all, you have to determine the location where you are going to hang the Outdoor Cam and there must therefore be a good WiFi range and there must be a socket nearby. The latter is not really a challenge, because you get all together 7.5 meters of cable!
Make sure that your WiFi range is sufficient outside, otherwise it really makes no sense! Then it just won't do it. It is wise to check this in advance before ordering!

With the Nest app on my iPhone in one hand and the Outdoor Cam in the other, I looked for the best location. Nest advises to hang the cam between 2 and 3 meters high and who am I to argue with that...
After determining the location, drilled two holes to screw the supplied metal plate against the wall. The magnetic holder for the cam fits there, which is immediately wall-mounted. You can then attach and aim the Outdoor Cam there. And fixed is really fixed!. The cam is hanging!
Then neatly fix the wire along the door frame with the supplied clips.
Nest really supplies everything you need to install the Outdoor Cam. Top!

Overall, I'm very pleased with this addition to the Nest range. An Outdoor Cam that looks neat with a perfect picture and sound.
But for the backyard.

In the images accompanying this review you can see my installation of the Outdoor Cam on the outside wall of my garden and the quality of its image. I am satisfied!

I would have liked to order a second Nest Outdoor Cam for my front door, but unfortunately I don't see any options for installing it there due to the size of the USB plug.

In my eyes a huge miss from Nest.

Anyone have a tip?

Peter Tros | 31 December 2016 | Automatically translated from Dutch

The best integration between software and camera in 1 produc

Software makes camera smart

Nest Aware very convenient to use

Few camera setting options

Design is beautiful, but therefore practical disadvantages

Accustomed to the razor-sharp images of my Avtech and Axis cameras indoors and outdoors, I was forced to switch to a WiFi camera for my backyard. Unfortunately, there are few high-end WiFi cameras, so I started my search rather sceptically.

After many weeks of reading reviews and watching YouTube videos, I chose the Nest IQ Outdoor. I compared these with the Arlo Pro 2, various Ring cameras and the 'regular' Nest Outdoor.

The camera hangs in the back of the garden on the roof of the garden house and has a view of the entire rear facade (3 floors).

Why chose this camera?
- The design is sleek, the materials are sturdy and of high quality
- WiFi reception is stronger than competitors
- Cabling is kept simple and can be completely concealed
- Sound recordings are clear and crisp even with wind noise
- Software is extremely easy to use
- Nest Aware makes this camera a powerhouse, strong cloud solution that records and plays all images and sound smoothly 24/7.
- Image quality is razor-sharp during the day, even with high contrasts (sun/shadow/backlight) the image remains easy to read.
- Night vision beyond expectations and reaches at least 15 meters in complete darkness
- The large viewing angle is a very big advantage
- The camera runs stable, no reboots or hangs
- Only 2 Mbps upload required for good quality images
- Software installation is step by step and very easy. Camera installation is easy to do even with 2 left hands.

There are also disadvantages with every product and that also applies to the Nest IQ Outdoor. His strengths are also points that I run into a bit in practice. This is because I compare this camera to the higher segments such as Avtech and Axis. Maybe I shouldn't either. These points are certainly not problematic.

- Software is user-friendly but also limited, so I can't completely adjust the camera to my liking. For example, I want to be able to make more settings to the Infrared/night options and to be able to adjust the frames per second.
- Although the lens falls slightly inside the housing, raindrops still appear due to the lack of a small 'roof'. I also suffer more from cobwebs than from my Avtech/Axis cameras. To avoid this, point the camera slightly downwards.
- Nest is a closed system, so I am forced to use the Nest software to see the camera.
- Image quality at night is better than expected, but less sharp than my other cameras. It is enough. There are currently no better options in the Wifi segment around that price, so I accept that.
- Higher price compared to its direct competitors is justified. However, relatively speaking, the price is too high compared to wired cameras that provide a sharp view of up to 50 meters at night.

Conclusion
The best camera and software in this price segment. I am very happy with it and it holds its own between my Avtech and Axis cameras. That says enough for me.
Nest Aware is a no-brainer for those few euros a year, just do it.

Robin Schrijnemeeckers | 2 November 2018 | Automatically translated from Dutch

Good product that meets expectations

+ fast detection of motion and unusual sound

notification volume not adjustable

notification sound choice not customizable

Expensive subscription for image storage

no possibility to save data yourself

Want to use the camera as a surveillance camera.
See the pros and cons.
Ex. Sound (notification) is too quiet when the camera detects movement (it doesn't wake you up and that should be the reason for this system's existence).
Sound (notification) too quiet in moving car

Gilbert Pieters | 3 August 2015 | In the version: 1 | Nothing included | Automatically translated from Dutch

recommended

Accustomed to an older camera, I decided - on the advice of a friend - to purchase a newer model to adequately monitor the cat during my absence. The result was astonishing! At first I could hardly distinguish whether I was a cat; had a parrot or a rhinoceros in the house; now the camera even shows me i have a hangover (but that's because of last night and not the camera). But works great.

Heller Kromhout van der Meer | 6 April 2018 | In the version: 1 | Nothing included | Automatically translated from Dutch

Without subscription is useless, unclear night vision

after free trial if you do not have subscription you cannot watch back even the same day activity

After free trial if you do not have subscription you cannot watch back even the same day activity
The night vision is not clear, faces are unclear

veronika.tornyi | 22 January 2018 | Automatically translated from Dutch

Mediocre camera

camera has nice build quality. Image quality is good, but as soon as you zoom in, the image quickly becomes grainy and impure. That is a clear downside for this camera. In addition, the camera regularly goes offline or freezes. I had to factory reset the camera twice in the two weeks I owned. In summary, I conclude that the standard image quality is good, but that's about it. The camera does not function reliably. It strikes me that other reviews pay so little attention to this.
Not recommended.

E van Nieuwpoort | 10 November 2019 | Automatically translated from Dutch

Beauty comes at a price

You are tied to a subscription

Great camera. Beautiful image, installation was a breeze. This is my 7th nest camera, so I have a good record of everything that happens in and around the house when we are not at home. Disadvantage: undoubtedly the cost. Camera is already bad, subscription ditto.

Lucas | 21 July 2018 | Automatically translated from Dutch

Top quality camera

High resolution, sharp image

Only accessible through Nest

Top quality camera. Nice wide angle and finely detailed image (attention during installation, the highest resolution is not set by default).
The Nest app on iOS still has some teething problems and needs to be restarted every now and then, but all in all a good experience.
Note that the camera can only be viewed via the Nest app or website and not via other applications. You can also only add a camera in one account and not share it with certain people (unless you make it completely public).

Roel | 13 December 2015 | In the version: 1 | Nothing included | Automatically translated from Dutch
Specifications
Product
Product number

613920
Manufacturer code

NC1102FD