Philips Hue White Ambiance GU10 Bluetooth 12-Pack
---
Product information
Pros and cons
According to our smart light expert
Set these Hue Ambiance lights to 3 shades of white light.

When you dim the lights, the light color becomes warmer.

You don't need a bridge because the light works with Bluetooth.

1 smartphone is not enough to operate this entire set without a bridge.

You can operate a maximum of 10 lights in one house per smartphone, but you can add up to 50 lights with a bridge.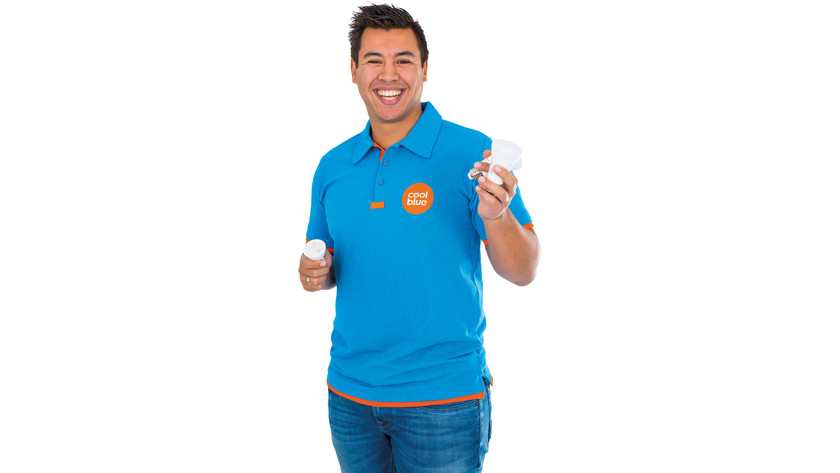 ---
Product description
Expand your Philips Hue system with the Philips Hue White Ambiance GU10 Bluetooth 12-Pack. This pack consists of 12 separate spot lights, so you can create the desired atmosphere. You can connect these spots to your smartphone per 10 spots, so that you can control them remotely. You can set 3 different shades of white, which you can use to adjust the atmosphere in your home. If you link the lights to a speech assistant, you can also operate it with your voice. Do you also want to switch the light on and off when you're not at home or do you want to set timers? You can add a Philips Hue Bridge later. This allows you to connect your smart lights to the internet.
Tips for using this product
Read our tips and find out all about how to set up your product and use it the right way.

---
No reviews written yet
| | | | |
| --- | --- | --- | --- |
| 5 stars | | | |
| 4 stars | | | |
| 3 stars | | | |
| 2 stars | | | |
| 1 star | | | |
Reviews
No reviews written yet
Most helpful reviews
If you don't mind buzzing/beeping, just do it.

Ljamis Khalaf | 8 May 2020 | Automatically translated from Dutch

The app is easy to operate

give a lot of light (8 pieces in total in a room of 7.5 m2)

Nice atmosphere to experience

I find it a disaster to connect them via bluetooth

I don't see 16 million colors

Unable to indicate location of lamps in the app

buzz very strong when you turn them off via the app

They are expensive lamps, so I expected a lot from them. They are for my home studio of 2.5 by 3 meters (7.5m2 in total). I have 8 spots where I put the lamps in. Together they provide good light for the room, I should certainly not have taken less (max 350 lumens per lamp).
Switching on and off is done via the switch, but can also be done via the app.
The app is a good app in itself. Only when I want to connect 8 lamps, often 2 or 3 just don't connect (via bluetooth). I don't have a hue bridge, so I don't know if it's different that way.
In the app you can give the lamps all kinds of color tones which is very nice, but I don't see 16 million colors. Red is just red and if you want it to be a shade lighter on the color wheel in the app I don't notice it's a shade lighter.
The dimming works very well, only with a lot of dimming you hear a buzzing / beeping sound.
It's such an annoying noise that you can't hear as an over 80's, but I, a handsome guy under 30, can hear it and it's irritating.
It is clearly audible if you want to record through the microphone and that is a shame. Phillips himself indicates that they are developing and testing a new GU10 bulb without it making a buzzing sound, after which they will be exchanged. This can take up to 6 months.

What I also miss is an easy interface or something. where you can indicate/draw the room and indicate where the lamps are located and, if necessary, at what height.
If you select one of the standard atmospheres (for example sunrise) then it is just a guess where the red and orange light come out.

I would definitely recommend the lights, provided you are willing to turn them off via the switch each time. Otherwise you will have buzz and that will not sleep well.
In my opinion, there are still improvements, but these have more to do with the operation of the lamps than the lamps themselves.
A big downside is that they don't all connect to the phone via bluetooth, I hope to solve this by purchasing a hue bridge soon, but first write this review, because this way I have a chance to win 100 euros at coolblue! And then I buy it right away.

Ljamis Khalaf | 8 May 2020 | Automatically translated from Dutch

More expensive and better than Ikea Tradfri gu10

Arjan van Vugt | 7 December 2019 | Automatically translated from Dutch

Dimming far beyond Ikea Tradfri

Smaller than previous generation

Could be a little warmer for me in terms of color

I exchanged 12 Ikea Tradfri gu10s for these "real ones". The Ikea white ambiance lamps don't work well with the Hue bridge so I had the warm white version of the lamps but I didn't think it was warm enough.
They also do not dim far enough and react more slowly.
Glad I switched anyway. These just work a little better with the Hue bridge. In a completely darkened room, the difference in minimum brightness is really huge.
In the photo you see Hue on the left and Ikea gu10 completely dimmed on the right.

Arjan van Vugt | 7 December 2019 | Automatically translated from Dutch

Great lamps

FM Clement | 22 December 2019 | Automatically translated from Dutch

Great lamps, give nice light. Can be dimmed far.

FM Clement | 22 December 2019 | Automatically translated from Dutch

Good product

Great colors and shades, but without the Hue Bridge, it's not totally complete in its usage, which is a pity.

Vitor de Oliveira Rubbo | 30 November 2019 | Automatically translated from Dutch

Good product, brings some atmosphere to the house.

Philips Hue is just 1 big plus.

Brings more atmosphere into the house than our woman.

It's an expensive thing to have.

After having 25x Philips Hue lamps at home, I can conclude that I am a hue expert. And Julie may well conclude that it is simply a top product. Otherwise, this half sole will not buy 25.

Arjan Ruijs | 4 October 2020 | Automatically translated from Dutch

Very good product!

Many possibilities

Bram Poelaert | 26 January 2021 | Automatically translated from Dutch

Qualitatively good.

Many lamps compared. A bit more expensive but good quality.

Annes | 16 December 2020 | Automatically translated from Dutch

I think it's a great product.

Easy both to use and to install.

Jaf | 1 April 2021 | Automatically translated from Dutch

Recommended

Super lamps. Give nice light and amount of light is good

Jeroen Akkermans | 9 February 2020 | Automatically translated from Dutch

Fast, simple and many options.

Operate multiple lamps at once

Many options to configure

More expensive than other brands

Not the cheapest option when it comes to smart lighting but I think it's well worth the money. With the bridge and app you can configure so many lamps and control them in different ways that you can always make a good solution.
Lamps that go off and on based on the time, sunrise and sunset, when you leave your house or when you come home. Combine it with other smart home applications and you have endless possibilities.

Pascal Clarkson | 24 May 2021 | Automatically translated from Dutch
Specifications
Product
Product number

836279
Manufacturer code

929001953303
Brand

Philips Hue
Warranty

2 years
Warranty type

Carry-in warranty
Old product returned for free
Dimensions
Depth

5 cm
Width

5 cm
Height

5,78 cm
Connectivity
Integrated WiFi
Bluetooth
Adjustable from a distance
Controllable via remote control
Including remote
Power supply
Power supply type

Via a different product
Properties
Fitting light source

GU10 (spot)
Dimmable
Dimmable via

App, Integrated dimmer
Light source power

5 W
Number of lamps included

2
Bridge required for WiFi connection
Bridge included
Color light

White
Light color (white)

Bright white, Daylight white, Warm white
Amount of light (range)

0 - 350 lm
Color temperature

6500 K
Product line

White Ambiance
Smart Home
Controlled via app
Controlled via Android app
Controlled via Windows app
Controlled via Apple app
Compatible with smartphone / apps
Smart home platform

Amazon Alexa, Apple HomeKit, Google Assistant, Homey, IFTTT, Samsung SmartThings, Works with Nest
Introduction year and updates
Guaranteed support with updates

Unknown
---