Sonos Beam 5.0 + One (2x) Black
---
Product information
Pros and cons
According to our soundbar expert
With this combination, you can create a 5.0 sound setup.

The soundbar and speakers wirelessly play music from your smartphone, laptop, or NAS.

Link the speakers to your Sonos multi-room system to stream music throughout your home.

You can't use Bluetooth to stream the sound from your smartphone or laptop to the speakers.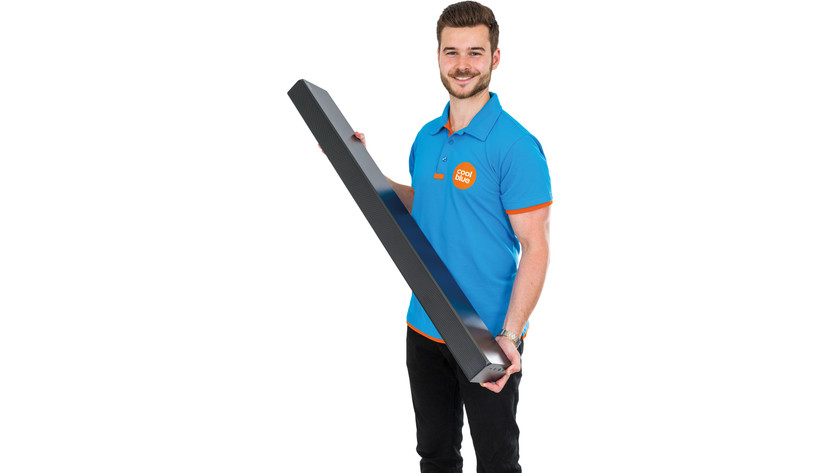 ---
Product description
With the Sonos 5.0 Beam + One (2x) set, you get to experience lively sound with your favorite movies, series, or music. The set consists of the Sonos Beam soundbar and 2 Sonos One wireless speakers. You can easily control the soundbar via voice commands or with the Sonos app. Thanks to the various modes of the bar, you can adjust the sound to your situation. Choose the night mode when you don't want to disturb your roommates at night. You can also choose the speech enhancement mode when you're watching stand-up comedy or a talk show. The Sonos One speakers are compact speakers that you can easily place in or on top of a cabinet. Via WiFi, you can connect the speaker to multiple speakers in the house to create a multi-room setup.
Note: Sonos products don't work via the 5GHz network. Make sure your WiFi is set up on the 2.4GHz network before you purchase a Sonos product.
Included by default
SONOS One Black
Sonos Beam Black
Tips for using this product
Read our tips and find out all about how to set up your product and use it the right way.

---
Reviews
| | | | |
| --- | --- | --- | --- |
| 5 stars | | | |
| 4 stars | | | |
| 3 stars | | | |
| 2 stars | | | |
| 1 star | | | |
Most helpful reviews
Great system.

Rudolf Neuber | 7 August 2018 | Automatically translated from Dutch

Various options for hanging/mounting

I only need 1 SonoS beam, would have loved to have one more.

Always wanted to install a SonoS system at home after experiences at others' homes. However, the price of a Playbar has always kept me (read; my girlfriend) from it. So after the release of the Beam decided (read; persuade my girlfriend) to buy one.

Unpacking was a joy in itself. I myself had missed the delivery person so I still had the confetti left (thanks for the tip CoolBlue) to make unpacking the Beam even more festive.

After installing the SonoS app, I followed the steps neatly and the whole thing was beeped and connected, really child's play.

I hung the Beam under the TV without a special mount, so that it stands with its top forward, as is also the case in the 18th photo. However, I was curious if this would actually work. And it works great, especially ideal that sound also comes out on the sides so that I also have good sound when I just come out of the kitchen.

All in all, highly recommended and I will be expanding my SonoS home network very soon (read; if my girlfriend allows me to).

Rudolf Neuber | 7 August 2018 | Automatically translated from Dutch

Very good soundbar with extras

Jens De Rijcke | 24 July 2018 | Automatically translated from Dutch

True play really makes a difference

Expected a little more bass

The beam is highly recommended for anyone who wants to get a more than decent soundbar that also looks good and has some nice extras.

The sound is above average, but it is also not the very best thing you have ever heard. I had expected a little more bass (which was to be expected, but I think an extra subwoofer is comparatively too pricey), but since I've only recently received it, it might also be a bit early to really judge it well. It is (of course) nothing to compare with sound from the TV. I linked it to 2 play one boxes to get a surround effect. Short test done: simply great!

In any case, take the time (only a few minutes) to set up True Play, it really does make a difference.

If I had to look for a downside: a pity that there is no dolby atmos support... but that's about it. If your living room is a ballroom, it may not really "make it" to be truly room-filling.

Anyone who already owns something from Sonos knows the ease of use, and that is no different with the Beam. Airplay 2 support is also a real added value (if you have Apple at home). Finally just being able to listen to youtube (and all other things you can play on the ipad/iphone) via the sonos. Sonos has no equal in ease of use.

In short: if you are looking for an affordable, rock-solid soundbar that also has that little bit extra (ease of use, design, airplay 2,...), don't hesitate!

Jens De Rijcke | 24 July 2018 | Automatically translated from Dutch

SuperSoundBar

Jeroen Baars | 24 July 2018 | Bundle contains: No rear speakers | Automatically translated from Dutch

(relatively) Small but big sound

Voice control (still English, but Dutch is coming)

Price, compared to big brother Playbar

Simple (wireless) expandable system

Only 1 connection (HDMI, or optical via included HDMI adapter)

Only the Beam is not enough for real home theater

Invites to purchase more Sonos speakers (which is also a plus...)

Little bass present at low volume

Just unpacking the Beam was already a party. What a beautiful thing!

The box contained the Beam itself, power cable, HDMI/optic adapter and quick start guide. I especially like the fact that the HDMI adapter is included with Sonos.

I chose the white version myself, because it fits better with the interior.

The Beam is placed on the TV cabinet under the wall-mounted 55" TV.

For imaging: Our viewing and listening area of the living room is approximately 5 x 5 meters, which gives an area of 25 m2. We sit right in front of the TV, across the room, so listen to the Beam from about 4/4.5 meters away, while watching TV. The Beam produces sufficiently powerful sound (at medium to high volumes). At low volume, the Beam may be a bit lacking in Bass for some. Considering the size, the sound is far beyond expectations!

Sonos does have a solution for extra Bass: The €799 Sonos Sub. I doubt whether the Sub justifies the power (and price) difference in our home. The Beam has more than enough punch at the medium/higher volumes.

2 extra functions that actually work really well are the night function, which filters out loud noises (for example, when the little one sleeps in the evening, a nice function) and the speech function, which reproduces voices extra well.

I am thinking about going for the extra wireless Play 1 or Play One speaker set at the back, for surround sound. The sound that the Beam produces sounds good, but you don't get real surround from it. The Beam itself is very well suited for music. Of course everything depends on the size and layout of the room in which you use the Beam.

What works well (if you get it working in English) is the added voice control via Amazon Alexa. If your Beam is connected via HDMI, you can turn the TV on/off via voice control, which is really nice. Volume is also controlled that way. And without remote control or app!

Alexa can also answer many questions, or carry out commands you give it (such as controlling lighting/heating, etc.).

This is currently only in English and can be turned on after some searching in the settings of the apps, but support for Dutch and Google Home in Dutch seems to be coming this year. That would only increase the value of the Beam.

The price difference compared to its bigger brother the Playbar is only beautiful.

Yes, the Playbar will sound better (certainly for larger rooms), but it is also a lot more expensive and does not have many functions that the smaller and cheaper Beam does.

For someone who is looking for a sound technically good soundbar, which can also fulfill many other functions, look no further! The Beam will not disappoint!

Jeroen Baars | 24 July 2018 | Bundle contains: No rear speakers | Automatically translated from Dutch

Very good purchase, recommended!

Beautiful design (simple, sleek)

After reading the reviews about this soundbar (also on other sites) I decided to purchase it. The (relatively) not too high price for a Sonos device, combined with being 'ready' for the future and the reviews about the beautiful sound and ease of use, in particular, were decisive.
I have to say: all points are 'right' as far as I'm concerned and I'm very happy with it! Immediately took out a 'family' subscription to Spotify and an endless world full of music possibilities has opened up.
Connecting and setting up was easy, you will be guided through it step by step with the Sonos app.

Cecile Van Assen | 20 August 2018 | Automatically translated from Dutch

A pleasure for ear and eye. Made with for the user!

Huge improvement over TV sound

The Sonos Beam has been in the living room for a while now under our Samsung TV from 2016. This was my very first Sonos product. I can tell you that everything you've heard about usability is 100% true. You remove the Beam from the packaging and connect two cables. 1 for the power and 1 to the ARC input of your TV. The latter ensures that your TV and the Beam can communicate with each other (turn on, turn off and volume, etc.). Installing with the Sonos app is also very simple, just follow the steps and you're done in 5 minutes. You can then immediately enjoy Spotify, Apple music or one of the many other music services.

The sound is wonderful. Much more depth and height than a TV can ever produce. You even notice a clear difference between left and right. Music clicks well and series on Netflix sound even better. It's just a shame that Sonos doesn't support DTS. That's the only downside I can think of at the moment.

Koen | 26 July 2018 | Automatically translated from Dutch

Top sound easy to install

So Sonos is a great app and continues to develop

Full sound despite quite spacious living room

Finally a Sonos product that is relatively affordable and not too high

Even my wife can operate it :-)

No bluetooth but I already knew that

To get the top experience you need more Sonos speakers

Incredibly easy to install and can be arranged immediately with HDMI ARC in the back of the TV. All radio stations easily found via the app and Spotify is highly recommended. You only really need several Sonos speakers to make it a top experience. Those are still coming.

Dirk van Gestel | 11 August 2018 | Automatically translated from Dutch

Completely as expected

No external connectivity options

Very user-friendly
Good sound

Aart Korevaar | 5 August 2018 | Automatically translated from Dutch

Good Beam, what asks for more. Surprising Speech Integration

Beautiful fashionable design

Enough bass, sub is not needed in my apartment

Simple and fast AirPlay connection

You immediately want more SONOS products for a better experience

Apple Music not (yet) accessible on Google Assistant

Design: The product looks sleek and fashionable in appearance, but it is on the large (high) side compared to other soundbars I've seen.

Connection: The product contains all necessary parts (HDMI ARC cable and Optical cable). Many products don't have that anymore, compliments. Connecting is really easy and fast with the Sonos app. It takes some getting used to that you have to grab an app instead of a remote control. With AirPlay you can easily connect the Sonos Beam and your Apple device. This does have some delay. But this could also be due to my internet connection.

Sound quality: The Sonos Beam does get some really good sound, but it doesn't have enough power to power my entire living room. That's why I plan to buy 2 extra Sonos speakers and go for a 5.0 setup. Since I live in an apartment I'm careful with the bass, that's why I didn't buy a sub. Still, the beam gives enough bass and it seems superfluous. You can easily set how high this should be via the app. My girlfriend is unfortunately not so happy with the idea of all those extra boxes in the house :-)

Google Assistant: Initially, I was very skeptical about using voice assistants. I have used Siri in the past. To my surprise, Google Assistant responds much faster to my "Okay Google" comment and I don't have to shout it 10 times before it recognizes my voice. I have linked Google Assistant to Google Home, so I can easily control smart devices in the house. Such as: "Turn on the lights". This is simple and fast, so that I no longer have to perform extra actions on my mobile. The biggest lack is the accessibility of "Apple Music". I think it would be great to be able to easily control my streamed iPhone music with speech recognition. Unfortunately, Apple Music is not yet available on the Sonos speaker. (But via the Google Assistant app). After a lot of research I was able to find that it should be available in the future. Still, I'm all about using voice assistants after using Google Assistant with the SONOS Beam.

Marnix | 2 August 2019 | Automatically translated from Dutch

Don't think and do!

Bass output is above expectations

Infrared receiver of the television is blocked

Alexa takes some work for the time being, but it is possible

No Ethernet cable included

I always thought the Sonos line with television connection was just a bit too big and expensive. Sonos Beam fills that gap neatly! The sound is still sublime and more than enough for a small room! Coupled with 2 play 1's (old model, just go!) the party is complete.
The smart functions are just a bit more work. They are not officially available in the Netherlands yet, but after an hour I was happily chatting with Alexa!
Airplay 2 also runs superbly, as does the HDMI-CEC connection.
It is a pity that the infrared receiver of the TV is not always accessible with my remote control, but that is rather something to do with the television.

What tips!
-Nothing beats the Ethernet cable. If you connect at least 1 speaker, it will be 10x better than without. I've personally hooked them all up and never, ever had any problems.
It is therefore recommended, especially with more neighbors or thick walls.

-To get Alexa up and running, log into sonos online and change your country to UK. To get Spotify connected, log into amazon and then change the country to your content and devices in the UK. You can then set everything up properly via the Alexa app on your phone. Pay close attention to the name of the television in that app, because you have to yell exactly that to Alexa if she wants to listen.

- By default, the play 1's do not play at full volume when they are connected, switching a switch in the settings ensures that you hear good music from all sides.

In short, don't regret it!

David | 17 July 2018 | Bundle contains: No rear speakers | Automatically translated from Dutch

Top product for a top price

Beautiful and sleek design

What a wonderful product again from Sonos.
A soundbar was on my list anyway, but I always thought the price was a threshold until it came and was relatively a lot more favorably priced.
Bought without a doubt and have not regretted it for a second, a top product from a top brand

Kevin De Waard | 1 August 2018 | Automatically translated from Dutch
Specifications
Product
Product number

795386
Manufacturer code

ONEG2EU1BLK
Brand

SONOS
Warranty

2 years
Warranty type

Carry-in warranty
Old product returned for free
Physical properties
Speaker composition

1 speaker
Depth

12 cm
Width

12 cm
Height

16 cm
Weight

1,85 kg
WiFi speaker size

Medium-sized (15-25cm)
Color

Black
Material

Plastic
Integrated microphone
Integrated screen
Water-resistant
Water resistance

Splash proof
Waterproofness certification

Not certified
Ambilight
Network and streaming
Multi-room audio
Multi-room platform

AirPlay, SonosNet
Multi-room functions

Make a stereo pair, Surround sound mode, Zones separately, Zones simultaneously
Plays from network
Bluetooth
NFC
Streaming services support
Streaming services

Deezer, Google Play Music, Juke, Napster, Qobuz, Rdio, Spotify, Tidal, iTunes
Playback options
Radio
Internet radio
DAB radio
FM radio
AM radio
Plays from USB memory
Bluetooth
Multi-room platform

AirPlay, SonosNet
Controls
Controlled via app
Controlled via Apple app
Controlled via Android app
Controlled via Windows app
Smart home platform

Amazon Alexa, Google Assistant, Homey
Ports
USB port
RCA connector
Headphone jack
Installation ease according to customers

Very good
Power supply
Power supply type

Grid current
Software
Guaranteed support with updates

Unknown
Year introduced

2017
Introduction month

October
Product
Product number

813826
Manufacturer code

BEAM1EU1BLK
Brand

SONOS
Warranty

2 years
Warranty type

Carry-in warranty
Old product returned for free
Physical properties soundbar
Height

6,8 cm
Width

65,1 cm
Depth

10 cm
Weight

2,8 kg
Color

Black
Quality category

Mid-range
Physical properties subwoofer
Sound
Sound quality according to customers

Very good
Number of audio channels

3
Number of subwoofer channels

0
Sound reproduction

Surround
Surround sound

Virtual surround sound
Surround sound systems

Dolby Digital
Hi-Res audio
Radio
Ports
HDMI connection
HDMI ARC (Audio Return Channel)
Number of HDMI ports

1
Digital optical connection
Network connector
USB port
Connectivity
Bluetooth
Integrated WiFi
Plays from network
Multi-room audio
Multi-room functions

Make a stereo pair, Surround sound mode, Zones separately, Zones simultaneously
Number of zones (audio)

32
NFC
DLNA
Spotify Connect
AirPlay
Google Cast
Smart
Smart home platform

Amazon Alexa, Apple HomeKit, Google Assistant, IFTTT
Compatible with smartphone / apps
Controlled via app
Controlled via Android app
Controlled via Apple app
Controlled via Windows app
Awards
Awards

What HiFi
Best tested
---