Bose Soundbar 700 + Bose Bass Module 700 White
Be the first to know when this product is in stock
---
Product information
Pros and cons
According to our soundbar expert
With the soundbar and subwoofer, you can create a clear and powerful sound.

Thanks to SimpleSync, you can wirelessly connect the soundbar to the Bose Headphones 700 with separate volume levels.

The 10-inch woofer ensures that the subwoofer reproduces even the lowest bass tones.

The subwoofer is only compatible with the Bose 700 and the Bose 500 Soundbar.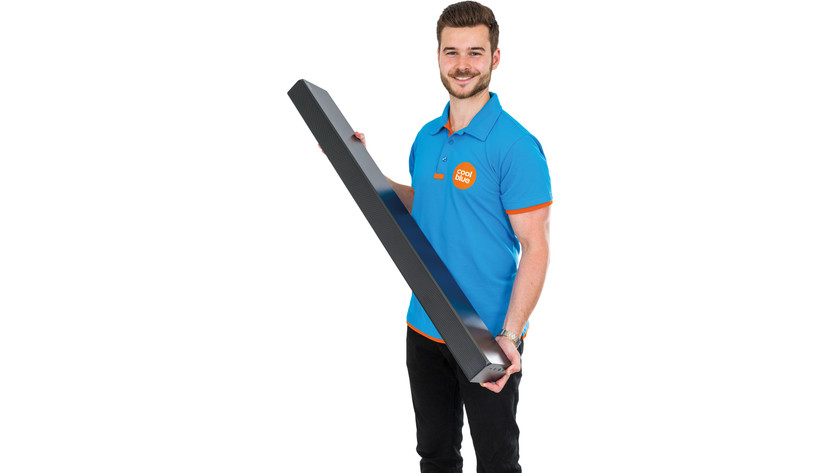 ---
Product description
With the Bose Soundbar 700 and Bose Bass Module 700, you get to enjoy a clear and powerful sound. The sound from the soundbar is realistic and not distorted thanks to the integrated PhaseGuide technology. The integrated drivers ensure that the sound remains clearly audible. The subwoofer emphasizes the bass tones. The sound of bird of prey flying overhead or a race car driving by becomes even more realistic. You connect the subwoofer to the soundbar wirelessly, but you will need to connect the woofer to AC power.
Connecting the Bose Soundbar 700 to your TV
Use the included optical or HDMI cable to connect your soundbar to your television. Keep in mind that your TV needs an optical connector to use the soundbar. We recommend HDMI arc cable.
---
Included by default
Bose Bass Module 700 White
Bose Soundbar 700 White
Tips for using this product
Read our tips and find out all about how to set up your product and use it the right way.

---
Reviews
| | | | |
| --- | --- | --- | --- |
| 5 stars | | | |
| 4 stars | | | |
| 3 stars | | | |
| 2 stars | | | |
| 1 star | | | |
Most helpful reviews
beautiful sound

Alberto Sodeike | 22 October 2018 | In the version: Black | No | | Automatically translated from Dutch

Now in the house for a few weeks together with the surround speakers. Connecting was done in no time, optical cable in TV, register on your network and ready. Had some trouble installing the remote control, but in the end it worked. 1 remote control to control your TV, Ziggo cabinet and soundbar. What a wonderful sound! Listening to music via spotify is a convenience and nicely balanced sound. As far as movie sound is concerned, I'm thinking about adding a subwoofer. Sound is good but don't really feel the bass which I like in movies.

Alberto Sodeike | 22 October 2018 | In the version: Black | No | | Automatically translated from Dutch

Quality that makes you happy.

Milenco Leegwater | 22 October 2018 | In the version: Black | No | | Automatically translated from Dutch

I have had the soundbar at home for a week and this is what makes me really happy. A beautiful box, carefully packed. No expense spared.
The content is even more beautiful.
Connecting is so simple and ready. Download an app, connect and the bar is automatically updated and set. Then you can tweak the pitch you want. So excited and haven't heard a sound yet.
Downside in between: a very large and heavy remote control, with LED lighting on touch, that is.
The sound is as I am used to from Bose. Beautiful and full. Maybe I'll get the bass module later, but the bar can also do it on its own. The Bose surround speakers that I bought are of the same quality and are a nice addition to real cinema experiences!
The biggest downside is the price, but you get what you pay for. Highly recommended!

Milenco Leegwater | 22 October 2018 | In the version: Black | No | | Automatically translated from Dutch

Definitely a good purchase

C Jongstra | 12 February 2019 | In the version: Black | No | | Automatically translated from Dutch

Great sound good purchase

C Jongstra | 12 February 2019 | In the version: Black | No | | Automatically translated from Dutch

Top sound nicely finished

Stream possibilities today

I am definitely happy with the bose 700 plus bass module
The sound for the TV clear and focused sound.
This is due to the adjustments when you install the bose with the supplied headphones.
1 disadvantage is that the bass module itself has no separate buttons to adjust it.
The connection is very simple via HDMI or optical cable to your TV.
The description is short, but many answers can be found via the Bose site.
But none the less the sound is perfect.
Operation can be done with the supplied remote control or via the app on your phone or tablet.
It's a pity that the Bose can't be voice controlled yet, despite the fact that I have Alexa voice control at home.
But for the rest, it can be operated.
Sorry there are no pictures because something keeps going wrong.

harald | 15 October 2018 | In the version: Black | No | | Automatically translated from Dutch

Respect for this Bose Soundbar!

The sound is phenomenal, if you add the extra bass module, otherwise it just sounds a bit flat.

Design: It looks immaculately chic.

The Bose Music app is well put together: Does what it should do.

Doesn't take up too much space

Did I mention the unbelievably good sound?

The lighting of the remote control switches off after 3 to 4 seconds.

The neighbors don't like me anymore.

The configuration of the Soundbar may not be so obvious to everyone?

I have the soundbar 700 with the bass module 700, and 2 surround speakers, each in the black version. It's not a cheap thing, but you know that in advance. It is a replacement for the Bose Acoustimas 10, in combination with an Onkyo 7.2 amplifier.

Very satisfied with this soundbar.

The sound is crystal clear, even when the volume is turned up a bit. I think the bass module is necessary: Without it the soundbar sounds a bit "light" - The bass module (13 Kg) gives the sound just a little more power, it makes it all sound a bit fuller. The surround speakers also give the sound that little bit extra spin. These surround speakers are so small; You hardly see them hanging on your wall. And they can also be controlled wirelessly, but you have to connect these surround speakers with a cable to a knot of a power supply. So a cable comes out of the surround speaker anyway. The bass module works neatly with only a power cable. The soundbar with me has the following connections: Power cable, an HDMI cable to the HDMI ARC of the television, and an Ethernet connection. So there will be three cables coming out of the back of your soundbar.

You can control everything with a remote control that is included. It is a bit big, but otherwise looks nice. It is a so-called "universal" remote control: you can control all your devices with it. That's right, it works fine. I'm not going to use it anyway: The backlight of the remote control goes out after 4 to 5 seconds, and then you can't see anything anymore. Just shake the zapper, and it comes back to life. Bose doesn't seem to want to correct that. I'll just stick with my Logitech Elite remote control: It works perfectly in combination with the Bose 700 SB.

Bluetooth, Airplay, Deezer, Spotify are neatly integrated, and work perfectly, without any hiccups. I haven't played with the Google Assistant and Ms Alexa yet. I haven't read any negative comments about it yet, quite the contrary.

Anyway, my conclusion of the soundbar 700 + Bass module 700 + Surround speakers (black):

- Not cheap (but you know that in advance, so don't be negative about it, you will get a lot in return).
- You get a lot for your $$$: The renowned Bose quality, looks and sound.
- Bose is known for its heavy bass tones: With the SB 700 this is slightly less, but if you want more, there is plenty of bass available, easily controlled via the Bose app.
- The soundbar looks very good, especially with the glass top, but is not an attention grabber: it is subtly present.
- Glass attracts dust and fingerprints: Just wipe it with a cloth every now and then, and you're done. (Also for the bass module)
- A bit of searching how to configure everything, but the manuals are clear.

This combination is a must for me.

Geert Steen | 1 May 2021 | In the version: Black | Yes | Surround speakers | Automatically translated from Dutch

Great Soundbar in combination with the Bass Module 700.

handy universal remote control

Alexa integration not available in NL

This great soundbar has been in the house for almost 2 weeks. The installation was easy, but due to the long time that the first firmware upgrade took, we had to wait a while. After the first impatient hour and a half, finally enjoying! With the Adaptiq headset, calibration is a breeze. You can also easily link the Spotify account and then operate it from the Bose app. (Operating from Spotify app also works fine). We have combined the Soundbar with the Bass Module 700, which makes it complete. Without a bass module, the Soundbar is seriously less good. It would have been very nice if there had been an extra HDMI connection, now you miss 1 if you use the HDMI arc link. All in all, definitely recommended for anyone who wants just that little bit of better quality.

Klaas Lijkendijk | 15 October 2018 | In the version: Black | No | | Automatically translated from Dutch

Beautiful sound & design, and very easy to use!

phenomenal sound in combination with the bass module

Can't get it working properly with an amplifier without HDMI arc

Fantastic device! great sound! And so I can go on and on. Connecting is a breeze. Setting up was very easy via the Bose app (beautiful app with great ease of use). Then have the soundbar and bass module paired, and then the test with the microphone (a test must be done at 5 favorite places in your living room in order to optimally adjust the sound to the room). Sound is perfect, which of course you expect from Bose! What I think is a wonderful feature of the soundbar is that the internet radio can be placed in the remote control by means of preset stations so that you do not need the app every time. However, the soundbar was very difficult to work on my somewhat outdated TV, which is a shame, but should not spoil the fun.

foofer77 | 22 October 2018 | In the version: Black | No | | Automatically translated from Dutch

Cool design, great sound

Sound is so clear you can still hear the vibrations of a pin

So easy to use that grandma can still control it

I am very satisfied with my Bose Soundbar 700. The sound and design of the soundbar is fantastic. Especially in combination with the Bass Module and/or the Surround Speakers, you can make the sound even more complete. Speaking of added values... The app is also a nice addition to the product. By, among other things, being able to control Spotify and adjust settings with it.

Benny Stapel | 23 October 2018 | In the version: Black | No | | Automatically translated from Dutch

Professional, beautifully designed soundbar

No User Interface via HDMI

I was looking for a multi-room system that would be of high quality at low volume as well as high volume. This is possible with the soundbar 700, partly thanks to the option in the BOSE app to amplify the voices, you can have beautiful sound at a low volume. The subtle LED lighting clearly shows the setting/progress on the soundbar. The beautiful design, the sturdy glass-layer finish on top and the in-/outputs placed in the right places show that BOSE thinks carefully about its design! With the multifunctional remote control I have now been able to put 3 in the drawer and only the BOSE remote control is still in use.

They should have built in a User Interface via the HDMI output (Arc), this makes it applicable and independent (more) for a wider audience. Everything should now be done wirelessly (via app).

I am looking forward to the expansions for the surround speakers, in the hope that it will also be just as nice and pleasant an expansion as the bass module 700.

Rob van Kempen | 22 October 2018 | In the version: Black | No | | Automatically translated from Dutch

Cost anything but then you also have something.

Provides a lot of bass without a subwoofer.

Stable connection to sub and rear speakers.

Does not indicate how loud the volume is.

After that I moved and couldn't get rid of my 7.2 set. (in connection with the cables)
I bought the Bose 700 soundbar with subwoofer and rear speakers.
The soundbar already sounds so nice and warm in itself that I advise everyone not to buy the subwoofer right away.
I would rather buy the Bose 300 surround speakers.

Lysander Vervloet | 8 January 2020 | In the version: Black | No | | Automatically translated from Dutch
Specifications
Product
Product number

818879
Manufacturer code

809108-2200
Brand

Bose
Warranty

2 years
Warranty type

Carry-in warranty
Old product returned for free
Physical properties
Speaker composition

1 speaker
Depth

29,46 cm
Width

29,46 cm
Height

32,72 cm
Weight

13,61 kg
WiFi speaker size

Large (25-40 cm)
Color

White
Material

Plastic
Integrated microphone
Integrated screen
Water-resistant
Ambilight
Network and streaming
Multi-room audio
Plays from network
Bluetooth
NFC
Streaming services support
Playback options
Radio
Plays from USB memory
Bluetooth
Controls
Controlled via app
Controlled via Apple app
Controlled via Android app
Controlled via Windows app
Ports
USB port
RCA connector
Headphone jack
Installation ease according to customers

Excellent
Power supply
Power supply type

Grid current
Software
Guaranteed support with updates

Unknown
Year introduced

2018
Introduction month

September
Product
Product number

818854
Manufacturer code

795347-2200
Brand

Bose
Warranty

2 years
Warranty type

Carry-in warranty
Old product returned for free
Physical properties soundbar
Height

5,7 cm
Width

98 cm
Depth

10,8 cm
Weight

4,8 kg
Color

White
Quality category

High-end
Physical properties subwoofer
Sound
Sound quality according to customers

Excellent
Number of audio channels

3
Number of subwoofer channels

0
Sound reproduction

Surround
Surround sound

Virtual surround sound
Surround sound systems

Dolby Digital
Hi-Res audio
Radio
Ports
HDMI connection
HDMI ARC (Audio Return Channel)
Number of HDMI ports

1
Digital optical connection
Network connector
USB port
USB function

Software updates
Connectivity
Bluetooth
Integrated WiFi
Plays from network
Multi-room audio
Multi-room functions

Surround sound mode, Zones separately
Number of zones (audio)

2
NFC
DLNA
Spotify Connect
AirPlay
Google Cast
Smart
Smart home platform

Google Assistant
Compatible with smartphone / apps
Controlled via app
Controlled via Android app
Controlled via Apple app
Controlled via Windows app
---
This is the one