2x LG 27UL850
---
Product information
Pros and cons
According to our monitor expert
This Duo Setup doubles your screen space, so you can easily work in multiple windows at the same time.

This monitor has a sharp 4K resolution, which is 4 times sharper than Full HD.

Works well with the MacBook (12 inches) because of the USB-C connection.

This monitors have a fairly wide monitor base, so make sure you have enough space on your desk.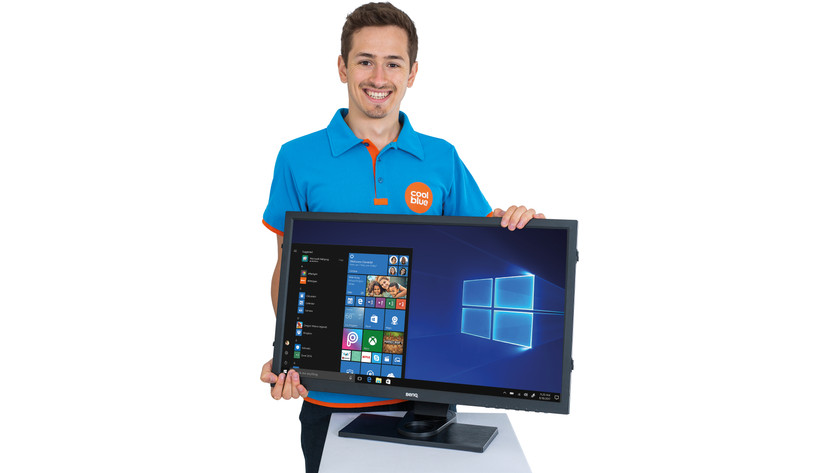 ---
Product description
With the LG 27UL850 Duo Setup, you'll have 2 monitors to watch movies, play games, and multitask, all in 4K. With these LG monitors, you can work in 2 windows side by side, so you could play a game on one screen and have your browser opened on the other. The HDR support provides a bright and realistic color representation. You won't be bothered by image stutter during gameplay, since the FreeSync technology synchronizes your AMD video card with the monitor. The 27UL850's height is adjustable, so you can adjust it to your sitting height. That way, you can sit comfortably in front of your monitor without hurting your neck or shoulder. With the USB-C connector, you can connect and charge devices like a MacBook.
Note:
As a result of 4K resolution, text and icons become smaller, which you can't always enlarge. For a 4k output, you need a modern laptop or PC with a fairly powerful video card. Make sure it has at least a DisplayPort 1.2, HDMI 2.0, or Thunderbolt 2 connection.
Included by default
HDMI cable
DisplayPort cable
USB-C cable
Power cable
Monitor stand
---
Visit one of our stores by appointment
View more monitors in the store

Get advice from an expert

We have stores in Amsterdam, Arnhem, The Hague, Eindhoven, Groningen, Haarlem, Leiden, Rotterdam, Tilburg, and Utrecht
---
Reviews
| | | | |
| --- | --- | --- | --- |
| 5 stars | | | |
| 4 stars | | | |
| 3 stars | | | |
| 2 stars | | | |
| 1 star | | | |
Most helpful reviews
Great design and quality for the price

Roman Dodin | 30 November 2019 | Bundle contains: Monitor

Great design and quality for the price. USBC port makes cable management on the desk a breeze

Roman Dodin | 30 November 2019 | Bundle contains: Monitor

4K IPS quality at a very good price

Daniel Rodriguez Fueyo | 29 November 2020 | Bundle contains: Monitor

easy menu but customizable

Speakers included, decent quality

Multiple connections, including USB-C for charging

the stand is quite big, be sure you have space to install it

the VESA stand was a bit tight for not all wall stands

design based on plastic seem pretty cheap

Really good product, if you are looking for a good IPS without photographic needs, it is more than suitable. I used it for PS4 and PS5 and all good. I recommend the product.

Daniel Rodriguez Fueyo | 29 November 2020 | Bundle contains: Monitor

Good, but not great.

Francesco Maestrelli | 22 November 2020 | Bundle contains: Monitor

USB 3.0 hub integrated only has 2 ports

It's a good screen, and for the price it was a good deal.
However it does have some issues: Only 2x USB 3.0 onboard. Poor quality speakers (Macbook sounds better than these speakers).
I like the idea of using USB-c to connect the laptop to the screen so to avoid all the issues with cumbersome docking stations.

Francesco Maestrelli | 22 November 2020 | Bundle contains: Monitor

Great 4K USB-C monitor.

USB-C connectivity allows one-cable setup

Few USB-A ports in the back

Incredible visual quality, simply outstanding (first 4K monitor, so take what you will). Poor audio though, and big stand, so make space for the monitor and some speakers too.

Carlos Eduardo Emanuele | 3 March 2021 | Bundle contains: Monitor

Great screen, must buy

Good for use with several devices

USB C for charging laptop

Easy install and good for use with laptop, only one cable needed

Jo | 28 November 2020 | Bundle contains: Monitor

Excellent product in the 4K monitor category

cables stick out of the back

The built in USB-C port and cable already saves $$ buying an HDMI or Display Port adaptor for the Mac

Bassam Jabry | 11 October 2019 | Bundle contains: Monitor

good to buy

it is a very nice screen

bahaa | 30 November 2020 | Bundle contains: Monitor

If I need another monitor, I will buy it again.

USB-C is used for video streaming and charging laptop

Good investment. It will be used for many years.

The stand is too large. It's not critical but not perfect.

Good price/quality balance. USB-C is a huge benefit. HDMI, DVI, and USB-c cable are included.

Oleksandr Berezhnyi | 4 August 2020 | Bundle contains: Monitor

Awesome HDR monitor with USB C charging for macbook

USB-C charging a macbook 60W

Love the monitor. Texts are so sharp, as good as macbook pro screens. It's brighter than expected bright enough unless you are sitting in front of a large window. Speaker is actually very useful for a casual use, especially in clamshell mode, but not good enough to enjoy music.

JK | 19 February 2021 | Bundle contains: Monitor

Love it!

I surely recommend this screen. Just amazing. The option to just use 1 USB-c cable to the laptop, charge the laptop, transfer the video signal, and connect the USB port on the screen with just one cable is AWESOME!

FM | 4 December 2020 | Bundle contains: Monitor