Philips Sonicare ProtectiveClean 4300 HX6807/63 + Kids Connected HX6321/03
In the version

: Instapmodel + kindertandenborstel
In the version

: Instapmodel + kindertandenborstel
In the version
Instapmodel + kindertandenborstel
Available for pickup even sooner
---
Product information
Coolblue's Choice
This product is our choice for parent and child.
---
Pros and cons
According to our electric toothbrush expert
You get a toothbrush for both you and your child with this combination, so you can brush your teeth together.

At 62,000 brushing motions per minute, this toothbrush cleans much more thoroughly than regular electric toothbrushes.

The timer of the children's toothbrush increases the brushing time up to 2 minutes in 90 days, so your child can get used to the brushing ritual.

A storage pouch isn't included, so make sure to pack your toothbrushes securely when you travel.

The children's toothbrush doesn't have a pressure sensor that gives a signal when you press too hard on your gums.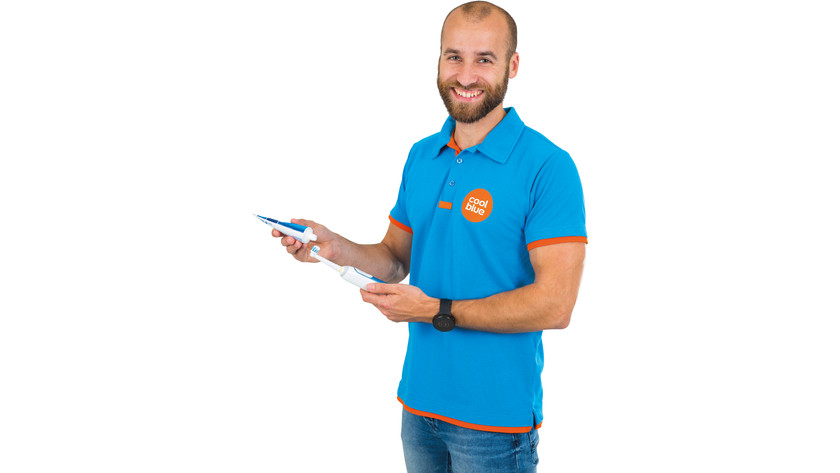 ---
Product description
With the Philips Sonicare ProtectiveClean 4300 HX6807/63 Toothbrush + Kids Connected HX6321/03 Children's Toothbrush, you get a toothbrush for both you and your child.
Philips Sonicare Toothbrush
With the smart toothbrush, you know for sure you always brush your teeth effectively. The toothbrush gives a signal when it's time to replace the brush attachment, so you'll never brush with a worn brush anymore. Is this your first time using an electric brush? You can use the EasyStart program. The toothbrush will gradually increase the brush intensity during the first 14 brushing sessions. This way, your teeth will get used to the new brushing motions.
Children's toothbrush
The Children's toothbrush makes it fun for children to brush their teeth. The toothbrush is suitable for children age 3 or older and comes with a special smartphone application. The app shows how to brush your teeth well in a playful way, and stimulates your child by giving awards in the app. The brush attachment has a rubber protection layer to protect young teeth specifically. You can also choose from 2 different intensities, so the toothbrush is suitable for both older and younger children.
---
Reviews
| | | | |
| --- | --- | --- | --- |
| 5 stars | | | |
| 4 stars | | | |
| 3 stars | | | |
| 2 stars | | | |
| 1 star | | | |
Most helpful reviews
Would recommend

JN | 16 April 2020 | In the version: Starter model - White

Really good toothbrush. Cleans very well and from what I have seen the charge lasts for a long time.

JN | 16 April 2020 | In the version: Starter model - White

I am 100% satisfied, it feels clean

Irma | 20 October 2020 | In the version: Starter model - White

You see and feel the difference from the day 1

2 min timer and 30 sec buzz is so useful. I can finally complete 2 minutes without noticing

Since it is pretty powerful, sometimes it splashs around .

I always find it difficult to brush my teeth for 2 minutes, felt too long. Now with the timer and 30 sec notification, I actually brush my teeth more efficiently.

Irma | 20 October 2020 | In the version: Starter model - White

Fantastisch

Piet Vut | 18 April 2021 | In the version: Starter model - White

Meer ben je niet nodig om elke dag goed glad te zijn.

Piet Vut | 18 April 2021 | In the version: Starter model - White

Wonderful clean

It's an excellent electric toothbrush

Lauren | 29 March 2021 | In the version: Starter model - White

Good toothbrush for daily usage

Up to 64 000 brushing motions per minute

Easy to switch from another toothbrush

"Brush head" change indicator

I used Oral-B toothbrush before (with rotator, bought 5 years ago).
I've never used any Sonicare toothbrushes before. However, I'm fully satisfy with this product and it gave me a better experience from the first day.

Nikita Alieksieiev | 3 January 2021 | In the version: Starter model - White