Sonos Playbar 5.0 + One SL (2x) Black
---
Product information
Pros and cons
According to our soundbar expert
You'll listen to a surround sound with this bundle.

The 9 amplified speakers of the soundbar produce a clear sound.

Use WiFi to add the speakers to the Sonos multi-room system and stream music throughout the house.

You can't use Bluetooth to stream the sound from your smartphone or laptop to the speakers.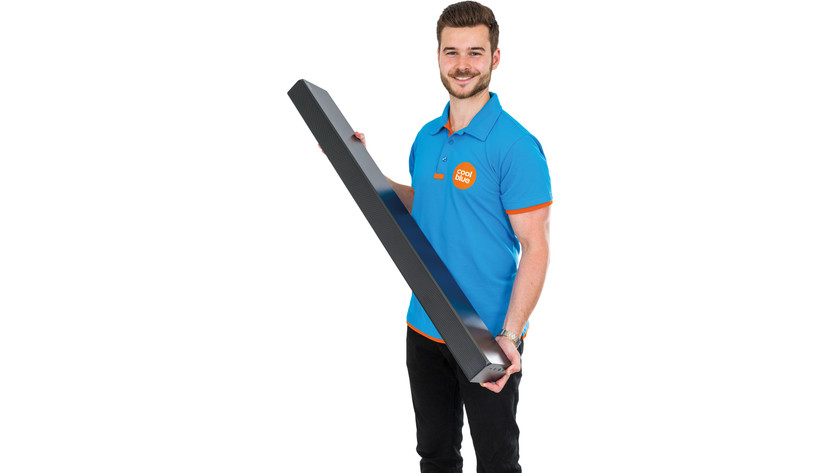 ---
Product description
You can easily create a 5.0 surround setup with the Sonos Playbar 5.0 + One SL (2x) combination. The set includes the Sonos Playbar soundbar and 2 Sonos One SL wireless speakers. Place the 2 separate speakers behind your listening position so that the sound will come from the front as well as from behind. That way, you'll enjoy a lifelike sound during a movie night or sports match. Did you turn off the TV and do you want to enjoy your favorite music throughout the house? You can easily connect the speakers to your other Sonos speakers via WiFi. This allows you to create a multi-room setup.
Connecting the Playbar to your TV
Use the included optical cable to connect your soundbar to your television. Keep in mind that your TV needs an optical connector to be able to use the soundbar. Do both devices also have an HDMI ARC port? We recommend buying a separate HDMI ARC cable.
Included by default
Sonos One SL Black
Manual

(4.96 MB)

Power cable
Quick start guide
Warranty terms and conditions
SONOS PLAYBAR
Quick start guide
AC cable
Ethernet cable
Optical cable
Tips for using this product
Read our tips and find out all about how to set up your product and use it the right way.

---
Visit one of our stores, also by appointment
Get advice from an expert

Discover the latest products in the store

We have stores in Almere, Amsterdam, Arnhem, The Hague, Eindhoven, Groningen, Haarlem, Leiden, Rotterdam, Rotterdam Alexandrium, Tilburg, and Utrecht
---
Reviews
| | | | |
| --- | --- | --- | --- |
| 5 stars | | | |
| 4 stars | | | |
| 3 stars | | | |
| 2 stars | | | |
| 1 star | | | |
Most helpful reviews
Satisfied, despite the limitations

Ype Poortinga | 9 January 2014 | In the version: Playbar Black | Automatically translated from Dutch

Listening to music becomes addictive

Only 1 optical connection

Let me start by saying that I think €700 is indeed a lot of money, even for this very good soundbar. I myself was able to purchase the Playbar with a nice discount and the minus point 'too expensive' does not apply to me.

As for the 'Sonos experience', connectivity, DTS support etc. I don't need to add to the above reviews. I bought a separate 4-port Toslink switch myself and this basically solves all my problems.

I miss that you can't stream YouTube videos to your Sonos. Spotify and Soundcloud (free unofficial Sonos plugin, works brilliantly with the Sonos app) provide me with all the music I need and more. However, when friends come over and want to play a picture on YouTube, I have to inform you every time that this is not possible. When they ask slightly jokingly if they can still use the jack plug, I have to disappoint them for the 2nd (and last) time.

The sound quality in a few simple words: I think this is what you are most interested in.

- Television: The TV sound with normal programs does not really stand out unless you watch an HD episode via your decoder or Netflix. It gets a little nicer and the tones are brighter. You should not buy it for your daily news, GTST and other boring programs. The speech enhancement function is a godsend for clear speech and works beyond expectations!

- Movies: The sound with a recent movie is really much better than with the television. It sounds 'bombastic' and is a very nice listening experience. At the beginning I was a bit skeptical whether it was a real improvement. The Playbar is to replace my 5.1 LG home cinema set that is 2 years old and about €170. After the first movie ended, I was actually quite impressed and found out that Sonos offers a really nice experience. I miss the subwoofer, but actually not because the Playbar really has a decent bass. Much more than expected, but not quite the replacement for your subwoofer. With action films and electronic music, it falls just short, but take it from me that it can also be done without a separate sub.

- Music: This is where the true nature of the beast emerges. The music really comes alive from this Playbar. You'll hear instruments you didn't know were in your favorite song. "You see a lot more" as someone commented after hearing a few tracks. The LG 5.1 is now out of the door and no way that the Playbar even changes place. I've actually never listened to music on an expensive system (€1k+), but I've also never heard a system that gives such nice sound as this Playbar and certainly not from one speaker.

The comment that it sometimes sounds a little processed is true, but I'm not an audiophile and it doesn't bother me at all. It can be heard with certain movies/tracks when you pay attention.

Another advantage that I actually didn't even think about is that all the cables around my TV have disappeared. I didn't know that my TV cabinet could look so sleek and neat without the center, L/R speakers and millions of cables from, to and around the receiver. I bought it for the sound quality and I am not dissatisfied. I've accepted the restrictions, and I'm glad I've adapted to Sonos.

In short, it's my new best friend in the living room and I'm listening to a lot more music than before because of the convenience of the Sonos app. I can't afford €700 as a student and that's why I'm not willing to pay for it. Instinctively I give it a value of €500 and that means you pay about €200 for the Sonos software. Those few euros that you instinctively pay too much, you have already forgiven and forgotten after a month. I will probably ritually burn the Logitech music adapter, which seems to me to be another reason to invite my friends to a nice party (we also celebrate 'the last Monday of the week', so a reason for a party is this way easily made up).

My next purchase will be a Sonos Sub. My roommates and I like to listen to techno/house and this is the only reason. A nice side effect is that the film and TV sound also gets better with the sub. For 'normal' music the Sub seems completely unnecessary to me.

Ype Poortinga | 9 January 2014 | In the version: Playbar Black | Automatically translated from Dutch

Do this first before purchasing a playbar.

Domenico Piccirillo | 13 February 2017 | In the version: Playbar Black | Automatically translated from Dutch

Third-party apps can only be used via the Sonos app.

Connect only via optical cable.

Connecting is very easy, the sound is quite surprising for the first time because for a relatively small soundbar compared to speaker columns, the sound is really good.

My big disadvantage is only connecting to a somewhat older TV (6 years old). It is said everywhere on the internet and also at Sonos if your TV has an optical out connection, the Sonosbar will work. This is not the case, and once you encounter this problem and start looking for it, you will find quite a lot of complaints about it.
With my Samsung LED 3d TV one of the first and also very expensive in that period, there is an optical output, but it must receive a 5.1 signal if it wants to work and that does not give the Sonos bar, so the output does not work.

Now you can connect the Sonos to your KPN or Ziggo box, but as soon as you want to watch Netflix or something else via your TV, you will not get any sound from your Sonos boxes because they run through the KPN box and not through your TV. Then you have to manually turn on your TV's speakers and when you're done with Netflix and want to turn on the TV again, turn off the speakers in your TV menu to let your sound go through the Sonos boxes.

So I am now stuck to buy a new TV or an expensive amplifier or other intermediate solution while I just wanted to get rid of that (as few cabinets and fuss under and next to the TV as possible.

In short, first inquire very carefully whether your TV can be connected directly to the Sonos playbar. First check whether you can choose the optical output of your TV, even if no Dolby 5.1 signal is connected to it. And look at the Sonos website and forums which TVs work best with Sonos equipment because a lot of TVs do not work flawlessly with this, lists are also known.

Domenico Piccirillo | 13 February 2017 | In the version: Playbar Black | Automatically translated from Dutch

So connected but expensive.

Yvonne Arnoldus | 18 February 2016 | In the version: Playbar Black | Automatically translated from Dutch

Easy to expand to a surround set

Was connected in 5 minutes and the sound is many times better than with my TV. The surround sound was less than with my surround set but after adding 2 play 1's I couldn't hear the difference anymore.

Yvonne Arnoldus | 18 February 2016 | In the version: Playbar Black | Automatically translated from Dutch

Unprecedented ease of use

Seamless integration with music streaming services (tested with Spotify and Juke)

No wires, everything included

For those who can & want to pay

Delivery
Let's start in chronological order.
According to coolblue, sonos and all over the internet, the SONOS Playbar was released on March 5 and was effectively available from March 6.
Nothing wrong with that of course, but I already received confirmation on March 1 that the playbar had been sent (also by text message ... nice), the delivery took place the next working day at 9 am. Super surprise of course.
(Don't be under any illusions, delivery depends entirely on your postman (taxi post) and any climatic conditions)
PS: I was hesitant to buy it directly through SONOS, but I already had such a feeling: Coolblue's service and delivery are so good that they couldn't do better. The sonos site also spoke of 1-2 days delivery, so the best and safest option was chosen.

unboxing
The box of the playbar suggests that it is quite large, but as is often the case, it is mainly protection.
What's included: a sturdy poster with the installation steps, a power cable, (handsome) flat LAN cable and optical cable. All 3 of very good quality.

The Setup
Since there was a digicorde involved, a samsung smart tv with its own speakers, a samsung smart tv remote, a nexus 7 to set up and my friend wanted to set up her galaxy s3 as a controller too.
I had worked with sonos before and knew its ease of use.... but didn't know it was such aó was going to be easy.

Connection via cable to my router, Internet recognition, downloading an update for the playbar, recognition of the remote control, adding extra controllers (tablets/smartphones), it's really bizarrely simple.
That is why I will not waste any further words, you will soon have one yourself and you will notice it yourself.

Sound quality
Sometimes this one is really amazingly good, other times you realize that with 2x extra Play:3 and a SUB you really get the top.
To go straight into this, I would never buy the expensive SUB, I think the sound is full enough, you don't miss bass. On the other hand, I would eventually buy the 2 Play:3. One investment at a time...
Back to the sound quality, I was watching a modern drama series, sometimes the background noise is really crystal clear!
Voices are not always very prominent but of course sonos has done a good job with that, there is an option to amplify voices in TV mode, it works well.
In terms of volume, the thing goes really loud via the optical cable. More than enough for music too.

I mainly tested it with a Spotify Premium account over the time I worked with it, to my knowledge it is still the only brand that knows how to work together so well. You will find absolutely everything, for the next update they can make it a little more structured.
A bit more the look of the Spotify windows program that I (and perhaps others) are used to.
Anyway... the app gets much better with each version so that's okay. Also useful are the widgets and the notification bar in android.

Conclusion
For me highly recommended for the music lover, it has no equal (among the playbars) and for quality (and R&D) you pay.
The most important thing is that for a few eruos per month, razor sharp music always sounds without having to 'tjool' with cables, bluetooth, sticks, radio antennas, etc.

Laurens | 5 March 2013 | In the version: Playbar Black | Automatically translated from Dutch

The sonos playbar, the best soundbar on the market!

I ordered the playbar around 10 pm on a Saturday and received it at home on Sunday around 11 am, again a very successful purchase at Coolblue!

The playbar comes in a large, beautiful box and is securely fastened to avoid damage during shipping. Once you have unpacked and connected the playbar, you can use it 5 minutes later. Furthermore, there are several accessories in the box: An ethernet cable, optical cable, power cable and a manual.

You place it under your TV, connect your optical audio and possibly an Ethernet cable. Open the sonos app and start adding your playbar. This is ridiculously easy as with all sonos devices. You will be guided step by step through the installation process: first the connection to the Sonos network and then to your TV. Your remote control is also directly linked to your playbar. This allows you to control the volume and your TV via the playbar, which transmits the signals to your TV. Even if you just listen to music, you can control the volume with your remote control.

The sound of the playbar itself is very good. Both for music and movies, my jaw dropped in amazement. The playbar can handle the highs and lows with ease. Some, like me, choose to add the sub for the full experience. Then the playbar can fully focus on the high tones. Later on, you can choose to add 2 Play:1s or Play:3s to upgrade to a 5.1 sonos home cinema.

A small disadvantage that I would like to explain: Many TVs do not transmit DD5.1 sound via the optical cable via an HDMI input (such as your TV, PS3, DVD, ...). If you buy the playbar to get DD5.1 audio with your movies, check the manual of your TV to see if this is possible. If not, there are plenty of solutions to this problem for the sonos community.

In conclusion, I would like to say that the playbar is a super product and a very nice addition to your TV and/or your Sonos network. Furthermore, I can only encourage the purchase via coolblue, top service!!

Laurent Vermeulen | 25 October 2016 | In the version: Playbar Black | Automatically translated from Dutch

Beautiful and multifunctional

If you can't connect this one.... Do you really have two left hands

Don't like the sound while listening to music

Won't play music through iTunes Match

Finally listening to music again! Years ago had digitized all my music and threw away all the CDs (lack of space). But because of that, I never listened to my own music at home again. Now again, enjoy!

Point of attention: all music with us is in iTunes Match. There is no music on our iPads locally. The sonos app only sees the music that you have locally on your iPad. Now we also have an AppleTV and we can airplay the music on the AppleTV, but that was a small unpleasant surprise.

Because sonos thinks that an optical input is sufficient, I bought an optical switch, so that I can choose input via the digital TV receiver (TV has no optical output) or via the Apple TV (for Netflix + music from iTunes Match) .

Sound during movies is very good: nice and clear, and a full "low". While listening to music I don't always find it great. I miss some clarity and depth in the sound. I wonder if adding Play:3's or Play:1's will help with this. If anyone has any experience, I'd love to hear it! After all, it costs a few cents again, such an extension. But luckily no cables have to be pulled :-)

Another disadvantage is that the system never really shuts down; it is always on standby. Certainly if more sonos components are added, I will connect them to the mains voltage with a switch, so that it all really goes off when it is not switched on. I sponsor the energy company enough...

Ramon | 24 September 2015 | In the version: Playbar Black | Automatically translated from Dutch

Beautiful device that sonos playbar

sub and 5.1 can be added afterwards

is pricey, is a choice you have to make

This was my first order from coolblue and it was an instant hit. Everything went perfectly. The delivery was announced both by text message and by email. The order was placed on Friday and delivery was made on Tuesday (2 days earlier than the release date of the sonos playbar).

Since I have been a sonos user for some time, I already knew the easy installation procedure and the ease of use of sonos.
Take it out of the box, connect it to my Sony Bravia LED TV with the optical cable and then carry out the procedure to add a new Sonos component on the iPhone app, iPad app or via the software on PC. automatically a software update is requested. Since I already own several Sonos devices, I did not have to connect this playbar to the modem with LAN, this is done wirelessly via a bridge.

Since I already have a sonos sub and 2 sonos play3 speakers, I was able to add these flawlessly to get a full 5.1 surround.

A beautiful sound comes from the soundbar in 5.1 surround setup.
It took some sound settings to get an optimal bass and surround in terms of loudness of these sub and play 3's and the speech through the playbar.
Once you have set the desired settings according to your own preference, I can only be positive.

The operation is very easy as the playbar and added sub and surround speakers start up automatically when the TV and all devices connected to it are switched on. playbar stands in front of the TV so that the IR receiver of the television control is no longer visible, that was no problem either, the system recognized my sony remote control immediately and could therefore also use it to adjust the sound of the playbar.
Furthermore, they are simply used as another sonos component where you can play internet radio, your own music collection (which is placed on a diskstation nas with me).

Thank you coolblue for the perfect handling
Thank you sonos for this wonderful addition to my media playback experience.

Chris Sesier | 15 March 2013 | In the version: Playbar Black | Automatically translated from Dutch

Super ease of use & Easy to install

Installation is a breeze (good instructions!)

After owning a Sonos Play:5 for about 1.5 years, I wanted to expand this system.

At the time, I chose Sonos because of the wireless support of all their products. Software has also changed a lot technically in the past 1.5 years. There is now a neat app for Android Tablets and it is possible to play music directly from your phone or tablet on the Sonos equipment.

Why the play bar? I had been looking for a nice Dolby surround set for a long time, but I didn't like all those cables and all the hassle. The available soundbars were quite disappointing to me. When the Sonos came out, I knew it had to be it, simply because I knew how good the Play:5 already was. But the price held me back for a long time. It's quite a bit of money for a speaker. Finally purchased after repeated testing with a few test setups and have not regretted it for a minute.

Installation is quick, plug in the TV and the electricity and you're done. Connect via smartphone to the rest of the Sonos system (Play: 5 and Bridge) and immediately ready for use. Also a neat instruction for using the remote control of the TV to make the sound louder and softer.

The only drawback is that sometimes there is just too little bass. So that is again saving for a Sonos Sub. The sound is otherwise fine.

M van den Brink | 13 July 2013 | In the version: Playbar Black | Automatically translated from Dutch

Good soundbar but be careful if you want to play from iTunes

Sound quality is ok, but in the long run there will still have to be invested in the bass box

Should actually have its own remote control for sound control

The app is ok, but not great

The only audio device in the house that does not support airplay from other iTunes libraries. As a result, a large part of the iTunes tracks cannot be played due to Apple's DRM.

The product performs as described and expected. It is easy to assemble and configure. The soundbar hangs under a TV and gives very good sound, but it still lacks the bass box.
The biggest downside is that you can't play music directly through the iTunes library, you have to go through the Sonos app. This means that all songs with Apple rights will not play. And since I've been buying iTunes tracks from the start, that's a real disappointment. I would now have to invest extra again to be able to convert those numbers.

Petra T. | 27 December 2015 | In the version: Playbar Black | Automatically translated from Dutch

Sonos Playbar

Perfectly combinable with other Sonos devices

Operable with your remote control (TV and/or digicorder)

Compatible with Logitech Harmony

Very user-friendly with Apple/Android tablets

PC or tablet required for configuration

I already had Sonos devices (2 Play5+SUB) for playing my music using. iPad/PC.
I wanted to use the Sonos Playbar (mounted with neighbor bracket under TV) as TV audio but also as a 3rd speaker when I listen to music.
However, when I play movies (DVD player/media player), I use a Pioneer amplifier + 5 speakers to have DTS and Dolby Digital 5.1 sound.
The Sonos can provide Dolby Digital 5.1 sound in combination with 2 Play3 (no Play5 (other frequency)) as surround speakers. DTS is not supported via optical cable.
Most channels do not provide Dolby Digital sound via Telenet. Some HD channels: MTV, BBC, Eurosport, National GeoGr. and sometimes through extra film/sports payment packages.
According to the Sonos manual, the Playbar must be connected to the TV by means of a. optical cable.
I have connected the digicorder to the Playbar.
Everything can be configured with a universal remote (Logitech Harmony).
When I watch TV, I control the sound of the Playbar with remote control (also with Ipad/Android/PC (Sonos app)). When I listen to music with Sonos Playbar as 3rd speaker and decide to watch TV, it automatically (in setting) disconnects the Playbar from the other speakers to serve as TV audio only.
Sound quality is excellent. Sonos is expensive but the quality is very good and very user-friendly with iPad/Android.
Lots of fun !

Kris Laureys | 24 March 2013 | In the version: Playbar Black | Automatically translated from Dutch
Specifications
Product
Product number

837803
Manufacturer code

ONESLEU1BLK
Brand

SONOS
Warranty

2 years
Warranty type

Carry-in warranty
Old product returned for free
Physical properties
Speaker composition

1 speaker
Depth

12 cm
Width

12 cm
Height

16 cm
Weight

1,85 kg
WiFi speaker size

Medium-sized (15-25cm)
Color

Black
Material

Plastic
Integrated microphone
Integrated screen
Water-resistant
Water resistance

Splash proof
Waterproofness certification

Not certified
Ambilight
Network and streaming
Multi-room audio
Multi-room platform

AirPlay, SonosNet
Multi-room functions

Make a stereo pair, Surround sound mode, Zones separately, Zones simultaneously
Plays from network
Bluetooth
NFC
Streaming services support
Streaming services

Deezer, Google Play Music, Juke, Napster, Qobuz, Rdio, Spotify, Tidal, iTunes
Playback options
Radio
Internet radio
DAB radio
FM radio
AM radio
Plays from USB memory
Bluetooth
Multi-room platform

AirPlay, SonosNet
Controls
Controlled via app
Controlled via Apple app
Controlled via Android app
Controlled via Windows app
Smart home platform

Amazon Alexa, Google Assistant, Homey
Ports
USB port
RCA connector
Headphone jack
Installation ease according to customers

Very good
Power supply
Power supply type

Grid current
Software
Guaranteed support with updates

Unknown
Year introduced

2017
Introduction month

October
Product
Product number

296946
Manufacturer code

PBAR1EU1BLK
Brand

SONOS
Warranty

2 years
Warranty type

Carry-in warranty
Old product returned for free
Physical properties
Sound quality according to customers

Excellent
Speaker type

Soundbar
Mounting possible
Includes mounting materials
Speaker composition

1 speaker
Subwoofer type

None
Width

90 cm
Height

8,5 cm
Depth

14 cm
Weight

5,4 kg
Color

Black
Separate subwoofer
Rear speakers
Bruikbaar met spraakherkenning
Quality category

High-end
Sound
Number of audio channels

3
Number of subwoofer channels

0
Sound reproduction

Surround
Hi-Res audio
DTS
Surround sound

Virtual surround sound
Surround sound systems

Dolby Digital
Radio
Ports
USB port
HDMI connection
Network connector
Digital optical connection
Digital coaxial connector
RCA connector
Number of HDMI connectors

0
Connectivity
Bluetooth
NFC
Integrated WiFi
Plays from network
Multi-room audio
Number of zones (audio)

32
Multi-room functions

Surround sound mode, Zones separately, Zones simultaneously
UPnP AV support
DLNA
Spotify Connect
AirPlay
Google Cast
SonosNet
Multi-room connectivity

Wireless
Fireconnect
Smart
Controlled via app
Controlled via Windows app
Controlled via Android app
Controlled via Apple app
Compatible with smartphone / apps
Smart home platform

Google Assistant
Awards
Awards

What HiFi
Best tested
---