Ultimate Ears BOOM 3 Duo Pack Black
Version
: Black
|
2 speakers
Sold out online
Available for pickup
Be the first to know when this product is in stock
---
Product information
Pros and cons
According to our Bluetooth speaker expert
Listen to stereo sound by connecting the 2 speakers to each other.

The speaker has a wireless range of up to 45 meters.

You can listen to music for 15 hours without having to charge the speaker.

You can't charge a smartphone via the USB input.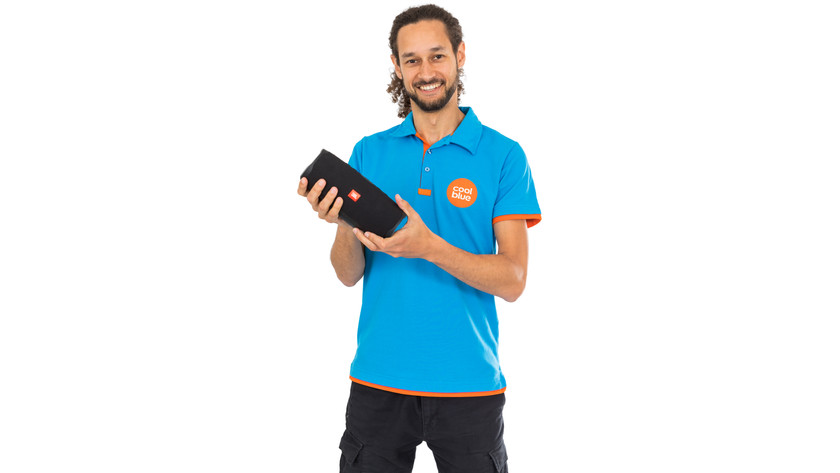 ---
Product description
With the Ultimate Ears BOOM 3 Duo Pack, you can really get the party started. Because you can easily take these Bluetooth speakers with you anywhere. Connect the 2 speakers to each other with the Party Up function for increased volume. Place the speakers at the left and right side of the room and enjoy stereo sound. The 15-hour battery life ensures you can listen to music the whole afternoon and evening uninterrupted. And at the end of the evening, you can charge the battery with the included USB cable.
Tips for using this product
Read our tips and find out all about how to set up your product and use it the right way.

---
Reviews
| | | | |
| --- | --- | --- | --- |
| 5 stars | | | |
| 4 stars | | | |
| 3 stars | | | |
| 2 stars | | | |
| 1 star | | | |
Most helpful reviews
Sturdy, but the sound quality is downright bad

Yorick Daelmans | 15 November 2018 | In the version: Black | 1 speaker | Automatically translated from Dutch

Build quality

looks

bass

Sound quality

Value for money

First; sorry for everyone who thinks this speaker is great, but this is my opinion.
To start with, I have (since 2013) the JBL Charge (1). I have been using this for years with pleasure, super satisfied with it (especially if you compare it, in terms of price and accessories, with now. Only yes, the Charge is of course getting a bit old. (not waterproof, the hard plastic design, sound quality (etc). So it was time for a new speaker. Then I bought a speaker from UE online, the Boom 3. Checked reviews online, also here at coolblue, All fine, satisfied, all in all good reviews. Now that I have it for a few days given a chance I must say I'm very disappointed Let's start: Sound, when I compare this with the old (now elderly Charge 1) the bass is not found on the UE, not even with the Bass EQ you have on the UE App can turn on. The mids (mainly voices) are very good, as are the highs which are also fine. I don't understand why the UE went for this "sound signature" as it is not even really a neutral sound is because then there should be more bass. By the way, the app is is easy and convenient, if it is within bluetooth range it can be turned on via the app, surely the best feature after the build quality. Speaking of which; the best. Waterproof, dustproof, floats, resistant to a spray of water (garden hose, shower, etc.). But it is waterproof, and floating is more than enough for 90% of people, I think. So, all in all. No idea why you would want to buy this speaker unless you are someone who goes camping every weekend and is so careless with expensive electronics that it has to be water and dust proof. In terms of size, buy the JBL Flip 4, cheaper, slightly smaller even, equally waterproof and floating, and better sound quality (more bass, more neutral sound, also good mids and highs). In terms of price, the Sony XB-31 is cheaper, less high and middle tones, but a bass that is 4 to 5 times better (and then the Extra bass button can still be added) and the XB-41 is just a size larger slightly more expensive but much harder. Of course the same "sound" as the XB-31 (so a lot of bass). And if you just want an all-round better speaker go for the Charge 4 which is slightly newer than the Boom 3. Slightly more expensive, better sound quality in every way and of course more bass (again). Also, all the aforementioned speakers are just waterproof, as perhaps everyone uses them, if they fall out of hands in the pool or in the shower or bath, etc. Owja and that 360 Degree sound is just a marketing stunt, everyone puts the Just put the speaker on a table, desk, cabinet on the side of the room, or in a corner, and not in the middle of the room, and even then, place the speaker with the speakers facing you. It is also not that if you sit at the back of the speaker that you do not hear anything at all, because then the UE also hears nothing at the front and back since he has the speakers on the "sides".
"Hehe, he's finally done with his whining." Sorry for the super long review. But I hope that someone like me who goes to Harstyle/Hardcore, EDM, Hip-hop, Pop, you name it (because what genre of music doesn't have bass in their songs anymore) , makes me think about the buy this speaker because honestly, compared to that charge from 2013 I would have said, Yes (sturdier, more beautiful, etc) but compared to speakers that are on the market now, in 2018, a big NO, save your money or spend just a little more for something much better.

Yorick Daelmans | 15 November 2018 | In the version: Black | 1 speaker | Automatically translated from Dutch

Good product with decent 360 sound

Konstantinos Tsatsaronis | 2 November 2018 | In the version: Blue | 1 speaker | Automatically translated from Dutch

Good build quality

Decent sound

Can be turned on or off remotely gia bluetooth

No charger included. only cable

price

Overall a nice product but a bit pricey. Good sound and build quality. Charging station is sold separately and in my opinion should be included. No other traditional charger came with the box. Only micro USB cable was included.

Konstantinos Tsatsaronis | 2 November 2018 | In the version: Blue | 1 speaker | Automatically translated from Dutch

Very good speaker. App is necessary if you want good bass

Loek Keultjes | 19 December 2019 | In the version: Black | 1 speaker | Automatically translated from Dutch

Waterproof

Good sound

The 'magic button' is very handy

If you want to have enough bass in your music, it is highly recommended to download the app and use the EQ

The build quality is very good and it is waterproof. Only the bass is a bit less I think. Fortunately, this can be fixed if you download the app.

Loek Keultjes | 19 December 2019 | In the version: Black | 1 speaker | Automatically translated from Dutch

Everyone should have this at home

light

Unbelievable sound quality

playlist from Apple Music you can have the Boom play directly, but not a Spotify playlist. Then you have to operate via the app

Great experience! I take my Boom everywhere

Kristel Dodion | 27 September 2018 | In the version: Black | 1 speaker | Automatically translated from Dutch

A lot of sound from a very nice device!

Super nice design

Good battery life

Handy

You can't charge your phone

Magic button no longer works Spotify

Nice design and very convenient to use. A lot of sound comes from a small device

Florian Florian Bos | 1 January 2019 | In the version: Black | 1 speaker | Automatically translated from Dutch

We already have the boom3 but this one is bigger and more po

nice design

good sound

sound all around

wireless

Fantastically beautiful design and great sound!

Iris | 31 December 2019 | In the version: Red | 1 speaker | Automatically translated from Dutch

Nice box, with very good sound!

Nice clear sound

Connects very quickly

Easy to take with you

Product is beautifully designed and the sound is great

Thijs van Bemmel | 12 March 2019 | In the version: Red | 1 speaker | Automatically translated from Dutch

Solid product

No user manual.

confusion on the internet with various or older types

the charging block was not presented to me.

sound quality and use

Emiel Simons | 18 August 2020 | In the version: Black | 1 speaker | Automatically translated from Dutch

Great box!

Beautiful Design

Easy to use

Very easy box with nice sound. Nice price/quality. Am very happy with it!

Lotte | 25 April 2020 | In the version: Purple | 1 speaker | Automatically translated from Dutch

Very good box

Turn on without touching

Waterproof 100%

You can wash the box

No aux connection

Very good

gregory block | 26 October 2019 | In the version: Red | 1 speaker | Automatically translated from Dutch
Specifications
Product
Product number

818343
Manufacturer code

984-001360
Brand

Ultimate Ears
Warranty

2 years
Processing of your defect

Via Coolblue
Old product returned for free