Braun Series 3 3040 Wet & Dry + Braun Cassette 32B
Available for pickup even sooner
---
Product information
Pros and cons
According to our electric shaver expert
With this combination, you can give yourself a smooth shave for the next 3 years without having to buy a new shaver head.

With the fold-out precision trimmer, you can create clean lines and trim your sideburns and neck hair.

You can also use the electric shaver with shaving foam or in the shower for an extra skin-friendly shave.

The electric shaver doesn't have different settings, so it's not suitable for sensitive skin.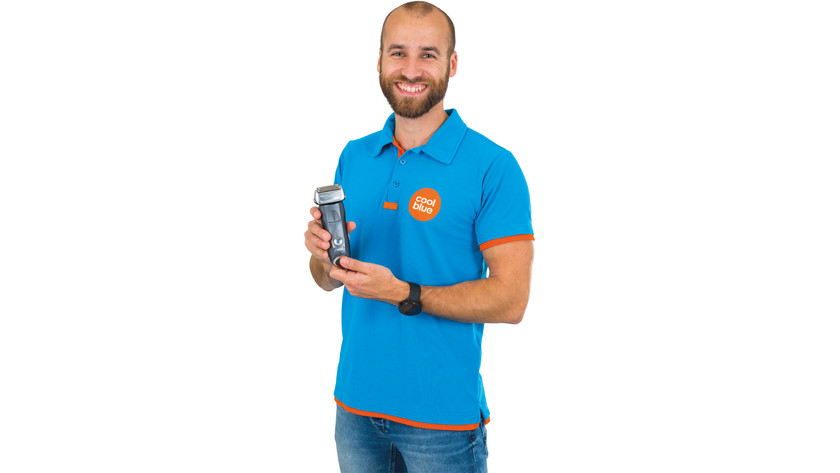 ---
Product description
You can shave yourself smooth for 3 years, thanks to the included shaving cassette of the Braun Series 3 3040 Wet & Dry + Braun Cassette 32B. After 18 months, the shaving cassette is due for replacement. The electric shaver has 3 different shaving elements, consisting of 2 shaver foils and a middle trimmer that lifts up the beard hairs prior to shaving. The shaving elements move independently, so you can follow the contours of your face. In addition, the electric shaver has a fold-out precision trimmer to tidy up your sideburns. The electric shaver is waterproof, so you can choose a shaving method that suits you; dry, wet, or in the shower. Clean-shaven now? Simply rinse the electric shaver head under the tap.
Included by default
Braun Series 3 3040 Wet & Dry
Tips for using this product
Read our tips and find out all about how to set up your product and use it the right way.

---
Reviews
| | | | |
| --- | --- | --- | --- |
| 5 stars | | | |
| 4 stars | | | |
| 3 stars | | | |
| 2 stars | | | |
| 1 star | | | |
Most helpful reviews
Excellent shaver, shaves fast and close

Robert Hermsen | 12 September 2015 | Aanbevolen extra's: Starter model | Automatically translated from Dutch

longer hair better shaved

also suitable in the shower, and with gel

fits comfortably and securely in the hand

protective cap is not tight

The differences with the predecessor, the 340s are in design a different plastic cap to protect the shaving foils, and the grip of the 3040s feels different.
Functionally, the only difference is the white conduction from longer beard hairs to the middle blade, which is intended for shaving longer hairs.
This device shaves noticeably faster, especially if your beard has been standing for a few days.
The grip feels nice, and is also easy to hold in the shower. My experience is that shaving with shaving gel gives the best results, especially because everything stays nice and cool on your skin.
But dry shaving is also good, and is especially useful if you want to shave quickly. Cleaning after a few dry shaves is easy. You knock out the shaving foil part on a flat surface, and use the supplied brush for the mechanism in the device.
Or you rinse everything under a (warm) tap. The plastic protective cover has slots, so any moisture will evaporate after you have stored the device.
I myself use a drop of sewing machine oil every week to maintain the shaving heads. This will probably extend its life.
Inside the device is a counter that keeps track of how long it has been shaved in total, and after a year and a half or so it will recommend that the heads be renewed.
The clippers work well, I find it a bit difficult to extend, but that is also a bit of getting used to.
I think the plastic protective cover is a bit loose, which can probably come loose if you put the device in a toilet bag. That was slightly better with the 340s, due to a different design, but I would still choose the 3040 over the 340, especially because of the longer hair guide.
The 3040 has one more LED to better see how full the device is, but in practice you never pay attention to that. You shave until it's empty, then charge. Charging for 5 minutes is also enough for a shave when the battery is empty.
Total charging takes just over an hour, so that's pretty fast too.
In the end, the device shaves quickly and close for an electric shaver. The fact that it can also be used with shaving foam, gel and in the shower is certainly an advantage when choosing.

Robert Hermsen | 12 September 2015 | Aanbevolen extra's: Starter model | Automatically translated from Dutch

Good value for money but does what it should

Lieven Poulin | 30 December 2015 | Aanbevolen extra's: Starter model | Automatically translated from Dutch

not a completely smooth result

price/quality a good product. Also perfectly delivered the day after ordering. The battery does not last a week.

Lieven Poulin | 30 December 2015 | Aanbevolen extra's: Starter model | Automatically translated from Dutch

great razor for a great price.

Anja de Vaal | 17 April 2016 | Aanbevolen extra's: Starter model | Automatically translated from Dutch

Excellent value for money.
It shaves well and feels good in the hand.

Anja de Vaal | 17 April 2016 | Aanbevolen extra's: Starter model | Automatically translated from Dutch

Best buy ever! Great as a birthday gift for hairy boyfriends

Ease of use- my boyfriend was never so happy with anything I got him, he was wondering where has this machine hiding all his life

Results - smooth face, no irritation, fast shave

Easy to use, great results, no irritation of the skin, quick

Arina Torop | 27 November 2016 | Aanbevolen extra's: Starter model | Automatically translated from Dutch

Top de braun 3 series knife lasts a long time

Beautiful shaver and a very good shave

Albert Duinkerken | 15 May 2016 | Aanbevolen extra's: Starter model | Automatically translated from Dutch

No frills device that just does what it's supposed to do.

Shave dry, wet and in the shower

After years of wet shaving, now the convenience of electric. Best of both worlds!
Better shave than expected. No frills device. Just does what it's supposed to do.

Marc | 12 April 2019 | Aanbevolen extra's: Starter model | Automatically translated from Dutch

good definitely recommended

never had better than this

gerets chris | 3 January 2017 | Aanbevolen extra's: Starter model | Automatically translated from Dutch

Awesome!

I've always used regular razors and had been thinking about buying a razor for a while, now I did and I'm sold! I can shave with it in the shower and it lies easily in the hand, with shaving you are done faster than with those disposable blades and it is also a beautiful design. I don't want to go any other way and immediately threw away my disposable blades! I definitely recommend this product to my friends, family and acquaintances.

psmulders | 25 July 2017 | Aanbevolen extra's: Starter model | Automatically translated from Dutch

good device

the cashback system is not easy

a good device, does exactly what is expected.
easy to clean, long battery life.
a simple case would have been good. (luckily I still had one from a previous device.)

Dirk Meerschaut | 9 December 2015 | Aanbevolen extra's: Starter model | Automatically translated from Dutch

Was a good choice

Great device, feels nice in the hand, shaves well and smooth, gentle on the skin. I'm very satisfied with it

J Holleman | 3 July 2017 | Aanbevolen extra's: Starter model | Automatically translated from Dutch